DJ LIFE recommends some Miami Music Week 2023 events that should be on your must-attend list for the week spanning March 20-26th. 
Miami Music Week 2023 begins today (Tuesday, March 21), and DJ LIFE Mag has compiled a list of some of our picks for must-attend events. From pool parties to nightclubs, open-air to underground, music festivals to terraces – we've got you covered. Spanning from Tuesday, March 21 through Sunday, March 26, Miami Music Week (MMW) will be serving up countless events across various venues throughout the entire city of Miami.
From Downtown to South Beach, Wynwood to Bayfront Park, spend the week event-hopping to different venues and hotels in order to bask in the full experience. Whether you're an underground & techno enthusiast, a mainstream & EDM lover, a house music aficionado, a trap & bass head, or a funk & groove fanatic – Miami Music Week offers something for everyone. Check out the DJ LIFE Guide to Miami Music Week events, below.
Tuesday, March 21, 2023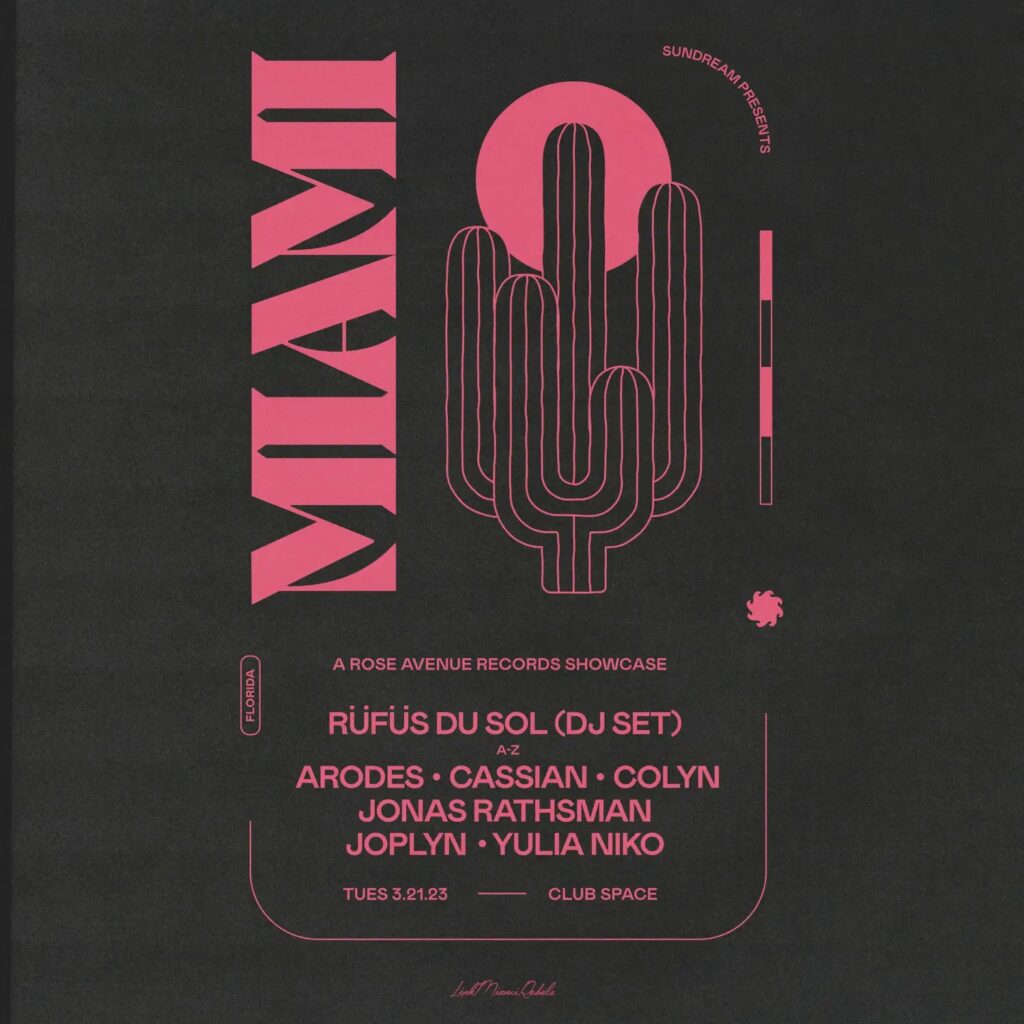 Event: A Rose Avenue Records Showcase
Date: Tuesday, March 21, 2023
Venue: Club Space Miami
Lineup: Rüfüs Du Sol, ARODES, Cassian, Colyn, Jonas Rathsman, Joplyn, Yulia Niko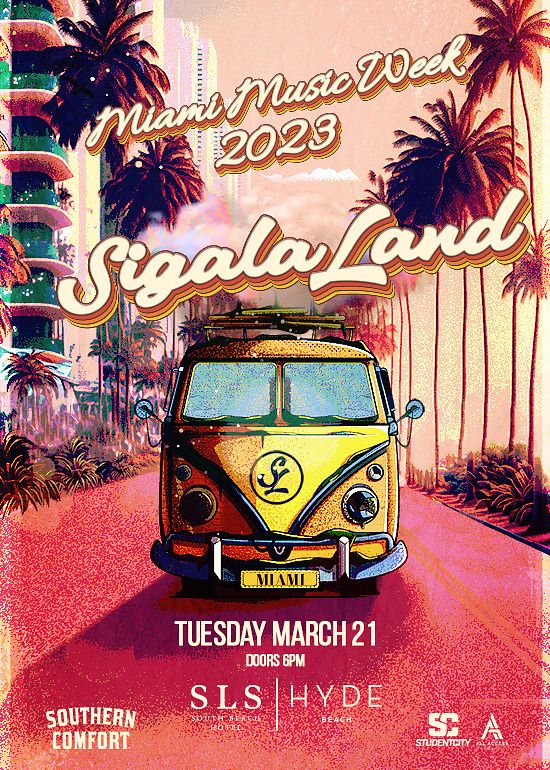 Event: Sigala Land
Date: Tuesday, March 21, 2023
Venue: Hyde Beach Club @ SLS South Beach
Lineup: Sigala
Tickets: https://www.tixr.com/groups/hydebeach/events/miami-music-week-2023-kickoff-sigala-land-62319
Wednesday, March 22, 2023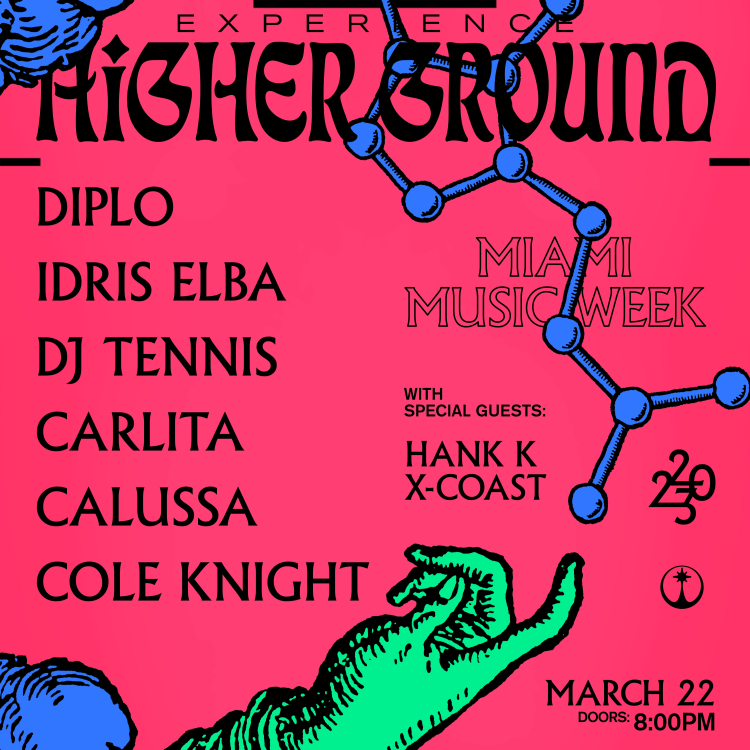 Event: Diplo's Higher Ground at Miami Music Week
Date: Wednesday, March 22, 2023
Venue: Toejam Backlot
Lineup: Diplo, Idris Elba, DJ Tennis, Carlita, Calussa, Cole Knight
Tickets: https://get-in.com/en/HUSHGMMW2023?seller_code=getin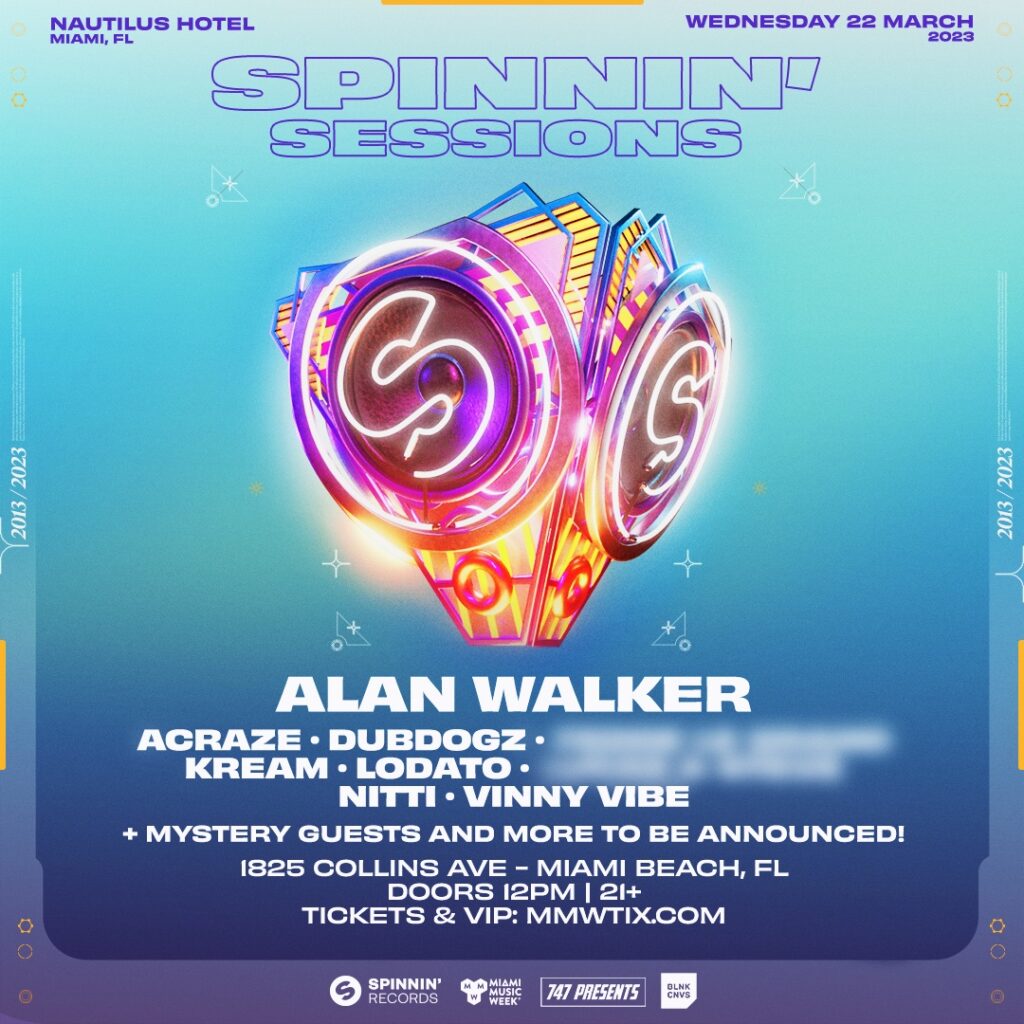 Event: Spinnin' Sessions Pool Party
Date: Wednesday, March 22, 2023
Venue: The Nautilus Hotel
Lineup: Alan Walker, Acraze, Dubdogz, Fedde Le Grand, KREAM, LODATO, Lucas & Steve, Nitti, TELYKAST, Vinny Vibe & special guests
Tickets: https://www.tixr.com/groups/blnkcnvs747/events/spinnin-sessions-pool-party-58392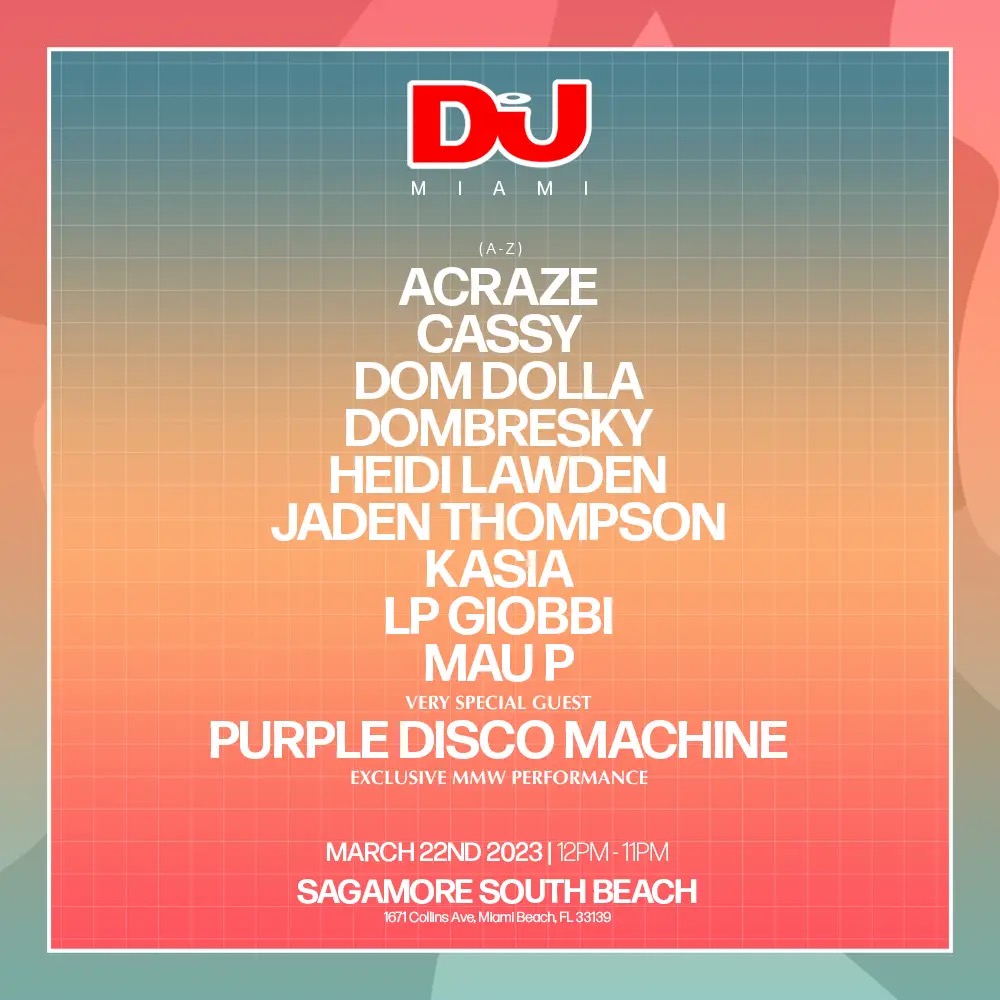 Event: EPIC POOL PARTIES pres. DJ MAG – Day 1
Date: Wednesday, March 22, 2023
Venue: The Sagamore Hotel
Lineup: Acraze, Cassy, Dom Dolla, Dombresky, Heidi Lawden, Jaden Thompson, Kasia, LP Giobbi, MAU P, and very special guest Purple Disco Machine
Tickets: https://theepicpoolparty.com/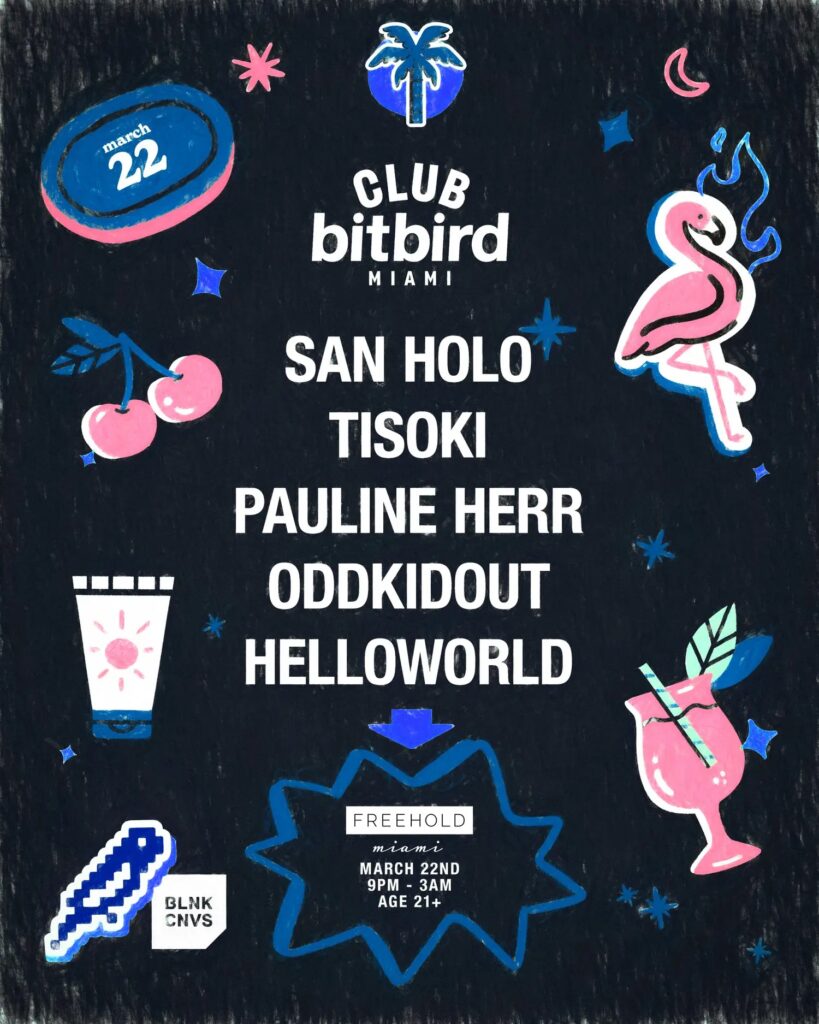 Event: Club bitbird Miami
Date: Wednesday, March 22, 2023
Venue: Freehold Miami
Lineup: San Holo, Tisoki, Pauline Herr, OddKidOut, Helloworld
Tickets: https://www.tixr.com/groups/blnkcnvs/events/san-holo-bitbird-miami-showcase-61776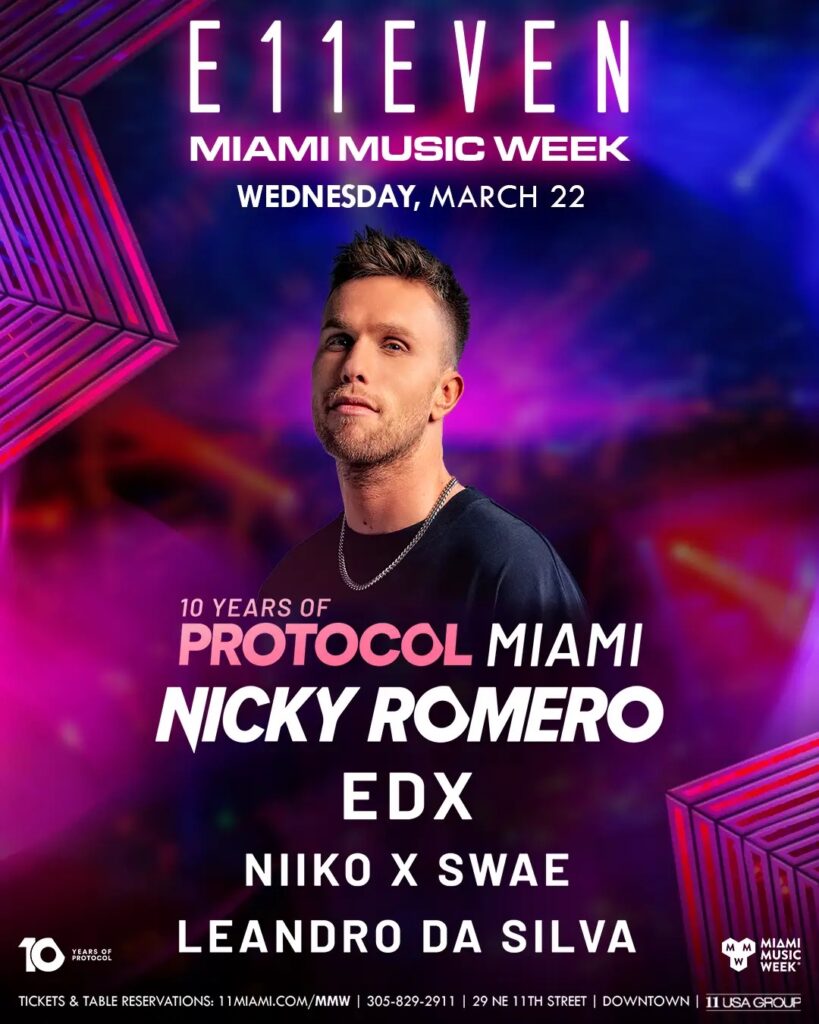 Event: MMW feat. Nicky Romero
Date: Wednesday, March 22, 2023
Venue: ELLEVEN Miami & Rooftop
Lineup: Nicky Romero, Niiko x Swae, EDX, Leandro Da Silva
Tickets: https://www.tixr.com/groups/11miami/events/mmw-ft-nicky-romero-62092
Thursday, March 23, 2023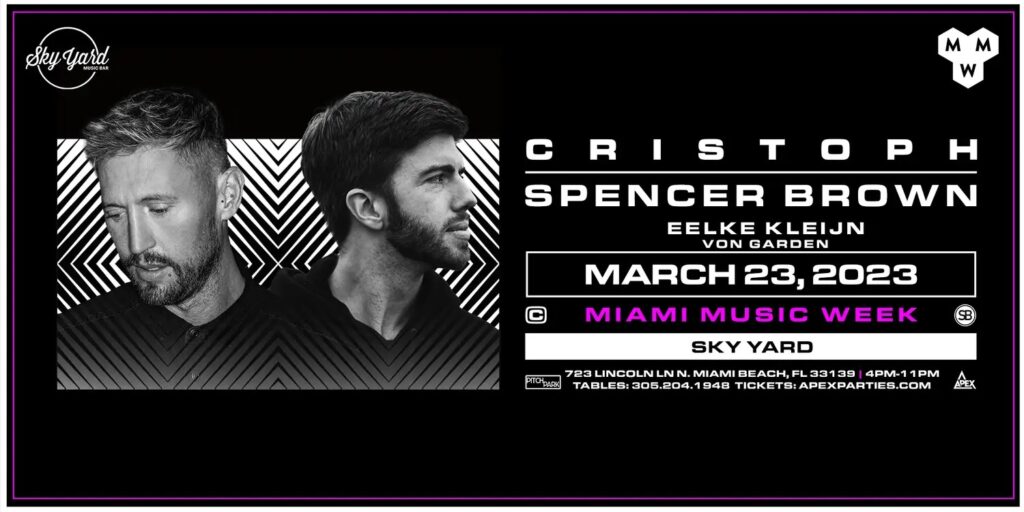 Event: Christoph x Spencer Brown
Date: Thursday, March 23, 2023
Venue: SKY Yard Lounge
Lineup: Christoph, Spencer Brown, Eelke Kleijn, Von Garden
Tickets: https://www.eventbrite.com/e/cristoph-spencer-brown-sky-yard-miami-tickets-537945348017?aff=RA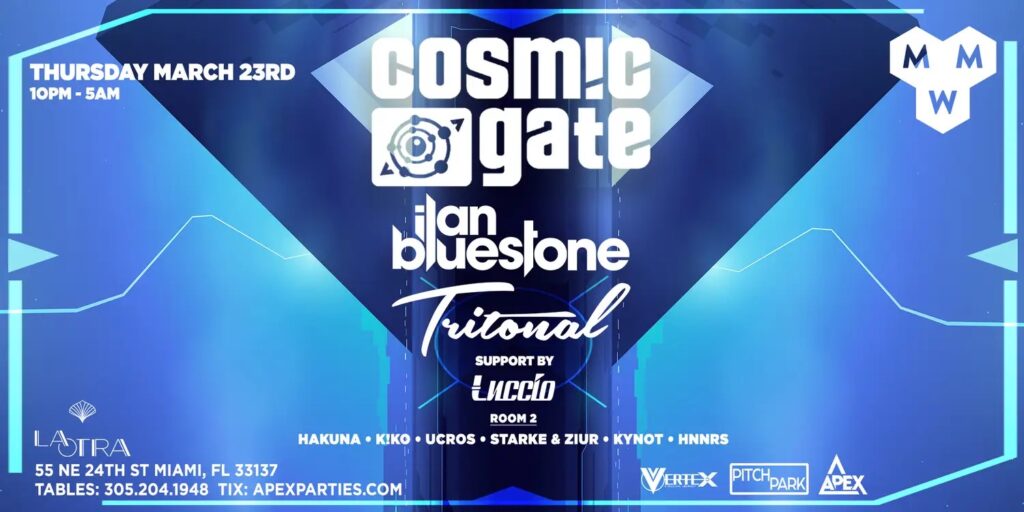 Event: Apex Presents & Pitch Park Events: Cosmic Gate
Date: Thursday, March 23, 2023
Venue: La Otra Wynwood
Lineup: Cosmic Gate, iLan Bluestone, Tritonal, Luccio, Kakuna, K!ko, Ucros, Ziur & Starke, KYNOT, HNNRS
Tickets: https://www.eventbrite.com/e/cosmic-gate-ilan-bluestone-tritonal-mad-la-otra-tickets-556514669357?aff=RA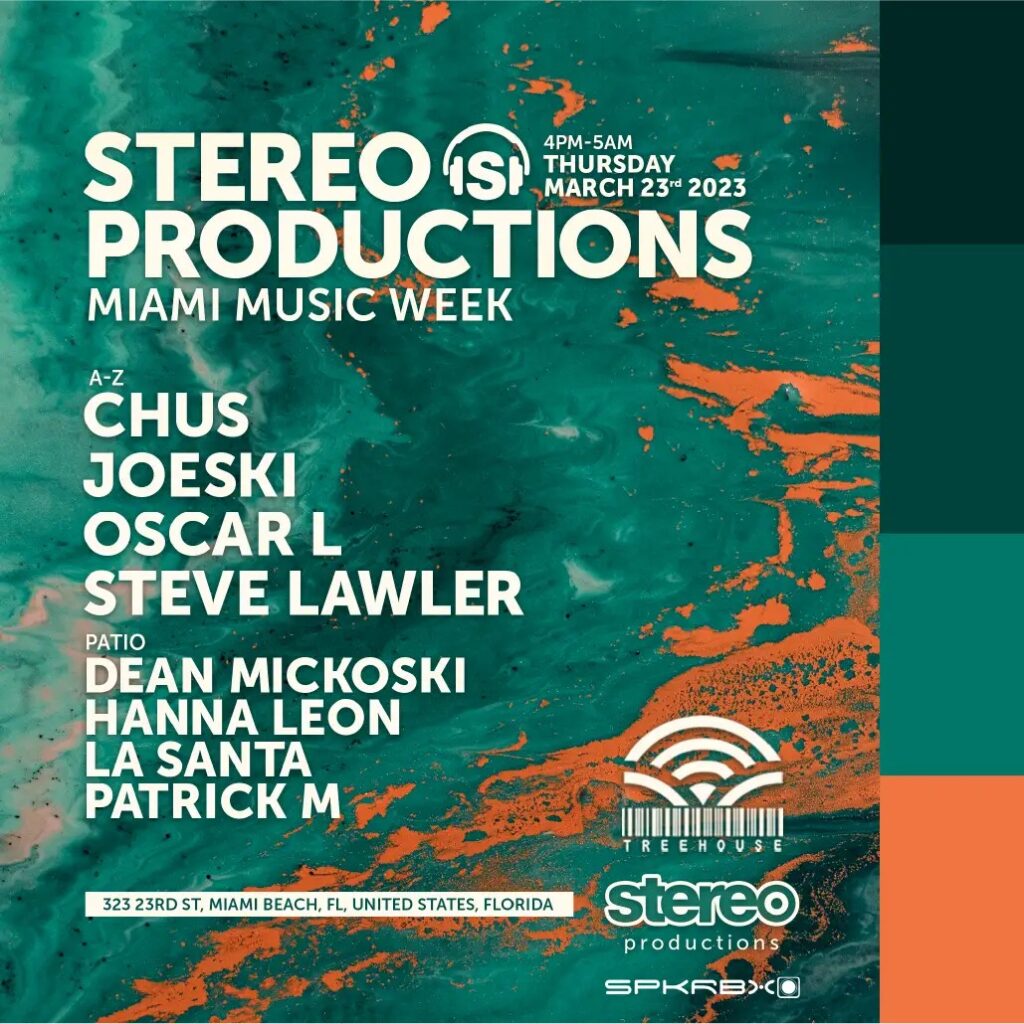 Event: STEREO PRODUCTIONS (MMW) BY Speaker Box
Date: Thursday, March 23, 2023
Venue: Treehouse Miami
Lineup: DJ Chus, Joeski, Oscar L, Steve Lawler
Tickets: https://shotgun.live/events/stereo-productions-mmw-by-speaker-box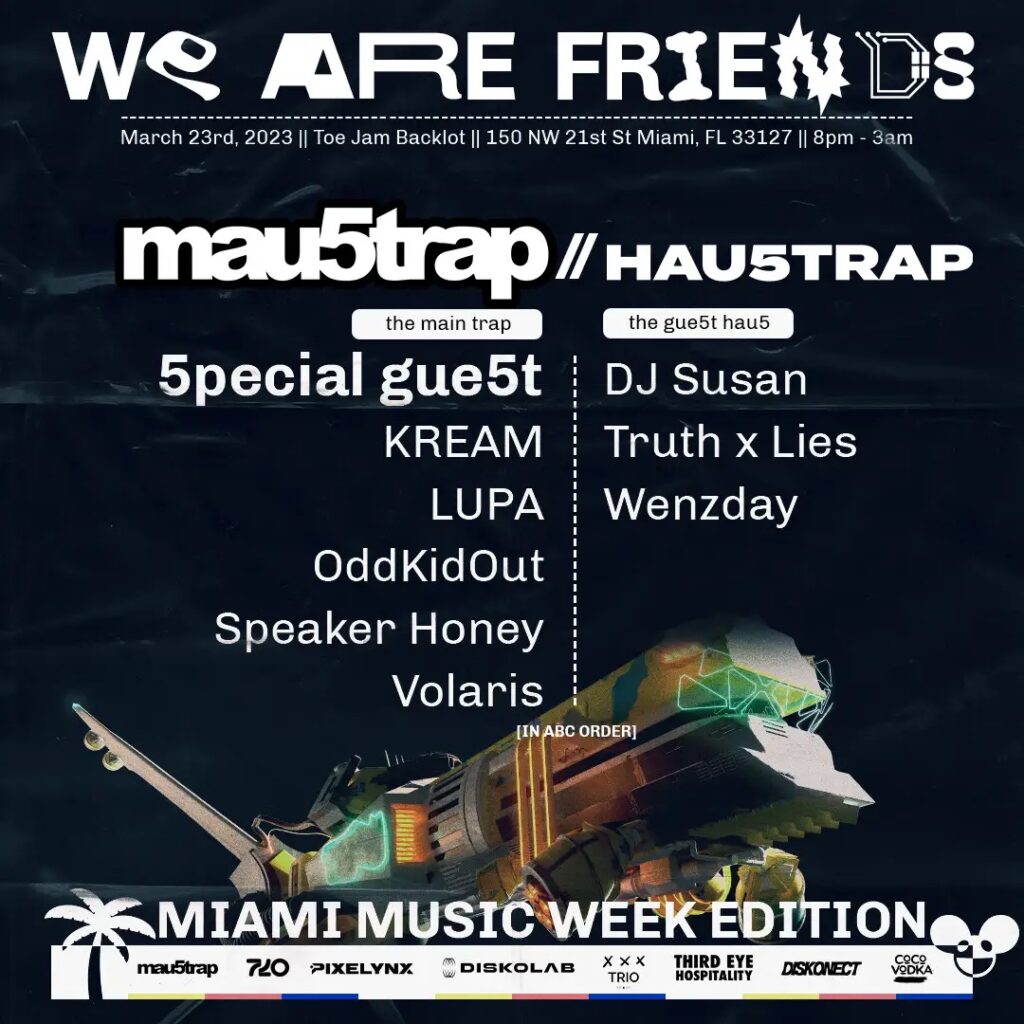 Event: We Are Friends: mau5trap // Hau5trap: Miami Music Week
Date: Thursday, March 23, 2023
Venue: Toejam Backlote
Lineup: Special Guest, KREAM, LUPA, OddKidOut, Speaker Honey, Volaris, Dj Susan, Truth & Lies, Wenzday
Tickets: https://posh.vip/e/mau5trap-hau5trap-mmw-2023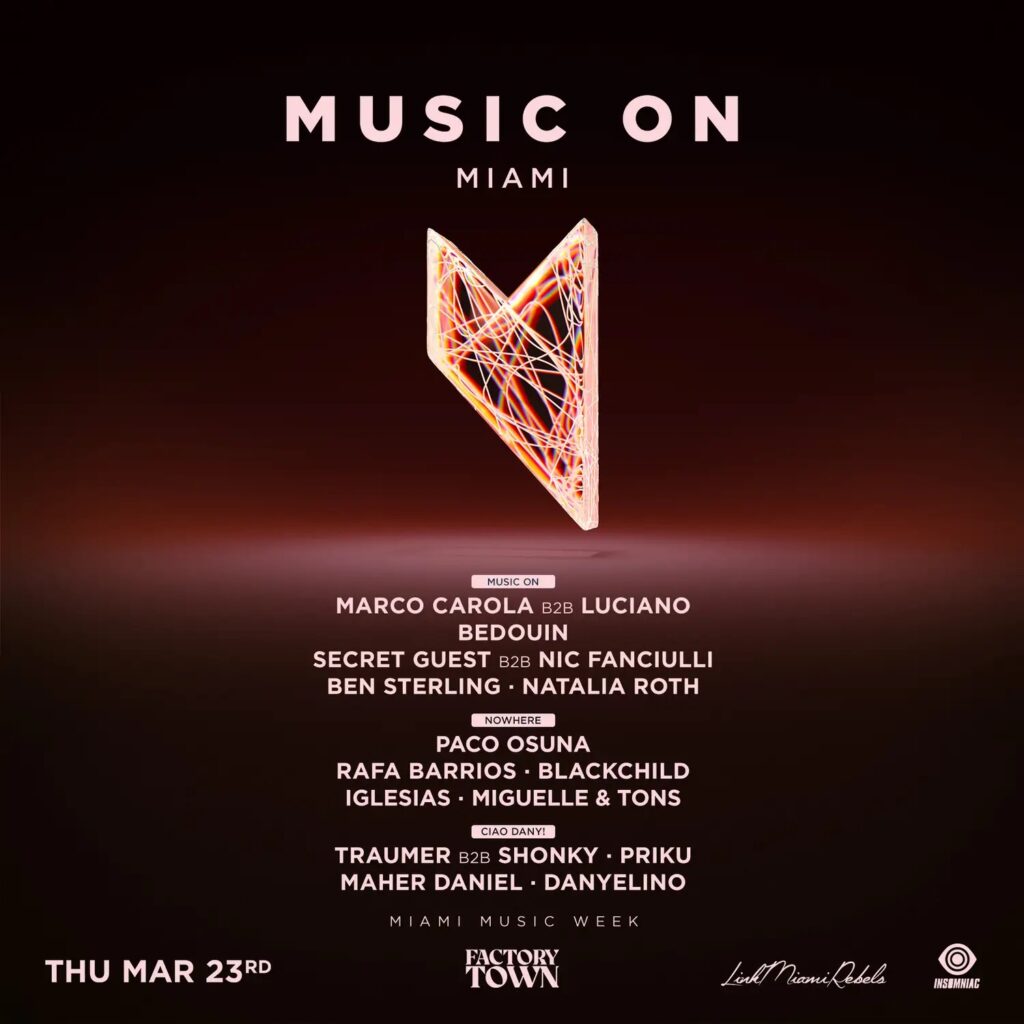 Event: Music On: Miami Music Week 2023
Date: Thursday, March 23, 2023
Venue: Factory Town
Lineup: Marco Carola, Luciano, Paco Osuna, Nic Fanciulli, Ben Sterling, Natalia Roth, Rafa Barrios, Blackchild, Iglesias, Miguelle, TONS, Traumer, Shonky, Priku, Maher Daniel, Danyelino
Tickets: https://dice.fm/partner/internal/event/q8v2y-music-on-miami-music-week-2023-23rd-mar-factory-town-miami-tickets?dice_channel=web&dice_tags=organic&dice_campaign=INTERNAL&dice_feature=marketing&_branch_match_id=999158580020394389&_branch_referrer=H4sIAAAAAAAAA8soKSkottLXz8nMy9ZLyUxO1UvL1c8tLc5Mzs%2FLzS0HAJ1TN1QfAAAA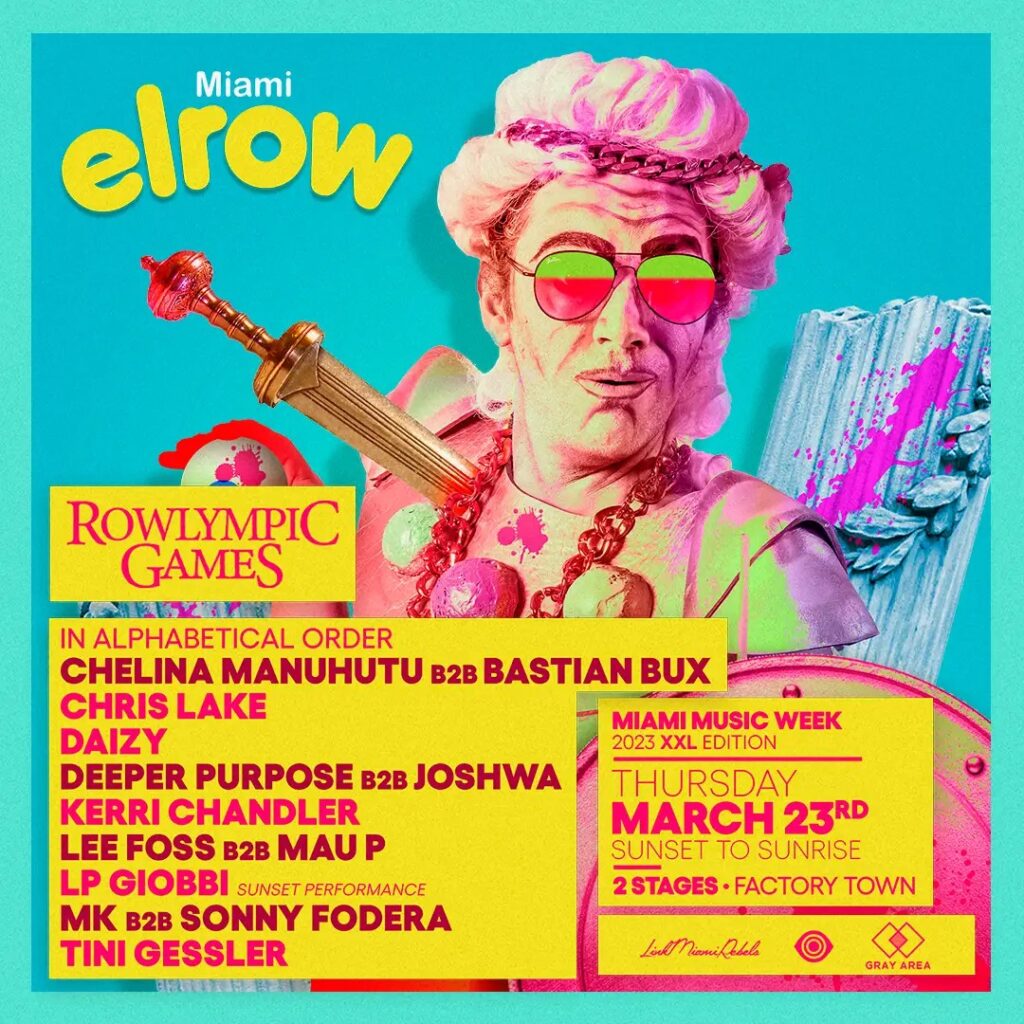 Event: elrow: Miami Music Week Edition 2023
Date: Thursday, March 23, 2023
Venue: Factory Town
Lineup: Bastian Bux, Chelina Manuhutu, Chris Lake, Daizy, Deeper Purpose, Joshwa, Kerri Chandler, Lee Foss, LP Giobbi, Mau P, Marc Kinchen, Sonny Fodera, Tini Gessler
Tickets: https://dice.fm/partner/internal/event/pp8r8-elrow-miami-music-week-edition-2023-23rd-mar-factory-town-miami-tickets?dice_channel=web&dice_tags=organic&dice_campaign=INTERNAL&dice_feature=marketing&_branch_match_id=999158580020394389&_branch_referrer=H4sIAAAAAAAAA8soKSkottLXz8nMy9ZLyUxO1UvL1U%2FNKcovz80tBwC2jP1tHQAAAA%3D%3D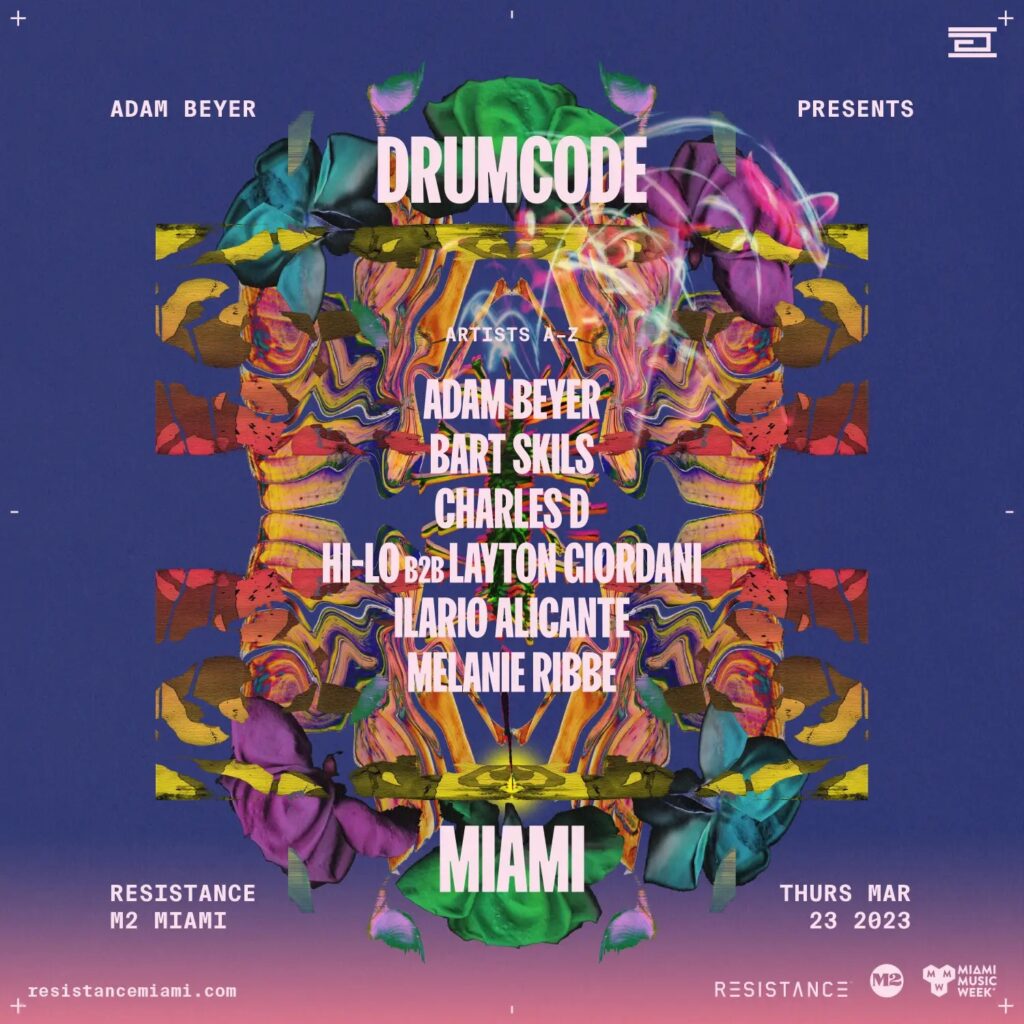 Event: Drumcode Miami 2023
Date: Thursday, March 23, 2023
Venue: M2 Miami
Lineup: Adam Beyer, Ilario Alicante, HI-LO b2b Layton Giordani, Melanie Ribbe, Bart Skils, Charles D (US)
Tickets: https://resistancemiami.com/tickets/march-23-drumcode/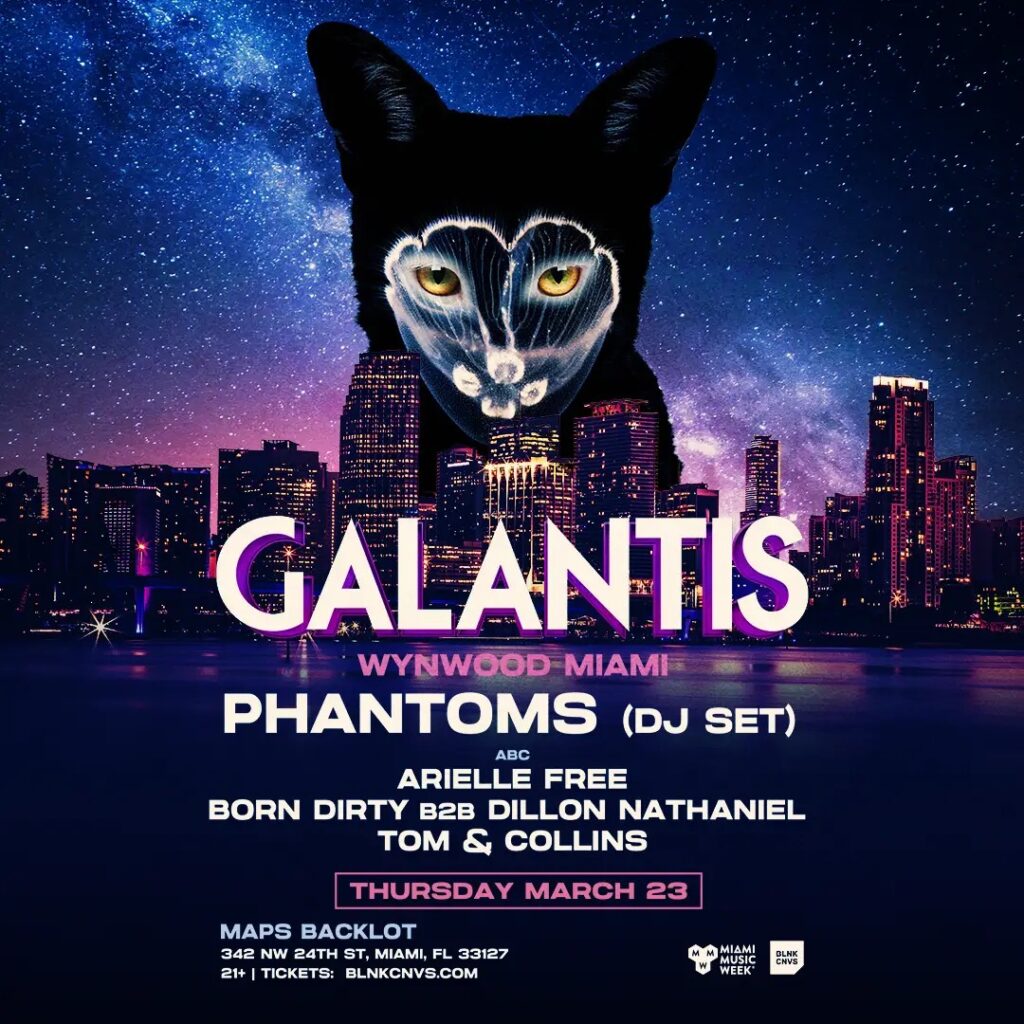 Event: Galantis: Wynwood Miami
Date: Thursday, March 23, 2023
Venue: Maps Backlot
Lineup: Galantis, Phantoms, Arielle Free, Born Dirty b2b Dillon Nathaniel, Tom & Collins
Tickets: https://www.tixr.com/groups/blnkcnvs/events/galantis-wynwood-miami-62019
Event: MMW feat. Diplo
Date: Thursday, March 23, 2023
Venue: E11EVEN Miami & Rooftop
Lineup: Diplo, Idris Elba, 11APE
Tickets: https://www.tixr.com/groups/11miami/events/mmw-ft-diplo-62091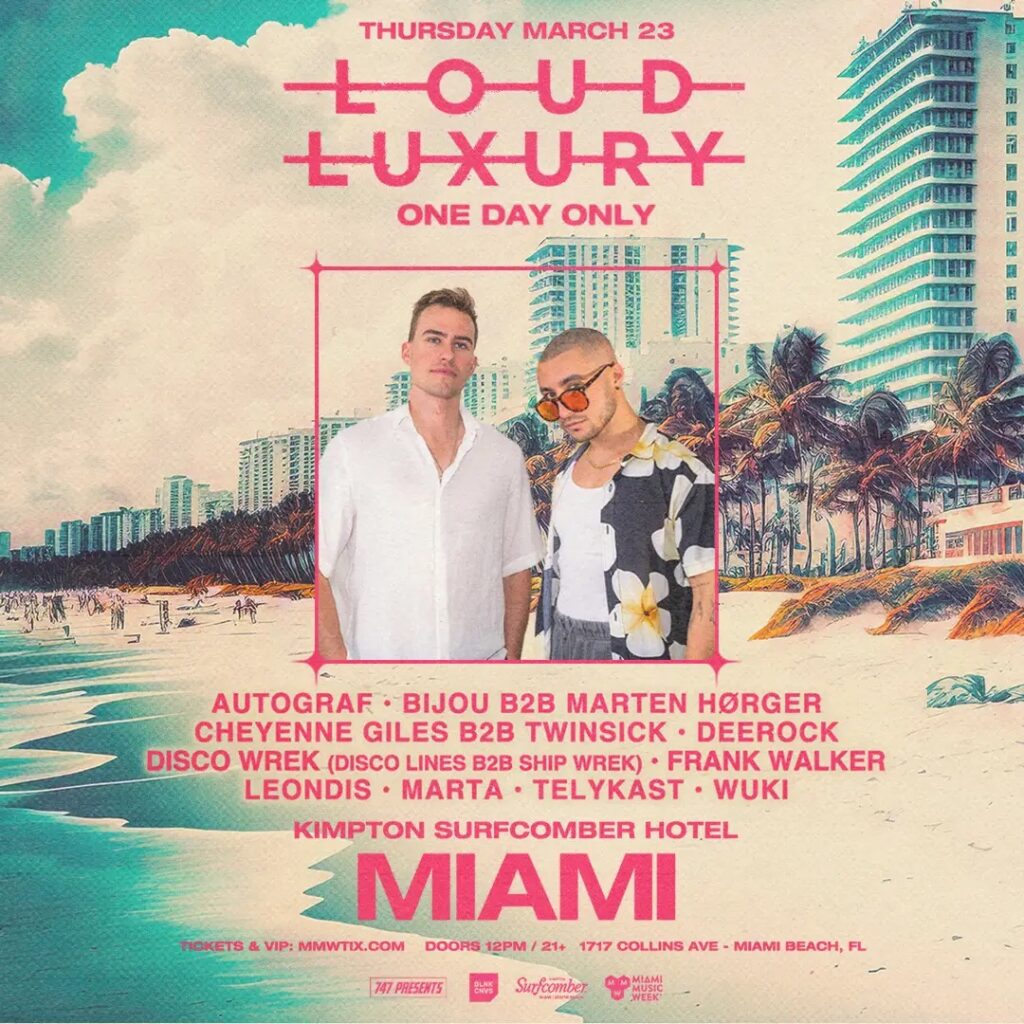 Event: Loud Luxury: One Day Only Miami
Date: Thursday, March 23, 2023
Venue: The Surfcomber
Lineup: Loud Luxury, Autograf, Bijou b2b Marten Horger, Cheyenne Giles b2b Twinstick, Deerock, Disco Wrek (Disco Lines b2b Ship Wrek), Frank Walker, Leondis, Marta, TELYKAST, Wukii
Tickets: https://www.tixr.com/groups/blnkcnvs747/events/loud-luxury-one-day-only-pool-party-60555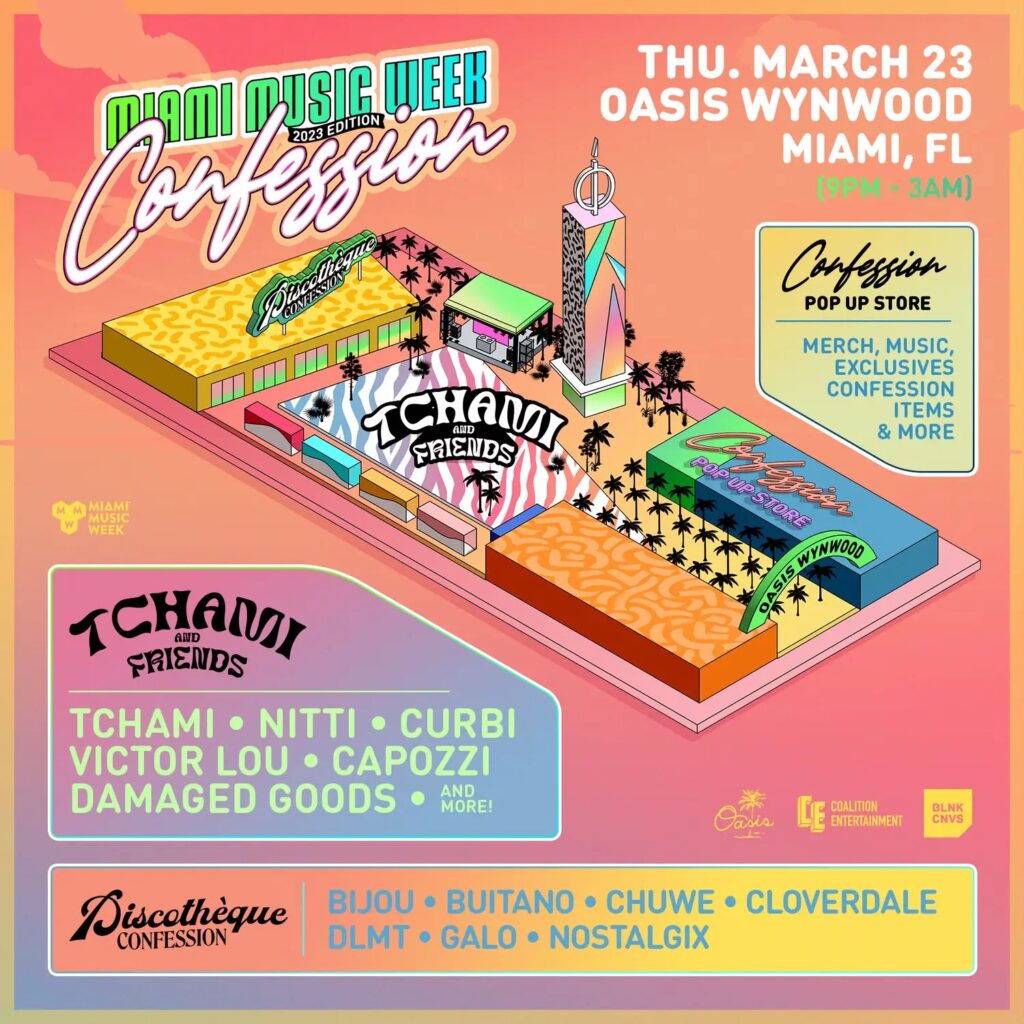 Event: Confession MMW: Tchami & Friends
Date: Thursday, March 23, 2023
Venue: The Oasis Wynwood
Lineup: Tchami, Nitti, Curbi, Victor Lou, Capozzi, Damaged Goods | Discotheue Stage: BIJOU, Buitano, Chuwe, Cloverdale, DLMT, Galo, Nostalgix
Tickets: https://www.tixr.com/groups/blnkcnvs/events/tchami-friends-confession-miami-62037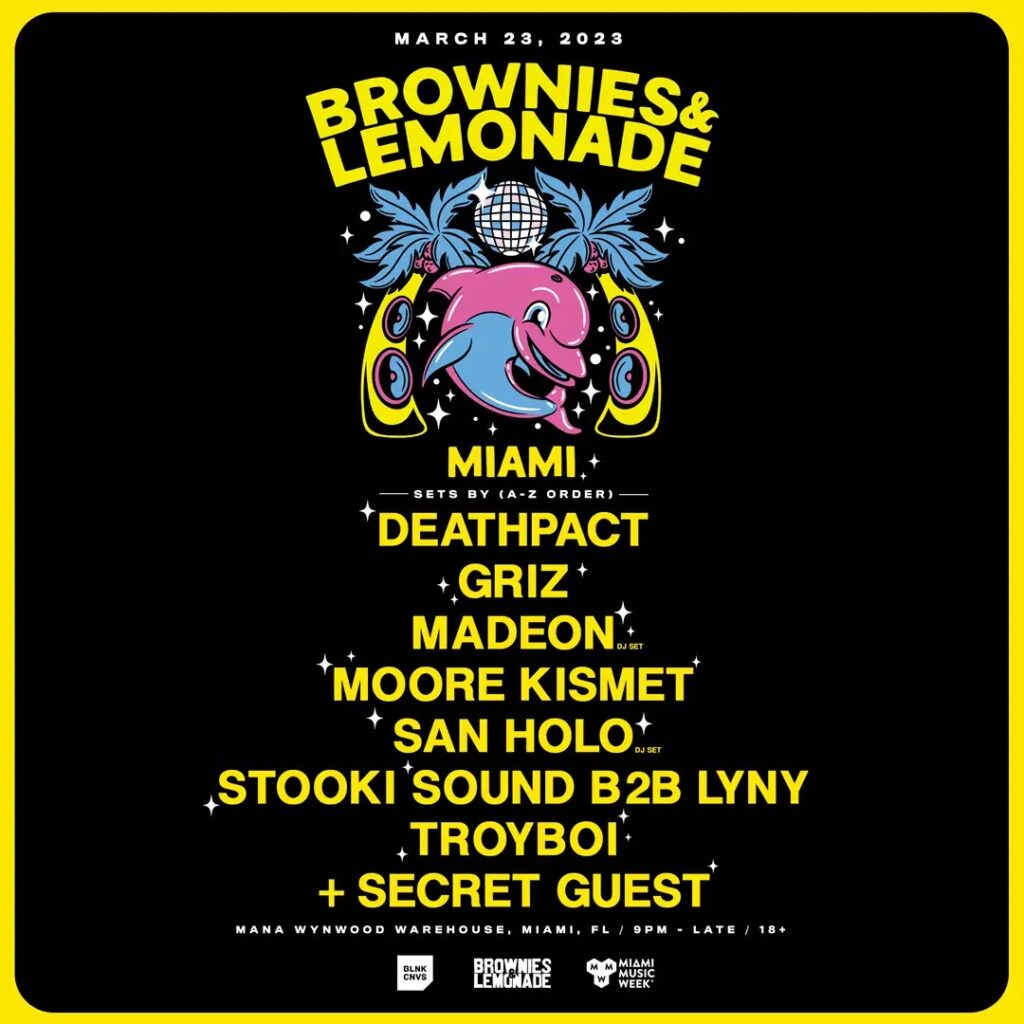 Event: Brownies & Lemonade Miami
Date: Thursday, March 23, 2023
Venue: Mana Wynwood
Lineup: Deathpact, GRiZ, Madeon, Moore Kismet, San Holo, Stooki Sound b2b LYNY, TroyBoi + Secret Guest
Tickets: https://www.tixr.com/groups/blnkcnvs/events/brownies-lemonade-miami-2023-61823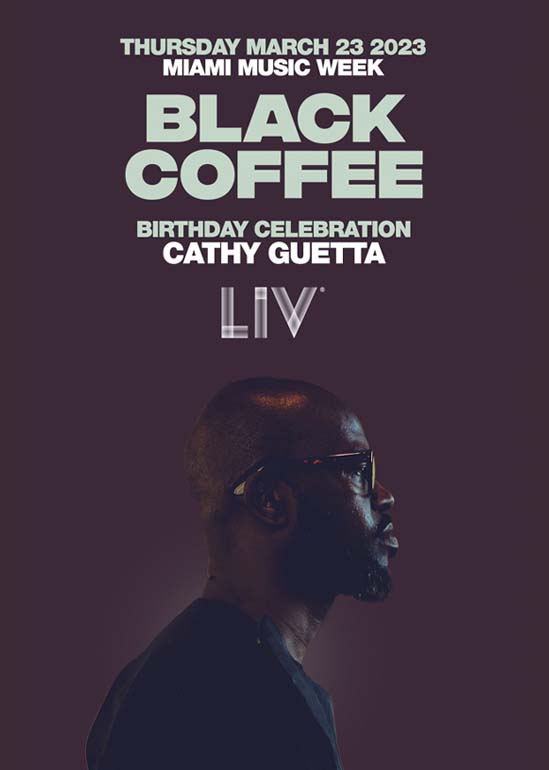 Event: Black Coffee MMW 2023: Birthday Celebration for Cathy Guetta
Date: Thursday, March 23, 2023
Venue: LIV Miami
Lineup: Black Coffee
Tickets: https://www.tixr.com/groups/liv/events/black-coffee-60610
Friday, March 24, 2023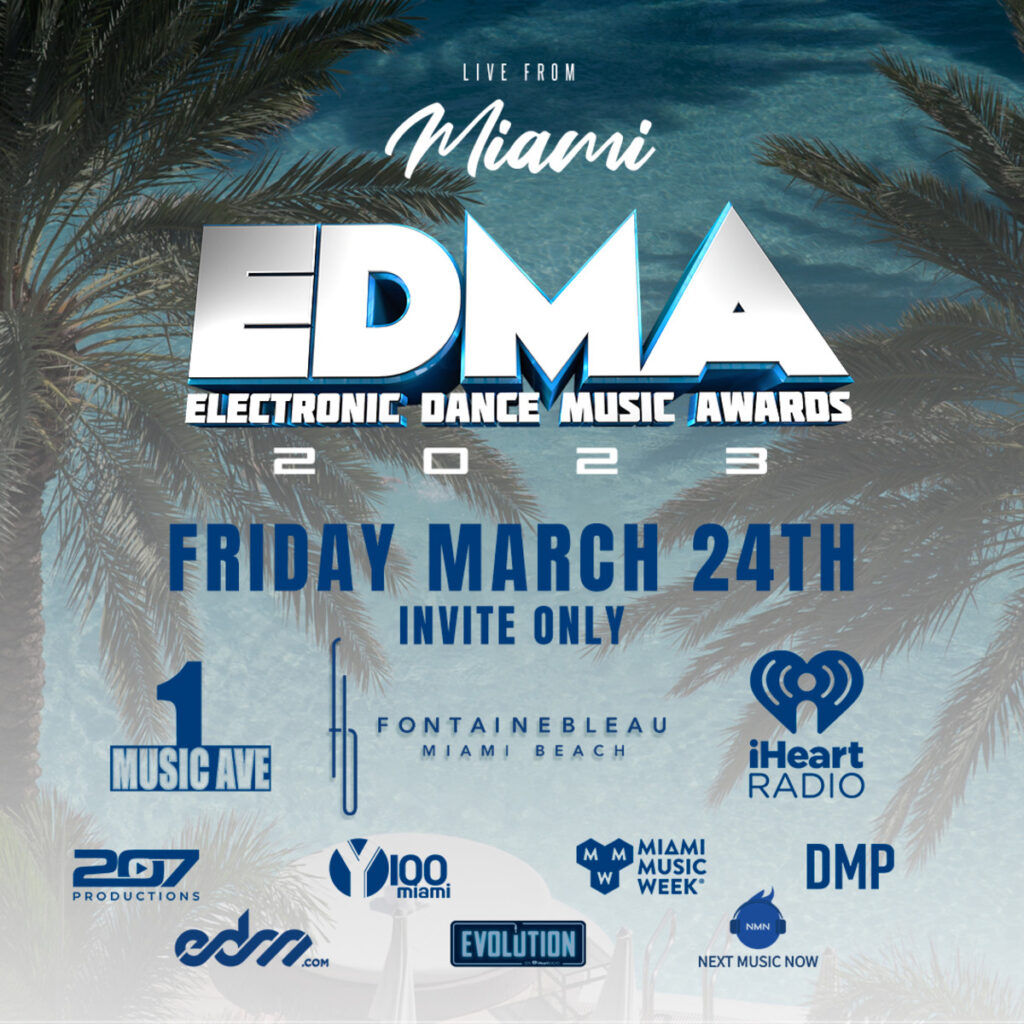 Event: Electronic Dance Music Awards (EDMAs)
Date: Friday, March 24, 2023
Venue: The Arkadia Pool at Fontainebleau Miami
Lineup: TBA
Tickets: Invite Only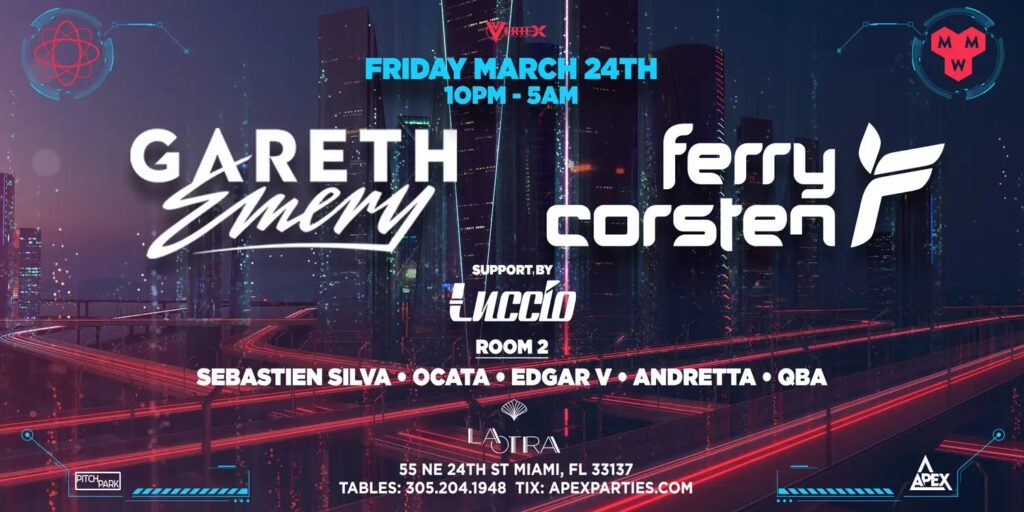 Event: Apex Presents & Pitch Park Events Presents: Ferry Corsten at La Otra at Mad
Date: Friday, March 24, 2023
Venue: La Otra by MAD
Lineup: Gareth Emery & Ferry Corsten
Tickets: https://www.eventbrite.com/e/gareth-emery-ferry-corsten-mad-la-otra-tickets-557990573827?aff=RA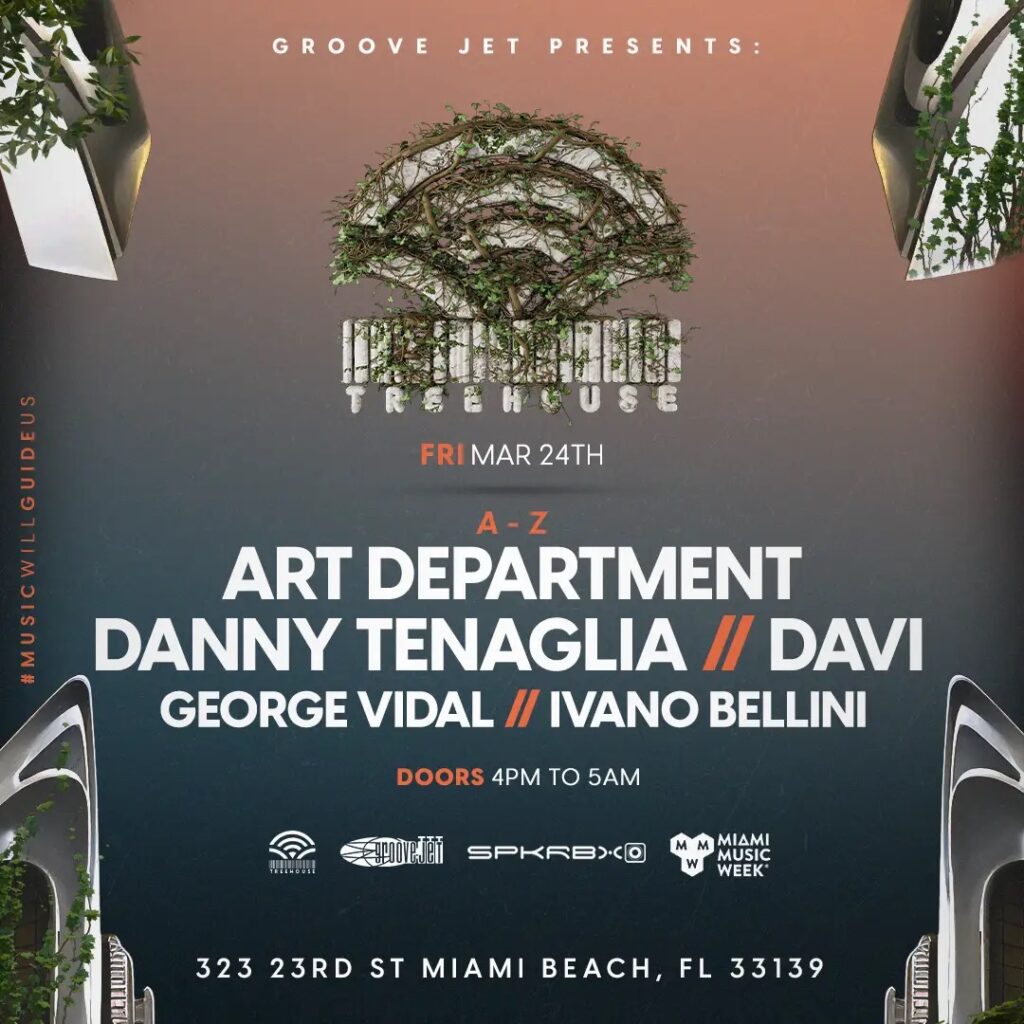 Event: Treehouse Presents: Danny Tenaglia + Art Department + DAVI (MMW)
Date: Friday, March 24, 2023
Venue: Treehouse Miami
Lineup: Danny Tenaglia, Art Department, DAVI, Ivano Bellini, George Vidal
Tickets: https://shotgun.live/events/danny-tenaglia-art-department-davi-mmw?utm_source=shotgun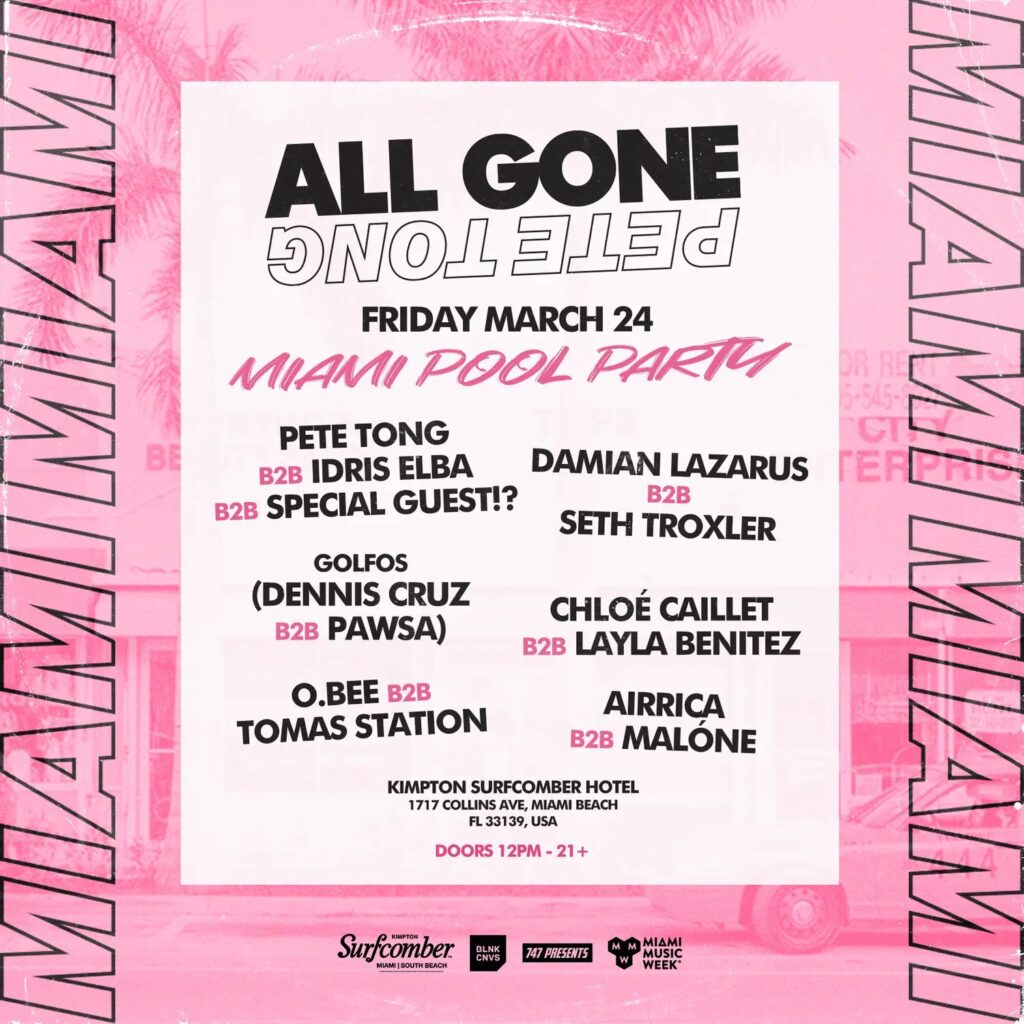 Event: All Gone Pete Tong Pool Party
Date: Friday, March 24, 2023
Venue: The Surfcomber
Lineup: Pete Tong b2b Idris Elba b2b ???, Damian Lazarus b2b Seth Troxler, Golfos (Dennis Cruz b2b Pawsa), Chloe Caillet b2b Layla Benitez, O.BEE b2b Tomas Station, Airrica b2b Malone
Tickets: https://www.tixr.com/groups/blnkcnvs747/events/all-gone-pete-tong-pool-party-59402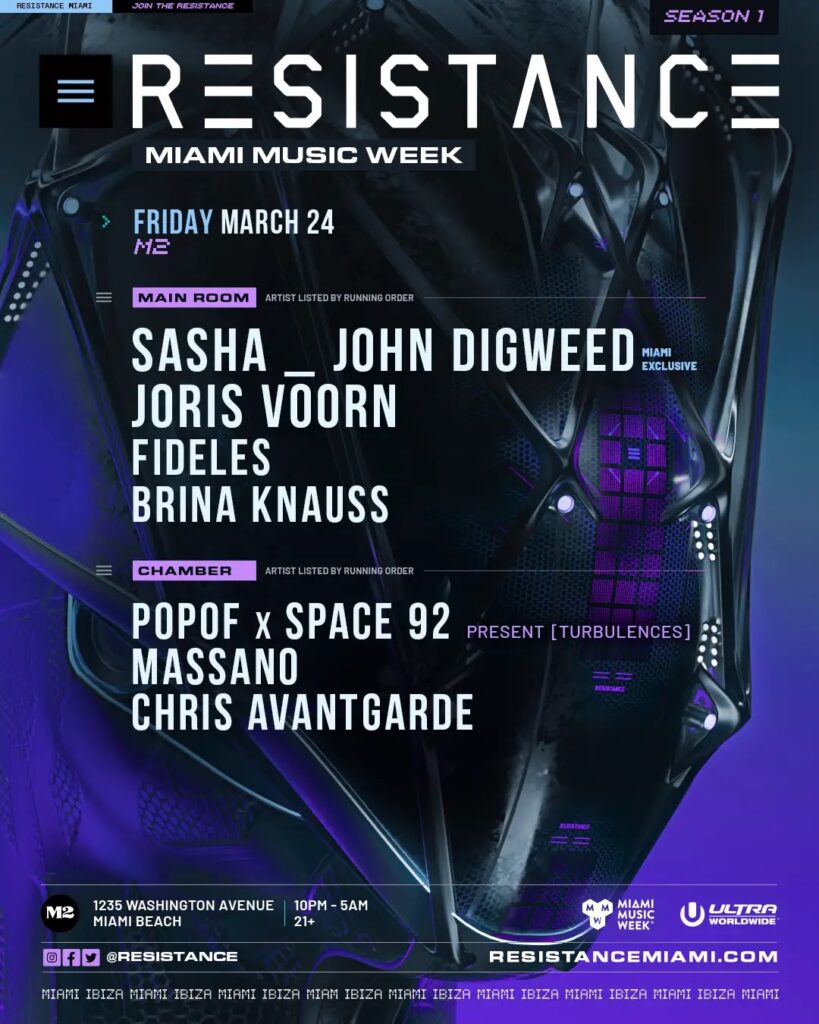 Event: RESISTANCE Miami: Sasha + John Digweed
Date: Friday, March 24, 2023
Venue: M2 Miami
Lineup: Sasha & John Digweed, Joris Voorn, Fideles, Brina Knauss, Popof x Space 92 present TURBULENCES, Massano, Chris Avantgarde
Tickets: https://resistancemiami.com/tickets/march-24/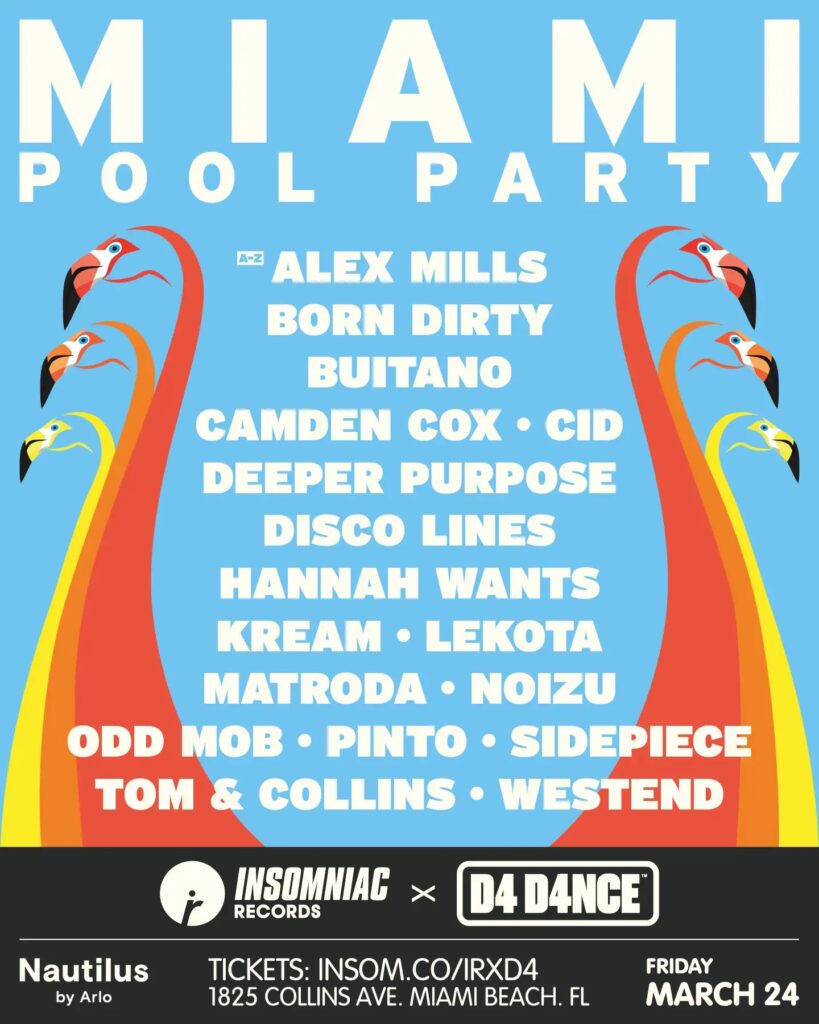 Event: Insomniac Records & D4 D4NCE Pool Party
Date: Friday, March 23, 2023
Venue: The Nautilus Hotel
Lineup: Alex Mills, Born Dirty, Buitano, Camden Cox, CID, Deeper Purpose, Disco Lines, Hannah Wants, KREAM, Lekota, Matroda, Noizu, Odd Mob, Pinto, SIDEPIECE, Tom & Collins, Westend
Tickets: https://www.tixr.com/groups/blnkcnvs747/events/insomniac-records-x-d4-d4nce-pool-party-57576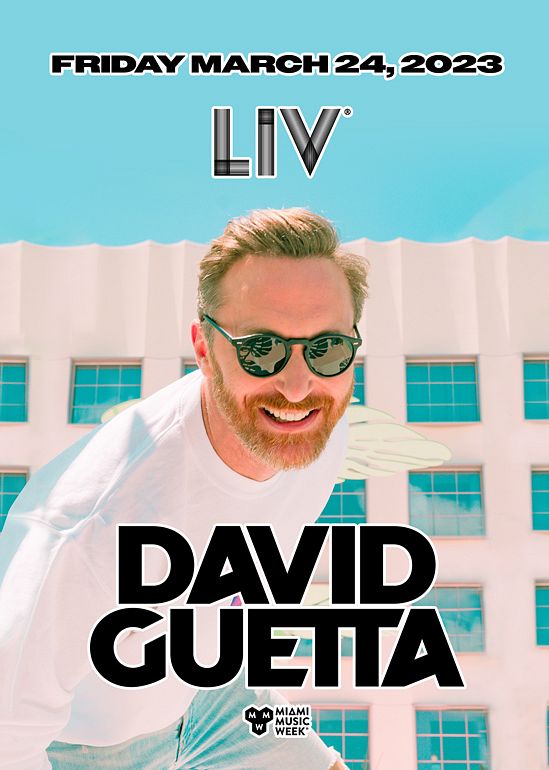 Event: David Guetta at LIV
Date: Friday, March 24, 2023
Venue: LIV Miami
Lineup: David Guetta
Tickets: https://www.tixr.com/groups/liv/events/david-guetta-60616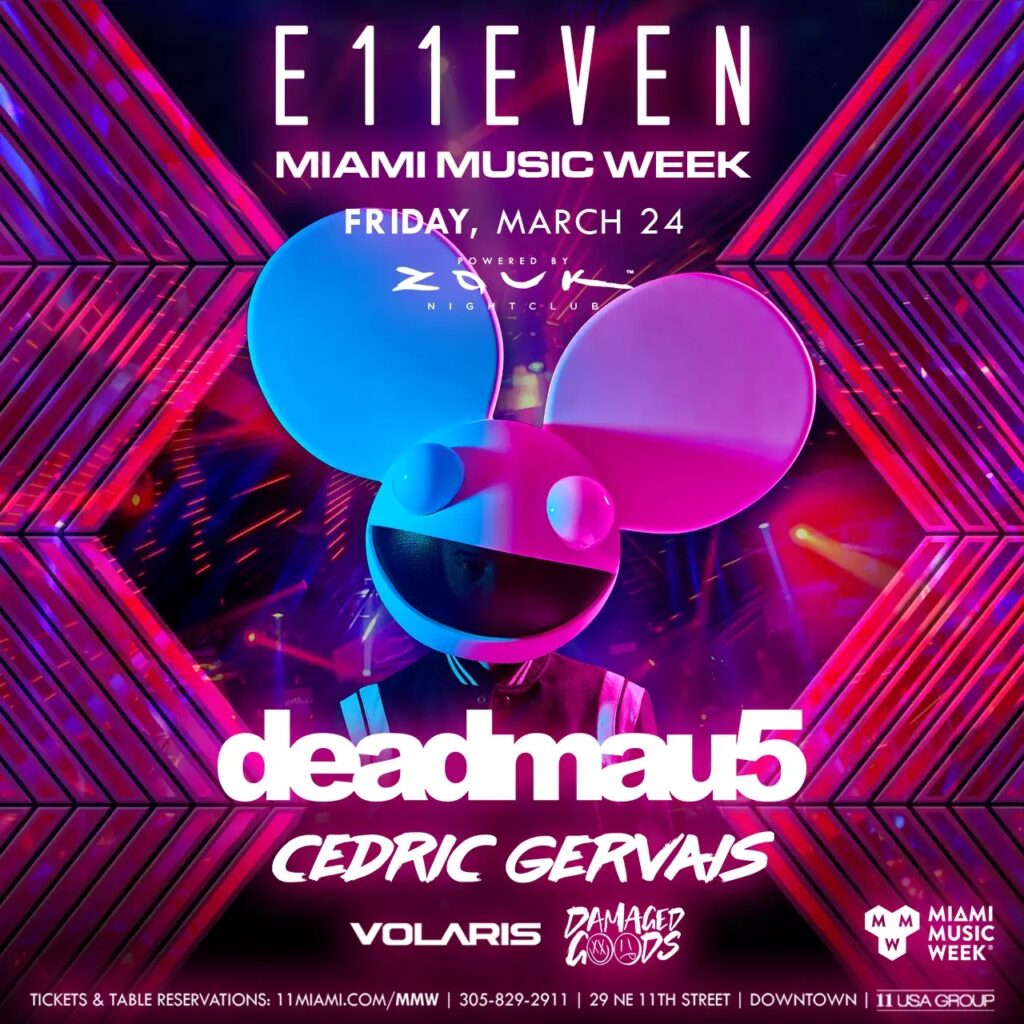 Event: MMW feat. Deadmau5
Date: Friday, March 24, 2023
Venue: E11EVEN Miami & Rooftop
Lineup: Deadmau5, Cedric Gervais, Volaris, Damaged Goods
Tickets: https://www.tixr.com/groups/11miami/events/mmw-ft-deadmau5-62093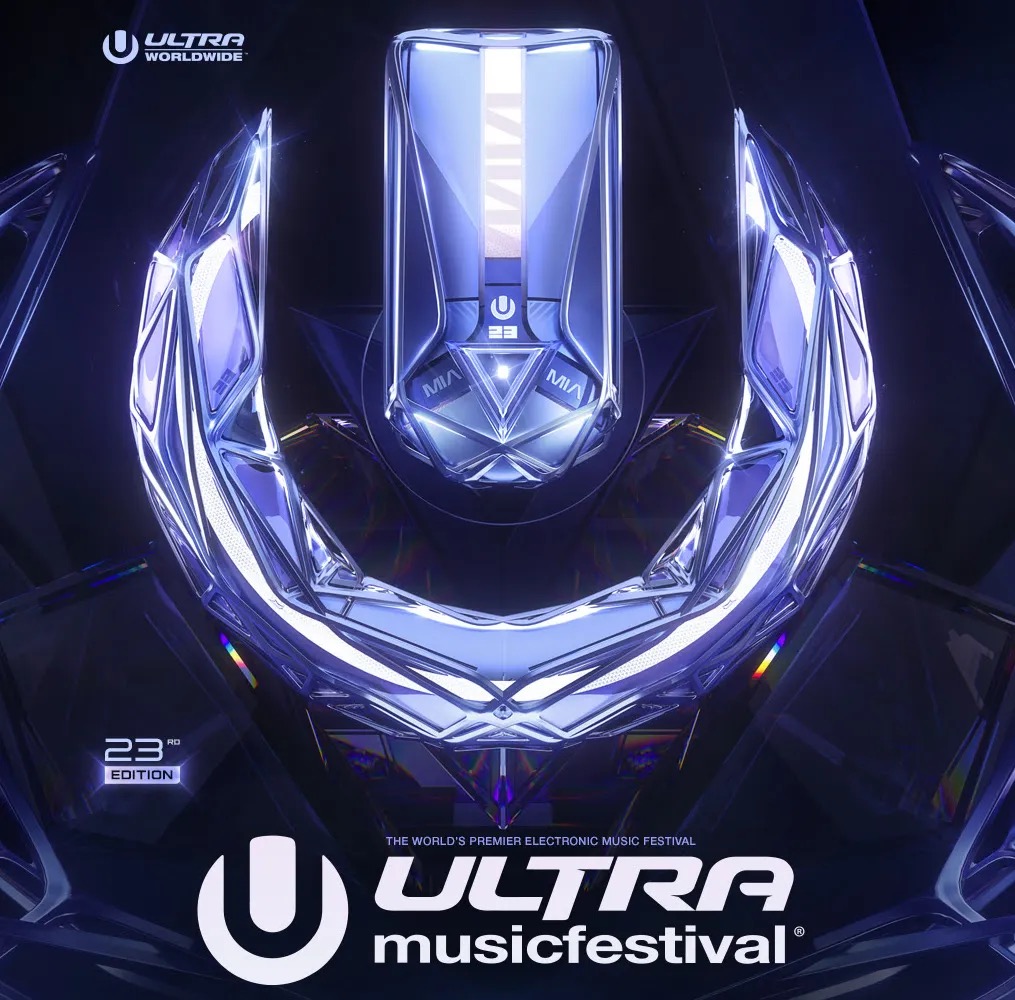 Event: Ultra Music Festival 2023
Date: Friday, March 24, 2023
Venue: Bayfront Park, Miami
Lineup: Below
Tickets: http://www.ultramusicfestival.com
Saturday, March 25, 2023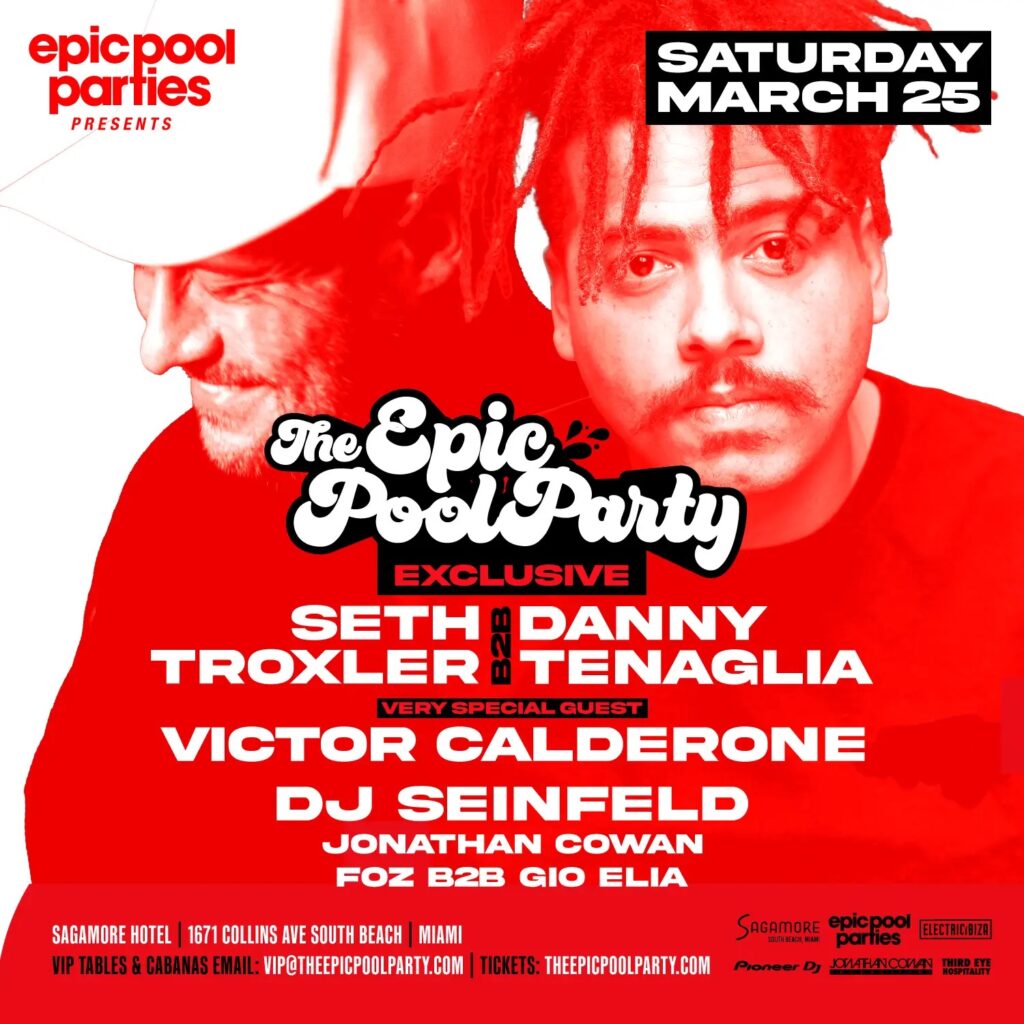 Event: EPIC POOL PARTIES pres. Seth Troxler b2b Danny Tenaglia
Date: Saturday, March 25, 20223
Venue: The Sagamore Hotel
Lineup: Seth Troxler b2b Danny Tenaglia, Victor Calderone, Jonathan Cowan, DJ Seinfeld, Foz b2b Gio Elia
Tickets: https://theepicpoolparty.com/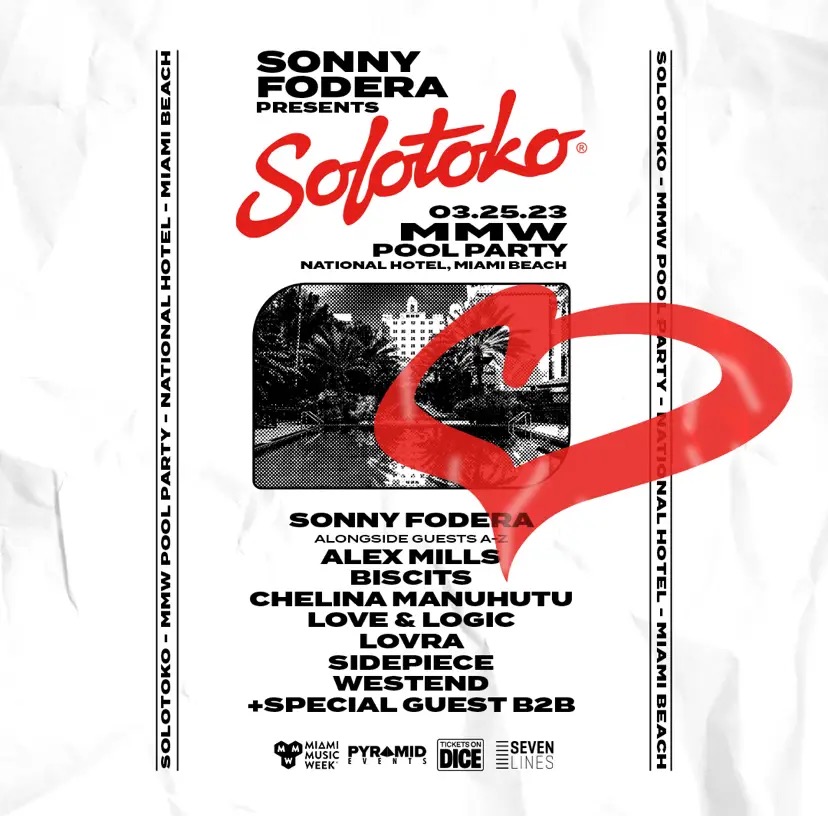 Event: Sonny Fodera presents Solotoko Miami (MMW Pool Party)
Date: Saturday, March 25, 2023
Venue: The National Hotel
Lineup: Sonny Fodera, SIDEPIECE, Westend, Biscits, Alex Mills, LOVRA, Love & Logic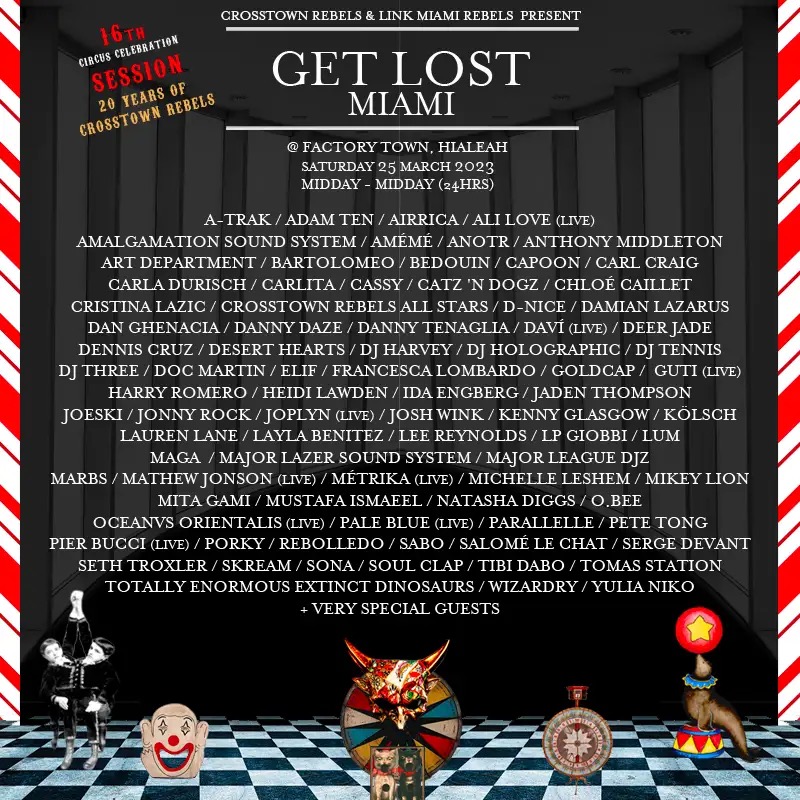 Event: GET LOST MIAMI 2023
Date: March 25, 2023
Venue: Factory Town
Lineup: A-Trak, Adam Ten, Airrica, Ali Love, Amalgamation Sound System, AMÉMÉ, ANOTR, Anthony Middleton, Art Department, Bartolomeo, Bedouin, Capoon, Chloe Caillet, Christina Lazic, Crosstown Rebels All Stars, D-Nice, Damian Lazarus, Dan Ghenacia, Danny Daze, Danny Tenaglia, Davi (Live), Deer Jade, Dennis Cruz, Desert Hearts, DJ Harvey, DJ Holographic, DJ Tennis, DJ Three, Doc Martin, Elif, Francesca Lombardo, Goldcap, Guti (Live), Harry Romero, Heidi Lawden, Ida Engberg, Jaden Thompson, Joeski, Jonny Rock, Joplyn (Live), Josh Wink, Kenny Glasgow, Kolsch, Lauren Lane, Layla Benitez, Lee Reynolds, LP Giobbi, MAGA, Mathew Jonson (Live), Metrika (Live), Michelle Leshem, Mikey Lion, Mita Gami, Mustafa Ismaeel, Natasha Diggs, O.Bee, Oceanvs Orientalis (Live), Pale Blue (Live), Parallelle, Pete Tong, Pier Bucci (Live), Porky, Rebolledo, Sabo, Salomé Le Chat, Serge Devant, Seth Troxler, Skream, SONA (2), Soul Clap, Tibi Dabo, Thomas Sation, Totally Enormous Extinct Dinosaurs, Wizardry, Yulia Niko + very special guests
Tickets: https://dice.fm/event/ygw5v-get-lost-miami-25th-mar-factory-town-miami-tickets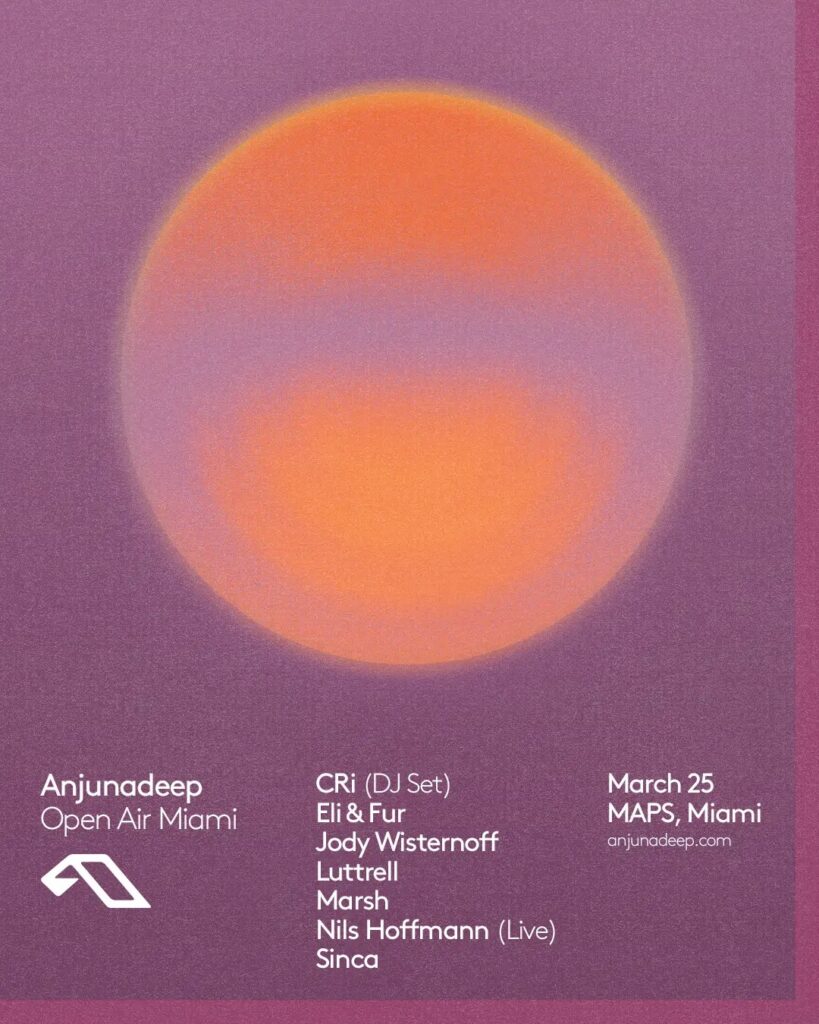 Event: Anjunadeep Open Air Miami
Date: Saturday, March 25, 2023
Venue: Maps Backlot
Lineup: Cri (DJ set), Eli & Fur, Jody Wisternoff, Luttrell, Marsh, Nils Hoffman, Sinca
Tickets: https://www.tixr.com/groups/blnkcnvs/events/anjunadeep-60430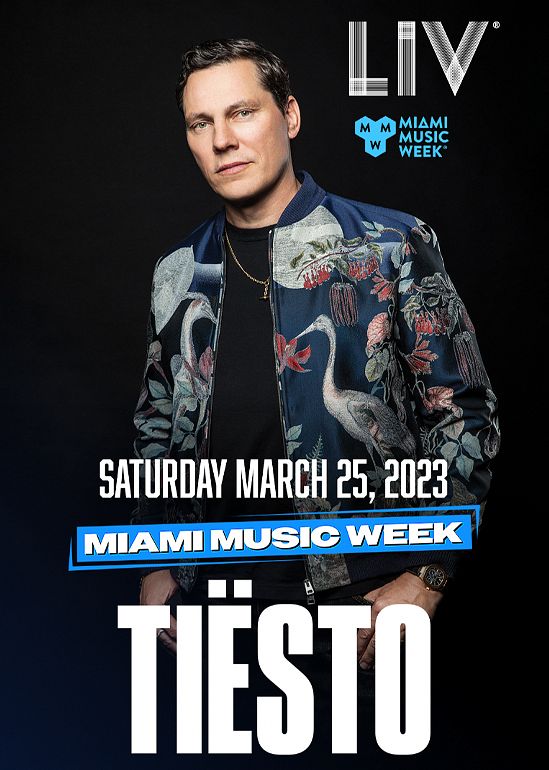 Event: Tiësto: Miami Music Week
Date: Saturday, March 25, 2023
Venue: LIV Miami
Lineup: Tiësto
Tickets: https://www.tixr.com/groups/liv/events/ti-sto-60622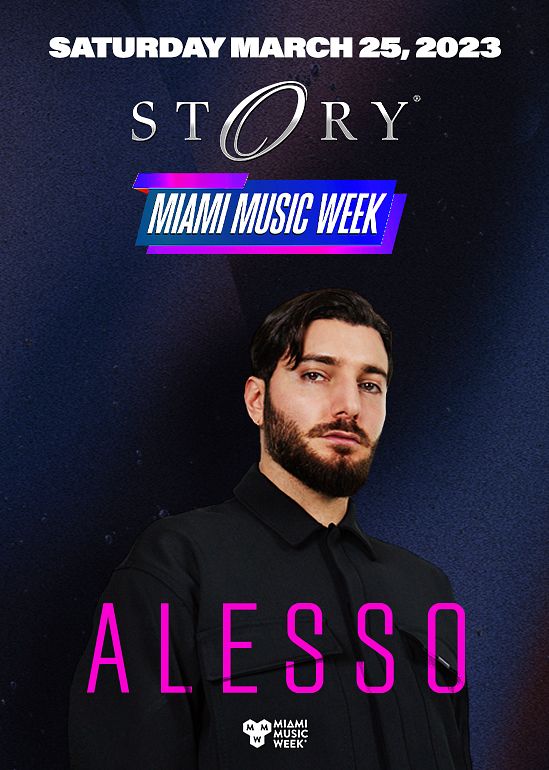 Event: Alesso: Miami Music Week
Date: Saturday, March 25, 2023
Venue: Story Miami
Lineup: Alesso
Tickets: https://www.tixr.com/groups/story/events/alesso-60371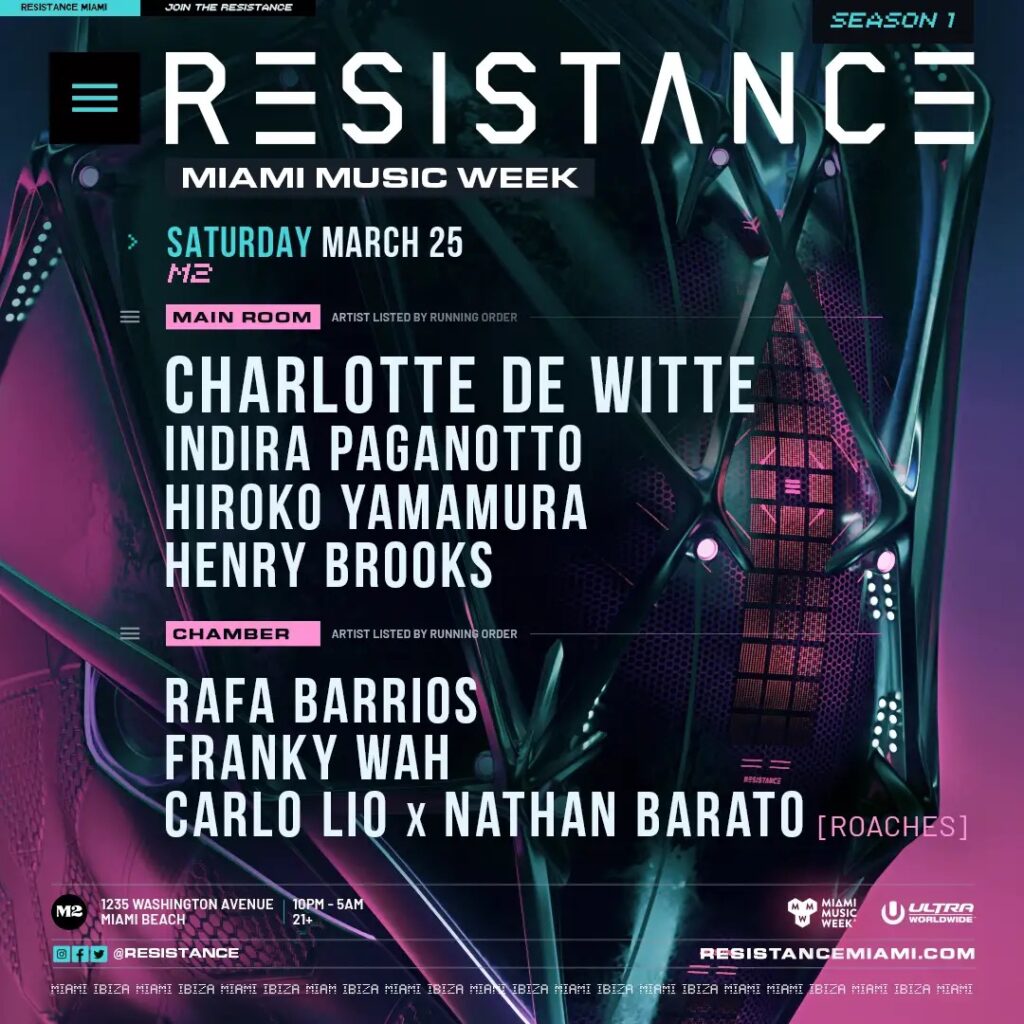 Event: RESISTANCE Miami: Charlotte de Witte
Date: Saturday, March 25, 2023
Venue: M2 Miami
Lineup: Charlotte de Witte, Indira Paganotto, Hiroko Yamamura, Henry Brooks, Rafa Barrios, Franky Wah, Carlo Lio x Nathan Barato
Tickets: https://resistancemiami.com/tickets/march-25/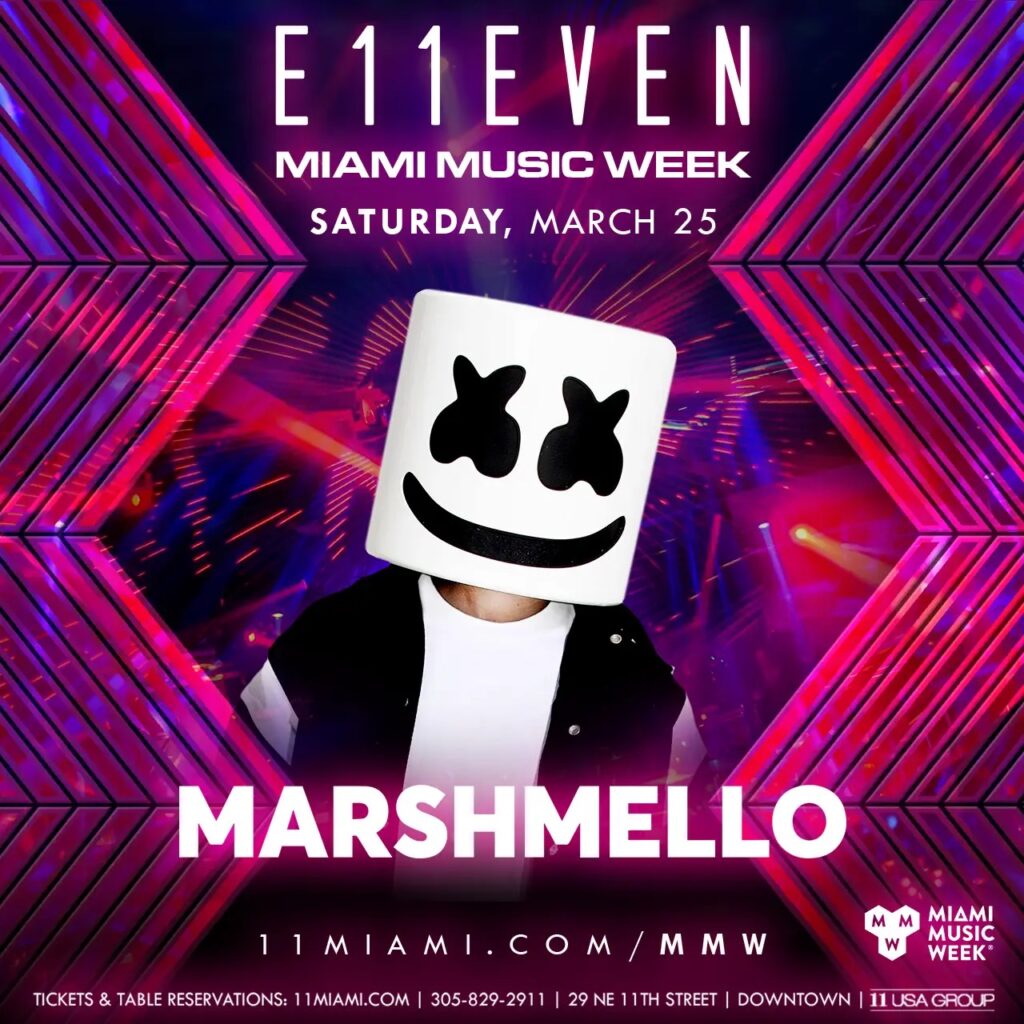 Event: MMW feat. Marshmello
Date: Saturday, March 25, 2023
Venue: E11EVEN Miami & Rooftop
Lineup: Marshmello
Tickets: https://www.tixr.com/groups/11miami/events/mmw-ft-marshmello-62094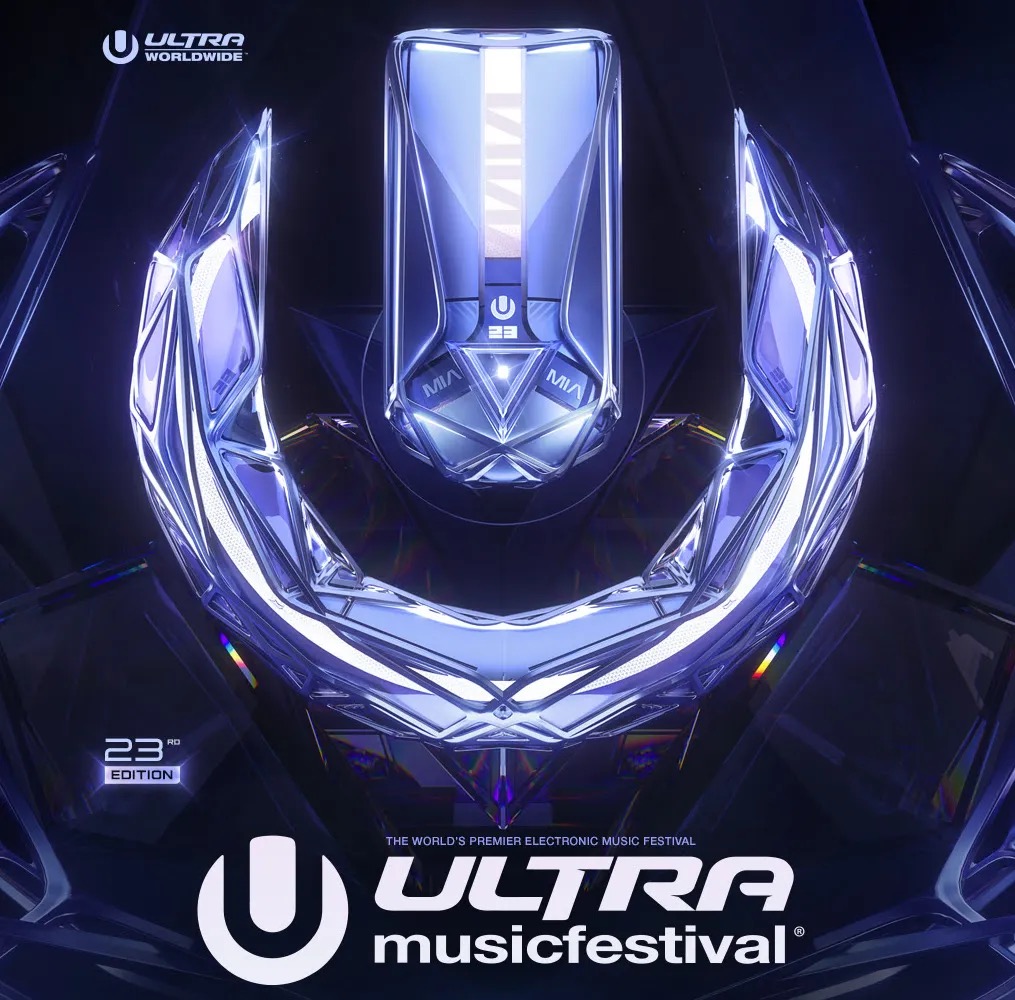 Event: Ultra Music Festival 2023
Date: Saturday, March 25, 2023
Venue: Bayfront Park, Miami
Lineup: Below
Tickets: http://www.ultramusicfestival.com
Sunday, March 26, 2023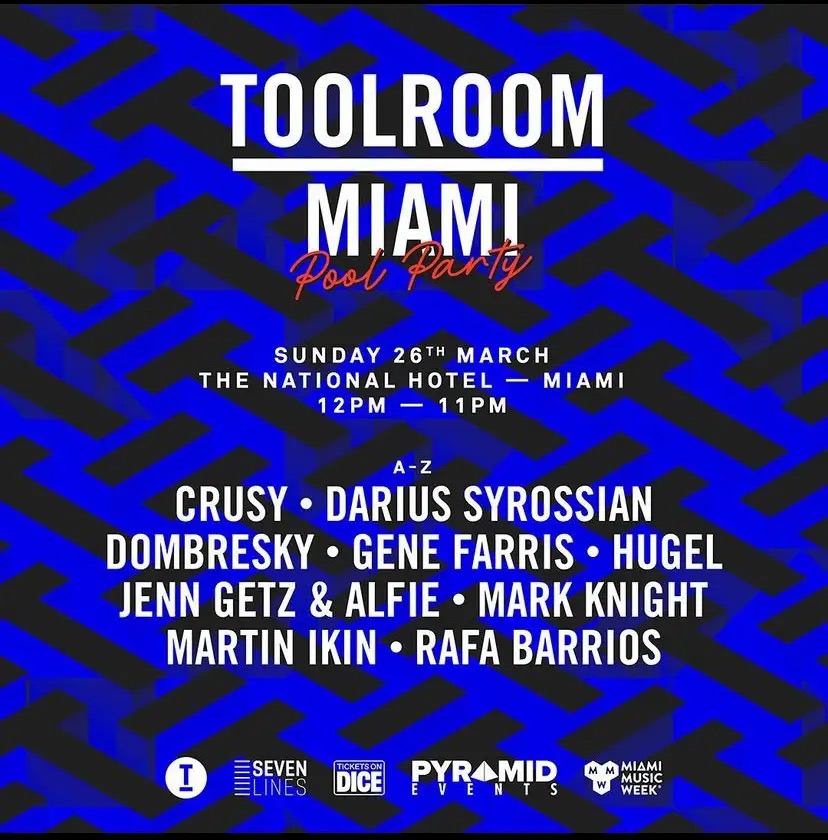 Event: Toolroom Miami – MMW Closing Pool Party
Date: Sunday, March 26, 2023
Venue: The National Hotel
Lineup: Mark Knight, Dombresky, Martin Ikin, Gene Farris, HUGEL, Rafa Barrios, Darius Syrossian
Tickets: https://ra.co/events/1654282#tickets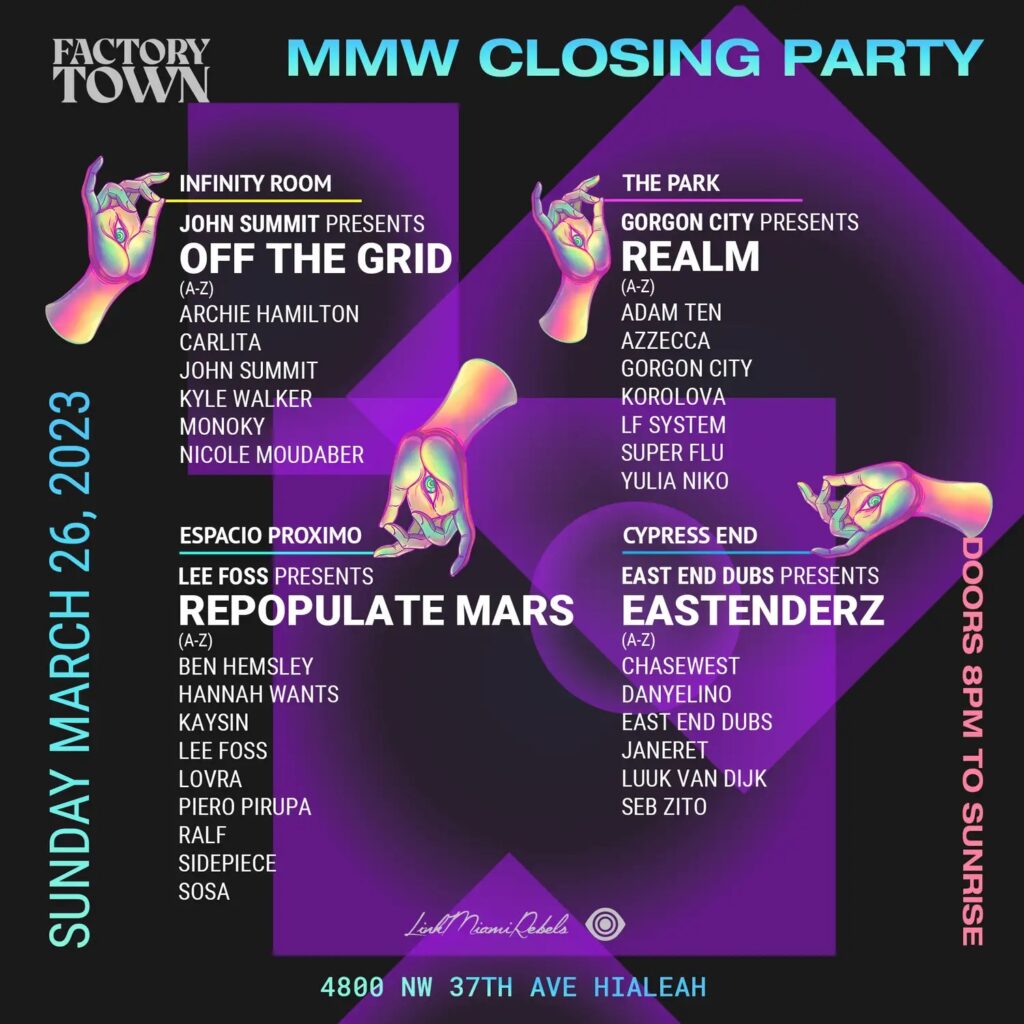 Event: MMW Closing at Factory Town
Date: Sunday, March 26, 2023
Venue: Factory Town
Lineup: John Summit, Gorgon City, Lee Foss, East End Dubs, Archie Hamilton, Carlita, Kyle Walker, Monoky, Nicole Moudaber, Adam Ten, Azzecca, Korolova, LF SYSTEM, Super Flu, Yulia Niko, Ben Hemsley, Hannah Wants, Kaysin, Piero Pirupa, Ralf, SIDEPIECE, Sosa, Chasewest, Danyelino, Janeret, Luuk van Dijk, Seb Zito
Tickets: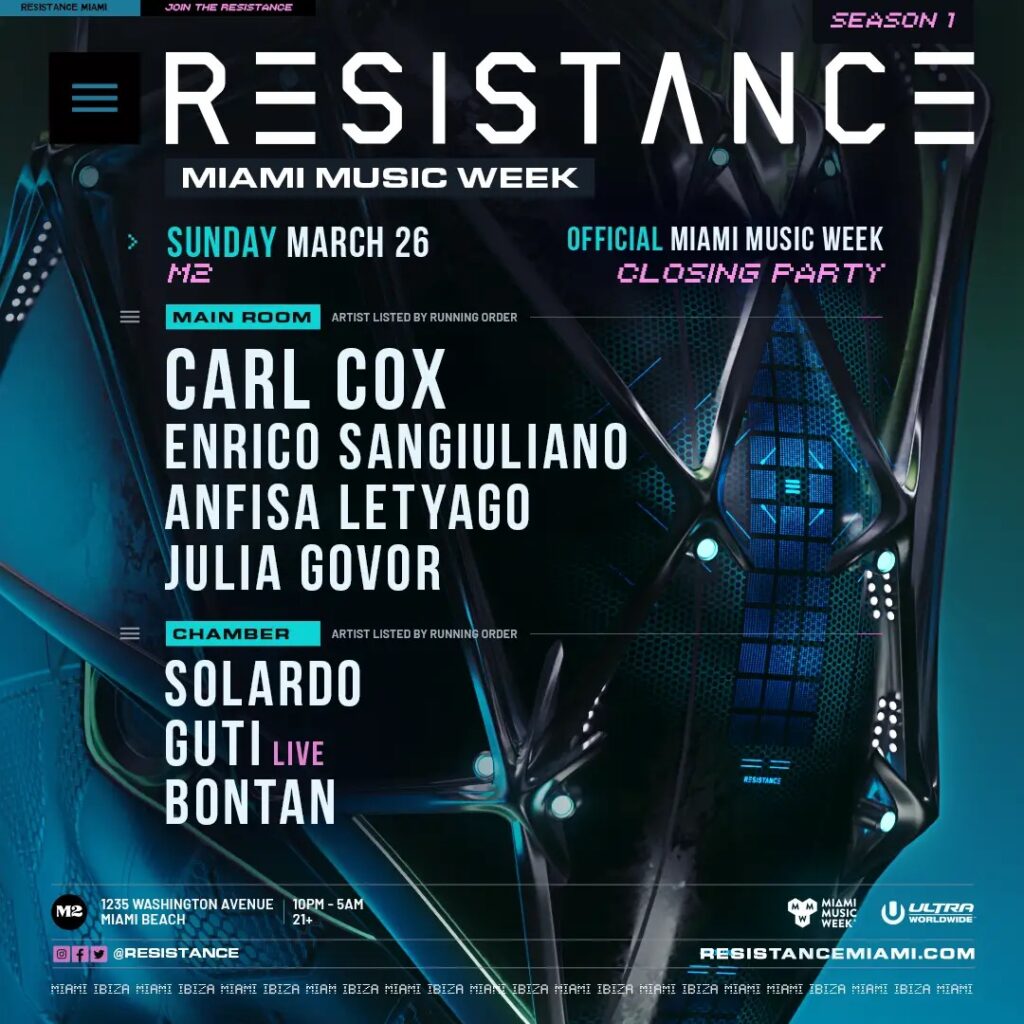 Event: RESISTANCE Miami: Carl Cox | Official MMW Closing Party
Date: Sunday, March 26, 2023
Venue: M2 Miami
Lineup: Carl Cox, Enrico Sangiuliano, Anfisa Letyago, Julia Govor, Solardo, Guti (live), Bontan
Tickets: https://resistancemiami.com/tickets/march-26-mmw-closing-party/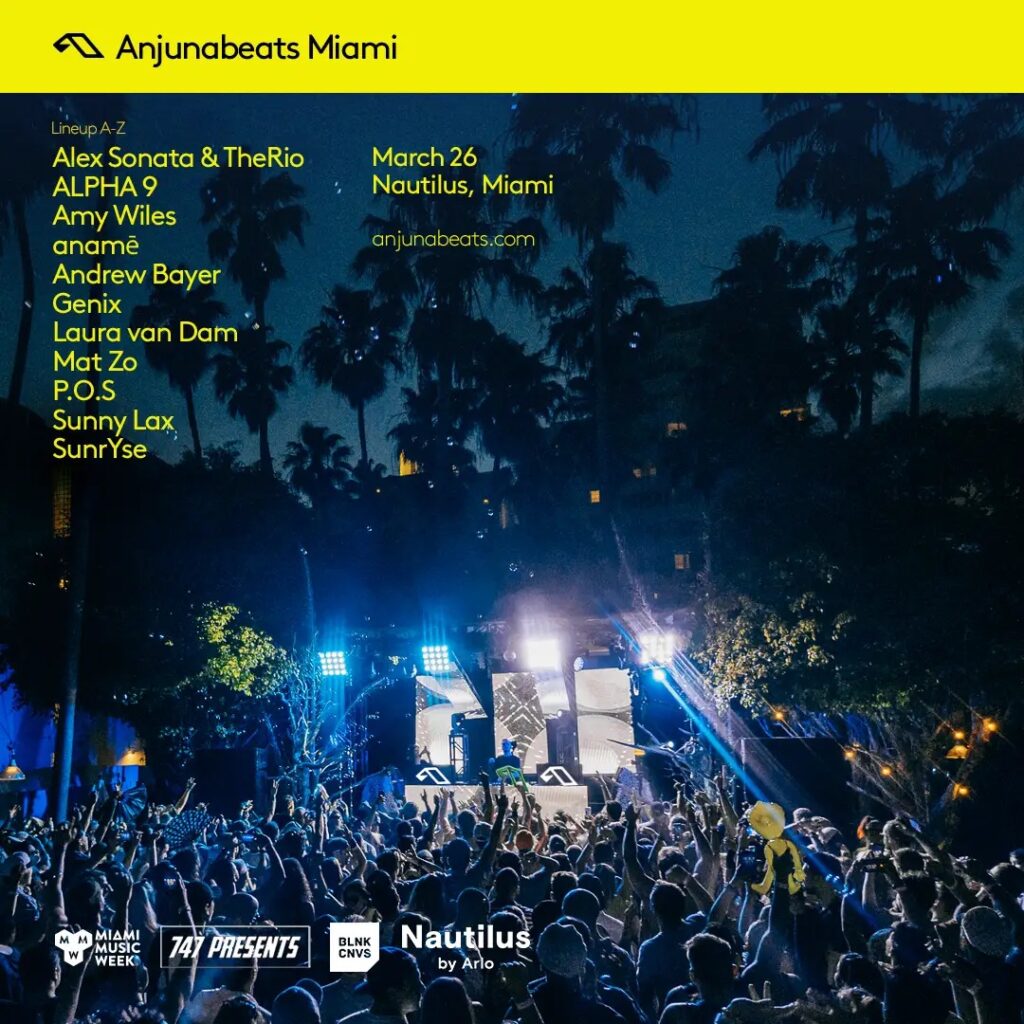 Event: Anjunabeats Pool Party
Date: Sunday, March 26, 2023
Venue: The Nautilus Hotel
Lineup: Alex Sonata & The Rio, ALPHA 9, Amy Wiles, aname, Andrew Bayer, Genix, Laura Van Dam, Mat Zo, P.O.S., Sunny Lax, SunrYse
Tickets: https://www.tixr.com/groups/blnkcnvs747/events/anjunabeats-pool-party-55577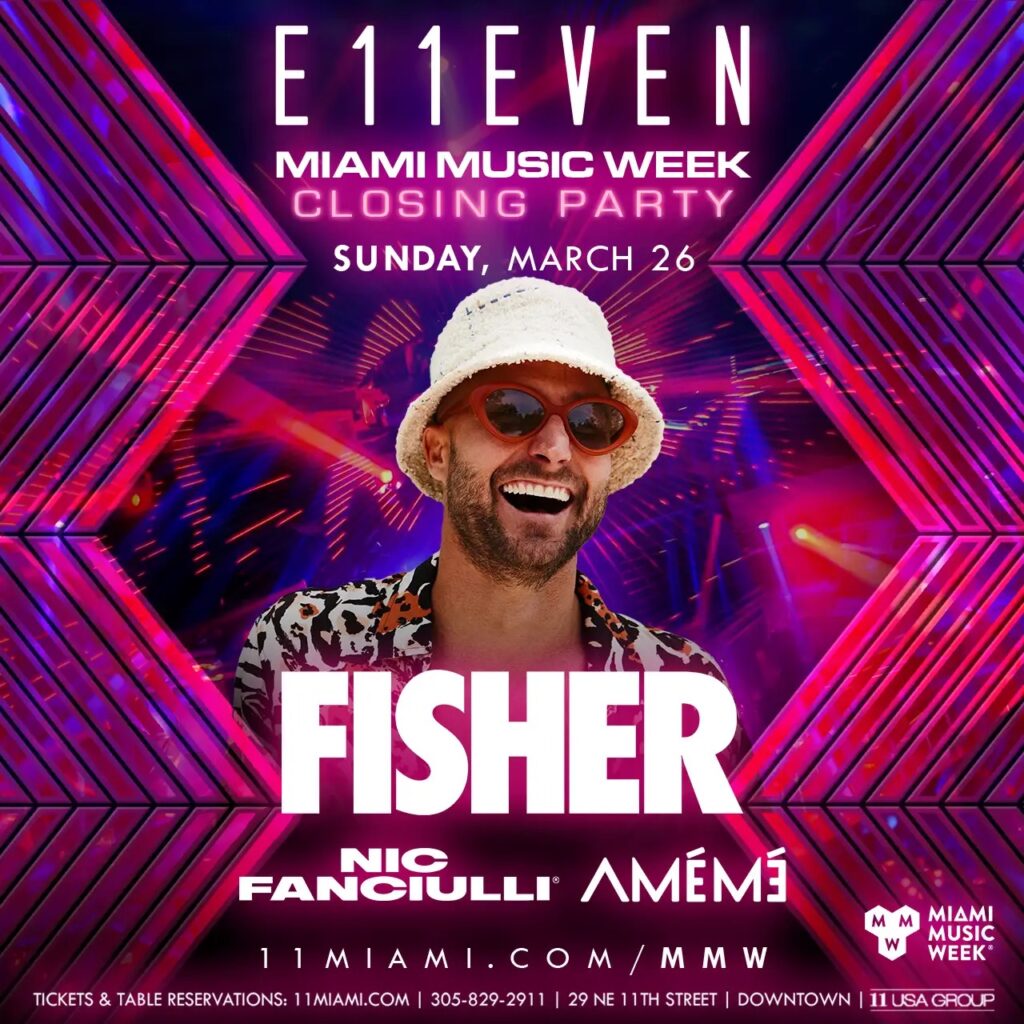 Event: MMW feat. FISHER
Date: Sunday, March 26, 2023
Venue: E11EVEN Miami & Rooftop
Lineup: FISHER (OZ), Nic Fanciulli, AMÉMÉ
Tickets: https://www.tixr.com/groups/11miami/events/mmw-ft-fisher-62090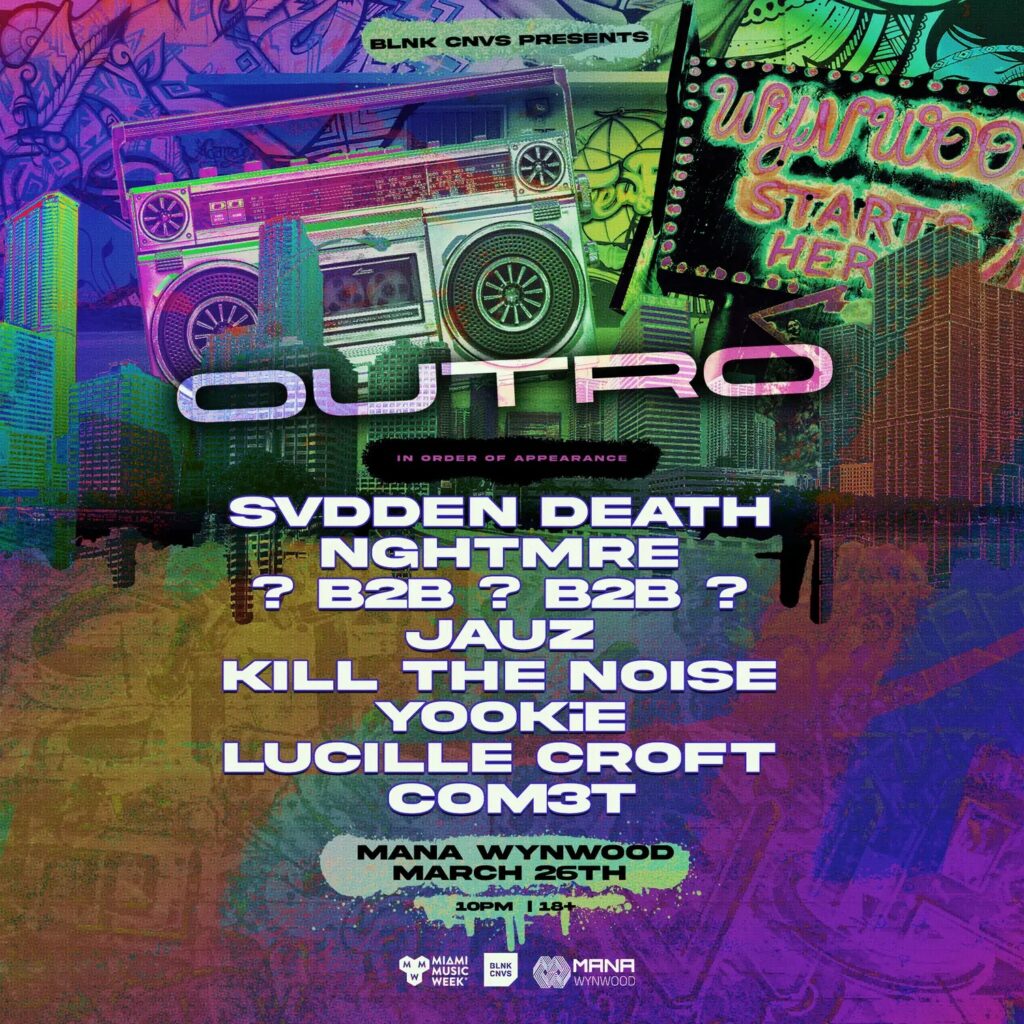 Event: OUTRO Closing Party
Date: Sunday, March 26, 2023
Venue: Mana Wynwood
Lineup: Svdden Death, NGHTMRE, b3b, Jauz, Kill the Noise, YOOKiE, Lucille Croft, Com3t
Tickets: https://www.tixr.com/groups/blnkcnvs/events/outro-62336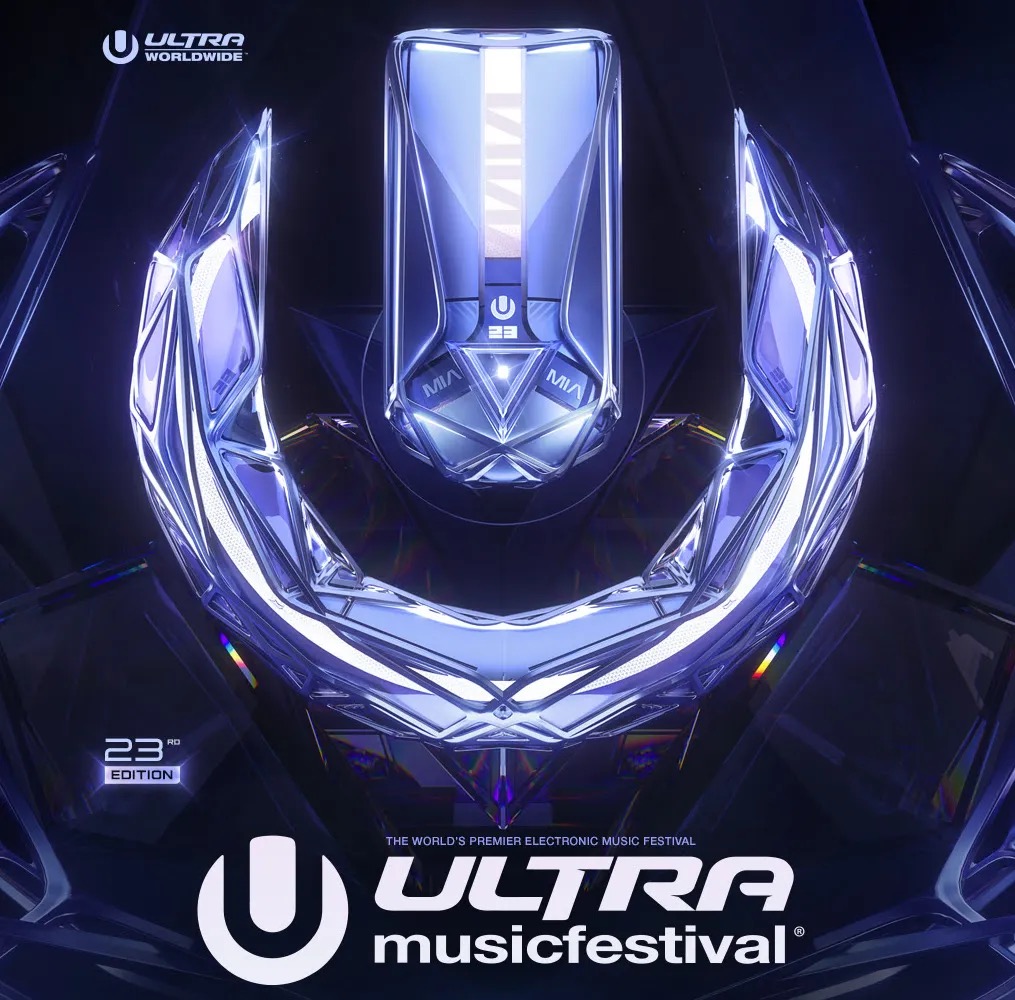 Event: Ultra Music Festival 2023
Date: Sunday, March 26, 2023
Venue: Bayfront Park, Miami
Lineup: Below
Tickets: http://www.ultramusicfestival.com
Featured photo courtesy of Ultra Music Festival