We take a closer look at Novation Controllers, Circuit Rhythm, a versatile sampler, and FLKey 37, a MIDI control for FL Studio creators.
One of the most interesting things to watch as music creation has become more and more computerized is the proliferation of hardware-based controllers that aim to make the job more natural, and more intuitive. It's a bit of a crowded space, quite frankly, but one simultaneously ripe for innovation, but also locked into certain, predictable ways of doing things. 
The U.K.'s Novation — part of the Focusrite group that includes not just Focusrite- and Novation-branded products, but now also Sequential (the late Dave Smith's synth company), among several others — seems to be balancing those two opposing approaches. (Novation is distributed Stateside by American Music and Sound.) 
I recently had a chance to take two of the company's controllers for an extended spin: The Circuit Rhythm and the FLKey 37. The two are very different products with two different purposes, and two different audiences. But, they do provide a peek into the Novation's mindset.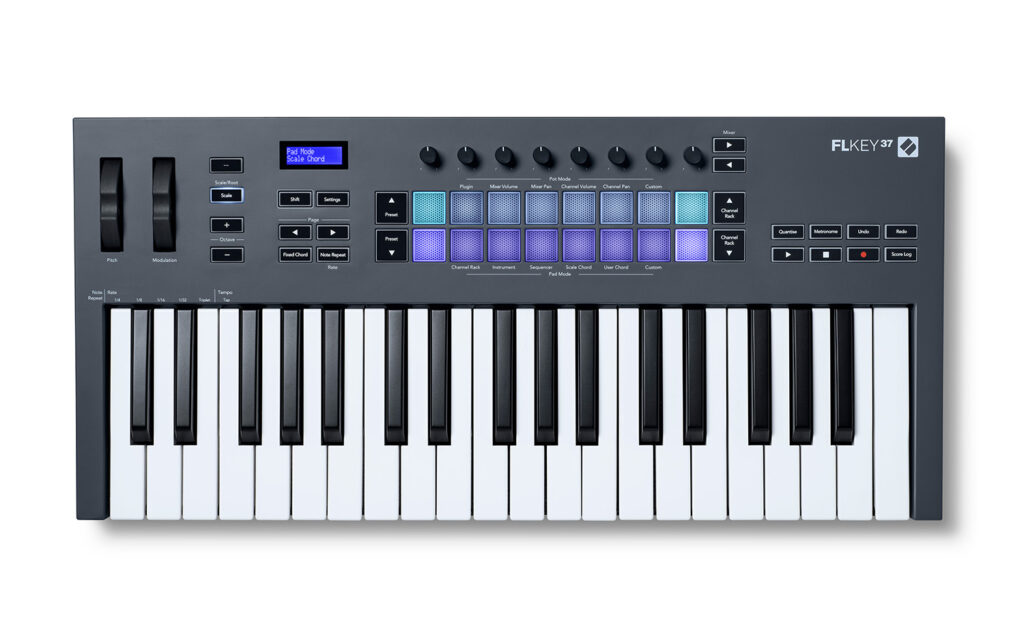 FLKey 37 
This controller seems to keep its focus well inside the box — and there's nothing wrong with that. Designed specifically for Image-Line's FL Studio (renamed in 2003 from FruityLoops, but still often called that, despite the passage of time), it's a conventional MIDI keyboard, but one with additional functions targeted specifically to FL Studio users' workflows. 
As the name suggests, the unit offers 37 conventional piano-like keys, with the usual pitch and mod wheels on the left, along with a range of knobs and pads for additional types of interaction, plus a small digital display. The back panel is quite simple: MIDI out, USB, and a sustain pedal jack.  
Novation has bundled some useful software from the likes of AAS, Spitfire Audio, and others, and for new users, there's a liberal six-month trial of FL Studio Producer Edition itself included, as well.  
There's a certain freedom in providing direct hardware control for otherwise computer-based software capabilities, and FLKey 37 delivers. The keyboard itself feels great to use, and the various other controls do as well, although many users of the product seem not to give particularly high marks for the pads, which I agree could be improved.  
If there's any other potential shortcoming it's that, of course, it's a virtual impossibility for any piece of hardware to map every single software feature as a button or a knob or whatever else. As a result, the FLKey 37 necessarily focuses on the most-used features. You'll want to position the unit where it's easy to play, but do so while your mouse and computer keyboard are easy to reach, as well. Additionally, experienced FL Studio users may least benefit from the pure software control aspects of the unit.  
Nevertheless, being able to easily capture melodic elements on the keyboard, to sequence beats using the unit's pads, and the control features that go with those capabilities might very well make the FLKey 37 a great value-add for any FL Studio user — especially given its price point ($199).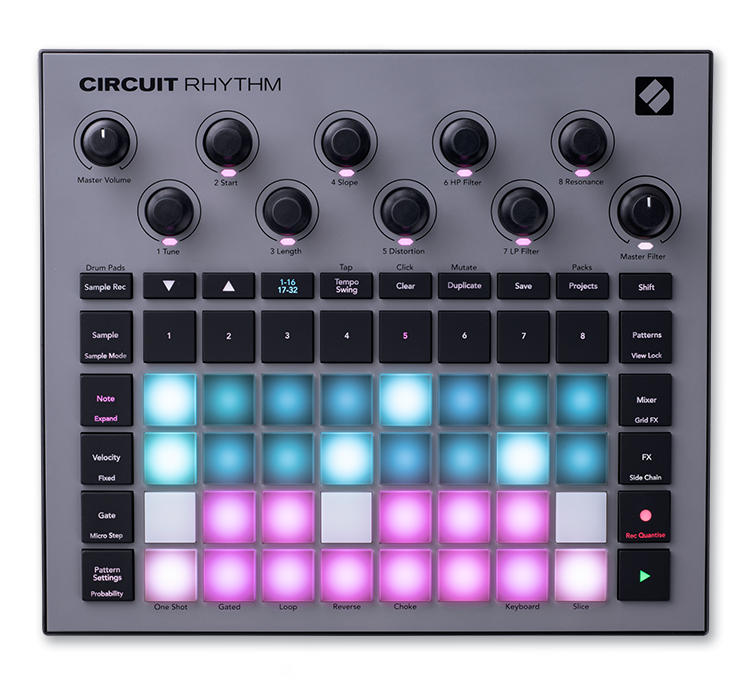 Circuit Rhythm 
If the FLKey 37 is inside the box, the Circuit Rhythm is far less so, although you wouldn't necessarily know it by looking at it. It resembles any number of beat controllers (which it is, too, in some use cases), but Novation calls it a "beatmaking performance sampler" on the product packaging; on their website, it's in a category labeled "groovebox" (one of three products in that category). What that means is that the product is designed to make it easy to program and perform beats; do so anytime, anywhere with its on-board memory and battery power; then brings things back to the studio, hook it to your computer and your DAW, and more fully flesh out your creative ideas. On that last score, it's joining a lot of recent hardware devices, smart device apps, and other tools aimed at releasing music-makers from the shackles of a studio desk. 
The device ($399) may be a compact size, but its 10 knobs and 60 pads — 32 of which are for beat control, and the remainder for user interface — pack a lot of hardware-based functionality into that small, easily portable package. The back panel has audio I/O, MIDI I/O, a headphone jack, a USB-C connector for power and computer connectivity, and a microSD slot to expand memory.  
Novation doesn't specify exactly how big the sample library is that ships with the product, but it seems extensive, and the company provides additional options through its Components functionality, which can be accessed via a standard web browser, while the Circuit Rhythm is connected to your computer via USB — a nice, and convenient touch that negates the need to install software. (It also makes it simple to upgrade the unit's firmware.) Components also makes it easy to back up and swap content, including accessing the material from the libraries in the included Circuit Rhythm Sample Expansion Pack.  
The Circuit Rhythm is not limited solely to beats in the strictest sense; you can load any samples you want, and many of the provided ones are, in fact, traditionally melodic. You essentially conceptualize, play with, and build out projects through the unit's sequencer, amenable to both beats and certain other sounds, which an intuitive construct that will be familiar to virtually all users in Novation's target market for the Circuit Rhythm. 
Honestly, it's an extraordinarily fun tool in a compact form factor. Like most products of this type, there is a learning curve involved to get the most out of it, aided by a nearly 100-page user's manual, which can be downloaded from the Novation website. But the investment of time is rewarded in spades with both the creative expression capabilities, and the sheer enjoyment involved in using it. If you want to get a real sense of what it's all about, watch a video on the Novation website with Jennifer "TOKiMONSTA" Lee using it to craft some music. 
Conclusions 
Novation's wide array of products seems to offer a little musical "something" to virtually anyone, in the form of synths, beat controllers, and keyboard controllers of various sizes, specs, and types that are at once both familiar and innovative.  
The FLKey 37 has the potential to be a worthy addition to any FL Studio user's workspace, and given its street price of right around $200, it's certainly a very affordable addition. The Circuit Rhythm, on the other hand, has a broader potential market: pretty much anyone composing electronic music who wants to easily sequence beats at will, anytime, anywhere. Its roughly $400 street price makes it a bit more of an investment, but one with plenty of return in terms of utility and pure enjoyment. Here's to Novation continuing to stay both inside, and outside the box.