Back in October 2017, during Amsterdam Dance Event week, I set out one night with the idea that I'd make several club stops. As is my nightly routine, I tried to hear as many different DJs as I could by popping into as many spots as the night would allow – with the expectation of including the musical highlights in my DJ Times Mag wrap-up story. Lucky for me, things didn't go according to plan. 
Typically, at A.D.E., I'd hit at least three venues in the bustling Rembrandtplein square near the Amstel River. That night, after popping into the Air and Escape nightclubs for some mostly regulation EDM fare, I stopped into Claire, an upscale and remodeled club that had replaced Studio 80, one of the city's best underground spots. 
"Wow, they really changed this place," I thought, recalling the stark, black-box atmosphere of its former incarnation. I checked Claire's DJ schedule and saw that Lefto was on the bill, and he was about to hit the decks. 
Not long after he began playing, I was taken by his left-field selections and began Shazaming up a storm – what, for example, was this wonderful Middle-Eastern music? Soon I realized that I wouldn't be club-hopping anymore that night.  
The music was vibrant and wonderfully diverse – when have you ever heard bebop, rave classics and Cypress Hill in the same set? – with a room vibe so rich that I simply couldn't leave. Here's what I wrote of that evening in my A.D.E. wrap-up story:  
"At Claire, Belgian DJ Lefto delivered a genre-jumping, roller-coaster ride, a shockingly seamless set that included Middle Eastern singalongs, percussive Baile funk workouts, soulful vocal loops, blistering acid-house tracks, and eventually hip-hop hits, party jams, and R&B faves. It was a masterful performance." And I've been intrigued ever since. 
Born Stéphane Lallemand, the 46-year-old Brussels native has been a mainstay on Belgian radio, a curator for European club nights and festivals, and a frequent club jock. More a selector than producer/remixer, Lefto seems to happily embrace the role of tastemaker. And trust me, an evening with him in the DJ booth will definitely turn you onto some tunes you never thought you'd dig. 
Although he's not a frequent visitor to the States, I was happy to see that Lefto has recently graced us with The Beauty Is Inside (BBE), a proudly eclectic compilation of original tracks from up-and-coming artists with electronic, soul, and jazz entries. So, we reached out to the Belgian selector and it went like this: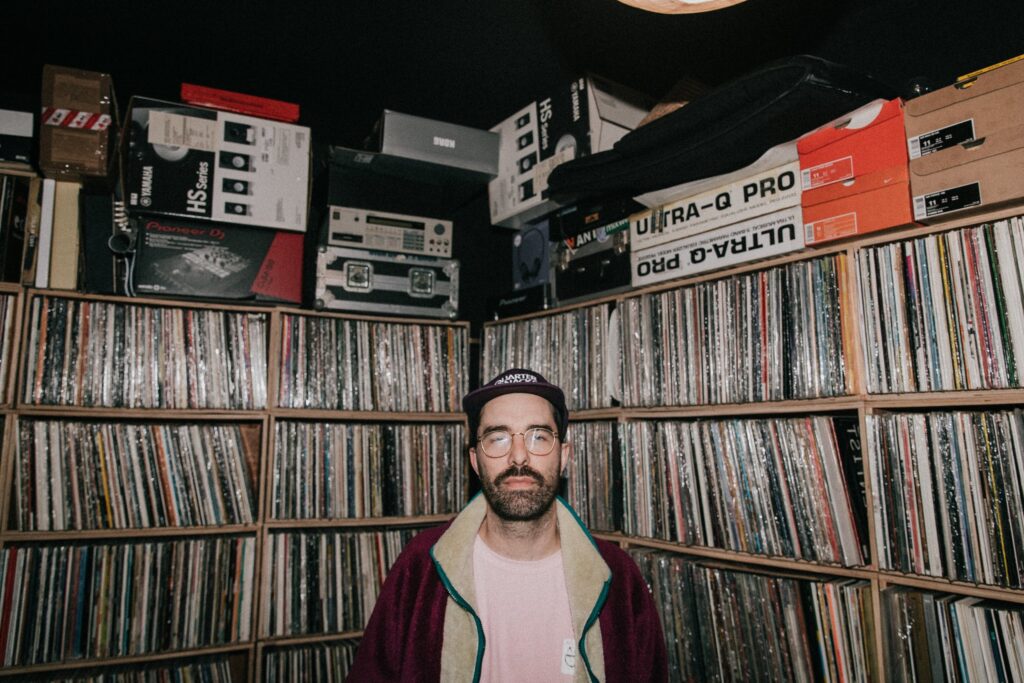 DJ LIFE MAG: When I saw you play during A.D.E. week a few years ago, I was really elevated by the diversity your set, especially some of the African and Middle Eastern music. I'm not sure those sounds would've hit me the same way outside a nightclub. You seem to really take some responsibility for your role as a selector. Ultimately, how would you describe your job? 
Lefto: Ah, thank you for the kind words and for recognizing the subtlety of what I try to do every night all over again. My job is basically to take people out of that box that promoters usually try to put you in. It's 2022. People into music like all sorts of music – depending on the day, it might be totally different. For me, it's really how I feel at that particular moment in the club. I get bored easily, so when I switch to something else – a different genre – it probably means it was time to change the vibe of the night, or to change that particular moment. Sometimes I switch because I feel people are not always into it, so there is still the art of studying the crowd. 
DJ LIFE MAG: Musically, what were your first influences? What made you want to pursue music? 
Lefto: Watching rap performances on TV at a very young age really helped. Hearing the underground radio station in Brussels play New Beat music really helped as well, and ending up working at the local record store really, really helped. The world of music and the people who represent it is unique, and the people are usually very open and creative – therefore, it is a very interesting place to live a life surrounded by that world. If you can live out of that creativity, it's magic. 
DJ LIFE MAG: What was the Belgian music scene like when you were coming up? It always struck me as very diverse – for you, how has it evolved over the years? 
Lefto: When I was coming up, I had a feeling it was still very divided, or everything was in a box – although there was something like hip-house, which would mix both genres. Around me, it really felt like all movements were separated. So, by the time I started working at the record store, I got into so much more music that it was a real eye-opener. As I was really into rap music, it was hard for me to incorporate different genres of music to a crowd that wasn't open for it. So, I took my time, and when I felt it was right, I started to mix up genres. That was also the time I started mixing up genres at the radio station during my weekly. From that point, it started to be a lot easier – no more taboos, total freedom of genres. 
DJ LIFE MAG: You're well-known as a festival curator and a radio jock. What talents are required for those positions? How do you stay clued-in to new music?     
Lefto: It all comes from a feeling. If I feel it, there's a big chance that it can take one of those positions. It's super-easy, isn't it? But it's just that. I have to feel it and fall in love with the artist's music. Therefore, I dig deep on the internet. I talk to other people about what they are listening. I get, of course, a lot of music in my mailbox, and I like to see if a band I like has different links with other artists. That's pretty much what I do on a daily basis. 
DJ LIFE MAG: Creatively, how did you approach your latest compilation project, The Beauty Is Inside? What thought went into the musical selections? 
Lefto: Throughout the years, I've had many links with artists, some who are world-famous or famous in the underground. Some are not famous, but very talented. The compilations are pretty much my contacts, people I talk music with, or I chill with, or who are weekly listeners of my radio show, who happen to make great music. So out of all these contacts, I asked a bunch of them if they wanted to be part of this compilation, and most of them, of course, were very happy to send in an exclusive track for this project – and I was very happy [laughs]. From there, I just had to make a coherent structure for people, who want to listen to the compilation from beginning to end, just like a radio show or a mix I would record. 
DJ LIFE MAG: How did you survive the lockdown? Have things settled into a more "normal" situation? 
Lefto: I survived quite easily mentally, as I was there to watch my son growing up – first steps, first words. It was kind of perfect for me and the weather was great, I remember. I was also very creative during that time, recording music a lot and having the weekly radio shows, as well. Now, it's more or less back to normal, although I feel like it's hard for venues and promoters to get back on track to the regular program. Most clubs/venues have a schedule that was planned last year or sometimes even two years ago. So, it's hard for an artist who's releasing something today to actually promote it properly, as most venues are full from COVID line-ups.    
DJ LIFE MAG: How has it been like returning to the live-performing world?  
Lefto: It's been as good as it is. There is definitely a pre-COVID era and a post-COVID era. Lots of things happened during the pandemic and it changed the landscape, and adapting to that landscape requires time. But I do love to travel again, share the music again and see people going all out to music. One thing I realized is that the crowd wants to dance to faster music, like they are in need of letting go certain emotions or frustrations. I've heard the term "revenge parties" a few times – it makes sense in a way [laughs]. 
DJ LIFE MAG: In the DJ booth, what gear do you use and why?  
Lefto: For some time, I used Serato vinyl, but switched to [Pioneer DJ] CDJs a while back and to real vinyl for the fun of it. Bringing a computer to a club isn't really suitable if you plan on making people go crazy. There's nothing worse than people going wild around your computer and jumping around with drinks. CDJs are stable, though, and I manage to be very creative with CDJs as well. It's fun.  
DJ LIFE MAG: What really caught my attention at Claire was that, yeah, you're a multi-genre DJ, but it didn't always strike me that you were just jamming in things that didn't seem to fit together in some way. How do you keep that flow going between genres? How would you describe your style of DJing? 
Lefto: It's funny you say that because I think I actually do jam with things that don't fit together.  
DJ LIFE MAG: Hey, maybe I had too much of that good Belgian beer… 
Lefto: Well, I just make sure they actually do fit together or that the story makes sense in the end. There are ways of doing it, and those ways are usually based on rhythm and tone, melody and using those in a very creative way, a way that blends everything perfectly, although they were not made to be together… like a mix of a '70s jazz-funk tune into a 2022 rave banger. It just happens! Describing my style is kind of hard, but an all-round DJ probably fits my profile.   
DJ LIFE MAG: Which DJs do you admire and why?  
Lefto: I admire DJs who can help me discover new bits that blow my mind. I don't really have names for you because it usually can be a DJ who's going to play that one particular tune that will blow my mind. But I do hang with a lot of DJs I respect for their creativity, taste and, history – and they are mostly friends of mine.   
DJ LIFE MAG: What's next for you? 
Lefto: Right now, I am trying to travel around the world to promote my BBE compilation, with gigs in Japan and South Korea soon. Then, in November, I'm trying to make my way to the U.S.A. again, but it seems tough to find the right parties, really. 
DJ LIFE MAG: Any advice for up-and-coming DJs? 
Lefto: Trust your feelings. If you feel something you hear, play it out – don't do it for the crowd. It can happen that the crowd won't feel what you feel, but that thing gives you, the DJ, personality. It's you behind the decks, no one else. 
To check out more interviews, click here.