Continuing to build on its popular HDJ range of headphones, Pioneer DJ has launched the all-new HDJ-CX.  
In this latest line extension, the HDJ-CX takes a dramatic style divergence from Pioneer DJ's current HDJ range, delivering a low-profile, on-ear posture that is so light you might forget you have them on. In this review, we will analyze the new design language and practical applications for these mixing-and-monitoring headphones – and, hopefully, we'll help determine if they should be in contention for your first pair of DJ headphones or your next pair, if you are in the market for a replacement and or an upgrade.  
First Impressions 
Out of the gate, you can't help but notice that the new HDJ-CX diverges significantly from the current HDJ-X Series. The CX is lightweight – 136g (or 4.8 oz.) without the cord, to be exact. Along with its minimalist design language, don't let its weight fool you. A steel core backs the headband bridge piece, plus these units are U.S. Military Standard MIL-STD-810H shock-tested, making them rugged and built to take a beating.  
When putting them on for the first time, I was most curious to explore how they felt on the head. While it was no surprise that its light weight puts less stress on the neck, the two design elements that made these headphones extremely comfortable are the adjusting center bridge and the oscillating earpieces.  
The center bridge of the headphones has large teeth-like adjusting notches that allow a DJ to adjust the headphones' size to match varying head circumferences.  I wear a ballcap that's 7-¼ in size (22.8-inches/58-cm), which is "large." When I had a friend with an 8-½ size (25.2-inches/64-cm) or XXX-Large wear them, the bridge expanded with ease, and he said he felt fantastic and was comfortable on the head. 
The second design element is the two oscillating earpieces that provide about 90 degrees of bi-directional rotation, allowing DJs to listen to music traditionally with both ears covered or adjust either headphone cone to sit in front or behind the ear. In the past, I often had one headphone cone covering some of my ears, so I could monitor the mix. This works for a while, but the pressure always hurts my ear after about an hour of playing.  
With the oscillation, I put the headphone completely behind my ear – you can also put them in front, of course.  The headphones remained firm against my head and made monitoring mixing and talking with friends between the mix much more effortless. Neat.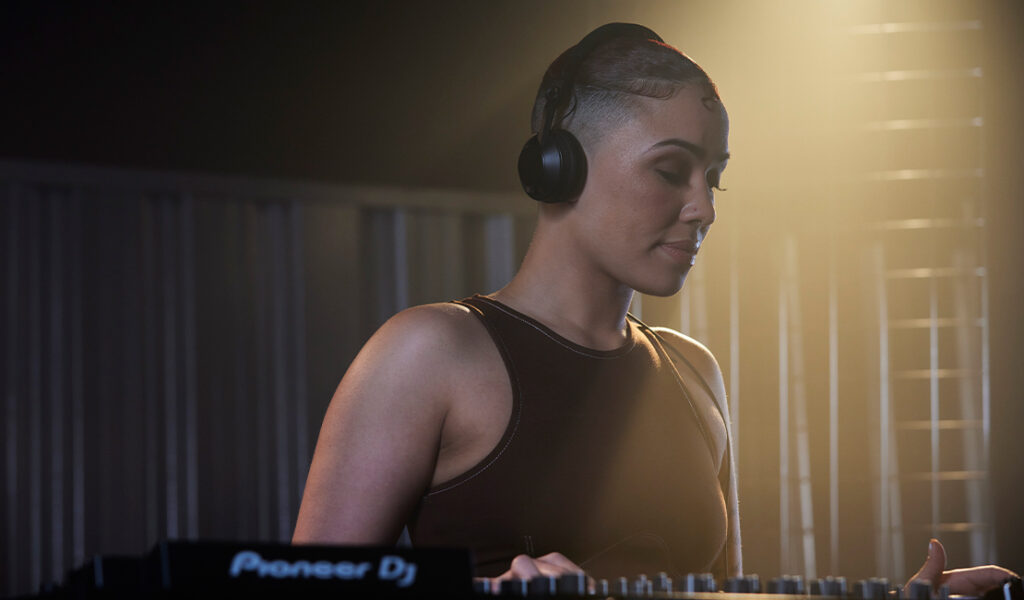 Sound Quality 
So, let's talk about how the HDJ-CX sounds. These are smaller headphones, after all, and based on their size, I was rather curious to see how these headphones performed.  
According to the company, the headphones' frequency response is between 5Hz–30kHz, impedance at 32 ohms, and sensitivity of 103dB. And to my ears, the headphones have a tight and broad sound spectrum and are exceptionally well balanced. I could hear my snares, kicks, hi-hats, and bass with precision without any one element drowning out the other. 
When I had them on and I was spinning, cueing was easy, and when I was using them as reference monitors, their sound quality was spot on. I didn't have to crank them up, and the isolation of outside noises was on-point, with the foam never really pinching my ears. So, for those who are laptop-producing in small spaces, these are a solid alternative to studio monitors.  
Beyond DJing 
Due to its size and weight, the CDJ-HX headphones have uses beyond the DJ booth or home studio. I found these headphones perfect for use when I was sitting around the house listening to music on my laptop and answering Zoom calls. The two cables that come with the headphones allowed me to switch from a coil cable format that I prefer when playing to using the straight cord for everyday use. Taking these cans on the road was a no-brainer; they fit right in my bag and were perfect for mixing music on the go.  
Quibbles: The design cue that I wished Pioneer DJ had considered was enabling the cable connecting the two headphone cans to be removable. Enabling this functionality would allow users to replace headphone cans that may break.   
Also, down the road, if Pioneer DJ did start to release different colors, they could then possibly also offer the ability for individuals to customize their headphones in a module-like fashion. While that would likely be a supply chain nightmare, it would be a lot of fun! 
The Verdict 
Are these headphones suitable for pro-level DJing and monitoring? The answer is, without a doubt, yes! Their lightweight nature allows you to use them for an extended period in the studio. Their flexible fit and form make them perfect for both DJs, who use headphones for dual-ear and single-ear cueing.  
The added fact that the HDJ-CX retails for $149 makes it an extremely approachable headphone in the spectrum of DJ and studio-monitor headphone space. Size and interchangeable cords make traveling with these headphones in a small bag perfect for the modern DJ, who is on the go and often does tons of prep work on a laptop – and doesn't want the burden of carrying bulky headphones. For performance and price, Pioneer's HDJ-CX is a winner. 
To check out more gear reviews, click here.
If you have any questions for Reed Dailey or Playback, please send them to jtremayne@hazanmediagroup.com.