DJ LIFE sits down with Lauren Mia to talk about the release of her new album, RE:BIRTH and much more.
Lauren Mia began her journey with music production in 2016 as she became a breakout artist worth watching within the realm of progressive house and melodic techno. She has now evolved into an even more matured artist, sonically, and her brand-new album RE:BIRTH is a testament to her musical progression.
RE:BIRTH boasts previously released singles "Shadow," "Ceremony," and the focus single, "Ashes In Paradise." Maintaining momentum coupled with an unwavering ambition, Lauren Mia's next chapter is sure to continue to propel her further into prominence as a unique force in electronic music.
Read the full DJ LIFE interview Q&A with Lauren Mia:
DJ LIFE: What came first for you – DJing or producing? Who were some of your earliest musical influences?
Lauren Mia: Creating music always came first. I was always composing acoustic pieces on the piano prior to pursuing electronic music production as the focus of my artistic ventures. Within the first year that I was studying music production and the fundamentals of Ableton, I learned that I wanted to start learning how to DJ as well. I actually learned on vinyl first. I had an amazing, legendary mentor who is a ccratch/hip hop vinyl only DJ, who taught me a lot. Eventually I moved over to Traktor & Serato, which then led to CDJs, going straight from my USB, using RekordBox, etc. It's been quite the journey to say the least. I love what I do. Although I think I will always feel that I am a music producer, composer, and musician first, and a DJ second.
Some of my earliest musical influences within electronic music were Benny Benassi, Paul Oakenfold, Paul Van Dyke, Above & Beyond, Deadmau5, John Digweed, Skazi, Armin Van Buuren, just to name a few.
DJ LIFE: After taking a hiatus on releasing new music since your Eternal Existence EP, what made you decide to jump feet first into an album?
Lauren Mia: I knew for a long while that I wanted to put out an album. It was actually a dream of mine that I kept in mind and shared with my team for years. When I made the choice to hold off on releasing music starting mid 2022, it was a challenging time for me personally, emotionally, and physically, so it did not feel right for me to put out music when I was in that place. It is important to me that the music I put out comes from a place of inspiration, joy, and passion – not pain, grief, or suffering. I want the positive frequencies I hold within me to translate through my art and to my listeners – that is very important to me.
Spring/summer of 2022, I was going through a major loss in my life as well as recovering from a pretty traumatic event, so I focused on healing myself first, keeping up with touring and the shows I had committed to, and just doing my best. As soon as I felt better and healed, I jumped straight back in. When I realized how many amazing ideas and projects I was sitting on, I knew it was going to be an amazing road ahead of releases. While I was working on them I was also writing new ones during a major production flow. That's when I thought to myself, "I have enough to put out a solid album. Maybe this is the way I should come back." I set a goal for myself to make sure I had 12-13 incredible songs. I managed to accomplish 13 that are so deeply intentional and special, that I feel extremely honored and proud to share them with the world. Putting out this album is my greatest accomplishment as a musician to date, a massive milestone for me as an artist.
DJ LIFE: After having a history of releasing on dance labels like Anjunadeep, why did you release RE:BIRTH independently? And how has your experience been releasing this album independently? 
Lauren Mia: This is a very personal but important question for me to answer. I think it is important I share the real reasons for my decisions because I hope and intend to inspire others to do the same. Labels across the board can, in a sense, limit artists. It's the hard, and painful truth. Music that I was so deeply proud of and sharing with these labels was getting constantly rejected. These same tracks are now crushing the charts and heavily supported by some of the biggest names in the electronic Space. They are receiving massive playlist support from Spotify and Apple Music, with even further support from Beatport and other media. The most frustrating experience was when some of the bigger labels I worked with felt that it was okay to modify my songs in order for them to be released with them. That's not art. Art is self-expression. Art is unique. Art shouldn't be modified by an A&R. That's how I really feel. You don't see successful painters having someone tell them how to paint or how they should change the color of their painting. To me it was always control and ego, and it was something I got tired of.
I started working with smaller independent labels like Luna Semara's Petit Matin, who gave me the space and creative freedom to publish the music that I created as it was – and I am eternally grateful for all the record labels that did give me that. . In fact, that is something I always strived to provide for the artists who released on my record label. We've put out over 30 releases on the label, from such incredible up producers from around the globe, with many hitting the charts, and nice support from artists like Nora En Pure, Township Rebellion, Øostil, just to name a few. I thought, If I have the knowledge to put out successful releases, also while holding space for true creative freedom, why not take the leap? I've never put out music on my label prior to this. I was relying on other labels to get my music out into the world when it came to my own artist project. So, I felt it was time to change that. So, it's exciting that my very first release on my imprint is my debut album. I took the leap, the risk, and it has been the most gratifying, and rewarding experience.
DJ LIFE: What tracks off of RE:BIRTH are the newest for you in regards to sound, and challenged you the most to bring to life? 
Lauren Mia: RE:BIRTH still carries my essence and musical identity that most know me for, although the album definitely showcases the evolution and maturing of my signature sound. I have been known as a melodic techno and progressive house producer throughout my career, which is nurtured through the album, but I did take the opportunity to explore other sub-genres which was a beautiful gift that came with putting the record out independently.
The newer sonic expressions can be heard primarily through "444," "Source Code," "Lakshmi", and "Oversoul" – with the new sounds I ventured into spanning psy-trance, peak time/driving techno, and afro house.
I've produced harder techno records in the past, but never published them because I was told and believed that would not be accepted within my space, unless I released them under an alias. Afro-house isn't too far off from progressive house, so while I did incorporate a lot more drum and percussive patterns than I normally would for "Lakshmi," it wasn't entirely "new" to me, but Psy-Trance totally was.
Producing psy-trance was the newest venture and most outside of the realm of my experience. "Oversoul" was actually the most challenging project from the entire tracklist of RE:BIRTH. I was excited going into it, but I was not aware how complex psy-trance production actually is across the spectrum- from the arrangement, to sound design, to FX and the mix. Mixing psy-trance is completely different from the way I would mix my melodic techno, progressive house, or even hard techno pieces. Writing MIDI, recording audio, and using analog synths is generally how I go about my creative process when writing the melodic elements of my music – and I really struggled with this when building "Oversoul."
The process was extremely far outside of my comfort zone – I was trying for weeks and it was a total struggle. I ended up giving up on trying to record the lead elements with my analog synths, as it was too hard as a first-time foray into the genre. "Oversoul" is my first approach to psy-trance, and I put it out – so I am very proud of that.
I look forward to working towards a place where I can one day produce proper psy and have it be received well by the real psy-trance community 🙂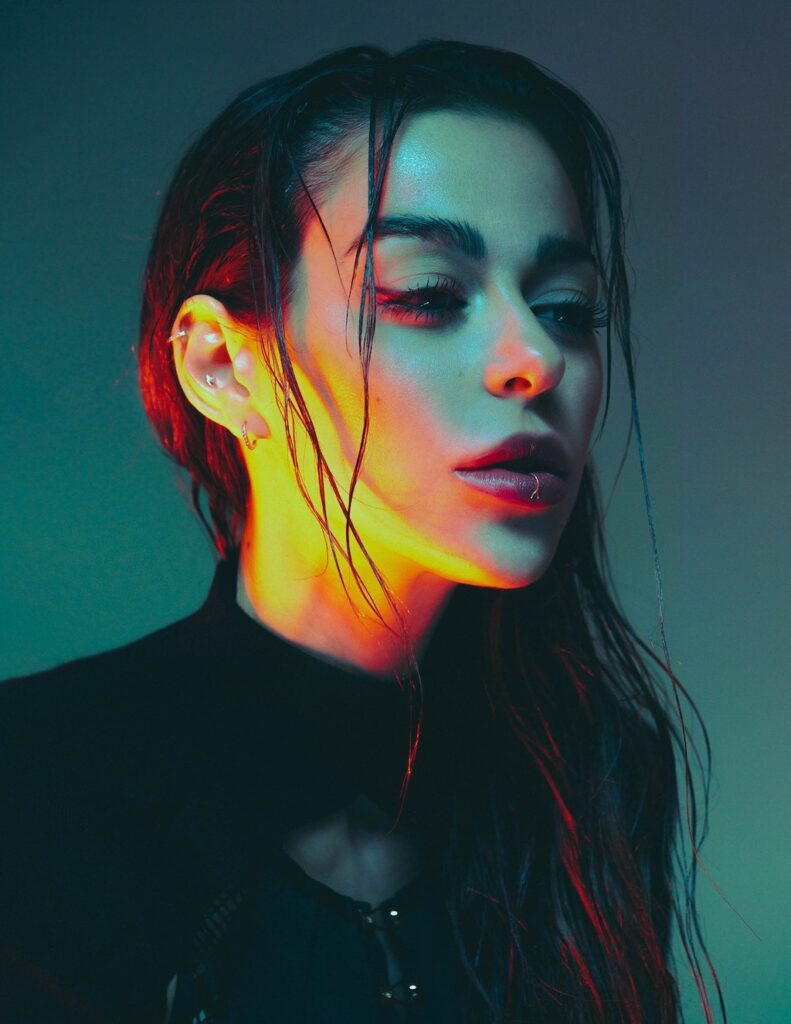 DJ LIFE: Where do you see the album's release pushing your career to in the next 2 years?
Lauren Mia: After 7 years of doing this professionally, I have come to the realization that it's best to not have expectations or attachments to outcomes. Where focus goes, energy flows. So, I stick to my passion and focus on my craft with pure devotion, dedication, and commitment. I give it my all and hope for the best. But I do not set expectations for the outcomes. I have personal goals with my project and of course for this album, but I am trying not to be attached to the outcome. That way, there is no blueprint to be disappointed. I put my heart and soul into this album, and I made it with deep intentions for the listeners and audiences who will hear it. I hope that will continue to be received and do what it's intended to, to heal, inspire, uplift, and unite as many as possible. That's all I can really hope for. That in itself, would make me feel fulfilled. The rest that comes are just rewards – the extra, the return for the energy I put into this album and into my project, for my fans and our beautiful global music community.
DJ LIFE: What does your current studio setup look like and what techniques did you master while making the album?
Lauren Mia: My current setup is all about having my studio work as one cohesive, functional machine. I spent a lot of time planning the audio configurations, upgrading, and optimizing my workflow in my studio. I have now been in this studio for 2 and a half years, but before that, I was working out of my bedroom. I got to a point in my life and career where I felt ready and was able to build a real acoustically treated studio that is taking up a room in my shared flat… Now, I have all the hardware running through my patch-bay, MIDI-interface, and audio-interface. This allows me to be able to play, record or send MIDI, or extract MIDI from my synths and drum machine simultaneously. All clocks are synced externally through my MIDI-interface, and the patch-bay allows for me to easily take over other live channels, without having to constantly plug in or plug out, which can disrupt workflow and the creative process. It also would take up more time. So instead, this allows for me to be much more efficient when I am creating. I have to be mindful of this as time in the studio is often more limited than I'd like for it to be. This is why for the album, I specifically chose to take time off of touring, so that I could really focus in and take my time to temporarily detach from the world and hibernate in my creative space.
In my case, I have a lot of hardware, primarily analog synthesizers, but a few others: a drum machine, reverb pedals, some sequencers, mics, etc. But my collection of synthesizer is what makes up most of my studio outside of my monitors and desk. I started on keys, so I personally enjoy working hands-on when it comes to sound design and synthesis. I really enjoy designing sounds, playing, physically turning knobs, and recording audio back into my session. This allows for me to have the space to also record live modulation and automation. All of my synths are keyboard synths, most polyphonic, but a few are monophonic. My current collection includes synthesizers by Dave Smith Instruments, Modal, Moog, Korg, Arturia, Novation and Behringer.
DJ LIFE: When you're in the studio working on music, do you have any routines or rituals?
Lauren Mia: Absolutely. I think rituals are actually a big part of the way I choose to live my life daily. When it comes to making music, I treat the experience like a ceremony. I always clean up, dress nicely, light candles, set the space, set the lighting to a mood and atmosphere that resonates. I then make sure the studio is organized and all equipment is turned on. I ground, set my intentions…and then let the magic happen. Most of my studio days are very productive and intentional. I am not in there every single day, but it's rare that when I am in there, I don't walk out of there with something I know will be shared with the world. I know many producers who work every day and have hundreds of ideas, some of which will never see the light of day. But they like to just produce a bunch of ideas until that come across something they make that they think has release potential. I don't operate that way creatively. When I go in there, it's intentional, and almost always create something, that I will eventually put out, even if it's one sound or one melody or one drum pattern. It's still something. This is how I went about the album. A few of the lead melodies in tracks throughout the album were melodies I wrote back in 2021 and 2022. I spent most of this year restructuring and re-building those projects, while also creating several new ones for the album, and I feel it all came together beautifully. There are no rules at the end of the day. Some strategies work better than others, for everyone it's different and completely dependent on the individual.
DJ LIFE: If you had advice to give a producer starting to prepare for their debut album, what wisdom would you share?
Lauren Mia: My advice would be to trust the process, take risks, and enjoy the ride as much as possible. It is the most rewarding and captivating artistic experience for any musician – a huge milestone. But be aware that while it can be incredibly beautiful and rewarding, it can also be a challenging experience. In fact, making the music for this album  was the easy part. It may or may not be that way for everyone and it can also vary with each LP. But I believe it has the potential to be challenging especially if one is putting out their album independently, from my personal experience. Outside of creating the music, there is so much that goes into putting out an album. The creative, the story, the creative direction visually, art, promotional strategies, marketing strategies, budgeting, social media content, press, distribution. That was definitely intimidating sometimes and a challenge to take on all as an artist – however, I trusted, took risks, and I loved it. There were a lot of laughs, smiles, but also a lot of tears, stress, and fear as well. It has been a melting pot of emotions, but I wouldn't have had it any other way. That's what makes life exciting, I feel. So for those thinking about putting out an album on your own, trust the process, take risks, and enjoy the ride.
DJ LIFE: Historically having produced melodic techno and progressive house, how would you describe the evolution to what your sound is now?
Lauren Mia: Thank you for asking this question. It's a loaded one, but I think it is so important for me to answer this as I have a lot of fans and supporters wondering the same. My music will always be 'melodic' no matter what sub-genre I work with or create, because my talent and gift above all is creating melodies, but for now I want the freedom to evolve and create whatever feels right to my heart and soul – whatever resonates the most. So, for now, I think I would describe my sound broadly, and vaguely as "electronic music." The umbrella to everything underneath.
My sound is progressive, cinematic, emotional, spiritual, and cultural… sometimes my music will aim to be more uplifting, while other times may be more melancholic, or even dark. Perhaps my intention might be to explore shadows and unveil mysteries, while other times it could be to uplift, create joy and inspire. It will vary, just like it did in this album. The core intention for my music across the board is, and always will be, is to invoke healing and inspiration for the self – to remind us all of our one-ness, and to reach higher states of consciousness through frequencies, rhythms, and sounds.
You know what I mean? It will still sound like me, just in various ways and versions – that was my goal. That same mission ties together the album's 13 tracks, while allowing my versatility to shine through the entire collection, all while honoring the true essence of my sound and who I am.
I believed my fans and listeners would receive it, and so far, it looks like they are. I am incredibly grateful for that.