FL Cloud offers full access to an ever-growing library of royalty-free loops and one-shots, exclusive Artist Packs & more.
Image-Line launched a major FL Studio 21.2 update, introducing powerful new features which let music producers stay on task and in the creative flow. This latest update introduces FL Cloud, a new service built specifically for FL Studio. Deeply integrated within the DAW, FL Cloud provides producers with a massive and ever-growing library of royalty-free loops and one-shots, unlimited AI-powered mastering, and unlimited music distribution to all major digital streaming platforms via an exclusive partnership with the world's biggest distributor, DistroKid. In addition, FL Studio 21.2 adds the highly anticipated Stem Separation feature, allowing producers to extract individual drum, instrument, bass, and vocal tracks from any audio source, from directly within FL Studio. The new Kepler vintage synthesizer and an enhanced colored waveform feature complement this new update.
FL Studio 21.2 is available from today as a free update for existing FL Studio customers, as part of Image-Line's Lifetime Free Updates policy. FL Cloud includes free features for all FL Studio users, with additional features available through subscription. Subscribers can choose between paying $7.99 monthly or $79.99 annually, for a saving of two months per year. Additionally, for a limited time, Image-Line is offering an introductory annual subscription price of $49.99. Any new or existing FL Studio user will also receive a free one-month FL Cloud Trial subscription, with no restrictions or commitment, and no credit card required. All FL Cloud users can also buy Credit Packs for subscription-free access to sounds not available as part of the free FL Cloud features, such as Artist Packs.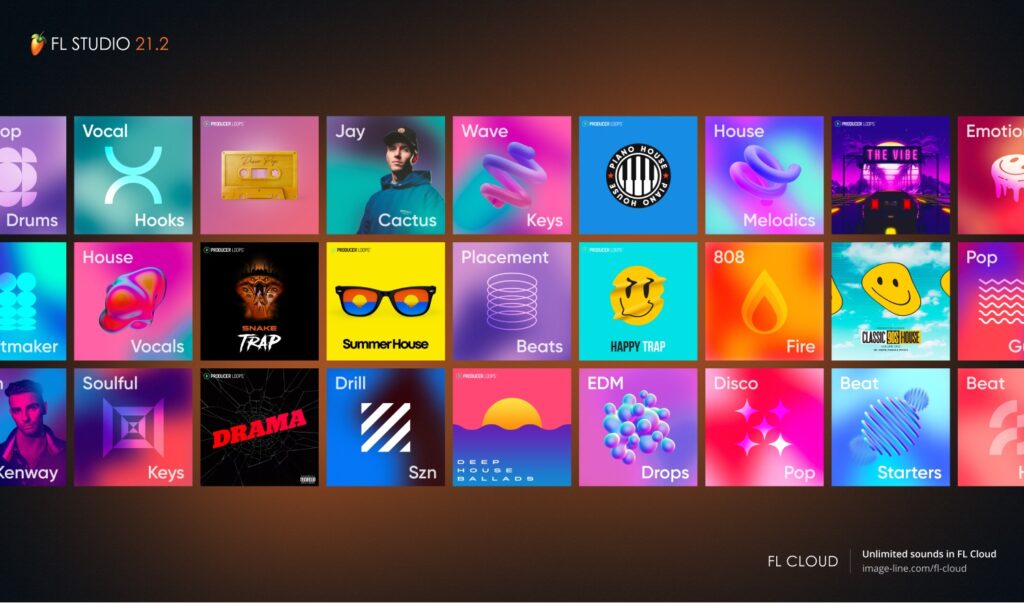 "FL Studio is the central music production platform for millions of music makers. With the introduction of FL Cloud we want to provide them with everything they need to create and share their music, all deeply integrated into the beloved FL Studio workflow," says Constantin Koehncke, CEO of Image-Line. "Our mission is to make music production accessible, productive, and fun, and we will continue to add tools and features to help our users achieve their creative goals. Importantly, cloud-based features do not affect our core promise of outright purchase of FL Studio with Lifetime Free Updates or our commitment to providing new features to FL Studio itself. With FL Cloud, all users benefit from free features, a generous introductory offer, and extremely competitive pricing."
"We are always looking for new ways to make it easier for artists to release their music," notes Matthew Ogle, Chief Product Officer at DistroKid. "Having DistroKid integrated into artists' workflow within FL Studio, and giving them the option to upload music to streaming services directly from their DAW, provides the kind of seamless experience that we always strive for at DistroKid."
Since its launch in 1998, music producers and artists have gravitated to FL Studio for its unique workflow and user-friendly interface. Today, FL Studio is one of the world's most popular and used DAWs, with many of the most successful and influential producers and artists using the platform to create culture-defining music across the world's most innovative genres – from EDM and hip hop to Latin and Afrobeat. FL Studio is downloaded over 30,000 times per day, and 50% of its millions of users are under the age of 20, representing the future of music.