In November, electronic music legend Danny Tenaglia will release the 42-track 'Global Underground 45: Brooklyn.'
Electronic music icon and 2023 DJ LIFE MAG cover story-featured DJ and producer Danny Tenaglia returns with the third and final part of his hugely acclaimed Global Underground trilogy. Following his celebrated Global Underground compilations GU10: Athens (1999) and GU17: London (2000), GU45: Brooklyn serves as the perfect place to end the journey. Danny Tenaglia has taken his fans all round the world and all roads brought us right to back to his hometown.
GU45: Brooklyn completes Danny Tenaglia's trilogy perfectly and is a superb addition to the Global Underground series, which features the finest DJs on the planet (previous guests have included Carl Cox, Sasha, and John Digweed). Danny Tenaglia, the quintessential DJ's DJ, pulls no punches on this absolute masterclass of a mix, including his upcoming single with Cevin Fisher 'Move That Body', along with a multifarious selection including Moderat, Monika Kruse with Pig&Dan, Dino Lenny, Radio Slave and Basement Jaxx, all expertly mixed by Brooklyn's finest.
The incredible 42-track GU45: Brooklyn will be available via CD, Vinyl, Download, Streaming, plus special Collector's Edition (Photography Book, Vinyl, CD, Tote Bag, 4 x Art Prints, 4 x Postcards).
Danny Tenaglia explains: "I'm happy to announce that I've just completed my third compilation for the iconic Global Underground series. First, it was Athens GU10, then London GU17, and now we are bringing it to my hometown of Brooklyn giving you GU45. As a native of Williamsburg, Brooklyn, this compilation is not only a celebration of my roots but also a tribute to the dynamic and ever-evolving nightlife that ignited and guided my musical career back in 1975."
Andy Horsfield, Global Underground Founder adds: "I'm so excited to present the third and final installment in Danny Tenaglia's GU Trilogy with GU45: Brooklyn. Danny's mixes have been a huge part of GU's DNA for many years, with his seminal Athens and London mixes becoming many people's favourite DJ mixes of all time. Brooklyn is a stunning addition to that heritage, and I can't wait to release this album to the world."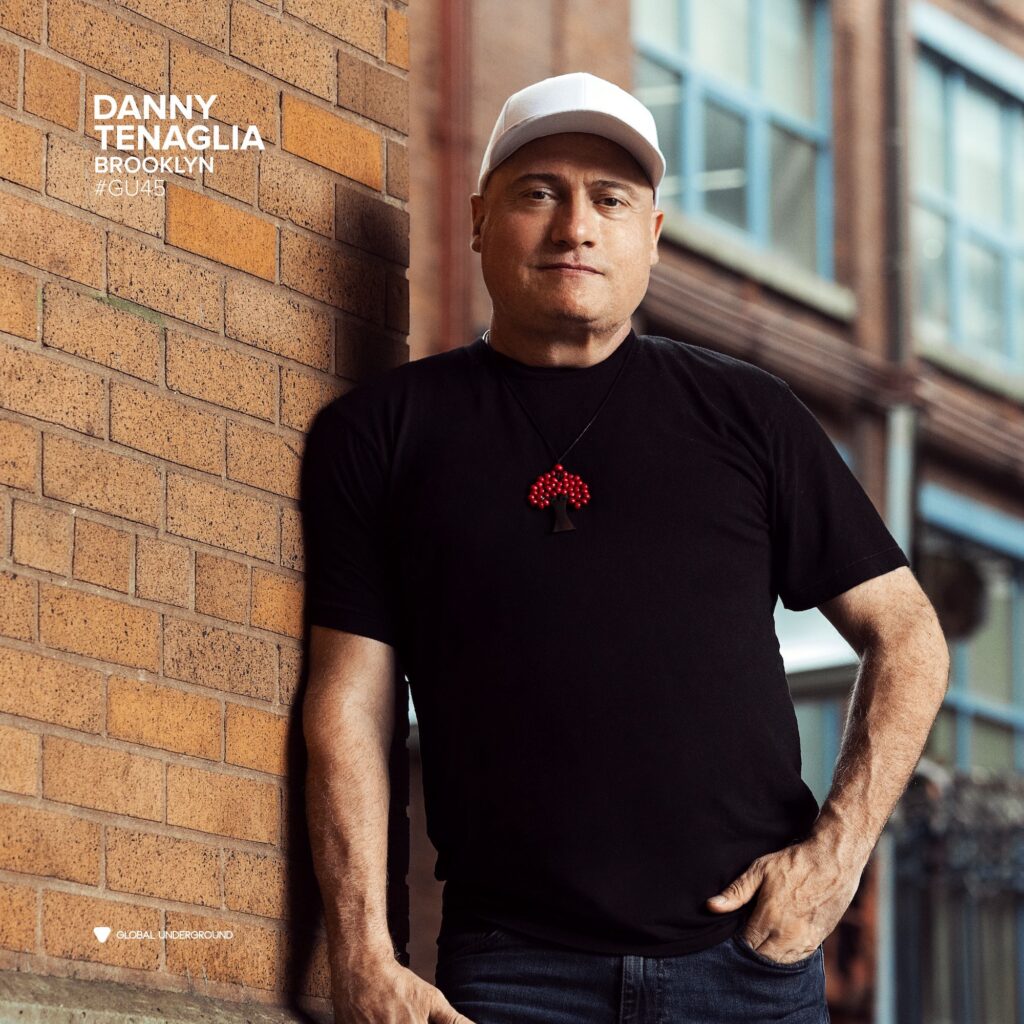 GU45: Brooklyn – Tracklistings
CD1
Guy J – Lamur (AM Mix)
ΛRΛGON & KOBE – JMA
Denney & D.Ramirez – Stranger Things (dubspeeka Remix)
Harrison Crump – Deep Down Inside (Michel Cleis Remix)
Moderat – Running (DT's BKNY Version)
George Vidal – Out from Obscurity
Steve Robinson – No Space, No Time
Taster Peter – Body Call
Ralph Falcon – Break You (Acapella)
Robin M – Sirocco
Kevin Yost – Defence Mechanism
Radio Slave feat. Nez – Wait A Minute (Vocal Mix)
Danny Tenaglia and Cevin Fisher – Move That Body
True School Players – Blow Your Mind
KPD – Everyday (Extended Mix)
Ciro Briceño, Adrian Y feat. Nablo – Bones
Monika Kruse meets Pig&Dan – So Good
Dino Lenny – Talk To Me (Dino Lenny & Damon Jee Mix)
Danny Tenaglia – The Brooklyn Gypsy
CD2     
Juri Heidemann – Haras
Roman Poncet – Épreuve
Dino Lenny – I Wanna Go Back (John Digweed & Nick Muir Remix)
Amir Telem – Fool (D-Nox Remix)
Basement Jaxx – Express Yourself (Pig&Dan Eclectic Mix)
Jay Lumen – The One
Irregular Synth – One Night In Ecstasy (Simina Grigoriu Remix)
D-Unity – More Drums Please
David Tort & Tom Stephan – Perverts feat. Superchumbo (Miami Tech Extended Mix)
Uncertain – Cure
Uncertain – Clash
Star B – I've Got Joy
Tenzella – Hi 79
Developer – Horns From The West
Age of Love – The Age of Love (Acapella)
Uto Karem – Your Voice (feat. Biba)
D-Leria – Invisible
Frank Biazzi – Rolling
VSK – Echinopsis
Filterheadz & Horatio – Bells Of Brightones
Kamilo Sanclemente – Eclipse
Danny Tenaglia – Don't Turn Your Back (Mendo Remix)
Beat Factory feat. Karina Smirnova – Like Somebody
Vinyl
Side A         
Danny Tenaglia and Cevin Fisher – Move That Body – 08:09
David Tort & Tom Stephan – Perverts feat. Superchumbo (Miami Tech Extended Mix) – 05:31
Developer – Horns From The West – 04:37
Side B         
Basement Jaxx – Express Yourself (Pig&Dan Eclectic Mix) – 08:46
Beat Factory feat. Karina Smirnova – Like Somebody – 08:27
Side C         
Moderat – Running (DT's BKNY Version) – 07:17
True School Players – Blow Your Mind – 05:39
Irregular Synth – One Night In Ecstasy (Simina Grigoriu Remix) – 06:08
Side D        
Dino Lenny – Talk To Me (Dino Lenny & Damon Jee Mix) – 07:20
KPD – Everyday (Extended Mix) – 05:20
ΛRΛGON & KOBE – JMA – 05:46
Side E         
Amir Telem – Fool (D-Nox Remix) – 06:45
Ciro Briceño, Adrian Y feat. Nablo – Bones – 06:48
Tenzella – Hi 79 – 05:26
Side F         
Danny Tenaglia – The Brooklyn Gypsy – 07:41
Kamilo Sanclemente – Eclipse – 07:45