New York City – For more than three decades, Danny Tenaglia has been one of America's most-treasured DJs. His extended stints in Manhattan spots like Vinyl/Arc, Tunnel, and Twilo were among the most influential open-to-close residencies in New York City nightclub history. Not only would he spin multi-genre, marathon sets – often 11 p.m. until noon – but he'd play through some of the city's greatest sound systems.
And now, he's bringing that vibe back to NYC – this time in Brooklyn. Set for Saturday, April 15 in a recently discovered Sunset Park warehouse, Tenaglia will present STAX, a party that will combine two massive sound systems that he's procured over the years – one six-stack system from the Vinyl/Arc days and another four-stack system from District 36, another long-gone Gotham venue. Expect something special. (For tickets and more info, please visit here.)
We recently caught up with the legendary DJ to discuss the STAX event and, for what will be part of the next cover story in DJ LIFE magazine, his views on nightclubs new and old.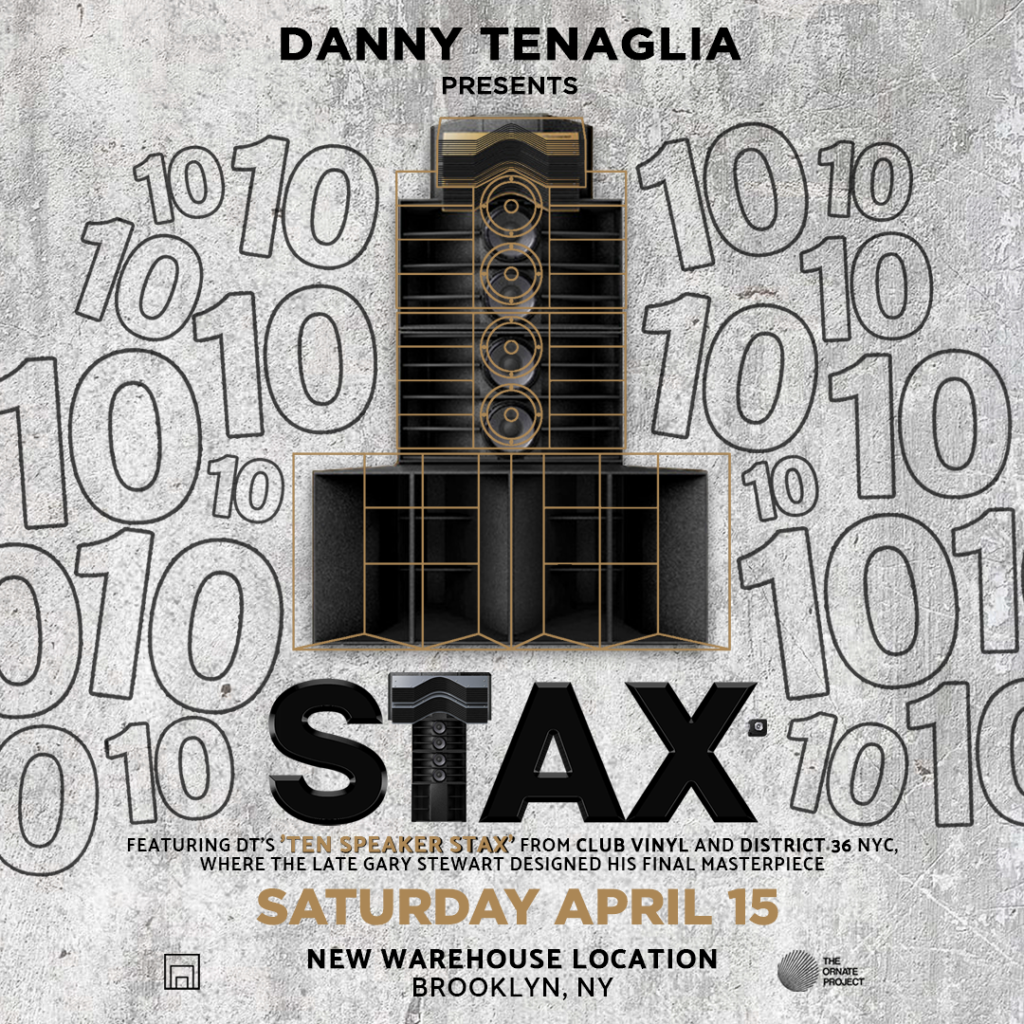 DJ LIFE: Let's talk about the origins of this party on April 15th. What's the concept with the project?
Tenaglia: I owned the sound system from Vinyl after it became Arc. Steve Dash had put in the Phazon system there and they offered me to buy the original system. Timmy Regisford originally used it at Shelter and then it was used for the Body & Soul parties. There's a history involved in that sound system. It was built by a guy named Dave Soto. And so, I acquired those six stacks from Vinyl and that is pretty much the reason why I got my loft in Long Island City – because I had the sound system.
DJ LIFE: But you also acquired another system…
Tenaglia: About eight years later, I got offered to buy the District 36 system and – as if I didn't have six stacks enough to deal with in storage – I just couldn't refuse it because it was Gary Stewart's prototype of the technology that Pioneer now owns [the GS-WAVE series]. It was massive. It was almost 30 years after what Dave Soto had built. So, it was modern. It was solid wood and 14-foot-high stacks and boxes on top with double-lens horns. I just saw it as a great opportunity and I thought, "OK, one day maybe I'll get a place to do a party and put up all these 10 stacks together."
DJ LIFE: But you had to find a place to combine the two…
Tenaglia: Yes, I moved to Jersey after I left the loft in Long Island City and put everything in storage. I got this house in North Jersey. I got everything at this one address – I got a nice storage shed out back. And now I'm finally bringing it to fruition by having everything put together under the one roof. Hopefully, it'll be the start of something new – perhaps a series of events – and we'll see where it goes from there.
DJ LIFE: So, this is something that you're looking to perhaps do on the regular?
Tenaglia: I would like for it to be regular in New York. I'm looking forward to this venue in Brooklyn because we went to see it and I was pleasantly surprised – it was much bigger than I thought and the ceiling is just right. I think it's a perfect layout, wooden floor, and I think that if it goes well, it's going to relieve me from some travel.
DJ LIFE: What should fans expect on April 15?
Tenaglia: I'm hoping that what they get from it is what I dreamt that it could ever be – my version of Paradise Garage. Give them that feeling of what so many of us grew up with… what it was like going to so many clubs, including Studio 54, you know? They had these towers. They had these massive stacks.
DJ LIFE: Seems like every big New York City DJ who ever experienced Larry Levan spinning at the Paradise Garage back in the day wants to create a similar situation for himself.
Tenaglia: I think Timmy [Regisford] accomplished that in doing Shelter – he had his version of it. Phil Smith and his team built it up with Sound Factory, and they had their version of Paradise Garage. Junior [Vasquez] had it. I definitely had my own version of it at Vinyl [with Be Yourself] for the five years I was there, but I was not the owner of the sound system, and the brand Vinyl belonged to the club. This time around I can finally say that the 10-speaker stack concept will be something that I dreamed up and I simply call it "STAX." I pray that it "stix." [laughs]
DJ LIFE: The game is so different these days, where a lot of DJs seem to be more about the business and the branding than the music.
Tenaglia: I never owned a record label. I don't have the branding like a lot of people out there and, you know, making big bucks doing these parties. I'm often just a guest of theirs these days. But now, I'm hoping that I can bring something to New York where I could have them come, be a guest of mine as well, and it'll be just like a mutual kind of event. I'm not looking to go into this with dollar signs in my eyes. I just wanna have a great time and show people, in a sense, what's still possible. Again, give them that feeling of what so many of us grew up with in going to so many great clubs.
DJ LIFE: The younger generations of dance-music fans absorb their new music differently. It's more about the internet and festivals than clubs for them.
Tenaglia: And I want to show them. These concert stages at festivals… they're only throwing the sound out to the crowd. They're not getting a four-point system. They're not getting overwhelmed by the quality and the thunder and the bass and all that. Now, a lot of clubs just want the visibility. They don't want their VIP rooms being obstructed by towers. It's a different experience.
DJ LIFE: One last question: What's your musical approach gonna be that night?
Tenaglia: I'm gonna be playing the whole night, so I'll be playing until 5 a.m. I'll start off easy, so I'm totally comfortable with the sound of the environment – I still get those butterflies and stuff. I want to get settled into my zone. I don't think that I would get too hard into techno and I don't think I would go too deep into classics. I would still probably do my usual kind of journey where I'm starting off, kind of like, 118 [BPM] maybe. Then slowly pick it up and that swinging house vibe is usually what gets the room to pulse the most. I can't wait. 
Photo Credit: Off Brand Project