Amsterdam Dance Event (ADE), the world's largest annual electronic music & business festival, returns from Oct. 18-22.
It's likely that if you're an electronic music aficionado that you've attended the Amsterdam Dance Event (ADE). And if you haven't, ADE is likely at the top of your bucket list. The annual showcase returns for a five-day run from October 18-22, 2023, as the world's largest festival and business gathering for electronic music.
ADE, the world's most extensive festival and conference program for electronic music, represents all electronic subgenres and subcultures throughout 1000+ events in 200+ locations spread across Amsterdam. This year's first wave of confirmed artists included: 6EJOU (FR), Afra (NL), Afrojack (NL), Akua (US), Alberta Balsam (NL), Amelie Lens (BE), Anaïs (GB), AnD (GB), Armin van Buuren (NL), Bambounou (FR), Barbara Lago (ES), Bella (NL), Beltran (BR), Ben UFO (GB), Benny Rodrigues (NL), Bicep (GB), BIIA (PT), Blawan (GB), Bonobo (GB), Callush (DE), Carlos Valdes (NL), Cera Khin (TN), Chris Stussy (NL), Coco Maria (MX), Cynthia Spiering (NL), Daria Kolosova (UA), Dave Clarke (NL), David Vunk (NL), Dax J (DE), Dee Diggs (US), DIØN (NL), Dixon (DE), DJ Gigola (DE), DJ Stingray 313 (US), Dyen (NL), Ewan McVicar (GB), Farrago (BE), Fatima Hajji (ES), FKA.M4A (DE), Flava D (GB), Fleur Shore (GB), Folamour (FR), Gayance (CA), Gene On Earth (US), Gerd Janson (DE), Helena Hauff (DE), Illenium (US), James Hype (GB), Jayda G (GB), Jennifer Loveless (GB), Job Jobse (NL), Kléo (NL), Kobosil (DE), La Penderie Noire (CH), Lakuti (DE), Lee Ann Roberts (SA), Lessss (FR), LSDXOXO (US), Luca Agnelli (IT), Mama Snake (DK), Manami (JP), Martin Garrix (NL), Martin Kohlstedt (DE), Mary Lake (NL), Max Cooper (GB), MCR-T (DE), Metropole Orkest (NL), Mochakk (BR), Nastia Reigel (DE), Nedda Sou (NL), Nene H (DE), Novah (BE), Nu Genea (IT), Oguz (NL), P Money (GB), Patrick Mason (DE), Paula Temple (NL), Peach (CA), Philou Louzolo (NL), Purple Disco Machine (DE), Roi Perez (DE), Roy Rosenfeld (IL), Röyksopp (NO), Sam Feldt (NL), Saoirse (IE), Sara Landry (US), Sarkawt Hamad (NL), S-candalo (DE), Sedef Adasï (TR), Solah (GB), Solomun (BA), Somewhen (DE), Speedy J (NL), SPFDJ (SE), Stephan Bodzin (DE), Steve Rachmad (NL), Surgeon (GB), Suze Ijó (NL), Tama Sumo (DE), The Blessed Madonna (US), The Martinez Brothers (US), Tinlicker (NL), Todd Terje (NO), u.r.trax (FR), Vini Vici (IL), Wallis (FR), WNDRLST (NL), Young Marco (NL), and many more.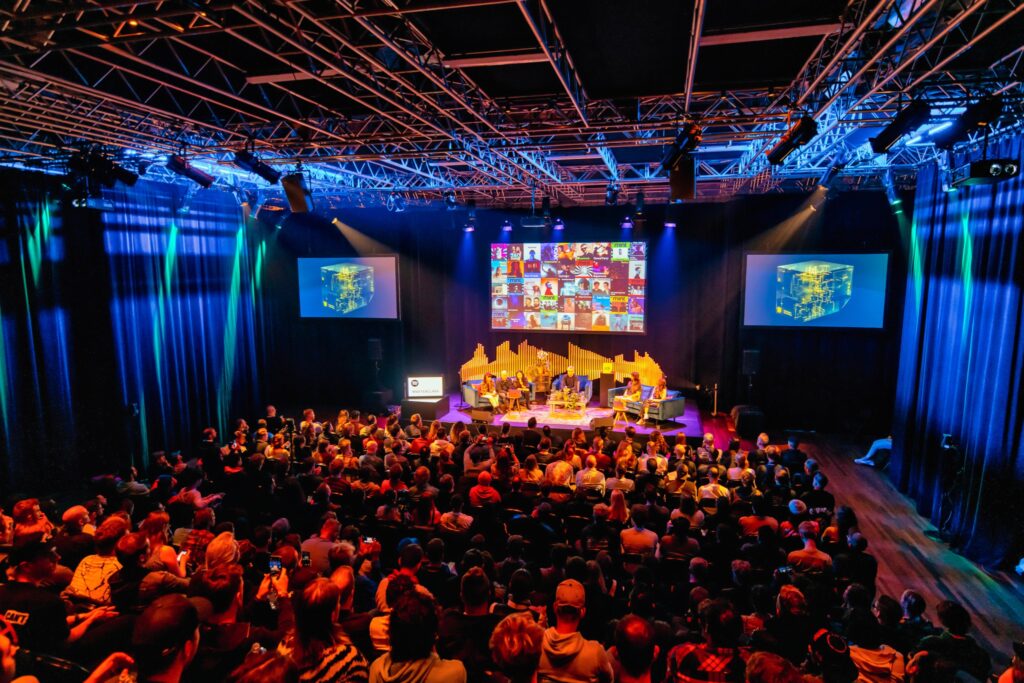 Additionally, it was just announced that a slew of world-class artists will also be partaking in this year's ADE 2023, including Armin van Buuren, Dillon Francis, The Blessed Madonna, HoneyLuv, and DJ Minx. These artists have been added alongside organizers of Sziget, DGTL, ARC Music Festival, Milkshake, and many others. What else does the latest string of ADE announcements contain? Grammy award-winning composer of The White Lotus is set to dive in to the making and process of the hit series' iconic soundtrack, and we explore the latest developments into artificial intelligence, covering its potential in predicting hits and more.
Not only focusing solely on the events and parties, the Amsterdam Dance Event (ADE) introduces the new 'Essential Insider Knowledge' series as part of ADE Pro. This sets out to offer unparalleled insights into the ever-evolving digital music landscape for artists and professionals, with the inclusion of top-level minds at global industry giants TikTok, Spotify, and YouTube, alongside innovative platforms Beatport and TuneCore. These latest confirmations introduce a hands-on approach to the ADE Pro experience with insightful strategies to empower growth and success.
For more information and to stay up-to-date on the latest ADE 2023 happenings, visit https://www.amsterdam-dance-event.nl.
Photos courtesy of ADE's Facebook