The winner of the Beatport Global Remix Challenge for Louie Vega's "How He Works" will receive a prize package worth nearly $10k.
Producers, it's time to put your skills to the test… are you up for the challenge? Beatport, the global leader in music for DJs, producers, and their fans, announced today (May 2) with Loopcloud and LabalRadar, the "How He Works" Global Remix Challenge, which is an open invitation to ambitious producers around the world to submit their own unique spin on Louie Vega's "How He Works," available now through Nervous Records.
Think you have what it takes to showcase your production skills for a potentially life-changing prize? Entering the Global Remix Challenge is easy, just follow the simple steps, below. Entrants have a chance to win the grand prize, which includes a prize package consisting of nearly $10,000 worth of gear. The Beatport Global Remix Challenge begins today and will run through May 23, so producer, it's time to put your creativity to the test on "How He Works."
"Over our 30-year partnership with Louie Vega, he has consistently inspired us with his exceptional talent, vision, and work ethic as a producer, artist, and globe-trotting DJ," said Nervous Records President, Michael Weiss. "As one of the longest-standing dance music labels, we feel it's our duty to ensure the next generation of producers can also draw inspiration from Louie and his work. To that end, we are thrilled to collaborate with Louie and make one of his recent hits, 'How He Works,' available for remixing in Beatport's Global Remix Challenge."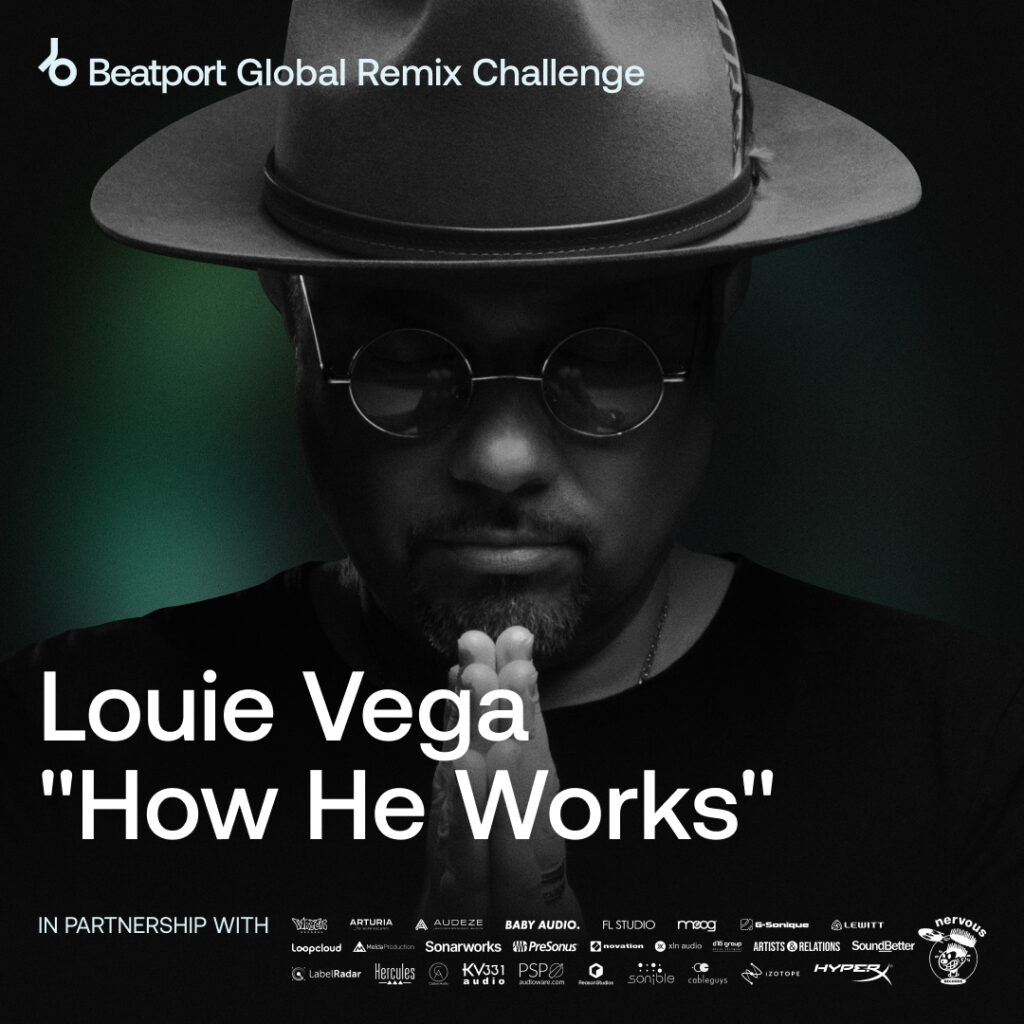 About Beatport's Global Remix Challenge & How to Enter:
Beatport's Global Remix Challenge begins on Tuesday, May 2. Participants can visit the Loopcloud landing page to download free stems and additional Loopcloud samples. Participants must use at least one of Loopcloud's 4 million+ samples in their remix. Those without an existing Loopcloud subscription can use Loopcloud's free 14-day trial + 1-month free coupon. All Global Remix Challenge participants must submit their remix to LabelRadar by Tuesday, May 23 at 11:59 PT. The remixes will be judged by Nervous Records, and a winner will be announced across Beatport's social channels on Tuesday, June 20.
"We're thrilled to announce another installment of our Global Remix Challenge, this time in partnership with Louie Vega and Nervous Records," said The Beatport Group's VP of Marketing, Emilie Birks. "This competition is an excellent opportunity for aspiring producers worldwide to showcase their skills and gain recognition, and we look forward to hearing the unique remixes that are submitted."
The grand prize winner of the "How He Works" remix challenge will receive a prize package worth over $9,500 which includes a Moog Minitaur and complete Moogerfooger Bundle, as well as the Arturia V Collection 9, iZotope Mix & Master Bundle Advanced, SoundBetter Mix+Master or Full Custom Session Vocals, XLN Audio Custom XL Collection, D16 Group TotalBundle, Lewitt Connect 6, IK Multimedia iLoud Micro Monitor, Hercules P32 DJ, and more. Two runners-up will receive prize bundles that include software from Moog, Image Line, XLN Audio, Sonible, Gforce, and more. All prize winners will receive a 12-month subscription to both Beatport Streaming and Loopcloud Studio.
A global dance music legend, Louie Vega's illustrious career spans over 20 years. The GRAMMY-winner and 7-time nominee's hit collaboration "How He Works" is featured on Louie's 2022 LP Expansions In The NYC (Nervous Records).