Tune into the official Coachella 2023 livestream, presented by YouTube, broadcasting all six stages across both weekends.
Coachella undeniably gets bigger and better and every year. As we gear up for one of the most global lineups in Coachella Valley Music and Arts Festival history, YouTube has vowed that they are going all in to make this year's livestream experience and YouTube presence the most epic yet.
For the first time in its existence, #CoachellaOnYouTube will be going LIVE from ALL stages with SIX feeds across BOTH weekends of the iconic desert fest! That's correct: All stages, All Weekend, for the first time ever!
From high-quality performances and exclusive merch drops on Coachella's YouTube channel, to on the ground actions with artists, creators, and fans – exclusively on Shorts – and so much more…. it's all happening on YouTube.
Back-to-Back Livestream Weekends
This year the entire 3-day (technically, 6-day) Coachella event will be live streaming, across both weekends, from more stages than ever before with six feeds in action (double the amount from last year), across both weekends. Whether you're watching from home, abroad, or at parties with friends, anyone can tune into Coachella's YouTube Channel, pick a stage, and watch the performances happening live with the rest of the fans. In between sets, livestream viewers will be treated to on-the-ground coverage of the art, artists, installations, behind-the-scenes Shorts moments and more, capturing the complete Coachella experience for the audience at home.
Sponsored by Fast X, Verizon and NYX Professional Makeup in the U.S. and Levi Strauss and Co across much of Europe, the weekend one livestream begins at 4pm PT/7 p, ET on Friday, April 14th and runs through Sunday night, April 16th. Weekend two kicks back into gear the following Friday, April 21st at the same time, with Tic Tac® and Dove Shower Collection as sponsors in the U.S. and Levi Strauss and Co again in Europe, with livestream festivities running through Sunday, April 23rd. Tune in reminders can be set now.
If you can't tune in live, the festival sets will be on repeat after the night's final performance until the live show picks back up at 4pm PT/7pm ET the next day. Highlights from many of the weekend's performances will be made available on demand, so be sure to check back here to rewatch your favorites.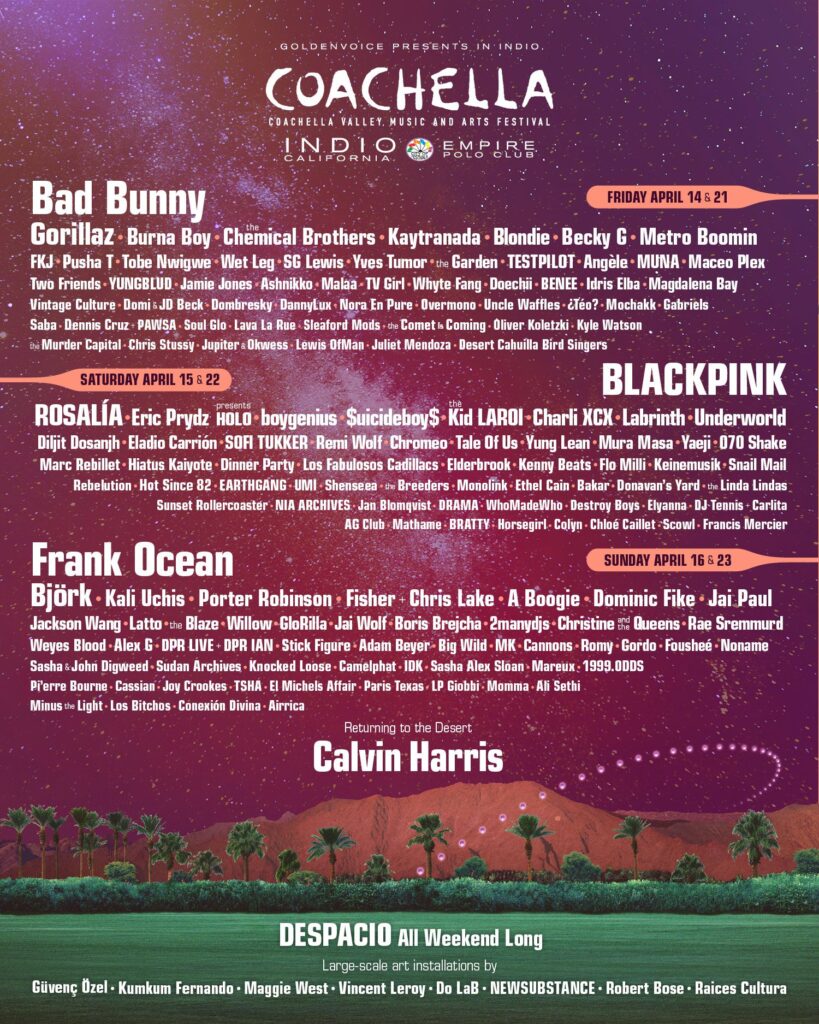 Making It Special for the Fans at Home
Last year, YouTube had a powerhouse presence at Coachella and launched several festival-firsts for the fans tuning in from home. There were Shorts and Creator activations on the ground, a new YouTube Shopping integration, Live Chat in action, and YouTube Premium pre-parties, all accompanying the livestream. This year, they're bringing the front row experience back and go even bigger:
All in with YouTube Shorts: YouTube will be giving fans the opportunity to participate in the Coachella experience and interact with their favorites artists on YouTube Shorts where fans can help build the set lists for one of the biggest artists, producers and DJs in the world, Calvin Harris, plus global superstar Becky G, and GRAMMY award winning Burna Boy. They can also show global icons BLACKPINK how they're getting ready for their first-ever headlining performance. Shorts is also the place where fans can expect to see exclusive content from Artists and Creators likeAlan Chikin Chow, Lexi Hensler, BENOFTHEWEEK, Amelia DiMoldenberg of Chicken Shop Date, Taylor Red TV,The Scotts, Nicole Laeno, Adam W and VIVACIOUSHONEY, amongst others, getting fans hyped up and giving them an unprecedented look at what's happening in real time.
Even more Exclusive Merch Drops: Part of the fun of going to a show is the chance to buy a keepsake that reminds you of the music, the experience, and the moment in time. We don't want anyone to miss out on that opportunity, so this year YouTube is partnering with Coachella to drop exclusive merch from over a dozen artists. In addition to a custom Coachella drop, all will be available for purchase directly on the livestream and through YouTube Shorts on Coachella's channel via YouTube Shopping. From Bad Bunny to Calvin Harris, Gorillaz, Ethel Cain, Fisher, Porter Robinson, YUNGBLUD and more, don't miss the chance to grab a custom piece only on YouTube.
Exclusive YouTube Premium Pre-Parties: Do you ever wonder how an artist prepares for a show? How they choose their set list? Or if they have backstage rituals? YouTube has decided to enlist some of this year's most exhilarating artists to give you a glimpse into their world before they hit the stage, available exclusively through YouTube Premium.
Tune in to Watch Music History in the Making
No matter where you are in the world, you have the chance to be a part of this year's Coachella history by catching the show from your smartphone, living room, computer or car on Coachella's YouTube Channel or within the YouTube Music app.
YouTube will be sharing the latest and greatest Shorts, backstage photos and more all weekend long, live from the festival grounds across YouTube Music's social channels. So be sure to follow @YouTubeMusic on Instagram and Twitter to see what's up at #CoachellaOnYouTube!
Check out these Coachella playlists turned up with The Lineup, Desert Dance Floor, Generation Next, Coachella Legends, Field Daze, Golden Hours, and Road to the Desert to set the vibe.
Check this space for the live stream links as they become available this weekend!
Photos courtesy of Coachella's Facebook