The Do LaB stage returns to Coachella 2023 for back-to-back weekends in April with a just-unveiled artist lineup.
Do LaB continues its partnership with Coachella Valley Music & Arts Festival as the 2-weekend affair returns to the Empire Polo Club Grounds this April 14-16 and April 21-23. With GA tickets already sold out, find more information and remaining VIP ticketing options at http://www.coachella.com.
This year's Coachella 2023 Do LaB stage features ALUNA, BAMBII, Carlita, Cloonee, DEVAULT, Disco Wrek (Disco Lines b2b Ship Wrek), DJ Tennis, Dylan & Harry (Party Favor & Baauer), Emmit Fenn, Flamingosis, Flight Facilities (DJ Set), Franky Wah, Giolì & Assia, HOLLY b2b Machinedrum, Kasablanca, Michaël Brun, Mikey Lion, Mild Minds, Mr. Carmack, ODD MOB, Of The Trees, Phantoms (DJ Set), SOHMI, SYREETA, The Brothers Macklovitch (A-Trak & Dave1), The Glitch Mob, Whipped Cream, and more. The Do LaB stage will also host surprise guests each festival night, across both weekends. See the full Do LaB stage roster for Coachella Weekend One and Weekend Two, below.
The powerhouses behind original boutique festival experiences, Do LaB has also just announced the lineup for the 20th anniversary installment of their acclaimed Lightning In A Bottle Festival. With an ever-evolving interactive stage design and a forward-thinking curation of celebrated musical talent, Do LaB continues to be a core experiential aspect of the globally celebrated festival.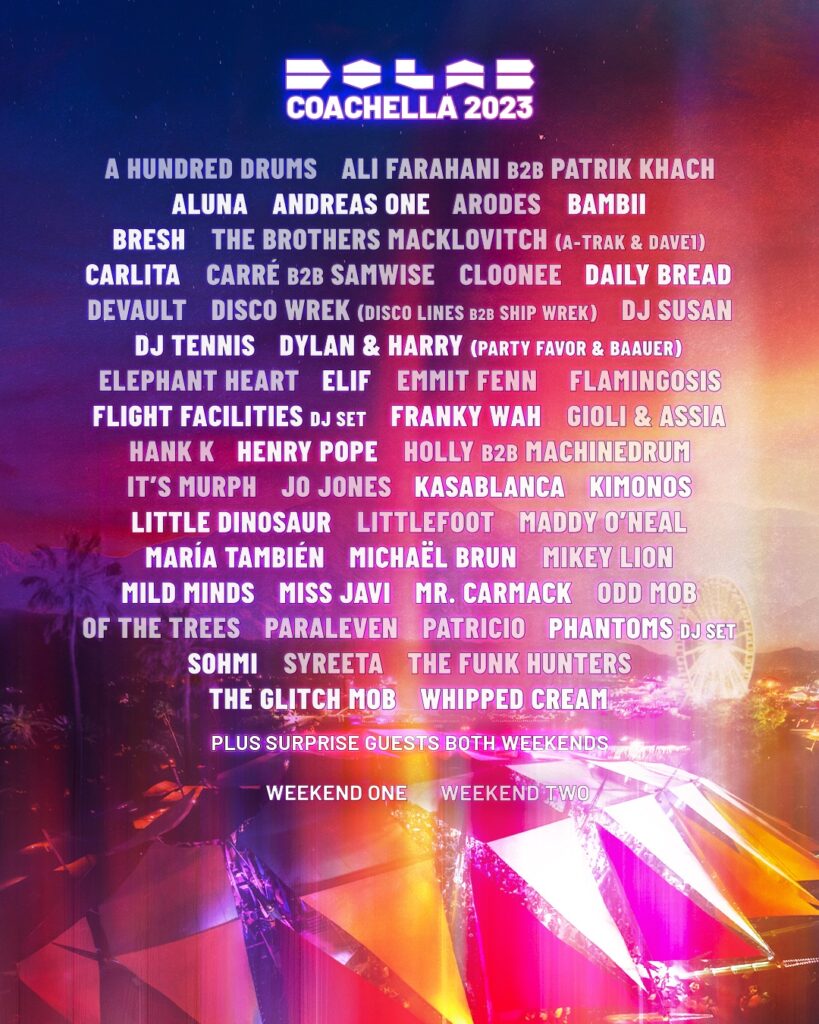 Do LaB at Coachella 2023 Lineup:
Weekend One (A-Z)
ALUNA
Andreas One
BAMBII
BRESH
Carlita
Daily Bread
DJ Tennis
Dylan & Harry (Party Favor & Baauer)
Elif
Flight Facilities (DJ Set)
Franky Wah
Henry Pope
Kasablanca
KIMONOS
Little Dinosaur
María También
Michaël Brun
Mild Minds
Miss Javi
Mr. Carmack
Phantoms (DJ Set)
SOHMI
The Glitch Mob
Whipped Cream
Weekend Two (A-Z)
A Hundred Drums
Ali Farahani b2b Patrik Khach
Arodes
The Brothers Macklovitch (A-Trak & Dave1)
Carré b2b Samwise
Cloonee
DEVAULT
Disco Wrek (Disco Lines b2b Ship Wrek)
DJ Susan
Elephant Heart
Emmit Fenn
Flamingosis
Giolì & Assia
Hank K
HOLLY b2b Machinedrum
it's murph
Jo Jones
Littlefoot
Maddy O'Neal
Mikey Lion
ODD MOB
Of The Trees
Paraleven
Patricio
SYREETA
The Funk Hunters
Photo Credit: Jamal Eid