Ever since bass music began to gain traction in the U.S. a decade ago, the melodic-dubstep subgenre has played an integral part in its success. And when you look back at which artists helped pave the way for this emotionally charged sound, look no further than Seven Lions, who popped onto the scene in 2012. 
Seven Lions – aka Jeff Montalvo, 35 – grew up in Santa Barbara, Calif., and was a drummer for several high-school bands before transitioning into electronic-music production. As is often the case with band situations, he quickly grew tired of waiting for the group to create music – so he began to do it himself. Getting busy with a friend's Fruity Loops production software, he began to get the hang of it, honing his craft with constant experimentation. 
As a 20-year-old in 2007, he attended his first rave, and he was immediately inspired to begin producing trance music. However, he waited another four years before he began to release bass-leaning music under his Seven Lions moniker. With a name taken from a character in Gene Wolfe's fantasy book, "Latro in the Mist," Seven Lions quickly began to make waves as a producer. His first release was an unofficial remix of Florence and the Machine's "Cosmic Love," which would later be included as part of the official single package released by Moshi Moshi Records. 
Shortly after, Seven Lions would enter a remix competition hosted by the legendary trio Above & Beyond, where he put his own spin on A&B's "You Got To Go." His version would later reach at No. 2 on Beatport's Dubstep chart for over six weeks (behind Skrillex's remix of Avicii's "Levels") and, not surprisingly, end up winning the competition. The remix was later officially released on A&B's Anjunabeats label in December of 2011. Seven Lions was officially on Above & Beyond's radar and the rest of the EDM community was watching – quite a start for a blossoming music producer.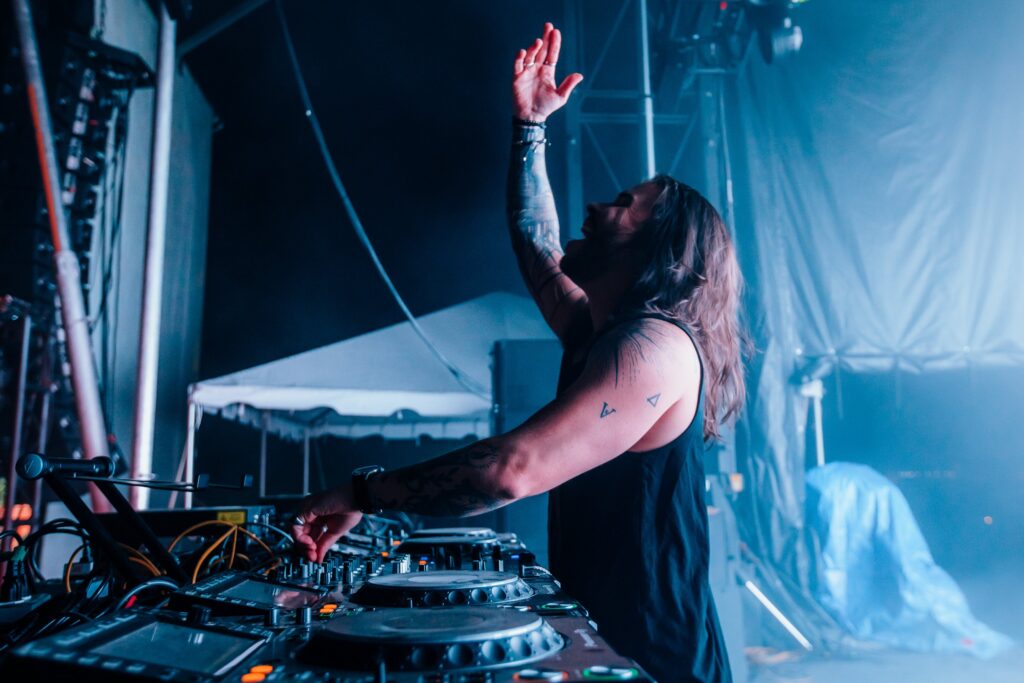 His first major tour would begin the following year, when he hit the road with Gemini and Koan Sound. Also, 2012 saw the California native add to his arsenal with an official remix of Above & Beyond's "On My Way To Heaven." Continuing to ride a hot hand, he would release his debut EP, the six-cut "Polarize," in addition to his four-track EP, "Days to Come," which was signed to Skrillex's powerhouse imprint, OWSLA. 
By this point, Seven Lions had become one of the hottest names in bass music – not to mention all of electronic-dance music. The melodic mastermind would hit the road, providing support for the likes of Porter Robinson and Krewella, while also making appearances at major events like Ultra Music Fest in Miami, Electric Daisy Carnival in Las Vegas, and SXSW in Austin. Even with such a hectic touring schedule, he continued to pump out new music, consistently releasing a barrage of originals, remixes, and EPs. 
In February 2018, after cultivating a loyal fanbase with his frequent gigs and hefty musical output, Seven Lions launched his very own label, Ophelia Records. Starting with the release of his single, "Calling You Home," his imprint would quickly evolve into a bass-music staple with weekly releases and a catalog that features quality artists like Kill the Noise, Wooli, and Jason Ross.  
Always one to keep things interesting, Seven Lions joined forces with psy-trance duo Dimibo to create their alias Abraxis, which would debut their live show at Dreamstate SoCal 2019. But even with a well-received side project, Seven Lions never seemed to slow down. With an undeniable work ethic, he began to garner a cult-like following, which turned Ophelia Records into a juggernaut. 
In 2022, he would celebrate a decade of releasing music as Seven Lions, putting together his 10 Years of Seven Lions compilation, which was accompanied by a decade-anniversary merch collection and a documentary that touched on his career, roots, personal life, and upcoming projects. To take the celebration one step further, he will release his first-ever studio album, Beyond The Veil, at the end of October. 
With all these milestones in mind, it only seemed right to chat with one Jeff Montalvo to discuss the past, present, and future. 
DJ LIFE MAG: So far, 2022 has been quite the year for you. Ophelia Records continues to thrive, and you're showcasing the sounds of your Abraxis project, in addition to the release of your debut album. It also marks a decade of Seven Lions. How does it feel to have this project hit such a milestone? 
Seven Lions: "Ten Years" has definitely been a big moment for me career-wise, and also personally. I'm a very goal-oriented person, so having all these different projects has been amazing for me. 
DJ LIFE MAG: What was the process of putting together your 10 Years of Seven Lions compilation. How were you able to narrow it all down to just a dozen tracks? 
Seven Lions: I really wanted to make sure I got all the songs I thought told the Seven Lions story and showed the wide range of types of music I like to make. One song that we couldn't get on there that I really wanted was "Leaving Earth." Other than that, I feel fortunate we were able to put that compilation together. 
DJ LIFE MAG: What was so appealing about melodic dubstep sound that you wanted to produce it yourself? 
Seven Lions: I don't really think there was much melodic dubstep back in those days. I was mostly just interested in blending what I loved about trance – the songwriting, the melody – with what I loved about dubstep – the rock influence and the heaviness.  
DJ LIFE MAG: How would you say your sound has evolved since popping onto the scene 10 years ago?

Seven Lions: I feel like I definitely make more "crowd pleasers" now than I did back in the beginning. When making music for big, live events there needs to be a predictability and a simplicity that will sound good on a big system. I think with the album I was able to go back and make songs that were more experimental, and that allowed me to be more creative again. 
DJ LIFE MAG: When it comes to the world of electronic-dance music, what would you say is the key to longevity and success over such a large chunk of time? 
Seven Lions: Having realistic expectations. I think also a big one is to really not compare yourself to others. I've seen it eat so many people alive, and it's an easy road to go down. I'm very conscious of what I consume on social media, and I mostly stay away from EDM-related stuff. I really love my home life and my family, and I feel like my life is full and meaningful without validation from the music community, because that can be a fickle thing. So mainly, be aware of where you let your mind wander. Do what you do because you love it, not for external validation. 
DJ LIFE MAG: You've been a part of this bass-music scene since 2012. What are some changes you've noticed over the years? 
Seven Lions: I think there was a while there where the scenes were really starting to blend and bass music was this all-encompassing thing for experimental genre-bending, non-four-on-the-floor stuff. Unfortunately, I feel like the scene has really gone backwards into rigid genre lines. The bass scene now reminds me of the trance scene, which is known for the most rigid and easy-to-piss-off fans I've ever come across. If it isn't all the exact genre tropes, people tend to get mad. I hope to see it ease up again in the future and allow for more experimentation.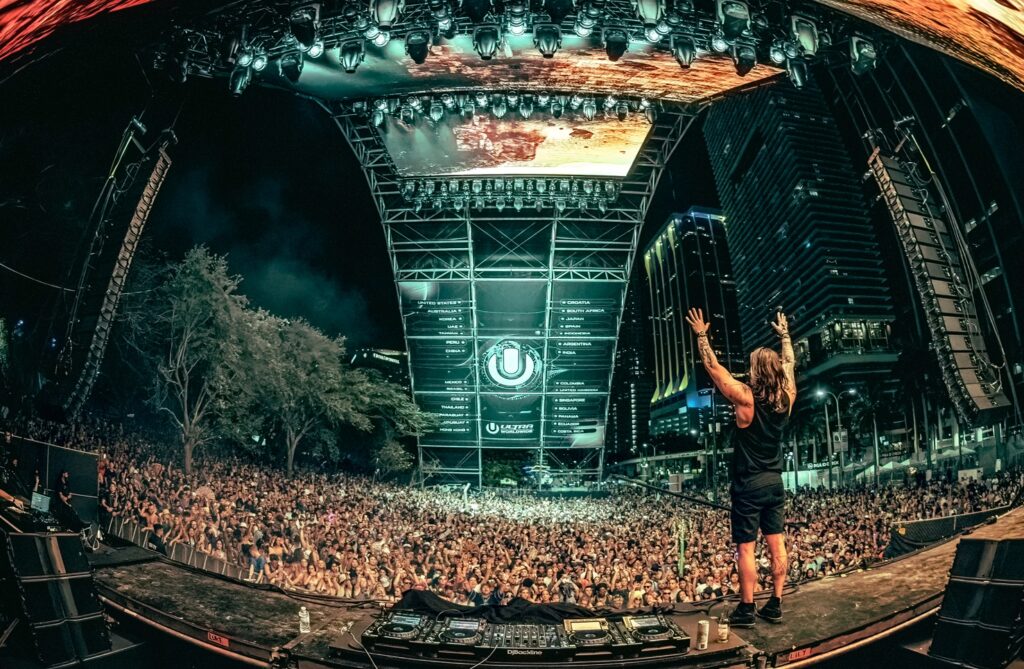 DJ LIFE MAG: A lot has changed since then, especially when it comes to technology. What gear and programs do you use in the studio these days? 
Seven Lions: Same as I was 10 years ago. My favorite synth is still [LennarDigital] Sylenth1. I'm still using Voxengo stuff. I'm still using Fab-Filter Pro-Q – I guess we are on Version 3 now, instead of two. The only really new ones are Serum, which has been pretty cool, but that was still years ago. 

DJ LIFE MAG: Anything else? DAW? Monitors? Vital hardware?  
Seven Lions: I use FL Studio, Dynaudio BM5A monitors and ADAM Audio A8X monitors. I don't use hardware – just mics, torn-up speakers, a record player, field recorder and some guitars. Sylenth1 is my bread-and-butter synth. It's in every, single song. 
DJ LIFE MAG: When it comes to production, walk us through a studio session with Seven Lions. 
Seven Lions: This is a month- or year-long process. Usually, I will start a song with a melody or intro and work on it for a week or two, and then get it in a place to send to a vocalist. At this point, it can be a week or a year before something comes back that I like. After that, I start to finish the rest of the song, vocal processing, do the drops, finish the structure. From there, I stem out each track, usually ending up with 15 to 20. After that, I do the final mix. If it's a song I intend to play live, I will play it out a few times and go back and continue to work on the mix. Finally, I send it to an engineer to get mastered to finish the track.  
DJ LIFE MAG: When you have a rough week or hit a wall creatively, how do you get back on track? 
Seven Lions: I just take a break. If I'm feeling a time crunch, then I will work on something else. I really feel like creativity can't be forced. Sometimes, if I am really up against the clock on one song, then I will just power through and try and brute-force it. But oftentimes I hate those songs in the end, so it's usually not worth it. I'd rather push the deadline and come back with fresh ears. 
DJ LIFE MAG: In the DJ booth, what gear do you use and why? How would you describe your style of DJing? 
Seven Lions: I use four Pioneer DJ CDJ-2000NX2 players and a DJM900NX2 mixer. I keep it simple in the booth because, for me, the focus has always been in the studio. I timecode everything and make a ton of edits, so the sets are mostly planned out, except for the endings. 
DJ LIFE MAG: You seem to collaborate with artists, more often than not. Why do you choose to go that route as a producer? 
Seven Lions: It probably seems that way because I haven't released much solo work since I've been focusing on the album. This goes back to the previous question… if I feel creatively stuck and I don't absolutely love the song for myself, then I will tag in a friend. I'll pick the person whose skill set makes the most sense for the track, especially for the psy-trance collabs. I am just not able to sit in front of the computer and dial in a kick and bass like a proper psy-trance producer, so I will tag in people who are way better at that than I am. 
DJ LIFE MAG: Which producer/remixers do you most admire and why? 
Seven Lions: I don't listen to much electronic music, but I would say Tourist, Above & Beyond, Porter Robinson, and Andrew Bayer. I think they are all unique and great songwriters. 
DJ LIFE MAG: Which DJs do you admire and why? 
Seven Lions: Above & Beyond and Tiësto. There are so many good memories in the 2007-09 era that really made me who I am as a musician.  
DJ LIFE MAG: You've released plenty of tracks and EPs over the years, but Beyond The Veil is your debut album. What was the process like putting a full-length album together? 
Seven Lions: I didn't set out to make an album, but I saw the opportunity when the pandemic was hitting and everything was shutting down. Some of the songs had already been started, so there was a bit of retroactive going back in and making sure everything sounded good together. I'd say, halfway through is when I really figured out the sound and the story I wanted to tell. 
DJ LIFE MAG: Tell us about the album's lead single "Every Time" featuring So Below. How did it come together? 
Seven Lions: This song pretty closely resembles the studio session question. I got the track about halfway and then spent months and months looking for the right vocal. We had a few different options, some that I really loved. So Below sent their demo in, and I knew immediately this was the one. She sent it back and I wrapped it all up. The mixing process on this one was probably the longest of all on the album because it's a little more stripped back than my other stuff, and it took a while to dial it in. I'm really happy with this one. 
DJ LIFE MAG: Can you pick a favorite track on the album? 
Seven Lions: I honestly don't think I can. I'd say, "Falling Fast" or "Between," but even then, that's a tough one.  
DJ LIFE MAG: Ophelia Records launched in 2018, and it has quickly turned into a true powerhouse imprint in the bass scene. How does it feel to see it blossom into what it has become today?
Seven Lions: It's been amazing. We've all become good friends, and we all get to tour together. I feel like it has given me a new focus. I love Seven Lions and I am so happy to have that project, but it's a totally different kind of feeling to be helping someone else's career and building a strong team. Seeing the success so far has been really encouraging and the community springing up around it has been amazing to watch.
DJ LIFE MAG: After a jam-packed year filled with a little bit of everything, what does Seven Lions have planned for the remainder of 2022 and beyond? 
Seven Lions: Some rest – 2023 is going to be a very busy year!
To check out more interviews, click here.