At this point in his career, there's very little that Markus Schulz hasn't done – or hasn't been recognized for. 
From the outset, he worked his way up the DJ ladder, going from mobile work to global notoriety. He made a name with his diverse studio output and his Coldharbour Recordings. He's won awards – indeed, he's the only jock to be voted America's Best DJ thrice. With Schulz Music Group, he's taken on artist management. As it stands, he's the trance genre's most-popular, most-successful, U.S.-based DJ/producer.  
However, things change, life gets altered, the career takes unforeseen turns. Lucky for Schulz, it's not in his personality to become diminished by any of it. Besides his basic will to succeed, which is considerable, one of the reasons Schulz has accomplished so much is his ability to improvise and find a new solution when the road takes a turn. 
Of course, COVID did that for everyone, not just DJs. But without gigs and a connection to his audience, Schulz found alternatives to maintain his fan base. When the world opened back up and he returned to his global travels, Schulz noticed some subtle changes in the club and festival sounds – in genres and with certain DJ approaches – so he's adapted some of these new techno-centric ideas to his repertoire. Oh, and earlier this year, Schulz and his wife, Adina, brought a son, Liam, into the world. Changes, indeed. 
Back to business post-lockdown, Schulz has adapted to the changes in life and career, whether they're planned or not. No matter which way the wind blows, Schulz always seems to be able to navigate the conditions. As always, he's playing the long game. 
We recently connected with Schulz to discuss all of this and more.  
DJ LIFE MAG: Since lockdown, your life has certainly changed. This year, you have a new son, Liam – congratulations to you and Adina. How has fatherhood at this stage of the game impacted your life and your livelihood? 
Markus Schulz: Well, you know what? I think we were ready for it. Before [lockdown], we were like, "Oh, when we have a child…" Then the pandemic hit and it's like, "If not now, when?" And we tried for a year and half so, we were well-prepared, all ready for it.  
DJ LIFE MAG: Has it impacted your regular job as a DJ/producer? 
Markus Schulz: Nothing has changed in the sense that my routine is different. One thing that we said going into this is that, you know, my life on this planet is music, and we want to continue that. I mean, how do I say it elegantly? To get the best of me, music has to be one of the major roles in my life – otherwise, I'll be cranky and I won't be the same person. So, on the creative side, nothing has changed. Obviously, I'm inspired by having a child, moved by the innocence of a child. But, my drive and my work ethic stay the same. 
DJ LIFE MAG: So, you're at home during the week and away on most weekends… still you have a new member in the household.  
Markus Schulz: Adina's parents [from Romania] came to stay with us a week before Liam was born and they've been helping. In European culture – and especially Romanian culture – the grandparents have a big, big role in raising the child, so we've had four hands on deck since he was born. 
DJ LIFE MAG: How did you treat lockdown? Were you creative? How did you deal with the halt of gigs? 
Markus Schulz: We didn't know when things would open again, and I thought it was like, almost melancholy. I did find myself very creative, but I missed the shows. The time really made me realize what I got into the scene for and what we took for granted. I was trying to find a way to put that back into my life.  
DJ LIFE MAG: You did some streaming, I remember… 
Markus Schulz: Right, that's when I started doing sets on our balcony in Miami. Then, we took an RV and just set up gear in the middle of these remote locations and did 10 shows in conjunction with my album called Escape. So, it was the creative – the juices were really going, but there were few outlets to direct that creativity. I know a lot of people who just shut down, and then there were people who got really prolific, too, and they had to find other ways to harness that creativity. 
DJ LIFE MAG: It sounds like you went back to your do-it-yourself days – when you would throw your own parties –and found a way to make a situation work for you.  
Markus Schulz: I remember, I used to ask myself, "If things ever went upside down in my career, what would I do?" And I always said to myself, "Well, I would probably just reinvent myself," and it was almost like that same kind of idea during the lockdown. It was like, well, what are we going to do? Let's reinvent a way to get the music to the people, and people were so appreciative for anything that you would do creatively during the lockdown.  
DJ LIFE MAG: A lot of the DJs I interviewed said that the streaming experience gave them a tighter connection to the people and their fans because it just felt so much more direct and personal. 
Markus Schulz: It definitely was a lot more personal because, normally, you're doing shows and you see thousands of people every weekend. But all of a sudden, it was like you weren't in front of thousands, but you were streaming and it felt more one-on-one.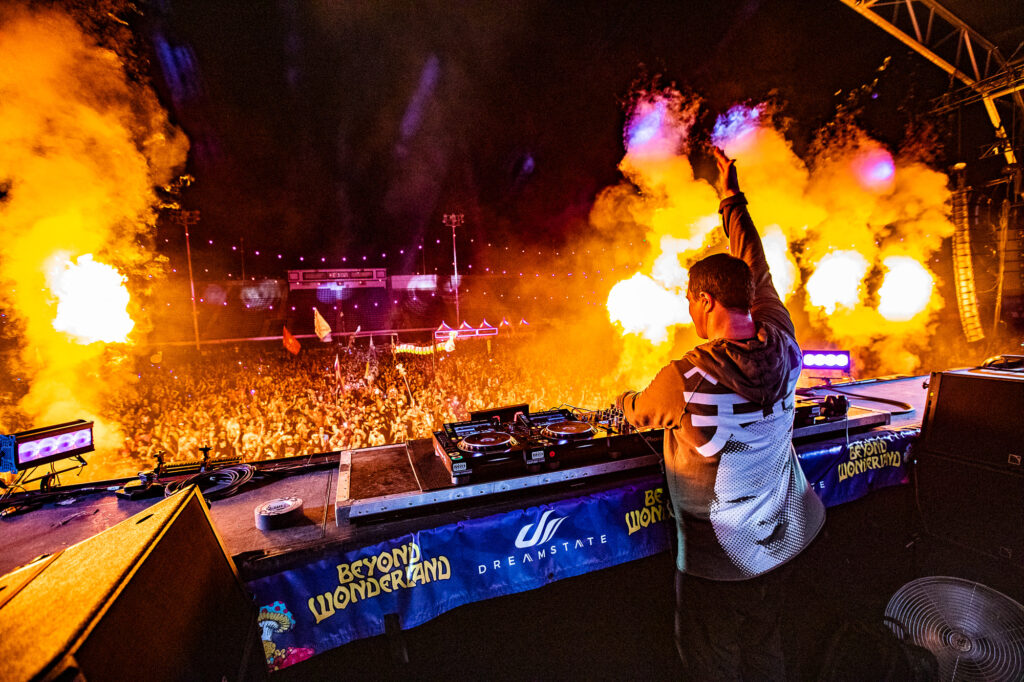 DJ LIFE MAG:
What were the first gigs back like for you?
Markus Schulz: It was strange, at first. We were all still wondering, "Oh, what's the protocol? Should I wear a mask onstage?" And at that point, we'd been focused more on streaming music, not necessarily the partying side of things, the aggressive, put-your-hands-in-the-air kind of music. So, to get back to doing shows, it was this balance. People wanted to just hear some good music and be around good people, get with friends, and be social again. You really kind of had to put together a set that was warm and inviting, if that makes sense. But now, we're back to raving again, you could say [laughs].  
DJ LIFE MAG: How are you viewing the continuing evolution of trance? Are you looking at the other scenes and listening to other sounds? 
Markus Schulz: You know, techno has just gotten so big, especially in Europe. There are so many of these festivals and labels like Drumcode that are still doing so well. And when you start listening to some of these techno sets, you start to realize that some of them are sounding like old trance classics. They're playing tracks that, if you were to play them back in 2010, they would be categorized as trance. So, techno kind of came along and basically became what trance used to be. Trance got to be too commercial or too uplifting – or too static, I should say. Everything that's 138 beats-per-minute and uplifting all sounds the same. Everything that's 128 BPM and big-room, that sounds all the same. Techno kind of came along and was really pushing the boundaries between traditional techno and trance.  
DJ LIFE MAG: How is that affecting the genre and your world? 
Markus Schulz: I noticed that everybody, especially the veterans of the trance scene, have really gravitated towards that. Also, when I started hearing some of these amazing melodic techno tracks, I was like blown away. So, I think, following that lead, the one thing about techno is they kind of flirt with the trance, they don't just give the full trance moment… 
DJ LIFE: Just flavors… 
Markus Schulz: Yeah, so I kind of I found that's where my niche is… keep that techno-y groove, that fresh new sound, and give them that euphoric moment that trance has been known for. For me, it's just been a huge revelation and almost like next evolution of the trance scene.  
DJ LIFE MAG: Global DJ Broadcast – how many years have you been doing that now?  
Markus Schulz: Everybody labels their radio shows, like, "Episode 541" or whatever… and when I started I said that I don't want to date myself. Now, here we are, like, 20 years later, and I really wish I had labeled them [laughs]. It started on Party 93.1 in Miami during that whole era in 2003 or so. I was on every Sunday, but when the station went away, I took it online. 
DJ LIFE MAG: And once you put it online, it really gave you a platform that kept you accessible to the world.  
Markus Schulz: That's exactly how I blew up worldwide. I was doing remixing and production and that was a going really well. But me, as a DJ, I was a resident at Space in Miami and I was playing with all the big DJs – Tiësto and Oakenfold and such, everybody. Still, I really wasn't heard internationally with my DJ sets. But when the station started simulcasting online, people heard my sets from Space and that's when people started paying attention and getting notice worldwide. 
DJ LIFE MAG: And radio always meant a lot to you, right? 
Markus Schulz: When I moved to the U.S. from Germany, I didn't really know English and I was really introverted. But I listened to music and that was my escape, my connection and it was always a one-on-one experience. I would be listening to the radio and I felt like the DJ, whoever it was – Tony Humphries, Shep Pettibone or the Latin Rascals – they were talking directly to me. So, when I had the opportunity to start doing a radio mixshow, that was my mission. I wanted to give that feeling, too, to somebody out there that needs that as well. I don't know how many people are listening, but I know somebody out there needs this right now, and that's always been my philosophy. 
DJ LIFE MAG: Let's talk about your musical output – there always seems to be a balance. You've got Dakota tracks for late night, but you're also got big, almost cinematic collabs like "Through the Galaxies," plus poppier things like "Into My Arms" with Emma Hewitt… what's your approach in the studio? 
Markus Schulz: When I was doing these eight- to 10-hour sets at Space in Miami, and even when I was learning to DJ, you'd have a certain sound in the beginning, then a certain sound for the peak, and another sound for the afterhours. So, all of my productions that I do, I always go into the studio with a frame of mind, like… what part of my sets is this going to live in? Is this track going to be in the peak of my set? Is this going to be one of those warm-up tracks? Or is this going to be one of those weird, twisted rabbit-hole tracks in the wee hours? It seems like, "Oh, he's really eclectic," but when you zero in on it…it's for three different parts of the set. When I do my marathon, 12-hour sets, it's broken into those parts. 
DJ LIFE MAG: I really dug that collab with William Schneider, "Through the Galaxies," and you've brought back the Dakota persona. 
Markus Schulz: That's the first track for a new collab series called "X," where I do a collab with a variety of people, like Arkham Knights, BT, Paul Oakenfold and Ferry Corsten. And Dakota is more for the after-hours, something that I purposely resurrected. My Dakota alias that I used way back in the day was for deeper, darker productions.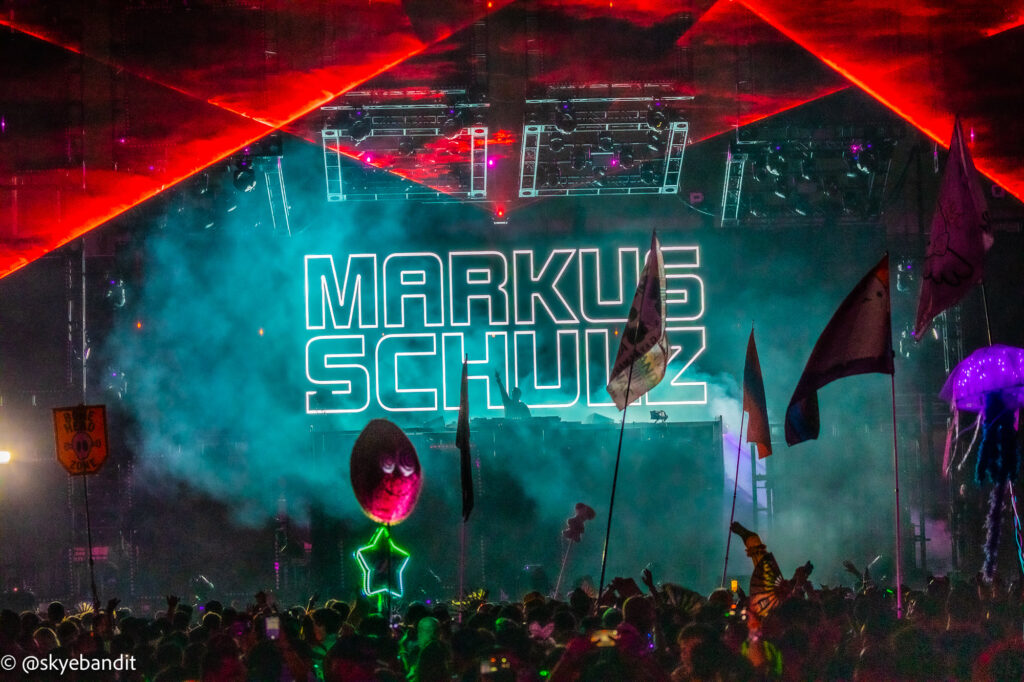 DJ LIFE MAG:
OK, now the fun questions… what are your three favorite clubs and why?
Markus Schulz: Stereo in Montreal because of their afterhours scene – I start at 2 a.m. and play until noon. Ministry of Sound in London because of their incredible sound system. Also, Avalon in Los Angeles for those legendary, legacy nights – the most fun nights I've had in my career were there. 
DJ LIFE MAG: And three festivals? 
Markus Schulz: Transmission Festival in Prague – one stage and one amazing laser show. EDC in Las Vegas – for meeting friends from all over the country. And Electric Forest in Michigan! I played here this summer for the first time and I was blown away. What a vibe! It's like Tomorrowland without the mainstream. 
DJ LIFE MAG: Three tracks, but not yours, that are always in your box? 
Markus Schulz: "The Age of Love" by Age of Love – the Jam and Spoon mix. Even before the 2022 remixes, this song was an all-time favorite. "Crossfade" by GusGus – the Maceo Plex mix. It's the true definition of a Markus Schulz afterhours anthem. Hmm, how 'bout a festival anthem? "Out of the Blue" by Ferry Corsten's System F. That melody withstands the test of time. 
DJ LIFE MAG: Studio gear, the basics – what are you using?  
Markus Schulz: Ableton Live is my go-to DAW and it's absolutely essential whether I'm producing or doing my radio show. ADAM Audio studio monitors – they make me feel like I'm in the club. Also, I'm back into the vintage preamps for microphones – my Manley VOXBOX is back in my favorites list. 
DJ LIFE MAG: What about plug-ins? 
Markus Schulz: Favorite synthesizer plugins? Serum by Xfer Records, Diva by u-he, and then Omnisphere by Spectrasonics. My favorite production plug-ins would include the FabFilter plug-ins, especially the limiter. Mbassador by Melda Production – this is essential for the techno world or making afterhours tracks. Also, OTT [compressor] by Xfer Records. 
DJ LIFE MAG: Let's move into the DJ gear. Has anything changed? 
Markus Schulz: I'm in love with Pioneer DJ's CDJ-3000s. There's just so many hidden things you can do and the ease of them at the festivals is amazing. All the things that they've added to it… just stunning. For mixers, the DJM-900NXS2 still works for me. 
DJ LIFE MAG: And how are you DJing? 
Markus Schulz: So, for my 10-hour, 12-hour open-to-close sets, I use recordbox on my laptop into the hub – so I have access to my entire library. Then, for the festival sets, I use an SD card, and then I prep it with recordbox. 
DJ LIFE MAG: Any DJ product you'd like to see invented? 
Markus Schulz: I'd like a harmonic analyzer, not just a key analyzer, but a harmonic analyzer, so I can see all the subharmonics that are in a song… like in techno, they use the kick drum in different keys. That would be helpful. That's what I wish was invented, but I'm told that it's too-niche of a product. Only the ultra-DJ-nerds would appreciate that [laughs]. 
DJ LIFE MAG: Which DJs are you feeling now? 
Markus Schulz: I really like what Adam Beyer is doing with his Drumcode label. There's just so much fresh music coming from his label and from that camp of producers. This year, I've really grown to appreciate Solomun and this vintage '80s vibe that he's doing. It reminds me of the gay clubs back in the late '80s/early '90s. It's kinda like that Italian vibe. He's been playing this stuff at Pacha in Ibiza and, man, it's just blown my mind. I've been listening for something to play the last two hours of my sets and that's something that I can get into. 
DJ LIFE MAG: And finally, advice for DJs who are just starting out, for someone who dreams of being a global DJ? 
Markus Schulz: Be original. You know, we have our agency, SMG [Schulz Music Group], and this is what I tell all the young DJs that we bring on: A good agent can get you booked anywhere in the world once, but it's all about the re-bookings – and re-bookings are your responsibility. Re-bookings is when the fees go up and the fanbase goes up. You do everything you need to do to get the re-bookings, everything from your attitude to your sets, everything you bring to the table. Ultimately, it's on you. 
To check out more interviews, click here.