Mark your calendars; the first-ever Lucy The Elephant festival will be taking over Atlantic City next weekend, featuring a star-studded lineup which DJ Snake, Tiesto, Dombresky, Kim Lee, Fergie, and Markus Schulz.
The festivities will begin August 5th and come to a close on August 8th, with all the action taking place between HQ2 Dayclub and HQ2 Nightclub. This electronic extravaganza will support the restoration of Atlantic City's Lucy The Elephant, the oldest and most beloved roadside attraction in the United States.
To help raise these additional funds and to bring wider attention to Lucy, The Ocean Casino Resort and HQ2 Nightclub/Dayclub decided to launch Lucy The Elephant Weekend with a portion of the proceeds going towards the project.
"The Save Lucy Committee could not be more thrilled that Atlantic City's NEWEST casino resort and America's OLDEST roadside attraction have teamed up to benefit the ongoing major restoration project at Lucy the Elephant," said Richard Helfant, Executive Director and CEO of the non-profit organization. "Elephants have always been a symbol of good luck and we are hopeful that Lucy will bring good luck and good fortune to all those attending this exciting weekend at HQ Nightclub/Beachclub and Ocean Casino Resort. We are extremely grateful to the staff and management of Ocean Casino Resorts and Lou B Industries for bringing these two iconic symbols of Atlantic City together."
Check out the complete lineup for Lucy The Elephant festival below. For tickets, visit lucymusicfestival.com.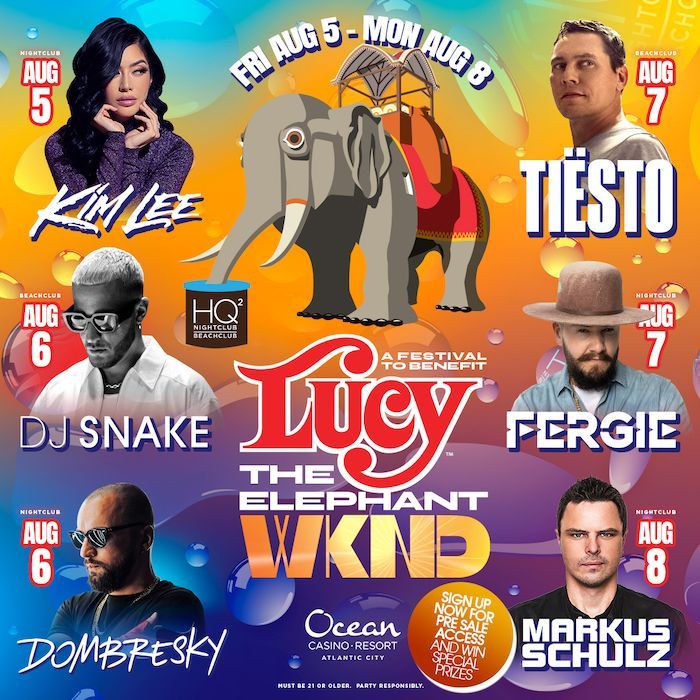 To check out more events, click here.