In the ongoing effort to bring the DJ community its best-possible show experience, DJ LIFE magazine and DJX '22 are announcing an exciting new partnership in the Monopoly City.
DJX will kick off its After Dark series with an opening-night party (Aug. 8) that will also serve as the closing event for a new Atlantic City music festival, Lucy The Elephant, a four-day/night event that will present some of the globe's top DJs, including renowned talents like Tiësto, DJ Snake and more. (Full details here.)
DJX's opening-night attraction, set to play the HQ2 Nightclub at the Ocean Casino Resort, will be Markus Schulz, the only jock voted "America's Best DJ" three times (2012, 2014, and 2018). Known for his euphoric trance sets and hard-hitting tracks, the Miami-based Schulz has worked his way up the DJ ladder from spinning mobiles and clubs in Boston and Phoenix to playing some of the world's most prestigious clubs and festivals. He's also successfully run his label, Coldharbour Recordings, since 2013. Schulz will also participate in DJX events throughout the week – stay tuned for further details.
All DJX badgeholders 21 years of age and over will be admitted FREE to the Aug. 8 event at HQ2, which will begin at 9 p.m. Proof of age required. Dress code.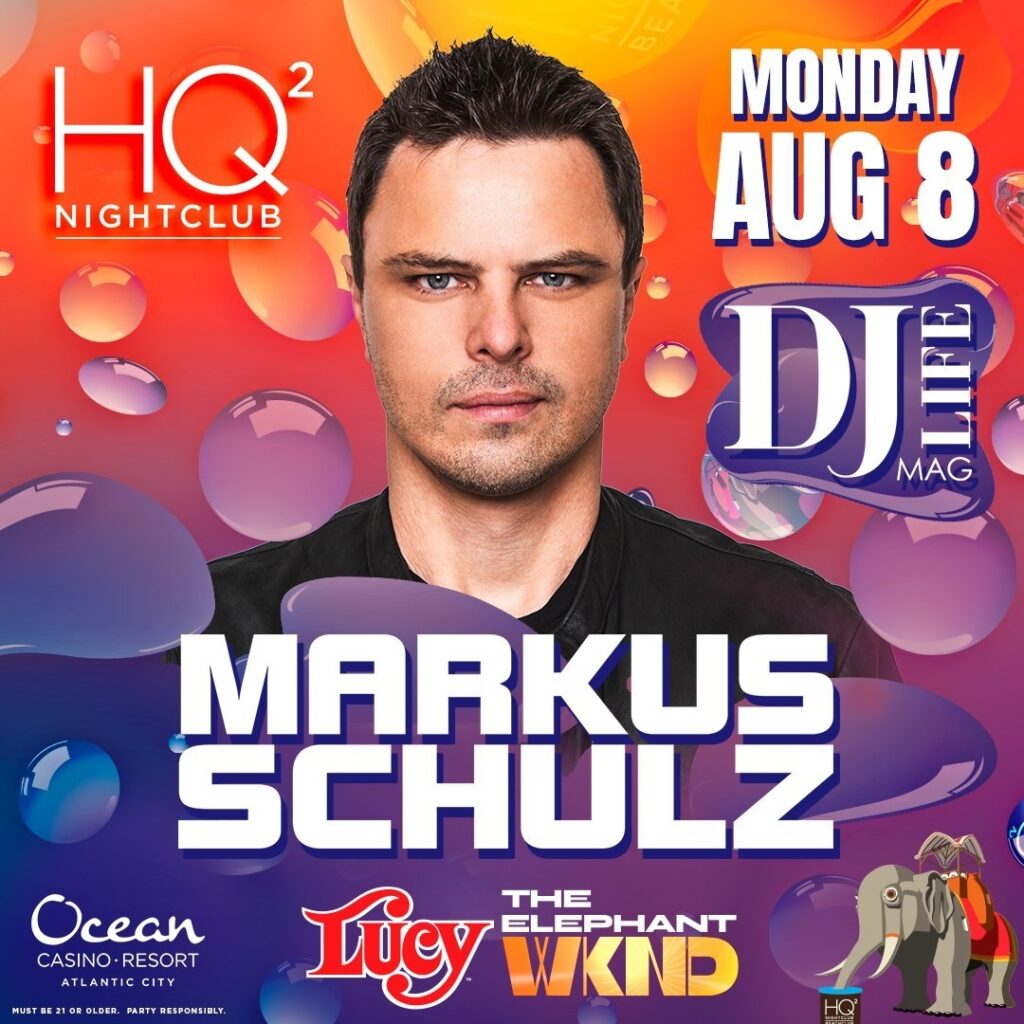 Set for Aug. 8-11 at AC's
Hard Rock Hotel & Casino
,
DJX '22
will present: three days of exhibits featuring the latest DJ-related technologies and accessories; 30 seminars, panels and keynotes tackling the hottest topics in all facets of the DJ game – club, mobile or studio; and three nights of After Dark events, like the Aug. 8 opening party at HQ2 with Markus Schulz. Produced by
DJ LIFE
mag and its publisher
Hazan Media Group
, DJX is the DJ industry's longest-running and most-successful trade-show/exhibition.
DJ LIFE and DJX are thrilled to partner with the Lucy The Elephant Weekend and its co-founder/promoter, Louis Branchinelli of Lou B Industries, and the principals maintain even grander ambitions for future AC collaborations.
Jim Tremayne, Editor-in-Chief of DJ LIFE, says: "DJ LIFE mag is excited to be an official media sponsor for the Lucy The Elephant Weekend and to again be working with Lou B, one of the most talented and successful electronic-music promoters in America. Lou's vision for Lucy The Elephant is perfectly aligned with our goals for an inclusive industry experience in Atlantic City."
Branchinelli (aka Lou B) concurs: "As we share a long-term vision of synergistic events in Atlantic City, we're gratified to be partnering with DJ LIFE magazine. The Lucy The Elephant Weekend is another great milepost in the journey for the place that's known as America's Playground, and we're very happy to be a big part of that."
Adds Shawn Hazan, President/CEO of Hazan Media Group: "Our partnership with Lou B on the Lucy The Elephant Weekend allows us to continue to contribute to the community in Atlantic City; it also continues our long-term strategy of further providing for the industry we represent. This is the beginning of very exciting times for both DJ LIFE mag and DJX."
To check out more music, click here.