It was only a few years ago that Gibson Brands, the venerable maker of a variety of instruments and pro-audio products, was on the brink.  
But after maneuvering their way through bankruptcy in 2018, the newly invigorated company seems to have found not only its footing, but its stride as well. In large part that appears to have been accomplished through a very simple idea: focus. The company abandoned its aspirations to be everything to everyone in the music-gear biz, retaining only its various guitar brands, and just one remnant of its pro-audio division: KRK.  
I've long been a fan of KRK studio monitors, and recently I had the opportunity to take a set of its newest offerings for a spin – the 4-inch version of the V-Series, in their latest "Series 4" iteration. The V-Series is available as the V4 (4-inch main driver), V6 (6-inch main driver), and V8 (8-inch main driver), and they vary primarily in the size of the main driver, and, of course, the size of the cabinet itself to accommodate that main driver. (The models also vary in terms of their amps and wattage, frequency response, peak SPL and crossover frequencies.) 
I have to give KRK props here. The sleepy world of studio monitors is, on the whole, pretty much a "same-old-same-old" sort of place, where things don't tend to change that often — or that fast. But with the latest iteration of the V-Series, the company has managed to pull some interesting tricks out of its bag, while adding some value along the way. So, let's dig in. 
First Impressions 
Unboxing the KRK "V4S4" (V-Series, 4-inch, Series 4) monitors — or just "V4" for short — initially feels like any KRK unboxing: You pull a beautifully designed, aesthetically pleasing speaker from a box, with its trademark yellow Kevlar speaker cones seeming to smile and say, "Hello," then set it in place.  
What makes these new V4s different from the usual unboxing is revealed when you turn the speaker around. No, it's not the fact that there's a just a single audio input (a Neutrik dual quarter TRS and XLR jack, to be specific); it's the controls, and more importantly, a whole lot of information silkscreened around them. 
KRK touts the speakers' deeply configurable EQ. The marketing materials say there are 49 user-selectable EQ settings, allowing the owner to configure the system based on personal preference, or to compensate for room acoustics. It's accomplished through seven different choices for low-frequency set-up, and seven more for high frequency — "flat" being one of the options for each. The other settings provide various cuts or boosts at specific frequencies, delivering the promised configurability.  
While I admire the effort and appreciate the configurability for personal preference, in terms of room tuning, it may not be everything you need for every situation. In my own home studio, the room tends to boost frequencies around 100Hz, while excessively sucking them up around the 800Hz mark. There are some peaks and valleys across the spectrum elsewhere, but the bottom line is that the V4's configurations alone won't fully compensate for my room's shortcomings. That said, I tend to prefer dedicated room-tuning solutions anyway, such as those from Sonarworks, which allow a finely tailored compensation scheme through software. 
Beyond EQ, however, KRK now provides some configurability to the speakers' behavior. Five small DIP switches allow you to set-up things like whether the KRK logo is illuminated, or whether automatic speaker standby is enabled. It's a nice touch.  
Also a nice touch — especially for applications like DJ-booth monitoring – KRK V-Series monitors come bundled with grilles. KRK claims that the grilles have no discernable effect on frequency response, but they nevertheless pack the speakers without them installed, presumably because that's most professionals' preference. But I do like to option to equip them for environments where the speaker cones would otherwise be left a little too vulnerable for my tastes.  
Finally, I must give KRK props for applying an unusually thick sheet of EVA foam on the bottom of each speaker cabinet. This isolation is essential to good performance of the speakers, and it's nice to see no skimping there.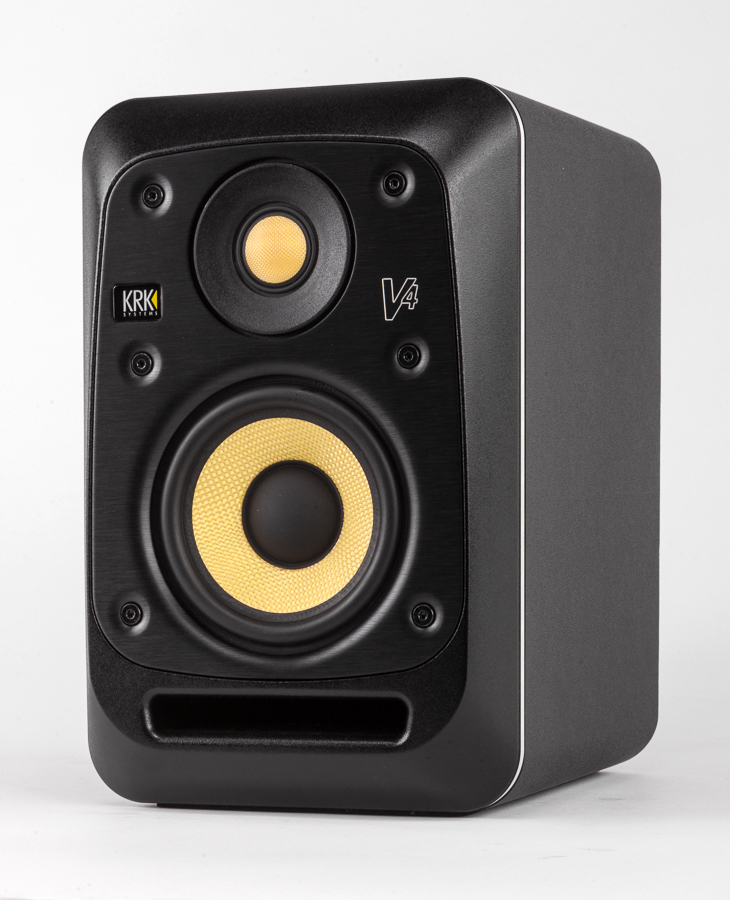 In Use 
When I positioned the KRK V4 pair in the "B" speaker position of my home studio and cranked up some familiar music, I have to say right off that I was impressed. It's important to understand that a driver just 4-inch in diameter isn't going to blow anyone away with the low-end response; the spec sheet says the V4 reaches down to just 58Hz.  
That's certainly enough for many applications and many music genres as well, including general DJ monitoring or casual use. Overall, the audio sounds crisp, very well-defined, and full — quite typical for other KRK pairs I've reviewed and used.  
For serious applications like mixing and mastering, you'll either want a larger main driver (the V8 version would be a good choice), or ideally, a dedicated monitor sub. When I connected the KRK V4s through my existing studio sub, the results are what I would expect from a KRK monitor, which is to say, on-point and impressive.  
There's really very little else to be said. KRK knows monitors, and the V4 Series 4 proves it. I'd even go so far as to say that A/B testing against my usual studio monitors (with 8-inch drivers), and with my room-tuning software compensation disabled, the KRK V4s objectively provided better imaging. Re-listening to some of my past projects, along with some favorite music across genres, leaves me with the very distinct impression that it's time to re-evaluate my choice of "A" monitors.  
Conclusions 
There's no question that KRK has packed a lot into a very small form factor with their V4 Series 4 powered studio monitors. With a frequency response of 58Hz to 19kHz, serious applications might demand the larger driver of the V6 or V8, and/or the use of a dedicated monitor sub in-line.  
But regardless, the V4 delivers amazing sound and accurate imaging in a small footprint. With 85 watts of total power and 110dB peak SPL, finely configurable EQ, and a price point of just over $400 each, it's a solid and respectable choice for a wide range of potential monitoring applications.