It's commonly known that if you can get your website ranking on Google Page 1 good things will happen. This holds true for almost any business, but is especially important for DJs catering to mobile entertainment.
Page 1 rankings on Google will get you more leads, and hence, more business. Unfortunately, almost every DJ company out there doesn't have a multi-search engine program out there, and this is a seriously missed opportunity because Google is not the only search engine out there. Indeed…
YouTube is the No. 2 Search Engine in the world!
Actually, there's some toss-up currently as to which engine really is the No. 2, as the internal Amazon engine has gained ground over the last few years. For our purposes, though, we'll slot YouTube in its familiar No. 2 spot, as the YouTube search engine aspect is public-facing, as opposed to Amazon's internal-based search engine (i.e., – only good for finding products listed on Amazon).
Now, YouTube rankings are not the same as Google itself. Where Google uses a pagination system requiring a user to click to get to Google Page 2 and beyond (which over 75-percent of people don't bother with), YouTube is more of a constant-scroll method, where the user just has to roll the wheel on his/her mouse to go down the rankings. There's still some serious benefit to ranking "above the fold" (the videos viewable immediately before you have to start scrolling), but there's not as much drop-off when the user has to start scrolling down as there is on Google from Page 1 to Page 2. Still, your goal with YouTube videos is this…
Rank your YouTube videos above-the-fold!
To do this, you need to use a method called YSO (YouTube Search Optimization), which is very similar to SEO, except for YouTube videos. Below, we'll go over two tools that I use on a regular basis to optimize for rankings, as follows.
Although there's some overlap between these two tools, they're both worth having. Let's dive into each of them: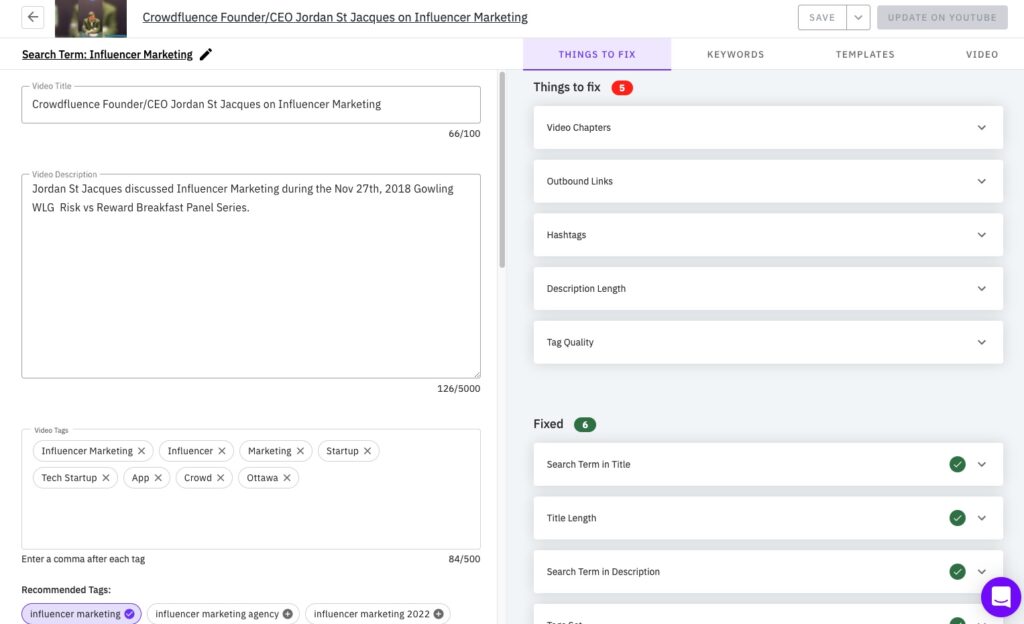 Tubics is basically a tell-you-what-to-do tool that, if you follow their instructions, your videos will be optimized the way YouTube likes to see them. If you plug in the keywords for the search term that you're trying to get your video ranked for, then Tubics will tell you what Things To Fix, and keep a list of what you've already fixed just in case. Tubics makes optimizing your videos really easy…. just follow their recommendations exactly, and then sit back and enjoy!
Other great Tubics features…
Ideation Section
Thumbnail Uploads
Keyword Bookmarks
Tubics Templates
Direct YouTube Uploads
Robust Reporting on YouTube Rankings
BitePlay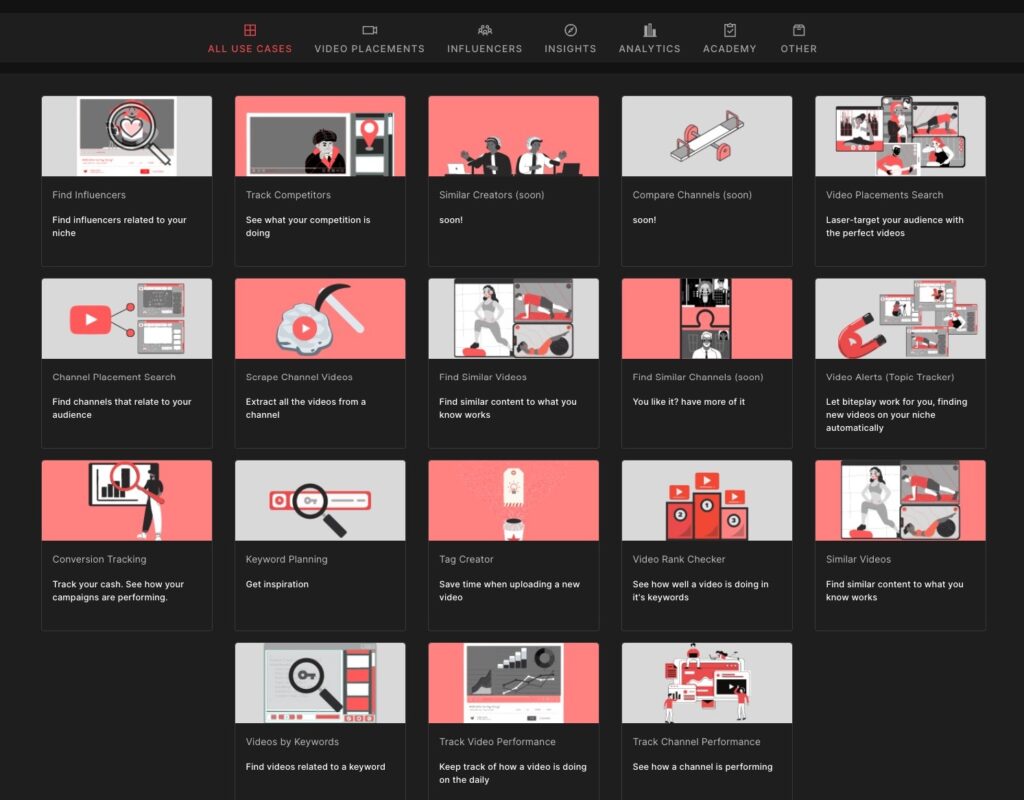 Whereas Tubics is a simple, yet effective tool to help optimize your YouTube videos, BitePlay takes it to the next level with respect to growth hacking your video rankings. Here's a list of their current and upcoming features:
Current Tools
• Find video influencers in your niche
• Track your competitors on YouTube
• Video Placement Search
• Channel Placement Search
• Scrape Channel Videos
• Find Similar Videos
• Video Alerts (Topic Tracker)
• Conversion Tracking
• Keyword Tracking
• Tag Creator
• Video Rank Checker
• Similar Videos
• Videos by Keyword
• Track Video Performance
• Track Channel Performance
Upcoming Tools
• Similar Creators
• Compare Channels
• Find Similar Channels
For us, we use BitePlay every week to see what successful channels are doing out there, and what videos are working for them. We also use it for good Keyword ideas, and then take those Keywords back to Tubics and plug them in there, so as to better optimize videos for clients and our own internal channels. In certain cases, we use the Influencer Search function, where we've had some success in getting Wedding Influencers to advocate on behalf of our Wedding DJ clients. For the future, we're looking forward to their upcoming Compare Channels function, just to make sure we're doing what we need to do to stay on the right track.
Each of these tools is worth putting into your workflow. Tubics does a better job of helping you optimize your videos for organic rankings, whereas BitePlay is better at helping you do the marketing for your videos and your channel with advanced metrics to help you see what's going on out there. Use both, and you'll outperform your DJ company competitors in no time!
Jordan St. Jacques is the President/Lead Digital Marketer at Digitera.Interactive in Ottawa, Ont., Canada.
To check out more business tips, click here.