Partnering with Auris Presents, Insomniac Events to bring Beyond Wonderland to Chicago on June 1 & 2.
Insomniac Events, the globally recognized name within live event space, has announced its partnership with Chicago-based Auris Presents to introduce the enchanting and awe-inspiring experience of Beyond Wonderland to Chicago for the very first time.
Set to take place at the Huntington Bank Pavilion at Northerly Island on Sat., June 1, 2024 and Sunday, June 2, 2024, this two-day electronic music festival will transport attendees on a captivating journey down the rabbit hole, immersing tens of thousands of music enthusiasts in real-life themes inspired by Lewis Carroll's mesmerizing world of "Alice's Adventures in Wonderland."
Nestled on the shores of Lake Michigan, providing breathtaking views of the lake and the Chicago Skyline, Northerly Island will become an interactive realm of wonder, ablaze with kaleidoscopic hues, exclusive culinary delights, captivating art installations, and entrancing electronic music performances. Amidst this enchantment, four elaborately crafted stages, known as Queen's Domain, Mad Hatter's Castle, Caterpillar's Garden, and Cheshire Woods, will whirl amidst the madness of Alice's Tea Party. Led by The Mad Hatter, the Queen, and an ensemble of curious creatures and characters, the musical odyssey spanning from house and techno to trance and bass will ensure an unparalleled auditory experience.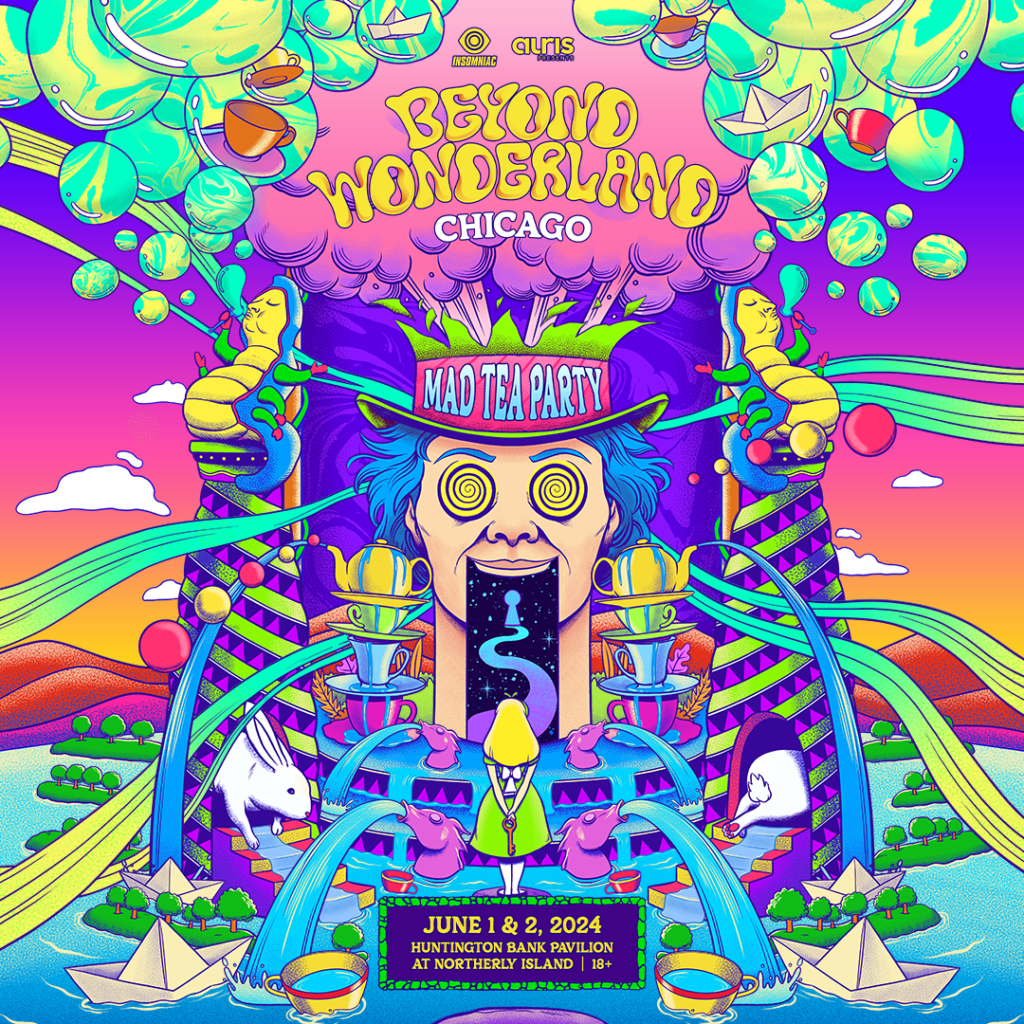 Since 2010, Beyond Wonderland has captured the hearts of Southern California with nearly 80,000 attendees annually. Its enchanting narrative, filled with intriguing twists and turns, has also traveled to Northern California, the Pacific Northwest, and Mexico. Now, Beyond Wonderland Chicago emerges as the inaugural Midwest chapter, promising to solidify its Chicago presence as the region's premier music festival experience.
A decade ago, in 2013, Insomniac welcomed 65,000 attendees to the Chicagoland Speedway for Electric Daisy Carnival (EDC) Chicago. Its 3-day edition in Joliet, IL poured $26.1 million back into the local Chicago area economy. EDC is now recognized as the world's largest dance music festival.
Two-day GA (18+), GA+ (18+), and VIP tickets (21+) for the debut of Beyond Wonderland Chicago are available at chicago.beyondwonderland.com. Deposits for festival layaway plans will start at just $9.99.
Featured photo courtesy of Beyond Wonderland's Facebook