Across two weekends, Tomorrowland returns to Boom, Belgium for over 400,000 attendees – plus how to watch the live stream.
Tomorrowland will once again bring the world together in Boom, Antwerp, Belgium beginning this weekend. Tomorrowland is now in its 17th edition and promises to steal hearts all over the world again this summer with top-tier DJ sets, magical surprises, and whimsical décor. No less than 400,000 festivalgoers from all over the world will be welcomed at the 'De Schorre' domain in Boom starting July 21st. The early arrivals will gather in DreamVille beginning on July 20th. The theme this year is "Adscendo," which means that for two weekends, the festival grounds will be transformed into "a magical place high on the horizon."
Can't be there to experience the magic of Tomorrowland in person? The colossal event, which is spread across 16 elaborately crafted stages, more than 750 of the world's best artists in electronic music will make this what's certain to be another unforgettable edition. Tune into the Tomorrowland 2023 live stream (weekend 1 schedule below), as one of the world's biggest music festival's broadcasts live sets all weekend long.
 In between the festival weekends (July 24-27), One World TV will be looking back at the previous weekend and counting down to the upcoming one with a mix of unique DJ sets from different stages, including the Mainstage, Freedom, Crystal Garden, Atmosphere, CORE and The Library.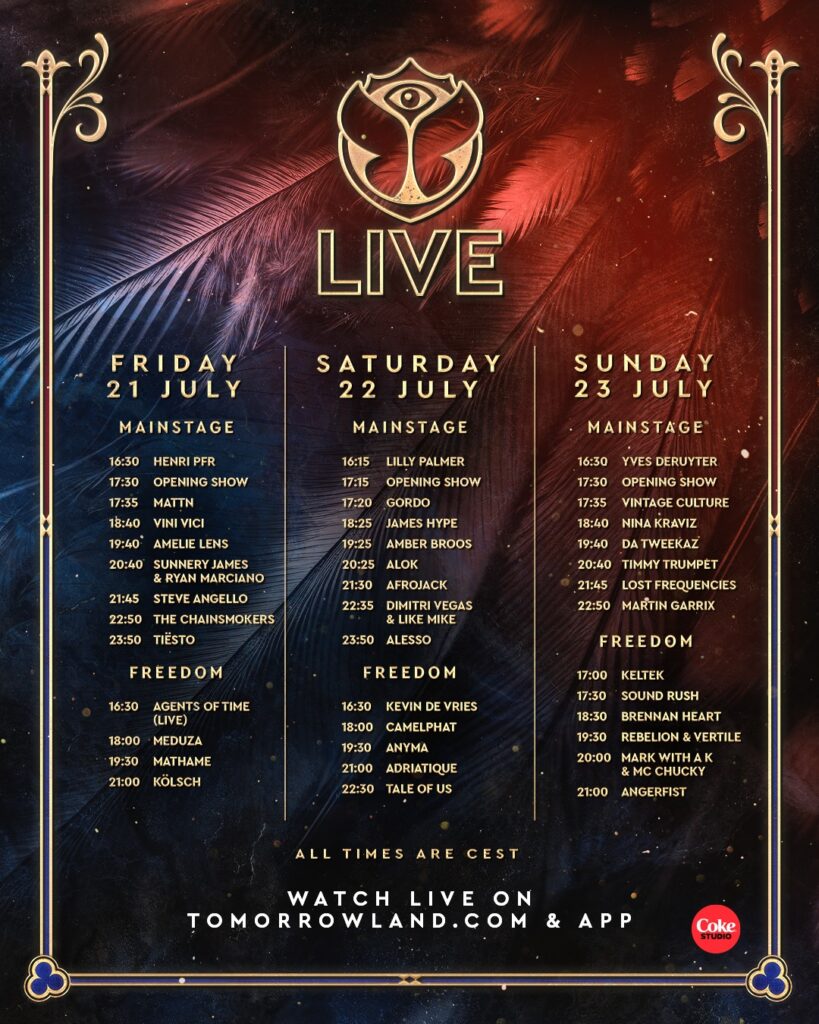 Follow the magic of Tomorrowland 2023 live on One World TV and One World Radio via tomorrowland.com and the Tomorrowland App.
Tomorrowland Belgium 2023 ​ 
​Weekend 1: Friday July 21 – Sunday July 23
​Weekend 2: Friday July 28 – Sunday July 30
​Boom, Belgium
​adscendo.tomorrowland.com
Featured photo courtesy of Tomorrowland's Facebook