After the Big Successes of "Do It To It" & "Believe," What's Next Creatively for ACRAZE? 
Imagine the scenario. After some false starts in your DJ career, you decide to get serious about making music. Then, within a matter of two short years, you become one of EDM's biggest DJ/producers, largely on the strength of a whopping single that seemed to find itself everywhere. Your career is on a fast track. What's next? Where do you go from there? 
Of course, we're talking about ACRAZE, creator of one of the most popular dance tracks in recent history – the 2021 smash "Do It To It" (featuring Cherish). You might dream of such a situation, but handling it all still isn't easy. Just ask the artist himself. We did.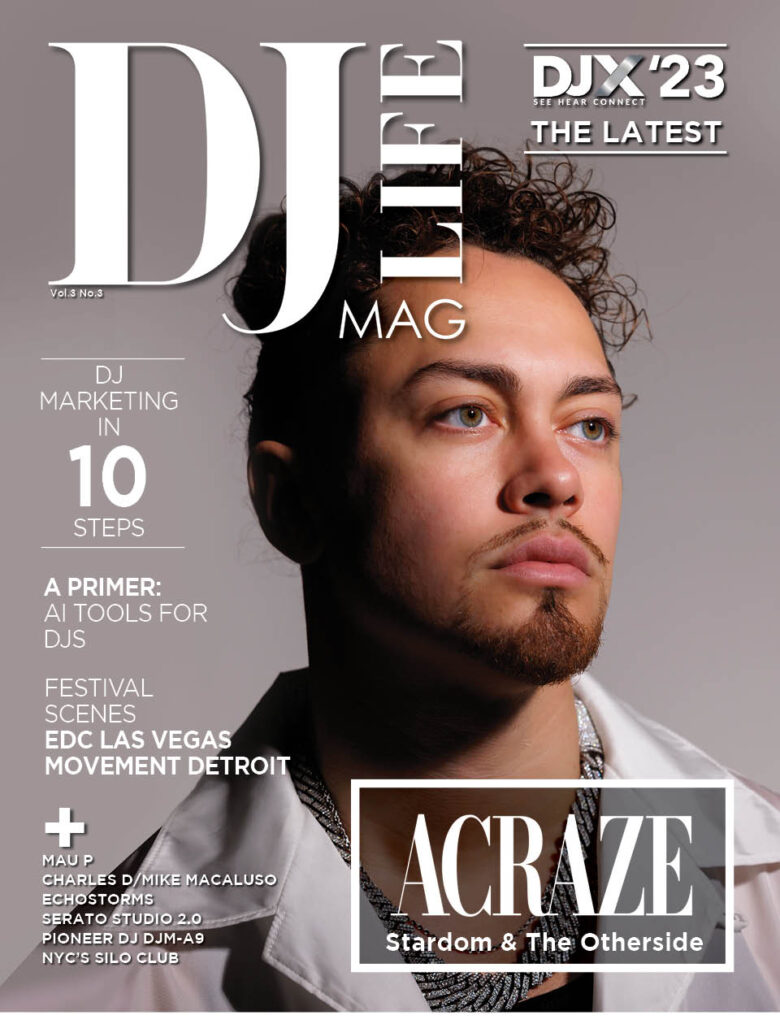 A Look Back: In August 2021, "Do It To It" was officially released on Thrive Music (Virgin/Capitol/UMG) – and seemingly overnight, ACRAZE's tech-house rework of the 2006 Cherish original was dominating the charts, radio, nearly every DJ set, and it swiftly became an RIAA-certified Platinum smash. Since then, the song has astoundingly amassed more than 16 billion streams.  
As if ACRAZE's first version wasn't already completely ruling the scene, especially within the festival circuit, Zedd included a mash-up version, mixed with the popular "Squid Game" anthem from Netflix, during his EDC Las Vegas set in October 2021. Subsequently, this version went on to become an official release on DSPs, garnering even more support from DJs across the world.  
Official remixes of the song were also being released (and played by countless DJs), including efforts from Tiësto, Andrew Rayel, Sub Focus, Subtronics, Rated R, Habstrakt, Hugo Cantarra, YOOKiE, Tom & Collins, and even an ACRAZE extended mix. And more fortune was on its way. Shortly after his follow-up tune – "Believe" feat. Goodboys – came out in fall '22, that song saw a remix from Galantis, and ACRAZE was included on the official remix pack, along with Disclosure, for Sam Smith & Kim Petras' GRAMMY-Award winning "Unholy."  
By then, of course, ACRAZE was playing the biggest music festivals and nightclubs in the world, and getting into the studio with top writers and producers. The explosion of "Do It To It" – not just within the dance music community, but at the mainstream level – led him to major residencies with Hakkasan and now Wynn Las Vegas, but also onto the main stages at leading worldwide festivals – from Miami's Ultra Music Festival to Belgium's Tomorrowland and Brazil's Green Valley and more. 
Just this year, ACRAZE has played Charlotte's Breakaway Festival, the famed Hollywood Palladium, gigs at Miami Music Week, and, most recently, two sets at the biggest electronic music festival in the country, EDC Las Vegas, which included a solo set and a B2B set alongside Noizu. Up next, fans can catch ACRAZE at Chicago's Lollapalooza on Aug. 3.  
After starting on the DJ decks in 2016, ACRAZE has been mastering his craft all while creating some of dance music's biggest and most talked-about records. Samples and covers have always been popular, however, it's almost as if "Do It To It" started a new wave of nostalgia within the dance-music industry. Before ACRAZE unleashed the monster single, he had previously released his take on Lipps Inc.'s "Funky Town," and has since dropped "Take Me Away," which samples Natasha Bedingfield's "Pocketful of Sunshine." However, his most-recent single – the moody mover "The Otherside" feat. Paige Cavell – is an all-original effort.  
One week before the new single was officially released through Thrive Music, DJ LIFE spent some time with the Staten Island, N.Y.-born/Orlando, Fla.-based ACRAZE (aka 27-year-old Charlie Duncker) for an up-close look at his blast into EDM stardom.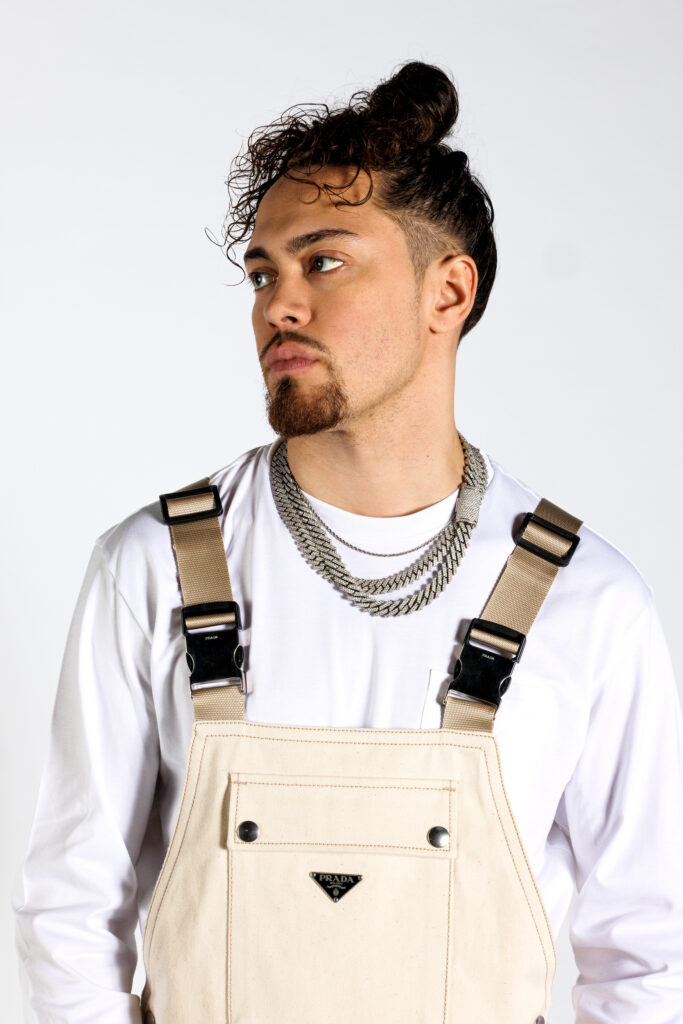 DJ LIFE: Did you grow up with any musical experience?  
ACRAZE: No, actually. I was a dud, actually… all self-taught. I learned everything from YouTube – that was it!  
DJ LIFE: What was the moment when you knew you wanted to pursue a career in music? 
ACRAZE: I knew back from when I actually quit my last job, which was in landscaping. I was working in landscaping for a really long time, and I was like, "I'm so sick of this, man." Because by that point, I had like 15 different jobs [leading up to being a landscaper] – and it was just getting out of hand. It just got to the point where I absolutely hated it. I hated waking up and going to my 9-to-5 job. Or, especially in the case of doing landscaping, I was working more along the lines of 7 a.m. to 7 p.m. So, I was waking up at 6 a.m., getting in at 6:30 a.m., and work until around 7. But as I was working, I was listening to tutorials in my ears, in my headphones and shit. Then, when I got home, I would work on music until like 1 o'clock in the morning, sometimes even later, maybe 2 a.m. or 3 a.m., and I'd go to work again the next day. I was doing that for a whole year until I started putting out music on SoundCloud and it started getting [some] traction. I remember Skrillex playing one of my flips that I had done a long time ago. It was that moment when I quit my [day] job because I was like, "You know, if I'm getting support from other artists [like Skrillex], I should probably keep this going," you know?   
DJ LIFE: Who were some of your early DJ influences? Who are some of your biggest musical influences now?  
ACRAZE: Well, DJ Snake and Skrillex were definitely two of my favorites – and [to this day] they still are. I was always a fan of DVBBS back in the day, and really loved their energy onstage. That's something that I kind of brought [because of them], and from watching them [play live] for so long. [DVBBS] are [who and] what actually inspired me to grow my hair out. So, I can definitely say thank you to them. I know them now, which is really cool, and we've actually been trying to get into the studio together, but just haven't had the time. Lady Gaga is a huge part of my early influences, too… I really want to work with her eventually. I've always loved how super-versatile she is with everything she does.  
DJ LIFE: You created and released "Do It To It," which has become one the biggest dance songs of recent memory. How did that song come to be? 
ACRAZE: So, I made the song actually in this very house, right in my bedroom… small room. One morning I woke up and heard the original song [Cherish "Do It To It"]. I thought to myself, "Wow, this would actually sound crazy as a dance track." At that time, I was trying to really figure out what people were doing and what they weren't doing enough of. I was trying to put two and two together, and that's when I realized 2000s samples aren't being used enough. I thought about how it could end up going in a cool direction, so I tried it out – and it really just worked.  
DJ LIFE: What were your expectations of the song?  
ACRAZE: Well, my manager and I knew after the very first time I played it that it had the potential to be a big song, at least as far as within the [EDM] culture itself. Never did we expect that it would evolve to the level it did, as far as mainstream or radio. We never thought it would end up winning awards or anything like that. So, it's definitely interesting to see how things unfolded with ["Do It To It"].  
DJ LIFE: What did you learn from the whole experience? 
ACRAZE: I go into studio sessions with so many [artists, songwriters, and producers] now and they're all just trying to write hits, you know? I feel like you should never go into the studio with the intention of making something massive because then you'll always find yourself getting let down. There aren't many songs that become "hits," you know? Everything is just trial-and-error. I never go into a session trying to make a bunch of hit records. You always want to try to make good music, but should never go in [with the intention] of trying to make hits. My music is going to speak for itself… if I have another hit, I have another hit. I'm never going to go in with the idea that it's a "hits session."  
DJ LIFE: How was it for you moving on from the success of that record and onto its follow-up? 
ACRAZE: Man, I had a lot of records ready [laughs], but at the same time a lot of them just were not it. I honestly didn't want to go back into the game with another sampled song either. You can't help but look at comments and shit from people, talking about how "I don't make original music," and that just made me want to come back with something even more original. And if I was going to use a sample, at least make sure it's not a huge sample. I ended up putting out the follow-up record ["Believe" feat. Goodboys] out when everyone's stress levels were at 100. Everyone was sort of bugging out about it saying, "We need to do this now, we need to do that now," so I was pretty much like… OK, let's put out a new record.  
DJ LIFE: How much time did you spend working on it or deciding what the next move would be?  
ACRAZE: I waited forever, but I was definitely teasing a lot of music throughout that time [between singles]. I was also working on a ton of music during that time, and I was also trying to figure things out. When I put out "Do It To It," I feel like everyone was sort of just sitting on that wave of 2000s samples, and nobody was straying away from it. We're talking about over two years and people are still making that type of music, so it would make me think even more. If I'm going to "start a trend," so to speak, and I'm not saying that I started it from the beginning, but helped take it to a new level or to where it is now, then I should try and think of another way to set another trend. If I'm going to be a trendsetter, I feel that's how you go from becoming a great producer to, you know, like a "legend" – and that's something that I've always wanted to be. I'm just always trying to think of different shit, you know?  
DJ LIFE: For your DJ sets, what does your set-up consist of? Has it changed since you first began DJing?  
ACRAZE: It's pretty much the same, as far as DJing and mixing go. I really like the [Pioneer CDJ-3000s] now, because you've got the touch screen and I like to be able to navigate with them during my sets pretty easily. As for mixer, I use the [Pioneer DJM-900NXS]. I don't really love the new mixer, but maybe because I'm so used to the DJM-900 at this point. I'd also have to learn how to really be comfortable on the newer mixer, but I'm always on the go and learning stuff live, so it can be quite tricky, even though it is pretty similar. One of the things I'm doing now is going from USBs to SD cards because I've probably lost a thousand USBs, at least [laughs]. I don't know who has my USBs out there, but they're somewhere either at a club or a bar… somebody probably has picked one up and later realized they swooped up ACRAZE's USB [laughs].  
DJ LIFE: Any stories about that? 
ACRAZE: Yeah, this one's actually so funny. I was playing the Ritz Ybor in Tampa one time, and this was before "Do It To It" came out. I walked in and had one USB which was in my pocket, I get up on stage, look at my manager, and then realize that the USB is no longer in my pocket – it's nowhere to be found. I was telling my manager, "I don't have the USB," and he was like, "Well, what did you do with it? It was in your pocket… I let you hold it because you wanted to hold it." So, at this point we go back out into the crowd, and everybody sees us looking for it with our phones out, and the whole club is wondering what we were doing [laughs]. Meanwhile, I'm supposed to be headlining the show, but everybody now sees me out in the crowd looking for my USB. It got to the point where we had the entire venue looking for the USB with their phones out, flashlights on. I ended up not finding it… it's a funny story now, though.  
DJ LIFE: How'd you do the show?   
ACRAZE: Some kid in the crowd gave me their USB, so I ended up playing my set off of their music, man!  
DJ LIFE: OK, what's your studio setup? 
ACRAZE: Well, the set-ups are always different…at least now. But even just two years ago or so, I was just producing off my laptop speakers. I didn't even have any speakers or [studio monitors] – I couldn't even afford it. I just didn't even have the money for it. Now, I've got two Yamahas [monitors], a [Focusrite] Scarlett interface, a mic, some analog synths – but even now, I hardly ever really get to use those. I use the speakers now, especially to really test low end on certain songs, but I still like to use my laptop because I feel more comfortable using just that. When I go to studio sessions, it is what it is, and I'm starting to get more used to those now. I remember when "Do It To It" first came out, I was getting put into these sessions and I was actually so scared, man. It was because I didn't really know what to expect or what I should be doing. It was like everybody was there for me and I had to lead the room somehow. So, I would try all different things out or they would just be waiting for me to pull out a demo that they'd actually like. Sometimes it's just really stressful so, all throughout this whole time it's been a process.  
DJ LIFE: How has your process evolved? 
ACRAZE: I work with my friend Nick [Henriques] a lot now, too, so we get to bounce ideas to each other back and forth. I'm actually posting a video breaking down how I made my new song ["The Otherside"], and you'll see what I'm referring to about going back and forth, working together on the synths and all of that stuff. I really love when I feel comfortable working with someone because I find that's when a lot of my ideas really come to life. In studio sessions now, people will say, "Oh, this could be cool." But, I hate the word "could" as an implication during a studio session because if it could be cool – it might actually be cool if you try it this way or that way. That's why when anybody ever says "could be" in a studio session, I make sure that we always just try it so we can determine if it is or not.  
DJ LIFE: This most-recent single is "The Otherside," a collab with Paige Cavell. How did this one come together? 
ACRAZE: My friend Paul [Harris], who lives in London, is an amazing writer. He sent me the demo, with a bassline and a kick. It was a very simple demo with a vocal on top – there were only three elements to the song. Right after I heard the demo, I said, "This song's amazing – can you send me the stems?" So, honestly, we got a cabin in the middle of Canada. I brought Nick with me, and we finished the song together in one night.  
DJ LIFE: What drew you to that song? 
ACRAZE: This song really spoke to me from the start because the whole story behind the song is about overcoming adversity, becoming yourself, and it's just about self-love, self-identity and making it to the other side. Whether that's because you're super-depressed, you're on the other side now and you're happy; if there's darkness in your life now, you see light. I remember when I was making dubstep stuff, I honestly felt like I wasn't myself. When I put out "Do It To It," I started to finally feel like myself, and I started feeling truly happy with myself and making music. I feel so comfortable in my own skin – I feel like me now. I don't have to pretend to be somebody that I wasn't just to try to make people happy, now I'm making music solely for myself. And that's what "The Otherside" represents to me.  
DJ LIFE: After "Do It To It" and all the attention is gained, how did you get re-focused creatively on the music and not get too caught up with the industry pressures? 
ACRAZE: Yeah, I'll be honest… anybody put in the situation that I was would be scrambled. It's hard because that pressure is just really intense, man. After the song came out, I would go on interviews and everybody would ask me: "So, what's next? What's next? What's next?" – and it was just really overwhelming. At the end of the day, I would just go back to making music in the studio and try to not think about all of that or "Do It To It." I'd say, "Let's just go in and make something dope. If it's not dope or it's not 'Do It To It,' that's OK!" At the end of the day, you would drive yourself insane.  
DJ LIFE: For a young artist, that's gotta be tough… 
ACRAZE: The main focus as an artist should be: Do not lose your mind… do not lose your fuckin' mind! Because it's so easy to when fame and fortune start to come into play. Some people start to become depressed because they aren't able to do what they did before. You really just have to focus on the music and go in with the intention being why did you start in the first place? I always go back to day one and ask myself: What was the reason you fell in love with music? "Do It To It" is gone, that's it. Now I'm looking for the new wave. If I notice something I've made is really working in my sets, then I might try to get into the studio and make more like that, but even better. Like I said, making music is all about trial and error.  
DJ LIFE: Have you played "The Otherside" out so far? What's the audience response been like? 
ACRAZE: Yeah! I've played it in my DJ sets a few times. It's definitely a mainstream/commercial type of song. But for my DJ sets, I've made it to where it seems more clubby and it fits my sets. Live, the version that you'll hear me play isn't really too far off from the extended version – it's good! The response has been awesome, and I feel like the energy is perfect. To me, it couldn't have gone any better. The last time I played it where I got a crazy reaction was Ultra Music Festival in Australia. The crowd was going nuts and there were pyro and fireworks going off – it was a moment. I remember looking back at my photographer and thinking, "Man, this is gonna be a great song." You can really hear the emotion behind it, which is something I really love about this record.  
DJ LIFE: Are there any places you've yet to play that you want to?  
ACRAZE: [laughs] I think the only places I haven't played are Russia and Africa. No, I'm kidding, but I'm serious – it really feels that way.  
DJ LIFE: Looking back at your experience in the limelight so far, have you seen anything really surprising from fans? Any stories? 
ACRAZE: So, not so much a story, but something that's just funny to me is seeing people using "Do It To It" as their walk-out song for their wedding. I just think about it, and if I were to do my own wedding, right, I'm not walking out to "Do It To It" – I'm just not doin' it [laughs]. But it's crazy, because on TikTok that was all I saw… people using it at their weddings, people doing choreography, the whole thing. It's wild to me to think that people like the song so much that they're playing it at their wedding on the day they marry the love of their life! 
DJ LIFE: Do you have any pre-show rituals or routines? 
ACRAZE: Ah, pre-show rituals… do a shot, let's get a little rowdy! It's very easy. There's rarely a time where I like it to be quiet or to pray or something like that. I honestly don't really do that before a show. 
DJ LIFE: Did you start out as a DJ or a producer? 
ACRAZE: I was a DJ first. I'd say it was about 11 months into DJing and I finally got my first headline show at a nightclub.  
DJ LIFE: How did that happen for you? 
ACRAZE: I ended up going to this club, and a guy I know ended up buying the club, which actually turns out to be a club I go to now called Celine – one of the biggest venues in the Orlando area. So, before it was Celine, it was called Vain, and this guy Freddie bought the venue, and he was looking to do EDM nights. Somebody referred me to him, telling him, "You need to have this guy DJ." I ended up being part of the first show, which was on a Thursday, and I had all of my friends there – it was dope, but it wasn't a headline spot. After that, he asked me to come back on a Sunday to do a headline show, which ended up being close to my birthday, so I wanted to celebrate my birthday. I get to the show on Sunday, and nobody is there.  
DJ LIFE: Yikes… 
ACRAZE: Now, a lot of my friends didn't show up or couldn't come out, but literally nobody is there. I'm talking about me playing for the bartenders. When it got to 12:30 a.m., the venue decided to just shut the club down because nobody had even walked through the door – not a single person. Mind you, it was raining, it was a shitty day outside, and I'm not gonna blame it on the rain. But before I left, one of the bouncers, who knew I was really, really upset about it, said to me: "If you want people to come to your shows, you've gotta be making music… that's how you sell tickets." That's actually when I stopped DJing [for a while]. I didn't touch a DJ board for another two years. From that point on, I sat in my room, and I learned how to produce music. That was the point where I had a job, and I went back to landscaping and started producing. It wasn't until I got that support from Skrillex that I decided to quit my day job. I've been trying to find that bouncer ever since, but I just can't find him [laughs].  
DJ LIFE: Before we wrap, I know you mentioned wanting to work with Lady Gaga earlier, but are there any other dream collaborators that you have – either DJ or non-DJ?  
ACRAZE: I mean, in the DJ world, sometimes it's a sticky situation, so I can't really say that there are many others that I'm looking to work with right now. There's one DJ who I've been working on something with, Noizu. I actually played back-to-back with Noizu at EDC Las Vegas [this past May]. He's actually the only other DJ right now that I'm working with. Any of the other stuff that I've done with other artists or DJs just hasn't worked out so far. I'm actually finding a lot of inspiration right now in the Latin world. I really love Latin music because that's kind of my roots, so I've been working with some crazy artists in that space and hopefully something comes out soon.  
DJ LIFE: Where do you hope to be or where do you see yourself five years down the line?  
ACRAZE: Uhm… I really want to win a Grammy, man! I know… and I'm not even really a big award person, but a Grammy is a Grammy. I'd love to win something of that caliber or to just reach that level of success.