From July 28-30, 2023, Bass Camp Festival VI announces by-day lineups and DJ competition for main stage opening set.
Bass Camp Festival VI begins on Friday, July 28 in Downtown Reno, and includes a string of concerts, main festival event, after-parties, a day pool party, and a closing party. In addition to all that's been recently announced for the 3-day event showcase, a DJ competition has just launched for an act to play an opening set at the festival main stage (details below).
The latest string of announcements for Bass Camp Festival includes a new home for the event at Wingfield Park, which is in the middle of the Truckee River in Downtown Reno. The sixth chapter of Bass Camp takes place from July 28-30 as a citywide electronic dance music event that aims to transform the 'Biggest Little City in the World' through a series of pre-parties curated at some of the city's best concert halls, nightclubs, and lounges and to close out the weekend- a day party at the J Resort Pool and final party at Virginia Street Brewhouse. Each venue will feature national talent across varying genres, starting late afternoon and going into the wee hours of the morning, taking full advantage of Nevada's no curfew benefits.
Bass Camp VI's 'home base' opens Saturday, July 29, with an immersive experience featuring world-class DJs performing on three unique stages, the before mentioned "Bass Station" Sound Ship, silent disco, all grass park, beautiful shade structures, and sails, a vendor village, interactive artist paint wall, art installations, and art cars. Fans can enter Wingfield Park at 2 Arlington Avenue, Reno, NV, beginning at 2.00 p.m. The main festival event is all-ages.
Additionally, Bass Camp has recently announced the Bass Camp VI DJ Competition. Starting on Friday, June 9th, artists can submit their original tracks for a chance to win an opening slot on the Bass Camp main stage, along with a pair of festival tickets, a $500 travel voucher, and an official track release on the Bass Camp Music label. The competition is fueled by SKIO, a music platform designed for producers and songwriters to hone their skills and support each other. A proven launchpad for success, SKIO contests have featured nearly 500 producers earning an official release from artists and labels like The Chainsmokers, ILLENIUM, Milky Chance, Sony, Universal, Warner Trap Nation, Armada Music, and many more. The Bass Camp VI DJ Competition submission deadline is July 7, at 10a PT, and winners will be notified on July 18.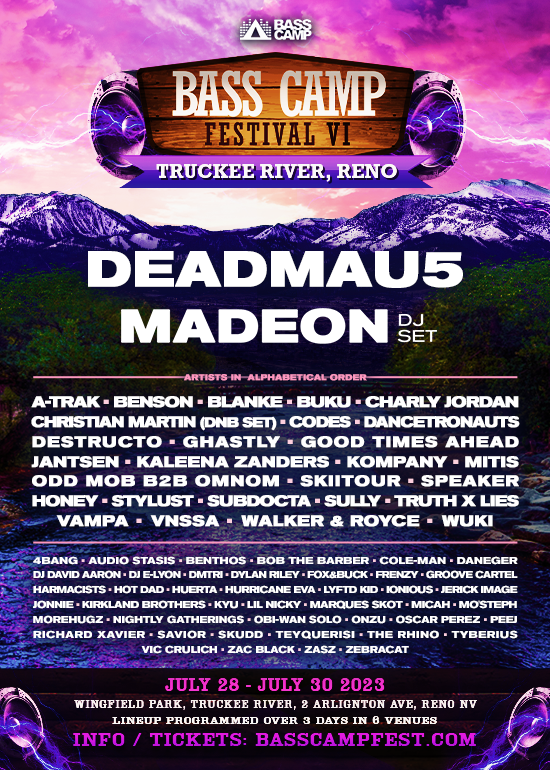 Those planning their weekend can head to the site for a breakdown of its recently announced Bass Camp VI Schedule-By-Day and artists-by-day is as follows:
FRIDAY, JULY 28
CYPRESS (21+):  Buku, Zasz, Richard Xavier, Jerick Image, Berazz
CARGO CONCERT HALL (18+):  Jantsen, Kompany, Jonnie, Harmacists
VIRGINIA STREET BREWHOUSE (18+):  Destructo, Benson, Micah, Teyquerisi
DEAD RINGER (21+):  1AM Speaker Honey, Hot Dad, Marques Skot, Cue:Lad
SATURDAY, JULY 29 (main festival event)
Deadmau5, Madeon, Blanke, Benthos, Charly Jordan, Christian Martin, Dancetronauts, Danger, DJ David Aaron, DJ E-Lyon, DMTRI, Dylan Riley, Fox&Buck, Frenzy, Ghastly, Good Times Ahead, Hurricane Eva, Ionious, Kaleena, Lil Nicky, Lyftd Kid, MitiS, More Hugz, Nightly Gatherings, Obi-Wan Solo, Onzu, Savior, Skiitour, Skudd, Subdocta, Sully, Tyberius, Vampa, Vic Crulich, Wuki, Zac Black, and 4Bang.
SATURDAY, JULY 29 (after-parties)
CYPRESS (21+):  Stylust, Kyu, Audiostatis, Peej
VIRGINIA STREET BREWHOUSE (18+):  A-Trak, VNSSA, Oscar Perez
DEAD RINGER (21+):  Huerta, Truth x Lies, Groove Cartel, Zebracat
SUNDAY, JULY 30
J RESORT POOL DAY PARTY (ALL AGES):  Artisco, Odd Mob b2b Omnom, Cole-Man, Bob the barber, the Rhino
VIRGINIA STREET BREWHOUSE (18+):  Walker & Royce, Codes, Mo'Steph
Bass Camp VI is produced by Bass Camp Festival, Inc. Visit https://BassCampFest.com for the most up-to-date information and tickets. Fans can stay connected on Instagram @BassCampFest, Facebook https://www.facebook.com/BassCampFest/, and TikTok @BassCampFestival.