Staci Nichols (aka DJ Track Star Staci) takes on the NAMM Show, held annually at the Anaheim Convention Center to deliver top picks of 2023. 
Anaheim, Calif. – The NAMM Show, held annually at the Anaheim Convention Center, is that magical time of year when companies that supply DJ gear, musical instruments, pro audio, lighting, studio products, and accessories to the music-retail market break out their latest versions for the coming year. It's not uncommon at NAMM for these new toys to be one-of-a-kind prototypes that don't even have model names yet. And for DJs like me, the top DJ-gear manufacturers let us kick the tires a bit.
So, every year, DJ LIFE sends out a real, working DJ – again this year, it's me, Staci Nichols (aka DJ Track Star Staci) – to find the products that will create the biggest waves in the mobile-DJ community. From our NAMM visit this past weekend, here are my top picks for 2023:
#10. Max DJ Console L with Rack Base. Max Design has been changing the game in the DJ-furniture arena since its launch. It was its first time exhibiting at NAMM, and it was showing off its new black DJ podium-style consoles (previously only white was available). Additionally, Danny Max has added a third "column" style – now you can get a rack-mount-ready column! It features 10 19-inch-wide rack spaces for $2,199.
#9. WM System Ramp distributed by National Fleet Products. New gear that reduces what we have to lift, that is easier to set up, or that saves us set-up time frequently makes my Top-10 list! If you've ever had to lift a metal ramp – a two-person job – and place it on the back edge of a van, then you'll love this spring-loaded, 1,500-pound capacity ramp. Install it just inside the rear door of your van and thank me later. Price: $2,100.
#8. Odyssey's 75-inch DJ Booth Façade with Up-Angled Front Flatscreen Mount. This new, bigger, and improved DJ façade from Odyssey is fresh out of the workshop and does not even have a SKU number yet. (Odyssey's Dave Lopez speculated that it will probably be the DJ Façade 75S). This DJ façade/booth combo has been popular in the industry for years – I used to have one myself. This new iteration is bigger (75-inches long) and has scrim fabric on the inside of the metal frame rather than on the outside. Its coolest feature, though, is the up-slanted front for better flatscreen visibility. Why our industry keeps pushing out flatscreen-fronted booths at straight-up, 90-degree angles, I don't know. From year to year, Odyssey seems to key in on these "simple fixes" and takes the lead in rectifying them. This new booth will be $899 when it becomes available.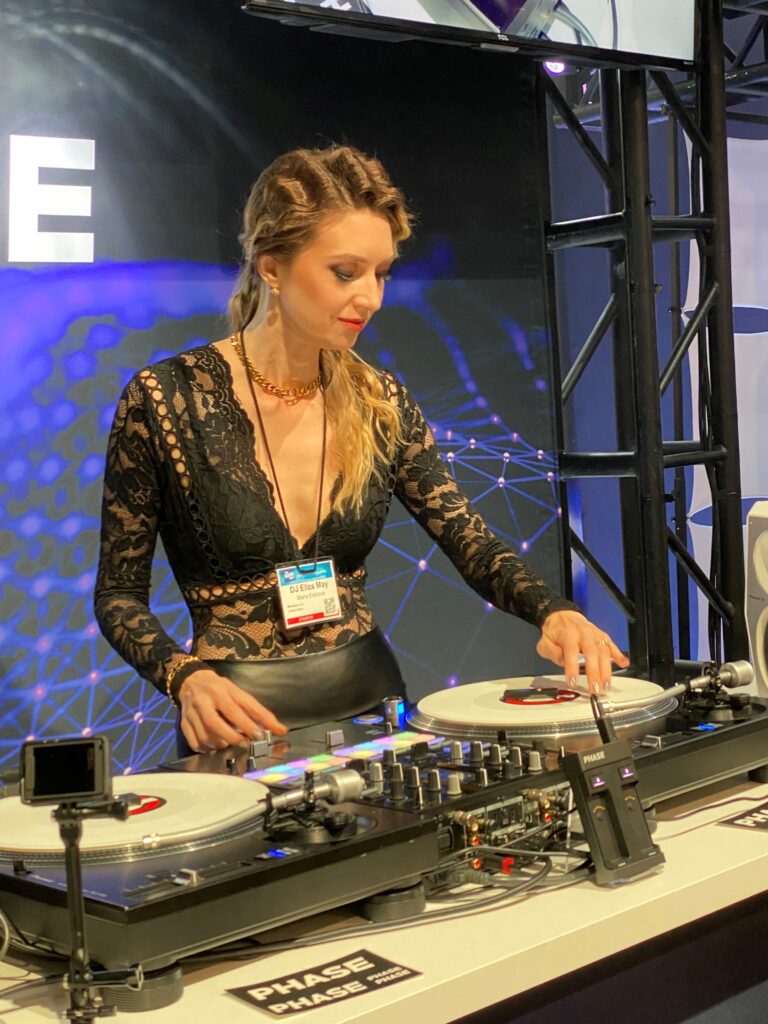 #7. Mixware's Headliner R2 Pro Rotary Mixer. This little knob mixer (12.6- x 8.6-inches) was getting a ton of attention at NAMM. It's nothing new for "vintage reboots" of DJ gear to become crowd favorites, like last year's Stokyo Record Mate turntable/mixer. This no-fader/rotary DJ mixer retails for $399. What I would love to see is for a "deco" piece like the Pioneer DJ's Opus-Quad to incorporate this gorgeous wood-panel look, instead of more black and a new flavor of metal – we can make way more aesthetic DJ gear if we get out of the black or white, must-be-metal, boxy mindset. Thank you, Headliner, for this refreshing piece! (We'll continue this discussion on Pick #6!)
#6. Pioneer DJ OPUS-QUAD. Expecting this all-in-one, 4-channel, stand-alone controller ($3,199) to rank higher on my list? Not so fast.
Yes, the OPUS-QUAD has some cool features that are certainly innovative, like the "Utility/Shortcut" button that allows you to send hot cues directly to the cue button, but overall it falls a little short for me – after all, I'm a very mobile DJ. I found this 29-pound unit more flashy than functional for my needs. Indeed, it features a new sleek, angled design that seems geared primarily for swanky clubs – portable it isn't. But decide for yourself – you may be taken with its "deco" design more than I was. Either way, you can't say it's not different.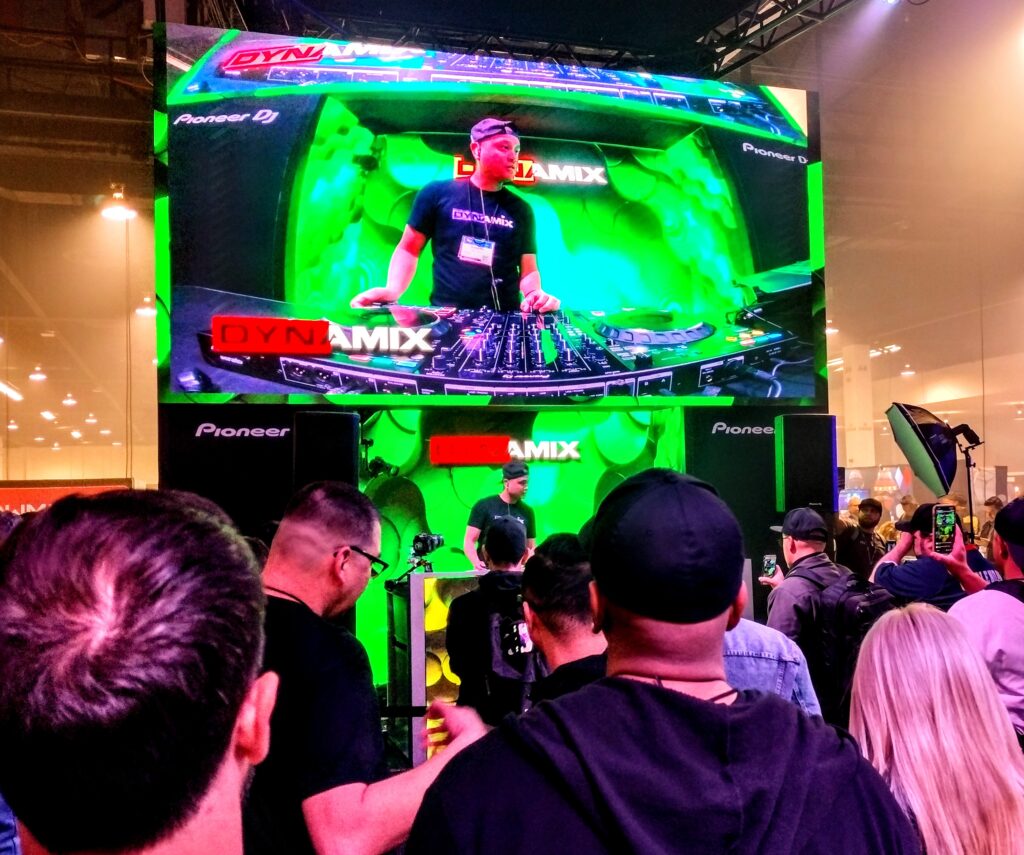 #5. Reloop Mixon 8 Pro distributed by American Music & Sound. Germany's Reloop pushes innovation forward year after year at NAMM and always keeps the "average Joe" in mind. So, it's no surprise that the Mixon 8 Pro was a finalist for the NAMM Tec Excellence Award. Priced at $1,249, this user-friendly controller brings push-button stem separation to the tablet DJ. In line with the signature Reloop functionality, it includes a built-in tablet holder and works with Serato DJ. This type of practicality always scores big with me. It would be more practical, though, if stem separation had dedicated control buttons instead of sharing functionality with the upper effects knobs. When the other stem-separating controllers do offer this, it does seem like a bit of a misstep.
#4. Eliminator Lighting's Stryker Wash. I love how new lights are putting all types of effects into one fixture. From the ADJ family comes the Stryker Wash ($799), which definitely does something new and exciting. Its moving-head beam can adjust from 5-degrees (like a spotlight) to 50-degrees (like a color wash). So, for example, one Styker Wash fixture during wedding dinner could replace a case of uplights, serve as a first-dance spotlight, then do its moving-head thing during dancing.
#3. JetPack's Glide System. Each year, JetPack stays focused on coming up with new goodies to make the DJ's life easier…and they do it in style. Their new Glide System is no different. If there can be such a thing as a "medium" case, this is it – yes, it's harder than a soft case and softer than a hard case. Who wouldn't appreciate the lightweight durability? The Glide System fits REV-7/RANE ONE-sized controllers and features sturdy inline wheels, four reinforced "grab" handles, a telescoping "pull" handle on top, and, of course, a variety of Velcro-adjustable inner pads. Showing its attention to functionality, JetPack provides two bottom bases for the inside part of the case – one flat for the REV-7 and one with notching that accommodates the RANE ONE's feet. Genius! I also love how there is a webbed pouch on the outside you can stick in your laptop case (the JetPack Snap backpack). While you cannot get your logo embroidered on the Glide System, you can get your logo on the Snap backpack and stick it in the outer pouch. The Glide System retails for $420 with a Snap backpack included or $320 without – the Snap is $110 on its own.
#2. Upgrades to the Odyssey DJ Podium. It was already hard to compete with Odyssey's super-affordable, streamline DJ Podium, but now it's going to be even harder. Odyssey has added a variety of upgrades: drink-holder ($20), headphone holder ($20), and a telescoping laptop stand ($100). Odyssey also removed the metal clamps that were inlaid into the column of the original model, so it now has a sleeker look. The new podium stand also includes a heavy metal foot stabilizer and a wider column as well.
My favorite feature of Odyssey's DJ Podium, though, has always been the pre-molded, sound-dampening foam inserts that come with the unit – these foam inserts sit inside the top of the podium stand and fit all the top controllers (DDJ-1000, REV-7, CS Live 2 and 4, DDJ-SX2 and 3, and RANE ONE). This means no rail system, no Allen wrenches, no knobs, etc., in order to make your controller sit level and flush with the top of the DJ Podium. On top of all this, Odyssey's DJ Podium is now available in both black and white and both 37-inches or 40-inches high. It retails for $1,499, which includes a roller flight case. You can't beat that!

#1. Pioneer DJ's DDJ-FLX10 Controller. The DDJ-FLX10, retailing for $1,599, is Pioneer DJ's first controller with dedicated stem-separation buttons. As far as I'm concerned, push-button stem separation is the biggest thing making waves in our industry right now. As usual, our industry turns to Pioneer DJ to see where they will set the bar for this new tech.
The FLX10 has three stem-separation buttons: drums, instrumental, and vocals. If you use Serato DJ or Virtual DJ, you'll notice some missing stems. (Serato DJ has vocal, melody, bass, and drums, while Virtual DJ has vocal, instrumental, bass, kick, and high-hat.) So, why would the FLX10 only have three stems, then? Apparently because rekordbox, the company's DJ software, only has three stems.
Nevertheless, I like that the FLX10 shows a color-coded, illuminated ring around each jogwheel that corresponds with which stem is being played. I like that the FLX10 allows you to throw effects onto each stem individually with the touch of a button. The FLX10, through rekordbox, also allows you to connect DMX cable directly to the controller and have a light show auto-generated that flows with the music. Even though this is not new rekordbox functionality, it's still cool. Finally, to access the additional Serato DJ and Virtual DJ stems, you need to use the cue pads.
Honorable Mentions:
That's it! We'll see you next year when the show returns to its Winter version: The 2024 NAMM Show will run Jan. 25-28 at the Anaheim Convention Center in Anaheim, Calif. For the latest info, please visit www.namm.org.