Anaheim, Calif. – Each year (usually), the NAMM Show serves as the music industry's glimpse into the future, an event where the latest technology innovations for DJs, traditional musicians, producers, and more are shown by manufacturers and distributors to retail buyers from around the world and, eventually, unleashed to the buying public.
After a 29-month absence due to COVID, the National Association of Music Merchants' showcase returned to the Anaheim Convention Center this past weekend (June 3-5). The show, which usually draws over 100,000 attendees for a four-day event, was smaller than usual and some notable vendors to the DJ market – inMusic Brands, QSC and Bose, for example – were absent.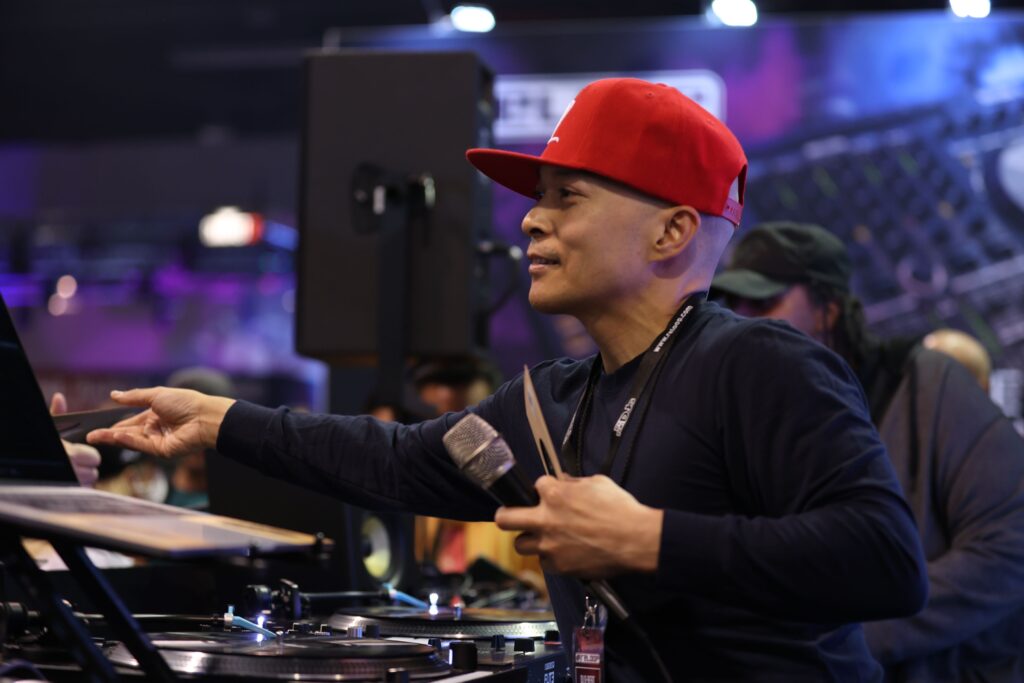 Nonetheless, plenty of brand-new products and recently released technologies for mobile, club and studio DJs made their trade-show debuts this past weekend. And, of course, there were other show highlights, which included:
Z-Trip scratching over The Count from Sesame Street in the Pioneer DJ booth.
"Style & Grace," the annual female turntablists showcase hosted by DJ Shortee, featuring a record-high 18 ladies on the cut at the Stokyo booth.
Shure offering free engraving on any handheld Shure microphone. How cool would it be to have your logo etched into all your mics?
At the American Music & Sound booth, Germany's Reloop giving out a "vinyl-record" pizza cutter to "cut-n-slice" your pies in honor of its 25th
Technics, with DJs like QBert scratching at the Stokyo booth, also celebrating a milestone – the 50th anniversary of its legendary SL-1200 turntable – with limited-edition MK7 decks available in seven different colors and marked with a special "50th Anniversary" badge.
After careful consideration, here are DJ LIFE's top picks for the coolest new stuff for our industry (that I saw) from the 2022 NAMM show.
#5 Top Pick:The Cable Wrangler
The Cable Wrangler is that piece of gear you never knew you needed – and now won't be able to live without! It's a sturdy "keeper" for 12 heavy-duty cables – for mobile DJs, it's cable-management bliss! CableWrangler.com (Exclusive $5 discount code: DJLIFE.)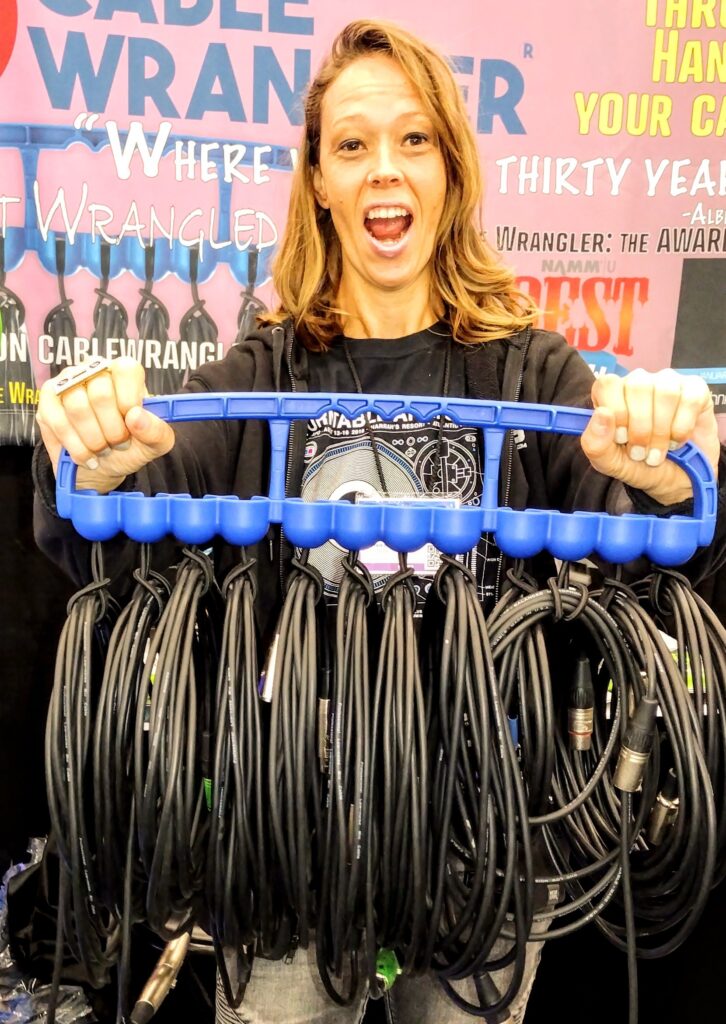 #4 Top Pick: Chauvet DJ's "Integrated Lighting System" Technology
Chauvet DJ's new Integrated Lighting System (ILS) technology could soon make DMX programming a thing of the past. ILS brings DMX-only light-show features, like synchronizing multiple fixtures, to the simplicity of a handheld remote. With the touch of a button, you can turn every fixture in the room pink or black them all out… without ever running a foot of DMX cable. Showing exactly why the GigBAR has dominated the mobile DJ scene for years, Chauvet DJ has chosen to make ILS available first in the GigBAR Move system. According to the company, roughly a dozen Chauvet DJ lights will eventually be equipped with ILS.
#3 Top Pick: algoriddim's Neural Mix Control Vinyl
Whatever DJ Angelo and his tech partners cook up in the lab never ceases to disappoint – and this year's NAMM debut was no different. This cutting-edge control vinyl is capable of separating out stems – no muss, no fuss. The Neural Mix record had three distinct tracks on it. If you drop the needle in track one, you'll hear the regular version of the song. Drop it in track two, and you'll get just the instrumental. Track three gives you just the a cappella. No need to scan the tracks in advance, load anything special or different, or even wait. The Neural Mix DVS is currently only compatible with the djay Pro A.I. software.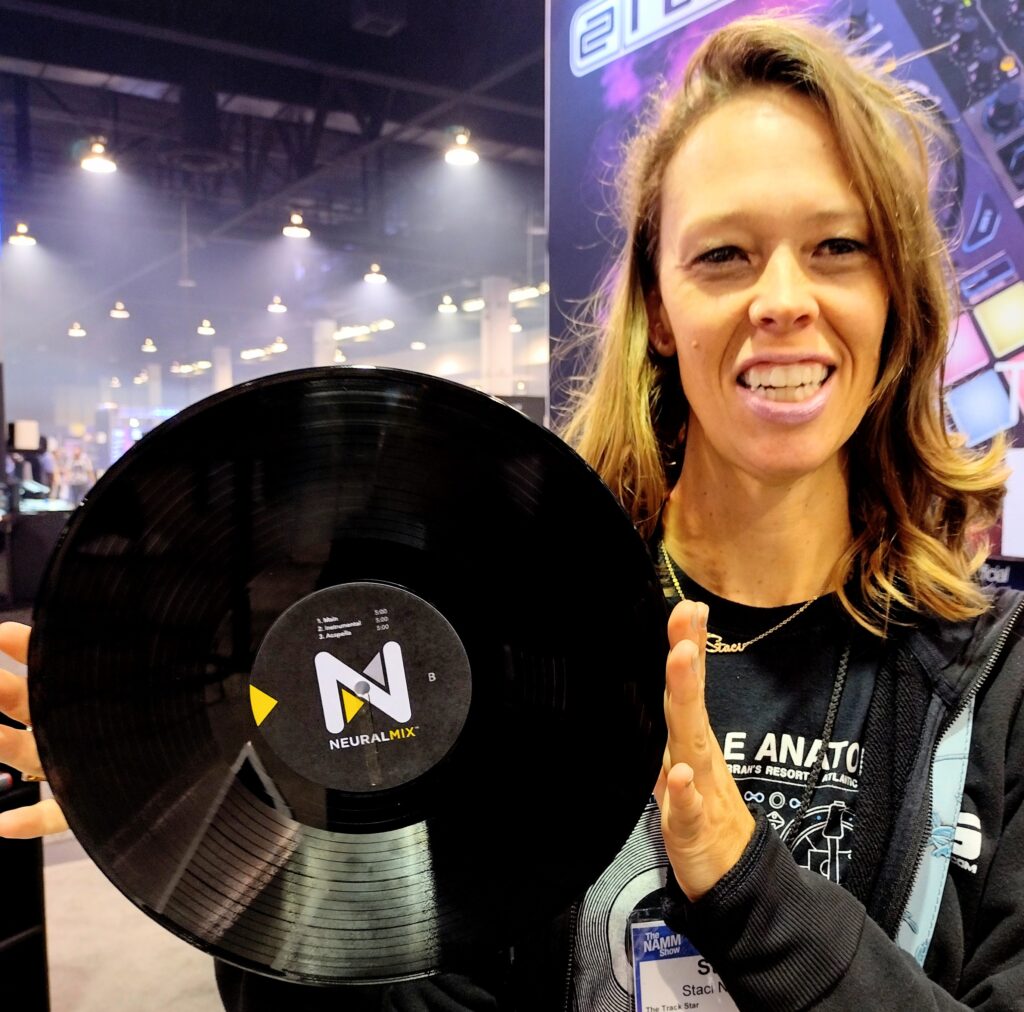 #2 Top Pick: Pedestal-Style DJ Booth Prototype from Odyssey
This item is so new Odyssey did not have a name or price for it yet. This DJ booth, made of LINE-X-sprayed Baltic Birch plywood, combines everything you love about a pedestal-style DJ booth with the familiar durability and ease of Odyssey products. It comes with three fitted top pieces at no extra cost – use it with Pioneer DJ's REV7, XDJ-RX3, or XDJ-XZ units. Also, the base folds completely flat, so the entire booth can fit in one case, which does have wheels. Other booths like this must be transported in two separate pieces (top and bottom). Finally, the bottom of the booth is slatted, so your controller gets great ventilation. Odyssey, how can we get on the waiting list for this?
#1 Top Pick: Pioneer DJ DDJ-REV7 Controller
For years, DJs from the nightclub to the bedroom have dreamed of having the convenience of a controller with the purity and pleasure of turntables. Many have tried – the Rane One and the Numark NS7 came close – but no company has actually put the removable vinyl and the mini-slipmats on the controller until now. The way people spoke about the REV7 at NAMM this year was the way everyone spoke about the Phase wireless controller a few years ago (i.e., "When I get a REV-7…"). The cherry on top, as you may already know, is the built-in scratch bank. I had a chance to sneak in during the show's "media preview" time and play with the REV-7 by myself – let me tell you, it was love at first scratch!
And now, some Honorable Mentions from the show:
Interested in seeing many of these products up-close-and-personal? Then, register for DJX. Presented by DJ LIFE mag Aug. 8-11 at the Hard Rock Hotel & Casino in Atlantic City, N.J., DJX is the industry's longest-running trade show/exhibition for professional DJs. Founded in 1990, the show presents three days of exhibits, four days of seminars, panels, and keynotes, and three nights of sponsored After Dark events.
To check out more events, click here.