Electric Daisy Carnival returns to Las Vegas to celebrate the 30th anniversary of Insomniac Events with monstrous lineup of over 230 artists.
Venture just miles from the Las Vegas Strip during EDC Week, and you'll experience a colossal neon city within Paradise, Nevada. Dubbed Electric Daisy Carnival (EDC) Las Vegas, the experience is largest electronic music festival in the United States. Today (March 6), Pasquale Rotella, founder of the world's leading music festival and live events experience creator, Insomniac Events, announced the anticipated full lineup for this year's EDC Las Vegas 2023.
Making its grand return to the Las Vegas Motor Speedway from Friday, May 19 through Sunday, May 21, the 3-day dusk till dawn event welcomes All are welcome here at EDC, which is what makes its annual showcase one of the must-attend events every year for music lovers.
A spirited and bright community of more than 525,000 attendees will come together for three nights to celebrate life, love, art, and music Under the Electric Sky to bring the unparalleled world of EDC to life. Across nine stages, more than 230 artists make up the EDC Las Vegas lineup, which is curated annually to showcase the various cornerstones of dance music culture. The 2023 lineup proudly showcases an array of electronic sounds and genres and presents a diverse roster of talented artists from various origins, regions, and genders, coming together with the passionate community of fans, known lovingly as Headliners, that have transformed EDC into a globally recognized symbol of peace, unity and fun.
Whether you fancy the kineticFIELD, circuitGROUNDS, cosmicMEADOW, bassPOD, neonGARDEN, quantumVALLEY, or one of the other many stages, there's something for everyone at EDC. A true neon carnival full of life, lights, joy, fireworks, pyrotechnics, likeminded attendees, and a soundtrack you'll never forget, this year's lineup boasts some of the biggest names in the dance music scene, including Armin van Buuren, David Guetta, Kaskade, Above & Beyond, Tiësto, Afrojack, Martin Garrix, Zedd, Marshmello, Chris Lake, Alison Wonderland, and many more, check out the full lineup below. Prepare to be blown away…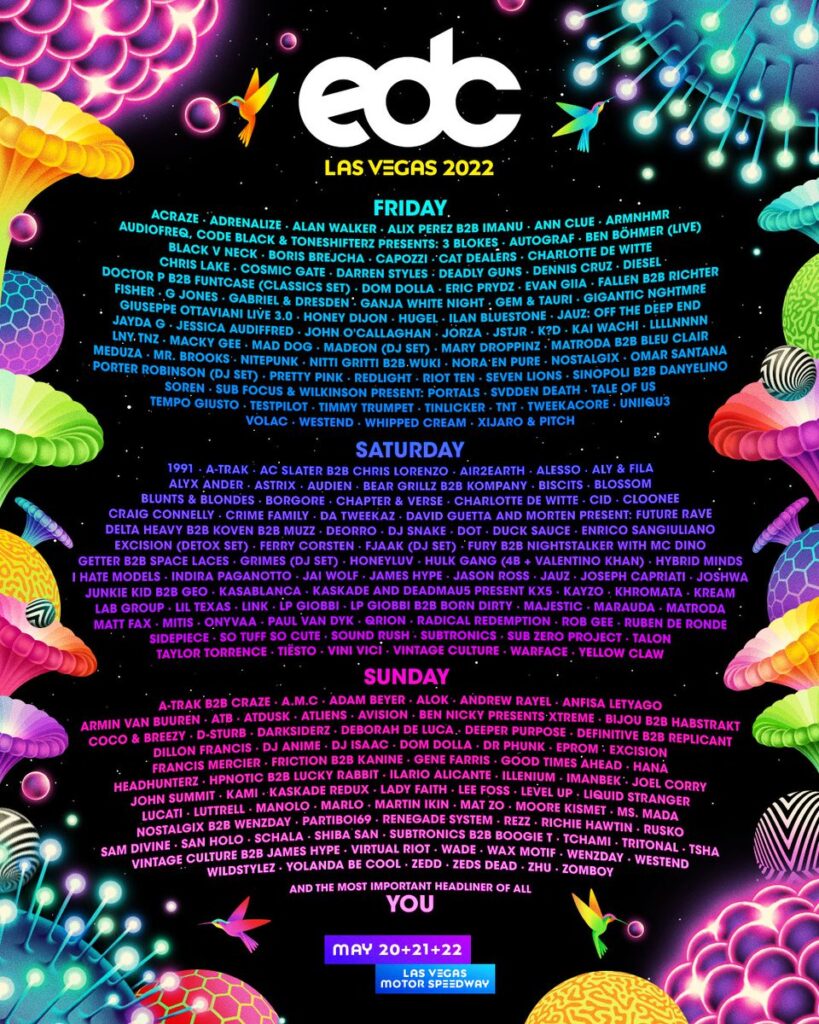 For more information visit https://www.electricdaisycarnival.com.
Photos courtesy of Electric Daisy Carnival (EDC)'s Facebook