Following a major Times Square announcement last Friday, Marshmello & Manuel Turizo release their new collaboration, "El Merengue" on March 2, 2023. 
GRAMMY Award-nominated Marshmello is joining forces with Latin musical sensation Manuel Turizo for the release of their latest collaboration, "El Merengue." The ode to early 2000s electronic merengue is available now (Thursday, March 2) through Sony Music Latin.
The story behind the announcement of the collab takes us to a crowded Times Square, New York City, on a Friday at 5pm ET. Turizo appeared with a Marshmello helmet in hand to announce that his newest song with the notorious DJ/producer, would be dropping in one week. Billboards all across Times Square (seven to be precise) showcased visuals of the pair, initially welcoming "El Merengue" to the world.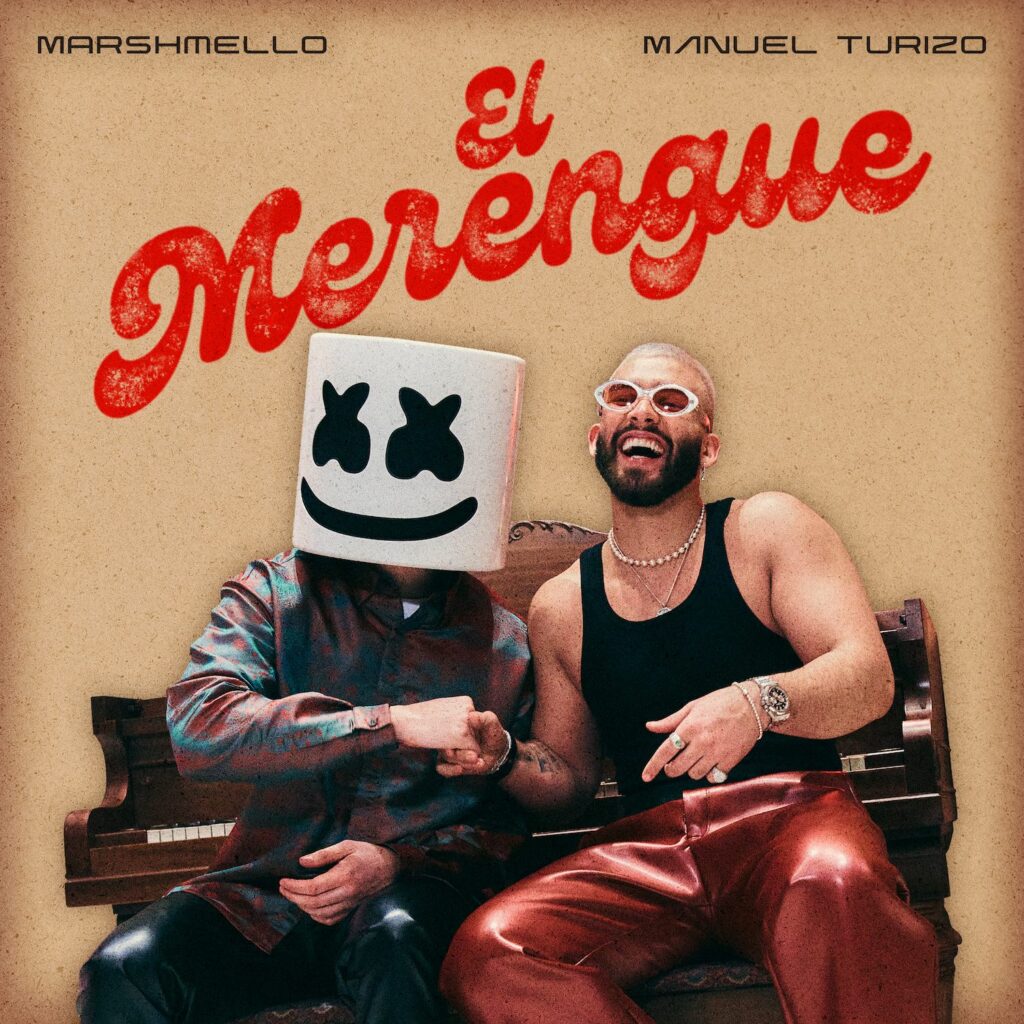 "El Merengue" is a fiery, genre-bending dance track that's certain to light up the nightclubs, music festivals, and DJ sets for the foreseeable future. Combining elements of Marshmello's signature sound and Turizo's Latin flair, "El Merengue" serves up a flavorful helping of EDM coupled with Latin spice. A truly contagious record, embodying an upbeat production and exceptionally catchy topline, "El Merengue" will have you singing, dancing, or whistling along.
For the artists, the release of "El Merengue" follows Manuel Turizo's worldwide hit single "La Bachata," which entered all of the following Billboard charts: Billboard Hot 100 chart for 21 weeks (#67 peak position), Billboard Global 200 for 33 weeks (#6 peak position), Hot Latin Songs for 34 weeks (#5 peak position), Tropical Airplay for 10 weeks at number one (remained on the chart for 40 weeks) and Latin Airplay for 1 week at number one (remained on the chart for 38 weeks). If that wasn't enough, the song was in Spotify's Top 50 for 31 weeks (No. 3 peak) with nearly 1 billion combined audio streams.
For Marshmello, "El Merengue" follows his sensational release, "Numb" featuring Khalid which peaked at number three on Billboard's US Hot Dance/Electronic Songs chart, as well as his track released last week, "Old School" with Ray Volpe through his Joytime Collective imprint. Revealed during his set at EDC Mexico, Marshmello also announced that he was working on a Latin dance album. 
Watch the "El Merengue" music video: 
The official video for "El Merengue" adds to the vibrancy of the record, which is already full of life, spirit, and passion. From the start, the music video engages viewers with its mesmerizing light displays, as Mello and Turizo are seen together in a crowded nightclub. Directed by Chadrick Preuss and Sandeep Vadlamudi, the video is an expression of both fun and emotion, which makes it a strong visual accompaniment to the song.
Photo Credit: Gabo Bucheli