On May 6 & 7, Desert Hearts Festival 2023 will take place at The Torch at the Los Angeles Memorial Coliseum following lineup announcement. 
Desert Hearts Festival, one of North America's most celebrated boutique electronic music events, has just revealed a star studded lineup for its 2023 edition, which is taking place at The Torch at the historic Los Angeles Memorial Coliseum on May 6-7.
The experience will transform the grounds of The Coliseum into a full-scale Desert Hearts Festival takeover, featuring the signature Desert Heart stage, top of the line sound and lighting, art-cars projection mapping, live painters, and world-class musical talent. This special urban event follows the lead of DH's ten year tenure of taking over unique venues around LA with its City Hearts series.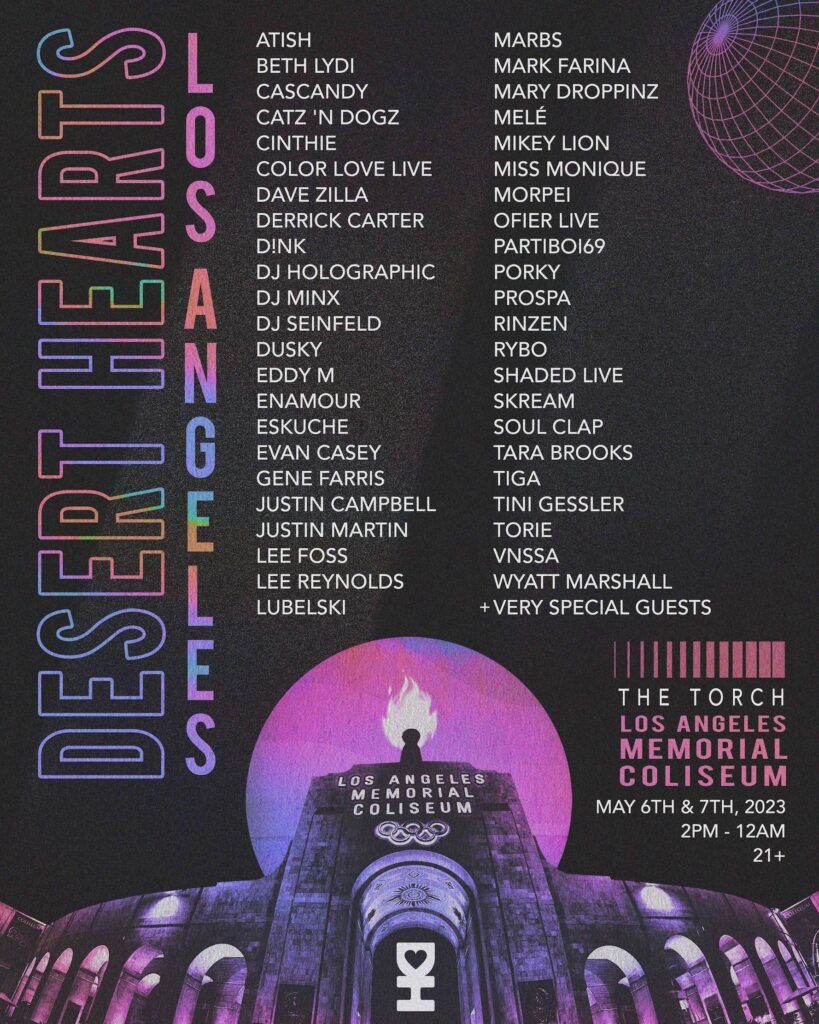 This year's installment features Atish, Beth Lydi, Cascandy, Catz 'N Dogz, CINTHIE, Color Love live, Dave Zilla, Derrick Carter, D!NK, DJ Holographic, DJ Minx, DJ Seinfeld, Dusky, Eddy M, Enamour, Eskuche, Evan Casey, Gene Farris, Justin Campbell, Justin Martin, Lee Foss, Lubelski, Mark Farina, Mary Droppinz, Melé, Miss Monique, Morpéi, Ofier live, Partiboi69, Prospa, Rinzen, Rybo, Shaded live, Skream, Soul Clap, Tara Brooks, TIGA, Tini Gessler, VNSSA, Wyatt Marshall, and more. These acts come 
alongside Your Desert Hearts Crew Mikey Lion, Lee Reynolds, Marbs & Porky, as well as a 

Desert Hearts Crew Opening B2B + Desert Hearts Crew Closing B2B

 across the two-day LA takeover.
Photo Credit: Eric Allen Photo