RANE FOUR, an advanced 4-channel DJ controller combines the quality of RANE hardware with the Stems capabilities of Serato DJ software.
RANE, an inMusic brand, has announced the release and availability of the RANE FOUR, an advanced 4-channel DJ controller that combines the quality of RANE hardware with the Stems capabilities of Serato DJ software. This partnership gives DJs newfound control over vocal, melodic, and instrumental elements of any song in their library, allowing them reach new levels of creativity within their DJ sets and livestreams.
Designed for Creativity, Built to Last
The FOUR combines the latest in performance-focused DJ technology with RANE's build and sound quality. The result is a feature-packed DJ controller for performance-focused DJs. The Four offers never-before-seen features like STEMSPLIT, Performance Pad OLED displays, and a new dynamic internal FX engine.
New Levels of Creative FX
The newly designed internal FX suite features 22 paddle-triggered, fully customizable Main FX and 4 knob-controlled Channel FX for adding flavor and personality to individual Stems elements and tracks. This robust FX suite features traditional FX classics like Reverb and Echo and new additions including Scale Down, Recycler, Riser, and more. The Channel FX section offers dynamic, hands-on manipulation of four knob-controlled FX including Filter, Filter Roll, Noise, and Flanger. The RANE FOUR also allows DJs to switch seamlessly back and forth between the built-in hardware FX and Serato's software FX, providing limitless options for any style of DJing.
Four Channels of Performance Possibility
The 4-channel mixer section features full EQ control and intuitive FX assignment options, plus two external Line/Phono inputs for external turntables or decks. The FOUR is DVS-enabled and unlocks both Serato DJ Pro and Serato Pitch 'n Time when connected to laptop running the latest version of Serato. Enhanced Sampler routing options allow DJs to control the Sampler volume via a dedicated knob, or assign the audio to Channel 4 so that FX can be layered on top of DJ drops, instruments, and other samples. The quick-access deck selection buttons allow for swiftly switching platter control between software decks, and the FOUR also supports external modular decks like the RANE TWELVE MKII and the Denon DJ LC6000 for a full physical 4-deck mixing experience.
Focus on Performance, Not the Laptop
The 8 OLED displays above the Performance Pads on each deck offer visual feedback for all pad modes, making it easier than ever to see the function of each pad without having to look at the computer. Cue, Loop, and Sample names as well as Roll and Loop lengths, beat divisions, Pitch Play tuning, and Stem elements and FX are all visible at a quick glance.
Great Static Players
The 8.5-inch capacitive jog wheels were designed to be the smoothest and most accurate static jog wheels available on a DJ controller. A central color display indicates play head position, BPM, pitch percentage, pitch range, overview waveform with Hot Cue markers, song key, time, loop size, deck selection, Beat Jump length and more.
Trusted RANE Quality
The RANE FOUR is the only 4-channel DJ controller built to RANE's rigorous standards. Solid, bulletproof construction, MAG-FOUR crossfader with curve adjustment and channel assignment switches, aluminum FX toggles, and industry-leading sound quality and connections ensure that the RANE FOUR will always perform like a champ, no matter what.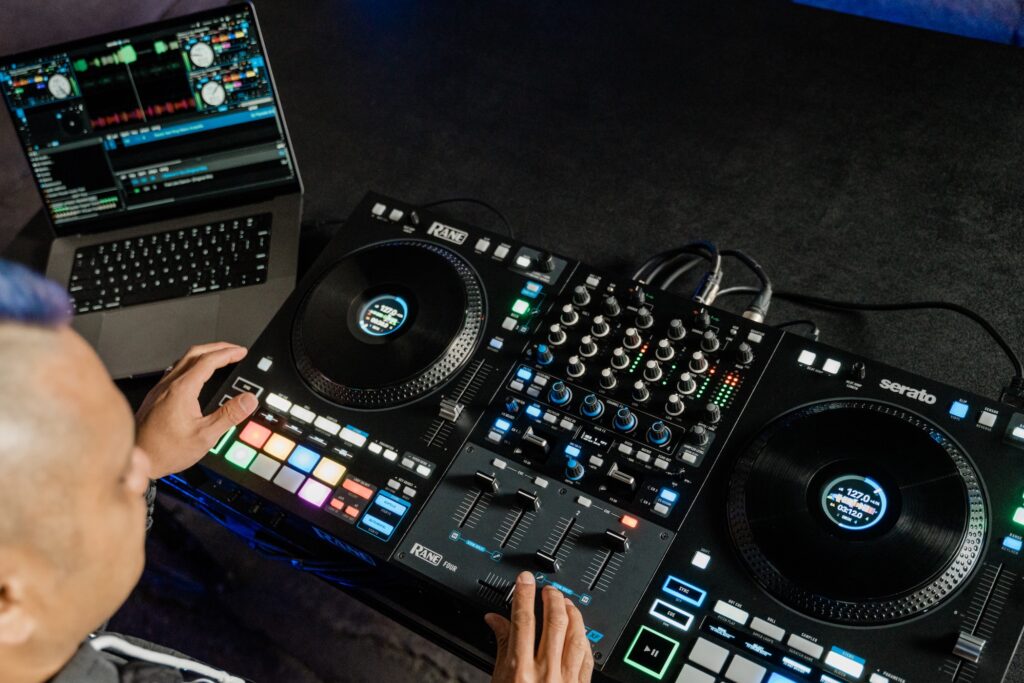 FEATURE LIST
The world's most-advanced Serato Stems DJ controller with dedicated Stems pad mode, independent Acapella/Instrumental buttons, and exclusive STEM-SPLIT feature
Dynamic internal FX engine with 22 MAIN FX, 4 knob-controlled CHANNEL FX, and access to Serato DJ software FX
16 Performance Pads with dedicated OLED Pad Mode displays for visual feedback
Full-size, 8.5-inch high-resolution capacitive static platters with full-color center display
4-channel mixer section and deck selection buttons for mixing with up to four software decks
Two Line/Phono inputs for turntables or external decks
Tension-adjustable MAG FOUR crossfader
Dual-USB computer inputs for seamless DJ handovers
XLR & RCA Main out, ¼-inch Booth/Zone out, (2) stereo RCA line/phono inputs, and (2) XLR ¼-inch combo jack microphone inputs
Trusted RANE build and no-compromise sound quality
Find out more at https://www.rane.com/four