By 2019, Nitti and Party Favor were two DJ/artists who had enjoyed more than a modicum success on the bass-music side of the electronic dance music scene.  
Party Favor had scored with whoppers like "Circle Up," while Nitti had collaborated with some of Latin music's biggest acts – Enrique Iglesias, Pitbull and Bad Bunny – and hit with festival pumpers like "Crack." However, one phone call would change the fortunes of the two. In that conversation, Nitti and Party Favor (aka Dylan Ragland) would form Sidepiece, a house-music collab project that found success relatively quickly.  
Their debut DJ performance took place at Diplo's Mad Decent Presents: Higher Ground party at The Brooklyn Mirage later that same year. Additionally, the duo released its debut single, "Wanna See You," around the same time. But Sidepiece's second release, "On My Mind," its colossal collaboration with Diplo, blew up massively. Eventually graced with popular remixes from MK and Purple Disco Machine, "On My Mind" became such a dancefloor phenomenon that it earned a 2020 Grammy nomination for Best Dance Recording. 
Following up with hard-hitting house hits like "Together" and "Temptation," Sidepiece started to light up clubs and festivals. And now, as the duo returned with its latest single, "Reborn," Sidepiece has ventured out on its "Kiss and Tell: Second Base" headline tour, which will run through February. With this as a backdrop, we caught up with Sidepiece.  
DJ LIFE MAG: For those who may not be familiar, tell us a little about the origin story of Nitti and Party Favor joining forces to create Sidepiece? 
Nitti: We started talking on Twitter DMs and decided to Facetime about working together. Then, in pretty much one call, we showed each other some house-music ideas that led to realizing we both had an idea to do a new project just for house. We even came up with the name, Sidepiece, on the first call. 
DJ LIFE MAG: For anyone new to the Sidepiece experience, how would you describe your sound? 
Party Favor: We like to make house music with a fresh take by mixing up old samples or writing our own simple vocal lines, and sometimes we actually go in and write full songs with singers. The main goal of our sound is that we want to keep everyone dancing at our sets non-stop. 
DJ LIFE MAG: When did you two realize you wanted to bring your passion project to life? 
Nitti: I think we both have different timing in our careers, but it lined up for us to start a project based around house music in 2019. It was always in the back of our heads, but that phone call really made us excited to start this project. 
DJ LIFE MAG: Were you two ever nervous about how your new music would be received? 
Party Favor: Its always nerve-wracking when you release new music, but even more so with a new project under a brand-new name. Luckily, for us we didn't put too much pressure on this, and then we had "On My Mind" blow up on TikTok and YouTube, so it made us excited to keep working on new music. 
DJ LIFE MAG: You two have always been true bass enthusiasts. What was it that made you fall in love with the house-music genre so much that you decided to create Sidepiece? 
Nitti: We both always loved house music and made our own versions of it before we started Sidepiece – but it just never got the time and attention from us before Sidepiece. This is us letting out the side of us that loves to make house. 
DJ LIFE MAG: House music has forever been the backbone of electronic dance music. Why do you think it has had such a new surge in popularity here in the United States, quickly becoming a festival fan-favorite? 
Party Favor: It lends itself so well to an endless party. There is a constant grove the whole time and the way you can mix house music is less "start-stop" then a lot of other genres in dance music.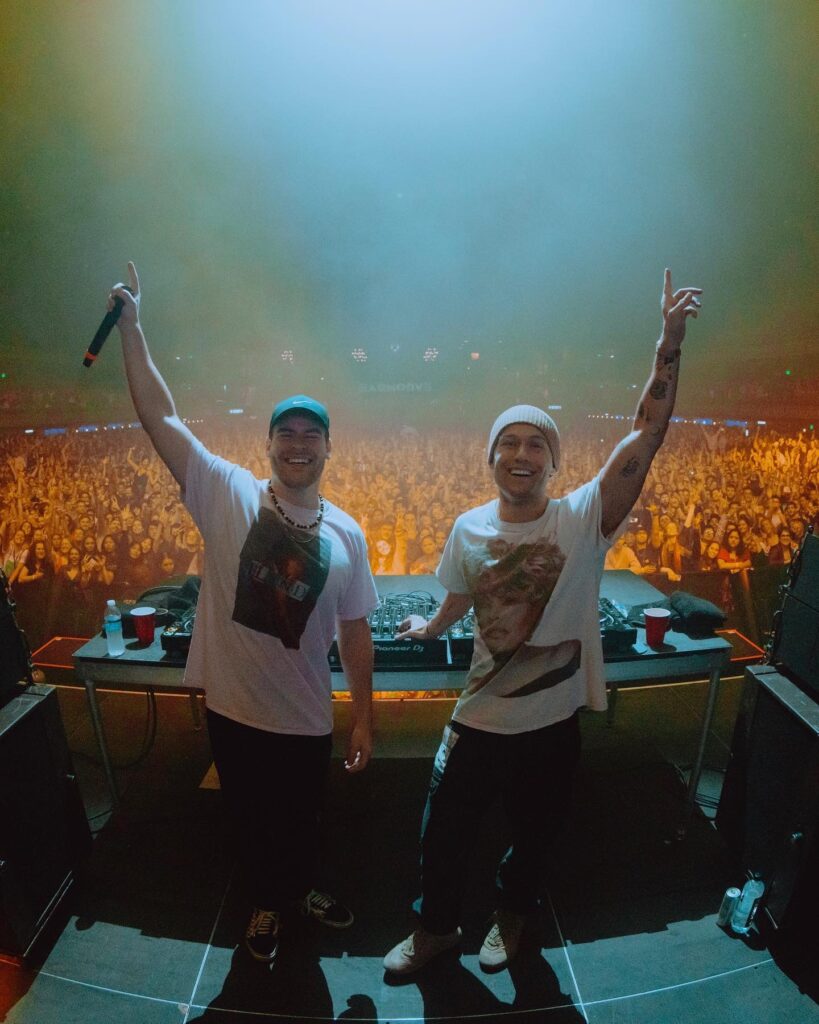 DJ LIFE MAG: You two have been releasing music individually for quite some time now. How would you say the electronic dance music landscape has changed since the earliest days of your career? 
Nitti: It's always evolving and we try and be aware of that, but I think we're both in for the long haul and fans can expect Sidepiece to be around for a long, long time. 
DJ LIFE MAG: Being a producer/DJ is a whole different ballgame compared to when you first popped onto the scene. What advice do you have for bedroom producers out there who may be overwhelmed or feel pressured to do things a certain way, juggling all these social-media platforms while getting music out there? 
Party Favor: Make as much music as possible until it is undeniable, and then start posting it online. We live in a day and age where the internet and social media will help anyone get the recognition they deserve. 
DJ LIFE MAG: Where do you two find inspiration when it comes to production? 
Nitti: Traveling and playing shows. But hearing other songs is usually the best way to get inspired for us. 
DJ LIFE MAG: Walk us through a studio session with Sidepiece. Are you two usually on the same page? What's your DAW? 
Party Favor: We both use Ableton Live. We always have a bunch of new ideas to flush out, but we mainly write with other vocalists when we get in the studio. 
DJ LIFE MAG: When you two have a rough week or hit a wall creatively, how do you get back on track? 
Party Favor: Going home and re-setting with some workouts, good healthy food, video games, and being able to see our friends and family always re-charges. 
DJ LIFE MAG: Tell us a little bit about your new track, "Reborn," and the process of putting it together. 
Nitti: We got a demo of this song about a year ago and it was instantly inspiration for us to finish the song. We've been playing it out for a few months and it's so satisfying seeing people sing along to it now. 
DJ LIFE MAG: With 2022 about to come to a close, what does Sidepiece have in store for 2023? 
Party Favor: Some amazing shows while we finish our tour and we're also gearing up for brand-new music and a huge remix of a well-known rapper coming early next year. 
To check out more interviews, click here.