After having herself an unforgettable 2022 adding to her discography with a steady barrage of new music in addition to having quite the vigorous tour schedule, Blossom looks to carry that momentum into the new year dropping the lead single off her forthcoming EP while also revealing the dates for her headlining tour. Talk about closing out the year on a high note!
The London-born, Arizona-raised talent developed a reputation as a reliable tastemaker in addition to honing her skills as a producer, making her presence felt throughout the Phoenix dance scene early on and now continues to grace the stages at some of the biggest clubs and festivals across the country.
Fresh off the release of her latest single, "On My Own," we took the time to get to know Blossom a little better!
DJ Life Mag: Who or what introduced you to the world of dance music?
Blossom: Growing up my sister was a part of the Myspace community and I would always hear electropop and pop-punk through the walls between our rooms. I remember being really interested in what she was listening to and this led me on my own journey of music discovery. I spent a lot of time looking at iTunes dance music charts and eventually discovered Hype Machine & Triple J. From there my interest in dance music grew as I started to discover mashup culture and more.
DJ Life Mag: Many dance music fans may not know you're classically trained and brought up playing for 12 years in orchestra. What made you fall in love with dance music as a whole?
Blossom: I think when you start music at such a young age, it becomes a core part of your identity. When I quit playing viola, I don't think that love of music left—it just needed to find a new home. In high school, building playlists became a real hobby for me and I loved being the "DJ," so to speak, for my friends. I never even considered that it could be a career path until much later—I just loved the music.
DJ Life Mag: DJing or production – which came first?
Blossom: They actually coincided! After I started to gain interest in pursuing dance music in college, I sought out ways that I could learn more about it. I ultimately found a program in LA called Dubspot and took a three month 'Intro to DJing' and 'Intro to Production' course in between semesters at college. It's been incredibly beneficial to have done both simultaneously because I could really see what worked or didn't work on the dancefloor and then bring that knowledge to the studio.
DJ Life Mag: Phoenix had always had deep ties to the world of electronic dance music and has really blossomed (no pun intended) into quite the staple in the scene in recent years; how has that been to witness firsthand?
Blossom: It has been special to be a part of the growing community. I started DJing in the local scene 7 years ago so I really got to witness the boom firsthand. I started my career by entering a local DJ competition where the prize was to perform at a festival called Goldrush. Though I didn't win, I met a ton of people in the local scene and have felt really connected to our dance music community since. Watching the scene grow this much and seeing my peers to succeed has been really fulfilling. I love being part of the Phoenix dance music community!
DJ Life Mag: You juggled a full-time job for quite some time before taking the leap as an artist. For any up-and-comers out there who may find themselves in the same situation as you, chasing the producer/DJ dream, what words of wisdom do you have?
Blossom: I juggled a full time gig and also tons of odd jobs (from dog sitting to teaching boxing classes to graphic designing and more). It's not always easy to separate the forest from the trees on days where you feel like you can't possibly keep pushing. It's so tough to be an up-and-coming artist because it feels like you don't really have the luxury of taking time off since you have to grind so hard to make moves.
I think my best advice is to remember that most people give up when it gets too hard, so sticking with it during the hard moments will separate you from the rest. It's all about being diligent and showing up because no one can do it for you. I'd have days where I really thought I was wasting my time with this and wanted to call it, and the next day something big happened. You just really never know how close you are to striking gold.
This life is not easy and it takes a lot of sacrifice in terms of opportunity cost of pursuing something else, but if you really, really love this and can keep your eyes on the prize, I truly think it'll be worth it.
DJ Life Mag: How would you say your sound has evolved since first popping onto the scene? No genre is off-limits when you step into the studio!
Blossom: My sound has taken a million different forms over the years! When I was in DJ school, I used to switch days practicing either bass house or experimental trap. Though I started releasing bass house in the beginning, I actually took a year or two detour into experimental trap before finding my love again for house music. I started to really develop my Night Bass around this time (maybe 4 or 5 years ago now!). More recently, I've ventured into drum & bass and feel like this 'detour' has made my bass house productions more interesting and deep. I don't feel like I have to do one or another because my fans are so open minded. It's really fun to get to cross reference different genres and to not have to pick one lane.
DJ Life Mag: When it comes to production, where do you find your inspiration?
Blossom: I think it comes from listening to a lot of music. I looooove deep, dark, techy drum & bass and something about those melodies is really inspiring for me. Sometimes I'll hear a song and instantly think of some lyrics and a melody riff. Listening to dark liquid dnb really helps to spark my creativity!
DJ Life Mag: Speaking of producing, what hardware and software do you use?
Blossom: My setup is nothing crazy, just my MacBook and Ableton! I like to produce in headphones – right now I'm using the Beyerdynamic DT 770 PRO. I'd really like to invest in another pair soon though because these have gotten a fair amount of use.
DJ Life Mag: What's your creative process in the studio?
Blossom: I always start with a melody and build an intro. Once I get a melody down I can usually pretty quickly think of some vocals for it – I have a very hard time writing without vocals. I think that's why I got into singing on my own tunes; I'm never left stuck because I don't have a topline. From there I'll start to work my way forward towards the drop.
DJ Life Mag: When you have a tough week or hit a wall creatively, how do you get yourself back on track?
Blossom: There are two schools of thought… 1) Push through the tough moments and keep trying, 2) take time off and let your creativity reboot. I've tried option 1 so many times and end up feeling really discouraged. For me, I like option 2. It's almost like a long distance relationship… when you take time away from producing, you really start to miss it and are excited to go back. Distance makes the heart grow stronger, right? In those off periods, you don't have to stop working completely. I like to do other things for the brand… work on content, think of concepts for upcoming releases, Pinteresting, general strategizing. I'll come back to production when I'm ready.
I also do a lot of journaling in those periods and try to tap in to my emotional side. I think that helps a lot when getting back into the studio because you have source material. And on that note – when you're stuck in the studio, get out there and live your life. The best music, in my opinion, comes from reflection on real life… you gotta have experiences to write about! Go live and come back to write when you've filled up your experience bank
DJ Life Mag: Tell us a little about your new single, "On My Own," and how your upcoming EP came together.
Blossom: This experience has been so cathartic for me. I wrote On My Own at the top of the year and just felt this instant connection to it. Something about the way I recorded and processed the vocals really resonated with me—I almost sounded like a virtual girl. And that's when things clicked for me. I went through a really rough breakup last year and had to balance nurturing myself as 'Emilie' and being there for my fans as 'Blossom.' It was incredibly hard to reconcile my personal life with my online life as Blossom, but what kept me going was having to show up twice a week on Twitch for my pink planet community and feeling their love and support.
In writing this EP, I wanted to explore what it meant to be 'Blossom', a post-human being in an apocalyptic world entrusted with the epic task of discovering a new place for the world to exist (Pink Planet). As Blossom, I discover what it really means to be alone and the heaviness that can come with that. Ultimately, through writing this EP, I've been able to process a lot of lingering emotions and write lyrics that feel very raw and vulnerable. The EP is my way of tying a bow on past experiences and venturing fully into my new existence as Blossom.
DJ Life Mag: You've got plenty of new music on the way and just revealed your first-ever headlining tour dates. How excited are you, and what else does Blossom have in store for 2023?
Blossom: It just keeps hitting me recently that.. this is my life. It feels so surreal. I've been working so hard for so long thinking that this may never go anywhere, but holding onto my love for music to drive me forward. To get to do this full-time and to see success from it really brings me to tears. I feel so grateful every day that I wake up and get to play on Ableton or DJ. This headline tour is the culmination of 7 years of really hard work, and I just feel so happy I stuck with it through the hard parts.
In 2023 I look forward to releasing more tunes, both drum & bass and bass house, and getting to perform across the world. I can't wait to connect with more pinkies and grow our little pink planet to a pink universe. Lots of cool stuff to come, I promise. Pinkies up!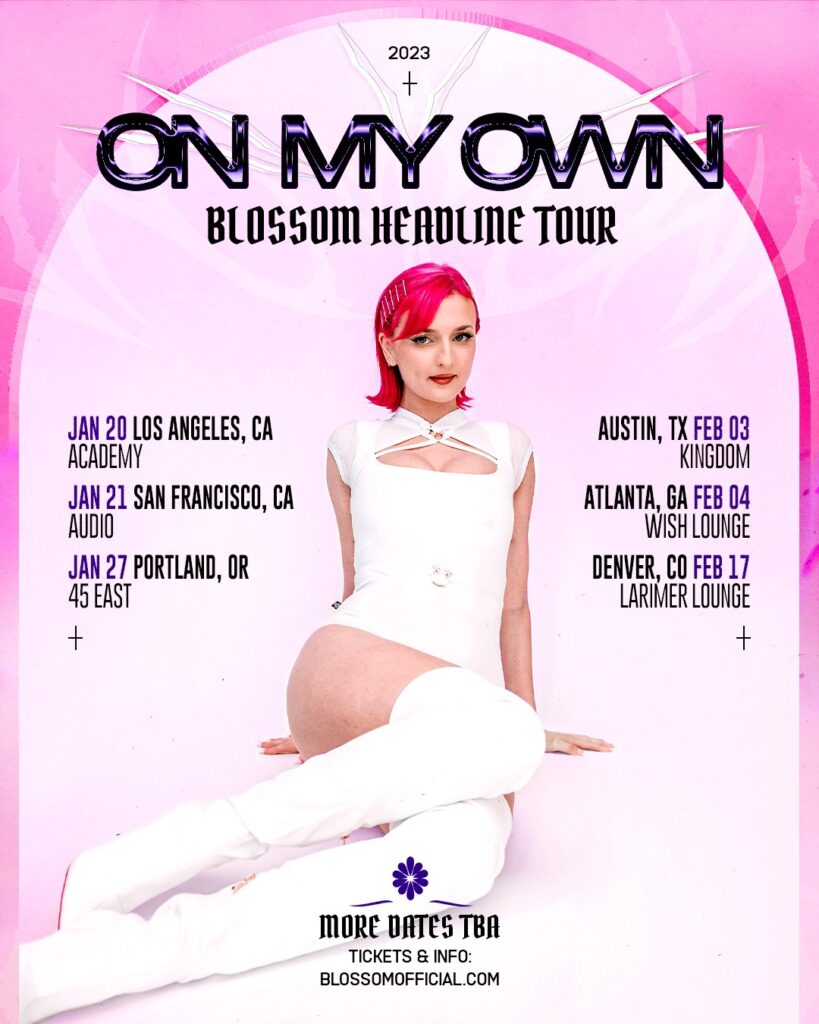 To check out more interviews, click here.