Whether you know him as Paul Blair or DJ White Shadow, this Grammy Award-winning producer, musician, songwriter, and DJ has been crafting your favorite earworms for more than a decade. From Lady Gaga's Artpop to captivating remixes for the likes of Pitbull, Ne-Yo, and Estelle, Blair knows the secret sauce to creating tracks that you just can't help loving. 
It's been nine years since DJ Times – the mag I ran until 2021 – sat down with Blair, and it's safe to say that the music industry looks a bit different now than it did then. We saw a worldwide pandemic halt the industry for one thing. But, we've also seen a boom in the portable-gear category – for DJ/producers on the go, content-creator bloggers/Twitchers, and more. Then and now, there remains the increased expectation to stay relevant in a fast-paced world. 
In the previous interview, Blair got deep on his involvement with Lady Gaga's Born This Way (2011) and Artpop (2013) albums, including his songwriting and studio contributions to hits like "The Edge of Glory" and "Applause." Since then, he scored his 2020 Grammy win ("Best Compilation Soundtrack for Visual Media") for his songwriting and production efforts on the film soundtrack to "A Star Is Born" and he's continued to DJ and make music, whether he's in a commercial studio or on the move. 
With a variety of newer projects in the mix, Blair sat with DJ LIFE to reflect on his career, the industry, and how mobile production is integral to his workflow.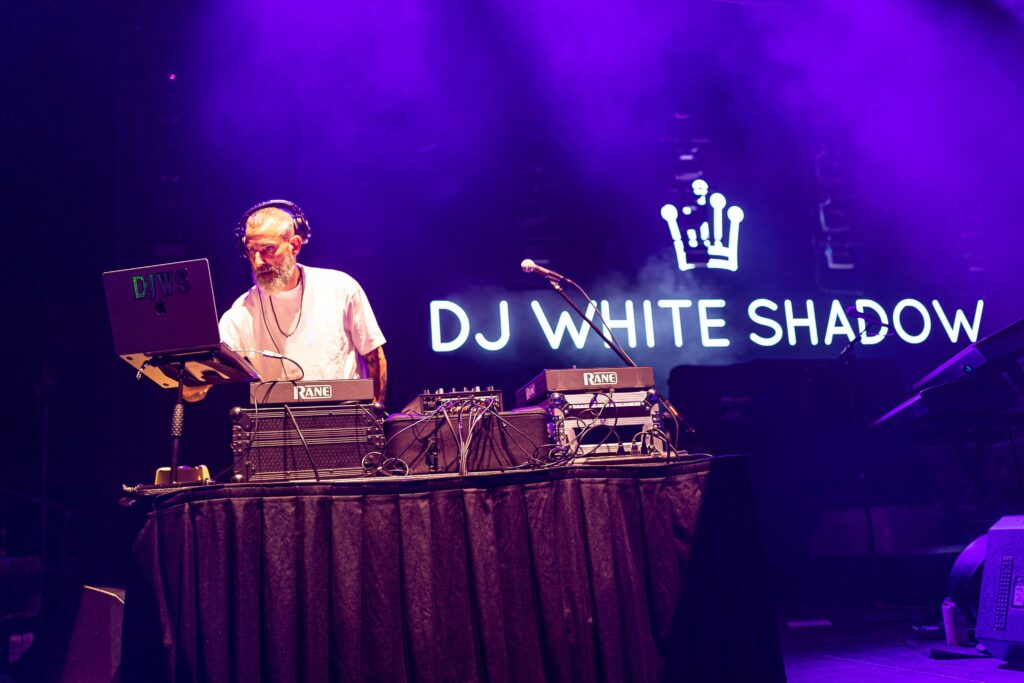 DJ LIFE MAG: As a producer/artist, how important is it for you to be able to create and capture ideas quickly?  
DJ White Shadow: In today's world, cultivating ideas quickly is really important – everything is more lightning-speed than it used to be. Over the last five to 10 years, it's become more important to respond to requests as quickly as possible. From ideas to final creations, speed and accuracy are key. 
Some people will spend hours trying every new product that is released and, by the time they're done, something new is out on the market. I say, just find four or five essential pieces of gear for your digital audio workstation and master them. If you're confident in using your equipment, you'll be able to work faster, even if the way you use them is completely different than another person. Perfect your workflow and you'll be more efficient. 
DJ LIFE MAG: Is there a story behind a song where a good idea came to you in an odd place?  
DJ White Shadow: I was working with an artist in the Dominican Republic who had very similar artistic influences as me. I was able to grab my laptop and start working right away. What resulted was a newly discovered, mutual appreciation for the Miami freestyle vibe. If we hadn't immediately jumped into the production, we might not have had the same flow and cohesion.  
DJ LIFE MAG: Do you have a process for producing on the road or getting song ideas together while traveling? How do you make it happen? 
DJ White Shadow: It's a three-stage thought process: thousands of crazy ideas, good ones that come 50 at a time, and ultimately the final, perfect idea. It's about weeding through those crazy ideas to figure out what works.  
Once I have the ideas, I immediately make a note or voice memo on my phone. I might walk down the street and see something that inspires me, and I'll make a note for the next time I'm working. Out of context, it's the ramblings of a madman, but I go back over those ideas and distill the good from the bad.  
You need a mind-state that encapsulates all three stages. If you have no motivation or intent in the first stage, you'll never get to the last. Getting through that final stage comes down to knowing your gear. I won't finalize an idea on the road with a bad pair of headphones; I need equipment that's similar to what I use in the studio. If the idea doesn't translate into the next stage, it goes away forever. 
DJ LIFE MAG: How have the new KRK GoAux portable monitors worked into your music-making routine? What advantages do they afford you? What do you like about them? 
DJ White Shadow: It's rare that I add something to my routine, but the GoAux are super-dope. There's really nothing like them that does what they do. It's an entire world of difference between playing my new GoAux and my old laptop speakers – it's nuts. The price point, sound, portability, and ease of set-up are ideal. 
I used to use my headphones on the road, but it degrades what I do. I didn't even realize that until I used the GoAux. The freedom of movement makes such a big difference for me. I work so much better this way. The only negative is that I have to find an extra spot in my suitcase. But I bought a bigger suitcase just so I could take them around with me whenever I travel.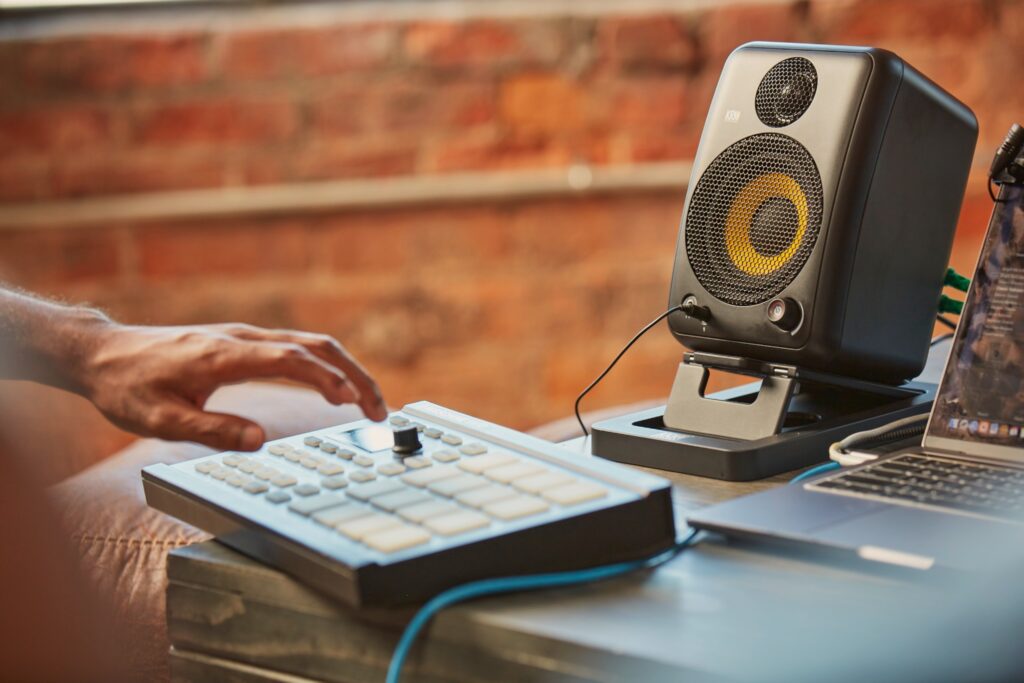 DJ LIFE MAG: Is there something that makes these KRKs different from other portable monitors you've encountered? 
DJ White Shadow: Before GoAux, I had a little set of cheap-sounding speakers. GoAux translates well, sounds good, and conveys emotion – you can actually feel what's going on. It has a range and presentation that I haven't seen before in this small package. The room correction button that adjusts based on your environment is awesome. They work perfectly with a headphone cord, but the Bluetooth works really well, too. I don't usually produce with Bluetooth because it can get annoying, but this one had an unnoticeable lag. It's the first time I ever saw that happen. 
DJ LIFE MAG: What qualities do you require from a set of monitors in any studio setting? 
DJ White Shadow: It's about reference and translation for me. I pick something I'm used to rather than something everybody else says is the best. A new, expensive piece of equipment can sound dope, but if you're not familiar with its translation, then it doesn't matter how it sounds. It's more about: "How do I translate this from a piece of equipment I love to somebody listening with their headphones or in the car?" That's also why the GoAux are dope. You can carry them around and A/B them in any studio to figure out what's different between the mains and what you're hearing.  
DJ LIFE MAG: What does your mobile studio look like? What are the vital components? 
DJ White Shadow: I try to squeeze everything into my backpack, so I can just grab it and go. I don't need 88 keys on the road with me. I just need to get out ideas and make sure others understand what I'm talking about. 
I regularly use Waves Audio and FabFilter plug-ins, along with Auto-Tune, u-he, Native Instruments, and Xfer Records suites of products. Then I use a tiny little Akai keyboard and the tiny little Shure USB mic that just plugs in. If I'm taking my production laptop, then the GoAux will come for the trip, too. 
DJ LIFE MAG: Away from the road, what does your studio consist of? 
DJ White Shadow: My studio in L.A. is a full SSL room with anything you could ever want: Neve 1073, Tube-Tech CL 1B, 808s, 909s, 727s, and 303s – the whole get-up with big PMC monitors, a bunch of different Juno mics, a variety of different guitars, and every piece of gear imaginable. This includes some older gear that I never really light up anymore, but keep because I get inspiration from it ― like the Roland XP-80, Alesis QS8, and Korg Triton. 
DJ LIFE MAG: What's your DJ setup now? Are you still a Serato guy? Why do you choose your current setup? 
DJ White Shadow: I am a Serato guy. My current setup is the Rane TWELVE mkII and a Pioneer DJM-S11. If I use a one-piece control, it's the Rane [TWELVE] controller with motorized platters – so it looks like a CDJ, but operates like a turntable.  
Most people use CDJs and love them. I learned on turntables and love being able to manipulate them. It all goes back to my point about knowing what you're good at and using it to perform your best. It's like Happy Gilmore Syndrome – he could putt with a hockey stick better than he could with an expensive putter. This is my version of that – it's tough to get me away from a turntable.  
DJ LIFE MAG: Have you tried Serato Stems? What do you think? 
DJ White Shadow: Not yet, but I did do the demo, and it's incredible. It's insane that you can take its pieces apart on a whim. I think it's indicative of the future of music production. 
DJ LIFE MAG: Are you DJing much these days? What kinds of events/venues? 
DJ White Shadow: I'll never stop DJing. I'll DJ my own funeral ― or at least make a mix tape for the occasion. But I kind of pick and choose what I want to do nowadays. I'll do a couple things in the production world, and then I'll pick some clubs every year to DJ.  
I like to DJ here in Chicago and in Miami — I have residencies at venues in both cities. I play at Poppy when I'm in L.A. or Temple if I'm in San Francisco. Someone might ask me to play a festival, and I'll do that. The one thing all these places have in common is the people who run them. I trust them and have a solid engagement with them.  
DJ LIFE MAG: Which DJs do you admire and why? 
DJ White Shadow: My admiration for DJs varies; it's not always musically based. The way DJ Khaled handles his business is insane. He's an excellent curator of music. I also like Skratch Bastid and the culture that he's built. He puts on a huge barbecue, plays hip hop, and is just a dope DJ. I don't want to say one DJ, in particular, is my favorite, but if I had to pick, it would be someone like Moodymann, Felix da Housecat, or Richie Hawtin. 
DJ LIFE MAG: How would you describe your DJing style now? How has it evolved from your earlier days growing up in Detroit or when you lived in Japan? 
DJ White Shadow: What I'm playing now is the same as when I was 21. My style has never really changed. Sometimes you want to change, but you can't. If you start at one point, you can change a little. Jump too far, and you're an entirely different artist. Change is not necessarily an asset to creating or curating music. Knowing what you can't do is as important as knowing what you can.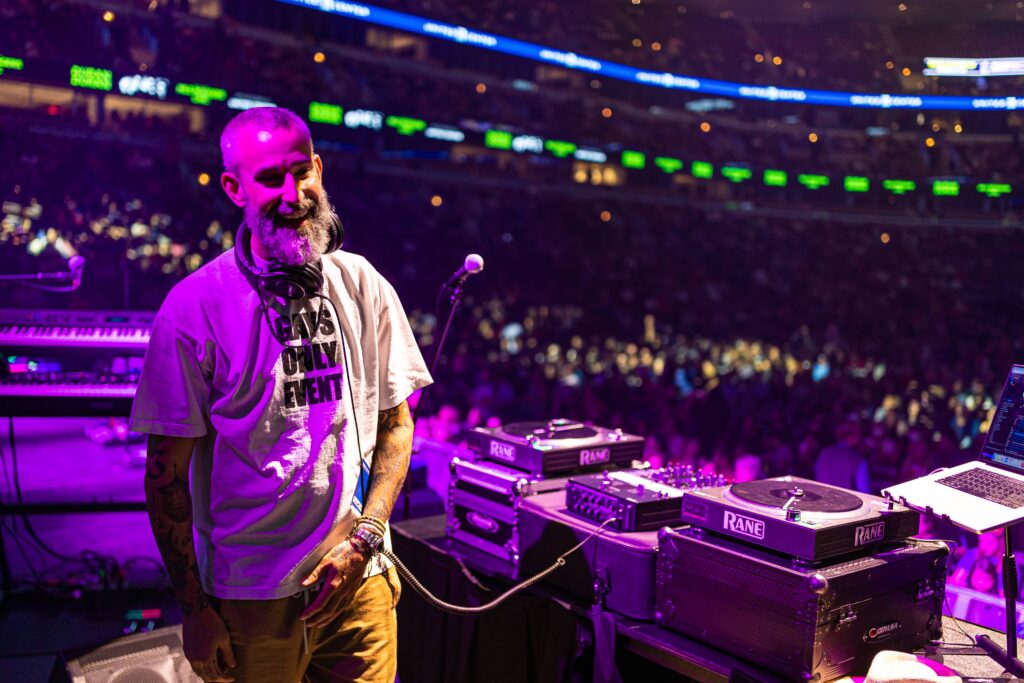 DJ LIFE: What sounds are turning you on these days? Which producers have caught your ear? 
DJ White Shadow: I've really been loving [Vaughn] Oliver. He's the one producer where I'm like, "Man, that guy really nails it every single time he plays something."  
DJ LIFE MAG: Are you still with W Hotels? What are you doing there?  
DJ White Shadow: No, I started working with a hotel group in Nashville called Graduate. They primarily focus on boutique hotels for college towns and markets. I operate and program all the music for those hotels. We're also doing art studios now; so, rather than focusing completely on music, we're integrating painters, sculptors, and physical art projects. The artists move into the hotel, work for three months, present a project – often their first – and we help them monetize it. It provides them with the opportunity to gain mentorship and meet people from cross-disciplinary artistic genres to enhance and grow their personal craft.  
As far as creativity, it's not about just looking at a wall or room in a house, but instead at the whole house ― creating a collaborative, exciting environment that exists beyond the scope of the traditional. It's really cool. Check out graduatesweetdreams.com. It gives background on the latest artists and what they're doing. 
DJ LIFE MAG: Your successes working with Lady Gaga really put you in an incredible place. In an interview you did with DJ Times about nine years ago, you talked of how you two might butt heads in the studio sometimes, but you still had a sibling-like relationship and a unique creative relationship. Why do you think you two vibed so well creatively right away? What do you two both bring to the creative mix?  
DJ White Shadow: We had a good back-and-forth. If you care about somebody, it's healthy to not always agree and do the same thing or have the same goals. I don't want people sitting around agreeing with me all the time. If that happens, you can end up in a pretty bad place. To have the discourse we had requires mutual respect ― a healthy dialogue to figure out where you stand.   
DJ LIFE MAG: That interview was during the Artpop period, which we now know wasn't the easiest time for either of you. Despite the difficulties that went into its making, it's still a helluva record. How do you look back on that period and that particular project? 
DJ White Shadow: I don't feel any different now than I did then — I still love the record. I'm just grateful that people cared so much about our work. It came out, and everybody's looking at it through one lens, pointing out what it's not doing. Once people get further back, they can see it in full. I almost want to say, "I told you so!" now, but time settles debts and makes things clearer. As an artist, it boils down to being true to yourself. The amount of love that you put into a project is what it will continue to generate over time.  
DJ LIFE MAG: What did you think of the outpouring of positive reaction to the idea of releasing more of the Artpop material? Think the public will ever get a chance to hear it in a properly released form someday? 
DJ White Shadow: I try to answer this in the best, most political way I can every time I'm asked: I am aligned completely with what everybody wants. Now, I'm not sure everyone knows what they want. People ask for the second half of this record, but we didn't release it the first time for a reason. Why chance releasing something people didn't like? Again, when you back up and look at the general sentiment, people love this project and the innovative sound, and that's awesome — we can do that all day. Maybe we release more of what we put out 12 years ago, but I think people would like that less than us going back into the studio and cutting a new album in the spirit of Artpop. I think that would come out a lot better.  
Sometimes it's hard to explain that I know what people are asking for, but that is not the right thing. I still appreciate it so much and would never say "no" to doing or trying it. I won't stop advocating for it, but some of what we didn't release, you probably don't want to hear. We probably don't want to hear it, either.  
DJ LIFE MAG: In a lotta ways, you're still living the dream that a lotta DJs would imagine – are there things you still wanna accomplish, musically or otherwise? What keeps you going? Are there any unfulfilled goals? 
DJ White Shadow: I never think of it as "living the dream" — I don't even know what that is. When I was 25, my goal was to get a Ferrari, live in a $20 million condo on Miami Beach, and jet everywhere on a private plane. Now, my goals are to live next to a lake where I don't have neighbors for miles and to vacuum my whole house with the cord plugged into one outlet. What you think will make you happy rarely does, and sometimes you have to run through those things to figure out what is really gonna make you happy.  
Of course, there are unfulfilled goals. I don't know that I'll ever fulfill them all. My advice: have lofty goals and try and achieve as many as you can.  
Short order is bringing new things into the universe and helping people out; that's probably my biggest motivator. The best gift you can give somebody is your time, effort, and energy. What I want to do for the next 20 years is build things that change the way people think and make content with substance. 
DJ LIFE MAG: I've interviewed a ton of DJs over the years. Whether I'm talking to a hip-hop legend or a newer electronic talent, the commonality I hear is their lasting dedication to music, but also the importance of maintaining your hustle, especially in the beginning of their careers. Do you have any advice for up-and-coming DJs? 
DJ White Shadow: If you look at people who are successful, they're most often multi-hyphenates. All that time you spend learning about music, you better spend the exact amount of time learning about business ― how to conduct yourself, save money, and be organized. Contributing, investing, and knowing what to do with your money is important. 
Also, think about what you love besides DJing. What else do you want to do? People will focus on the pinpoint accuracy of becoming a producer, but the most successful creators I know only produce maybe 20-percent of the time. Zoning in your focus, paying attention, and staying dedicated is a big part of it, but if you're just growing one tree, you don't have a forest.  
DJ LIFE MAG: What's next for you? 
DJ White Shadow: I'm trying to figure out what I can create, using what I know about how the system works, and applying that to multi-disciplinary endeavors. I have a couple weird, nerdy projects in the works. I'm not gonna quit music and start painting or anything, but what I'm doing is music-adjacent. 
I've never wanted to be the biggest DJ in the world. I did it at a high level, and I was pretty successful. Right now, I'm building studios for kids to work in for their first project as an artist. And I'm figuring out how to create a movie ― there are two films I'm producing. One is about existing as someone who feels like an outcast. I'm also working on a music project that I think is in line with the messaging that I've put out into the universe. 
Then maybe I'll learn how to fly a plane or start a festival or discover a new artist. I'm more concerned about accomplishing things that I'm interested in that I've never tried before. And I'm not buying a Ferrari ― that's what I'm not doing. 
To check out more interviews, click here.