Perhaps the biggest time-sink these days when it comes to creating and maintaining your digital branding is the aspect of video creation. Producing real video content takes time, with steps such as Raw Footage, Lower Thirds Overlays, Intros & Outros… and then rendering for YouTube, Tik Tok and Reels formats.
Indeed, one good from-scratch video can take an entire afternoon to create and publish. Don't get me wrong, I'm not complaining… great video content can make a massive difference in a client choosing you and your brand for their wedding, or a Bridesmaid party choosing one nightclub over another for their night out. There are many instances though where a full from-scratch video just isn't necessary, and it's more cost effective to "cut corners" when it comes to the video creation work necessary. That's where A.I. Video Creation comes in.
There's more than a few A.I. Video Creators out there currently. All the good ones share some key features, including the following:
A.I. Avatars, that not only take the form of different "models," but are also trained so that their lips move to the speech in a natural manner.
Text-To-Speech Audio functionality, designed in a format where all you have to do is type the text that you want your Avatar to speak. Also included here is the selection of a custom voice.
Custom Background design for both Image or Video, where you can design what your video background looks like while your Avatar speaks your script.
A simple-to-use interface, designed so that you can run through the video creation process within minutes.
The end result is that you can create hyper-fast videos in a fraction of the time at virtually zero cost. Let's take a look at the tool that I've been using these last two months… which is located here: https://synthesys.io/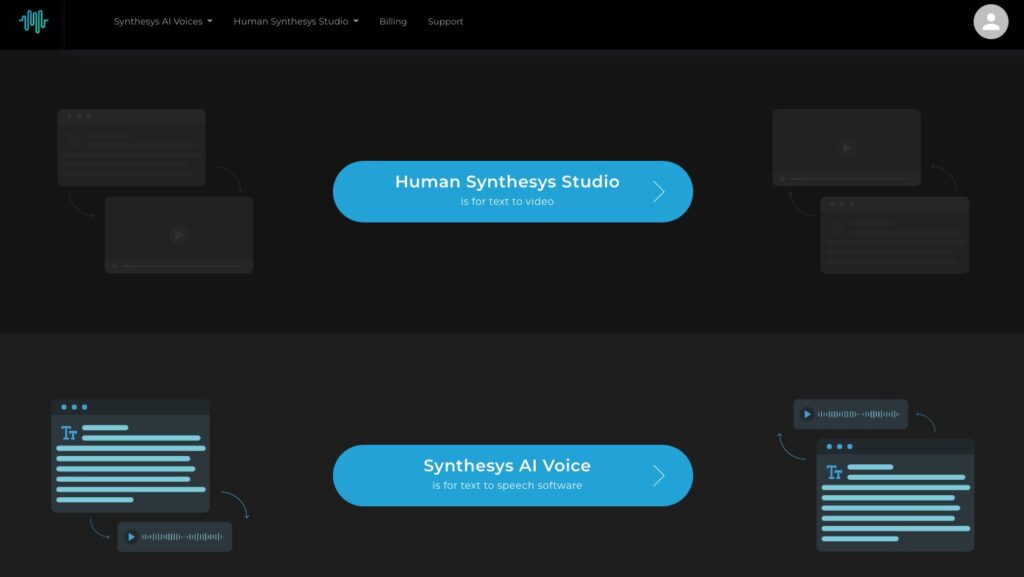 Logging in brings us to the first screen, which is a simple choice of Audio or Video creation (yes, Synthesis does Audio Text-To-Speech by itself as well). For this article, we're going to choose Video.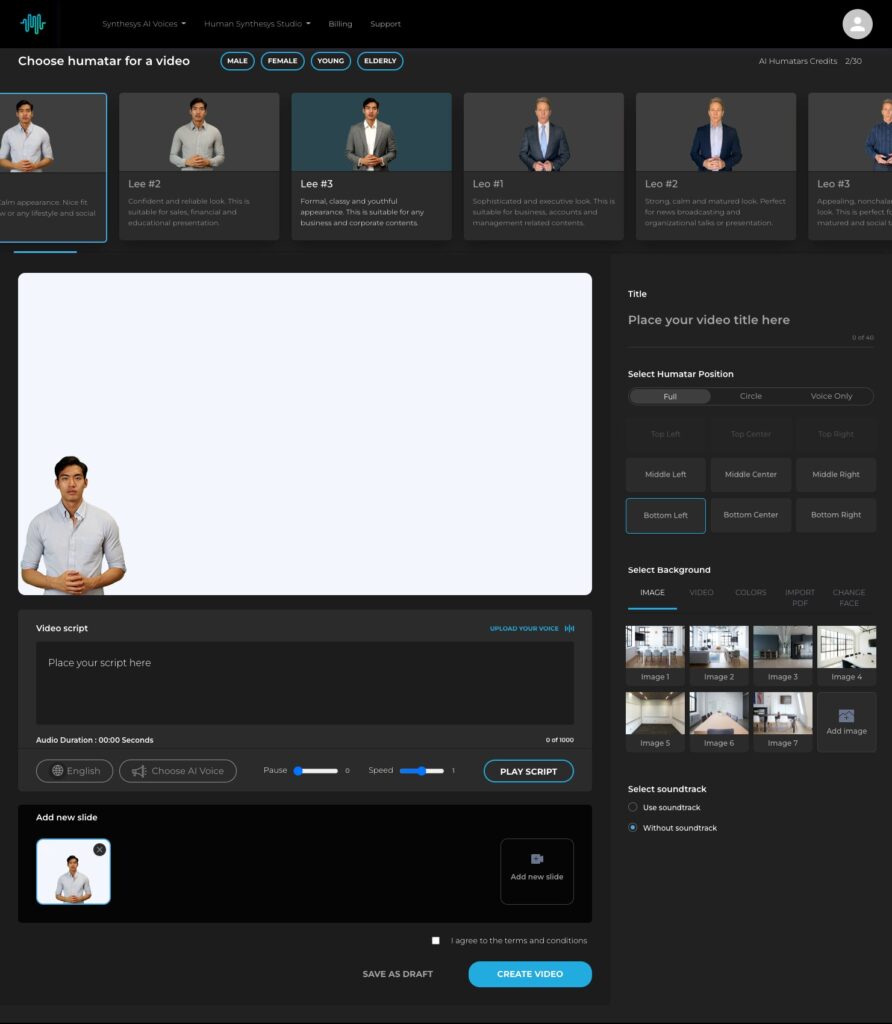 Once we choose Video creation, we arrive at the meat of the product. Everything is on this page to create your video right to the final output. Here are the steps to go through:
First, choose your Avatar (they're calling them Humantars). You have a choice of Male, Female, Young or Elderly as a filtering. For my test case, I used Jenny #3 (perhaps the coder of this platform has a little bit of Forrest Gump envy?). Just click whichever Avatar you want to use, so that it's highlighted.
Next, start filling out the details of your video, including the following;

Title
Avatar position, including both type and location. I chose Circle and Bottom Right.
Select a background, or upload your own custom background. This can also be done for raw video footage as a background, a custom color background or a custom PDF.
If you like, use the tool's Change Face feature to really get customized (reminds me of the World Of Warcraft face customizer).
Type the script of what you want your Avatar to speak.
Lastly, choose your custom voice (I chose a British female, of course… lol).

After testing your script, you may want to edit it to speak differently. For example, I had to adjust SEO to actually be "S E O" so the Avatar would speak it properly.
Once you're happy with your configuration, scroll down and click the light blue CREATE VIDEO button. Your video should be ready in 20 to 40 minutes depending on how long your text for speech paragraph is.
My test video, which I made as a DJX Promo Video, came out to 15 seconds and took 14 minutes to render. I'm happy with the quality for what it is, but see for yourself:
For what this tool is meant to do, I'm getting great use out of it. This company has a roadmap for the future, so I'm sticking with them. If your brand needs videos such as Explainer Videos, clips for Blog Articles, etc., you can save time and money by using one of these video creators. Avoid hiring video actors, cut back drastically on video creation time, avoid costly post-production, and streamline your overall video workflow. After all, time is money!
Want to know more about this feature? Ask Jordan St. Jacques at DJX in August where he'll be presenting seminars each day!
Jordan St. Jacques is the President/Lead Digital Marketer at Digitera.Interactive in Ottawa, Ont., Canada.
To check out more business tips, click here.