After making the most of coronavirus lockdowns making her presence felt streaming regularly, HoneyLuv would then hit the ground running quickly becoming a festival fan favorite making appearances at Ubbi Dubbi, Project GLOW, Skyline Music Festival, Lightning In A Bottle and EDC Las Vegas.
The former NCAA athlete and sailor in the U.S. Navy has become one of the hottest names in all of electronic dance music, popping up at the most renowned clubs and festivals in addition to dominating the airwaves with her 2022 releases "Your Tongue" and "365 (Thr33 6ix 5ive)."
Considered a relatively fresh face in the house music scene, we took the time to get the know the Cleveland native a little better by discussing her introduction to dance music, pursuing a career in music, her wardrobe and much more!
DJ Life Mag: Who or what introduced you to the world of dance music?
HoneyLuv: I would have to say my mother did. She played all types of music when I was growing up. Some of it I really didn't appreciate till I got older.
DJ Life Mag: What made you fall in love with dance music as a whole?
HoneyLuv: Honestly, the freedom it gives people to just be themselves. Out there on that dance floor there are all different types of shapes, sizes, colors, styles and personalities just out there enjoying one thing, and that's music. The community is just so accepting and positive, and I instantly fell in love with it all.
DJ Life Mag: What led you to pursue a path in music?
HoneyLuv: My two very good friends Rayna and Mondrea, seeing something in me that I didn't at the time. They pushed me to DJ because they saw how much I did enjoy playing and picking songs, and they weren't wrong.
DJ Life Mag: DJing or production – which came first?
HoneyLuv: I would say production if we are counting when I was in middle school, and high school producing hip hop beats with my Casio piano. I really didn't get too much into because of basketball, but that's where it started.
DJ Life Mag: In the DJ booth, what gear do you use and why?
HoneyLuv: I use the Sennheiser HD headphones because they are literally the best. For my USB, I use the SanDisk Ultra because it has yet to fail me. As for my CDJs and mixers, I use the [Pioneer DJ] CDJ-3000s and the DJM-V10. I prefer these because I love the mix screens on the CDJs, and the V10 just has so many features for me to play with.
DJ Life Mag: You were a collegiate basketball and served in the U.S. Navy; how did those experiences help develop your work ethic when it comes to your music career?
HoneyLuv: I mean doing both of those one has to be a determined and hard-working individual. I feel basketball prepared me more on the work ethic side because if I wanted to be the best, I had to be self-motivated and I had to practice and do the extra stuff to stand out. With the military, it made me very organized at making sure I was always prepared for whatever challenges that may be ahead. Having those two on my resume, just gives me the drive and determination to accomplish anything I set my mind to.
DJ Life Mag: When you have a rough week or hit a wall creatively, how do you get yourself back on track?
HoneyLuv: I will literally just take a break till I get that urge again. Cause when you rush things people can tell. I know I do. So I like to just take a step back, relax, and then come back to it.
DJ Life Mag: What's your main studio gear?
HoneyLuv: I work in Ableton Live because it's easy and straightforward. I use my JBL Professional monitors, and my little baby, the [Novation] Launchkey 25. My favorite plug-in right now is [LennarDigital] Sylenth – shout out to Roland Clark for putting me onto that!
DJ Life Mag: After spending countless hours streaming sets during the heart of the pandemic, how does it feel to be bouncing from city to city spinning sets in front of a live audience?
HoneyLuv: It's so amazing. It really is a dream come true. I know I use to imagine spinning for crowds in my mind and to now be able to do that in real time every weekend, all I can say is that I'm very blessed. Wouldn't change it for the world.
DJ Life Mag: Now with festival season in full effect, which do you prefer – festival or club sets and why?
HoneyLuv: I prefer an intimate club set. I hate being so far up on stages where I can't see into the peoples eyes. I want to be able to share that energy with them and connect on a personal level. So I'll take an intimate club set any day.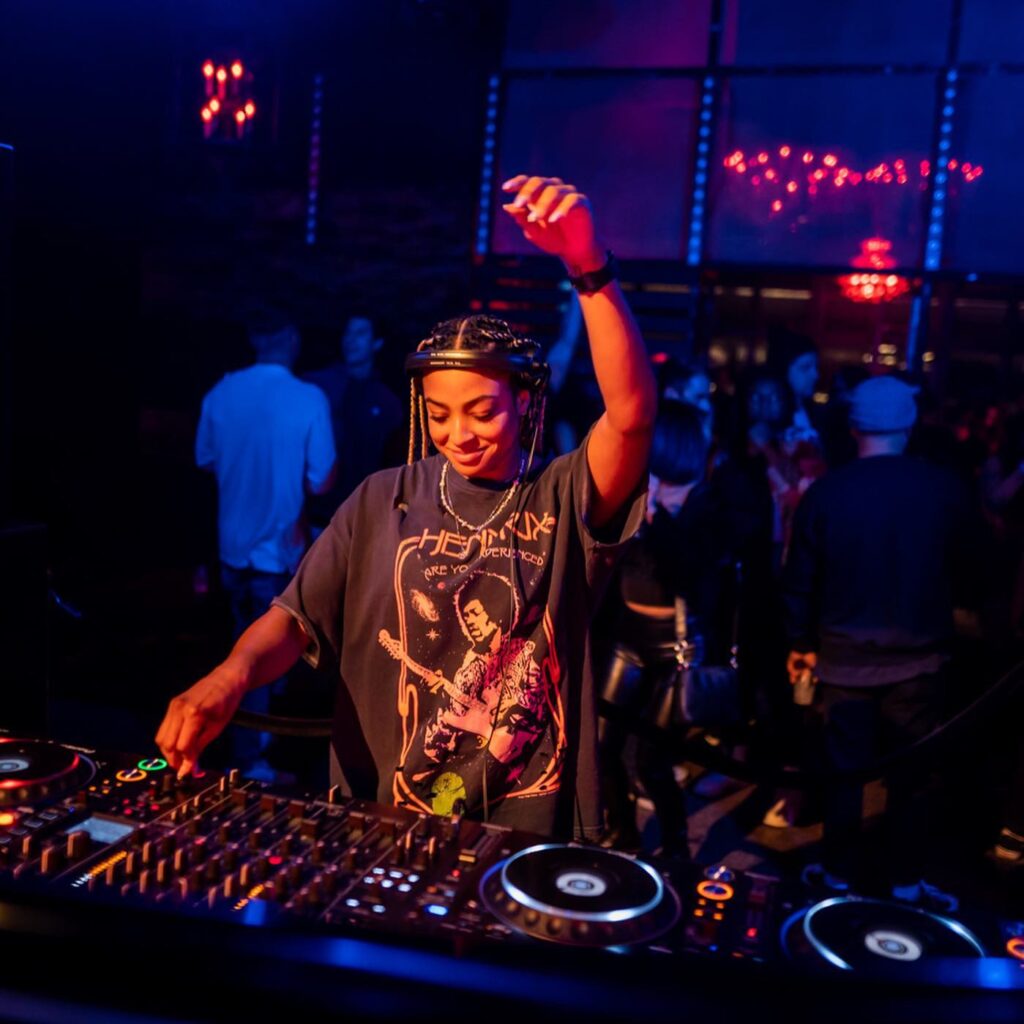 DJ Life Mag: You have quite the wardrobe; how much time do you spend putting together outfits before hitting the road? When did your love for fashion come into play?
HoneyLuv: Fashion is everything to me, it's a way for me to express who I am as a person. My love for fashion came into play when I was younger. My mother would dress me in the hottest outfits a kid could think of and I think that swag just followed me into when I was an Adult. As for shows, I usually go all out for the bigger shows and have some of my close friends create looks for me or my best friend and I go out shopping to find looks to put together.
DJ Life Mag: Your recent single "365 (Thr33 6ix 5ive)" has been dominating the airwaves for quite some time now, what was your creative approach to cooking that one up?
HoneyLuv: Well, I hopped into this zoom session over the pandemic. My very first one ever. I truly didn't know what to expect and was kind of not sure how we would create a song out of this but we did. We were all in different countries, just bouncing ideas off of each other production-wise and when we got the music down. The writer/vocalist Taneisha, took I think about 30mins to write something and she came back with the lyrics and I was instantly in love. The energy in that session was so dope and I knew the song would do well but didn't know it would do this well. So I'm very happy that I did that session that day, it was truly magical.
DJ Life Mag: HoneyLuv has certainly made her presence felt throughout 2022 so far; what do you have in store for the remainder of the year and beyond?
HoneyLuv: I just hope to continue to spread love through the music and any other way I can. Be on the look out for some new groovy underground tunes and collaborations. I will be going over to Europe and Australia at the end of this year to play. So I hope to continue adding more countries to my list.
To check out more interviews, click here.