Still buzzing off of her recent set at Coachella's Do LaB stage, Nala continues to be one of the hottest names in the game when it comes to the world of electronic dance music.
Recently teaming up with Nikki Nair for their 2-track More Is Different EP, this Miami native has turned into a true fan-favorite amongst the Dirtybird community since making her debut on the esteemed label last year and looks to continue to ride her hot hand throughout the remainder of 2022 and beyond.
Paving her own way into the spotlight and now playing at some of the biggest clubs and festivals across the globe, Nala's journey started almost a decade ago when she was playing in underground nightclubs where she developed a reputation as a reliable tastemaker in addition to honing her skills as a producer and vocalist along the way.
With so much going on for this blossoming talent as of late, we took the time to get to know Nala a little better.
DJ Life Mag: When did you make your introduction to dance music?
Nala: I went to my first rave on my 15th birthday in Hollywood, FL. It was an all-ages rave, which in hidesight is absolutely insane. Lol. It was real fun though. It was located at a venue called Club X-it, and it had several rooms dedicated to various genres. It was the first time I heard Drum & Bass, which I found to be the most interesting at the time.
DJ Life Mag: What were your first influences? What made you want to pursue music and become a DJ?
Nala: My first influences were of the indie electronica variety – I loved Alex Metric's remix of Phoenix, Totally Enormous Extinct Dinosaurs, LCD Soundsystem, Bloody Beetroots, Daft Punk, Justice and Soulwax. I pursued a career in music after encountering my first Miami Music Week, when I was exposed to the industry side of things. I decided I wanted to become a DJ after a couple years of working on the marketing side of things after I met a female DJ named Jessie Andrews. I realized that if she could do it, so could I!
DJ Life Mag: As a Miami native, how much of an inspiration has that city been for you?
Nala: Miami really nurtured my career by giving me my first opportunities to play, and taught me the importance and technique of the warm-up DJ. I believe I picked up a lot about the culture behind DJing here. Meanwhile, living in L.A. taught me about uniqueness and how to set yourself apart from other talent.
DJ Life Mag: DJing or production – which came first?
Nala: I had been comping vocals prior to DJing, but it was mostly a secret hobby. It wasn't until I started DJing that I began producing more seriously.
DJ Life Mag: When did you start producing, and how did you hone your production skills out of the gate?
Nala: I started producing in 2015. A lot of what I learned was taught to me by other producers in Miami. I owe a lot to the men in this city who gave me Ableton, VSTs, and samples, and helped me learn the basics.
DJ Life Mag: What was one piece of equipment that helped define your sound early on?
Nala: My microphone! I use an SM7B. My sound is defined by my vocals and instruments I've recorded over the years.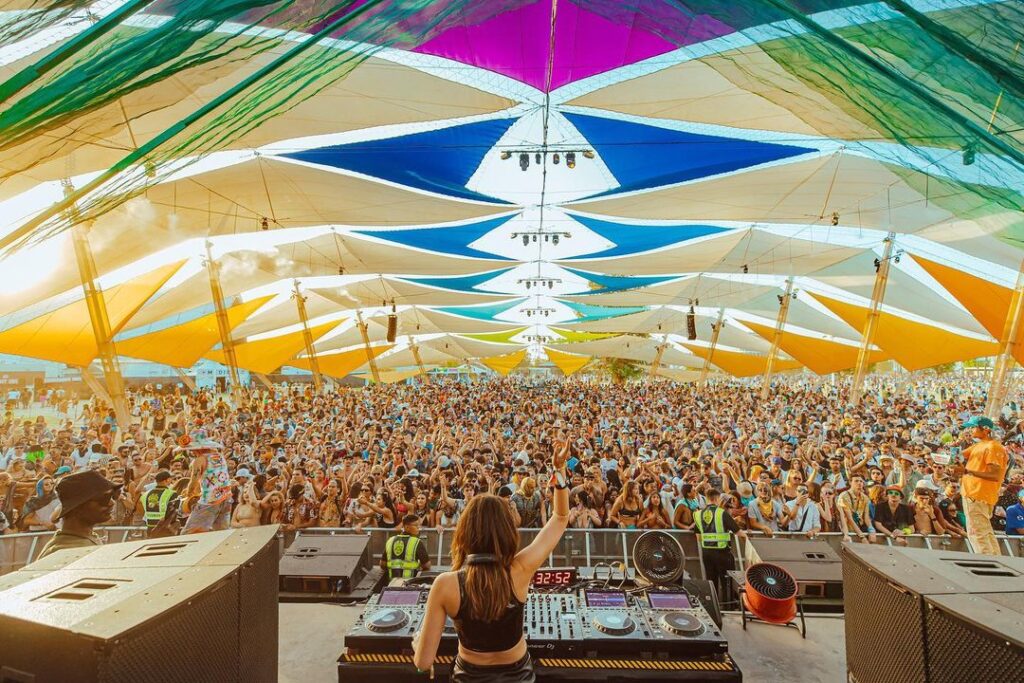 DJ Life Mag: How would you say the dance scene has evolved since you started DJing?
Nala: When I first started DJing, a lot of the music industry was focused on up-and-coming Soundcloud producers who were making Soulection-style beats such as Kaytranada, and trap such as Troyboi. I think we've now gone back to relying on labels to break artists and gain fans.
DJ Life Mag: What does your studio setup look like these days?
Nala: I use Ableton as my DAW. My favorite synth VST is from Arturia called Analog Lab. I have my SM7B microphone. Two drum synths – Drumbrute Impact and Erica Synth. I'm not a big fan of digging for drums, so these synths make it super easy. I also have an acid synth, the Behringer TD-3.
DJ Life Mag: What's your creative process in the studio?
Nala: I recently discovered I'm a top-down producer meaning I work by creating the big picture of the song and then go into the details afterwards. Usually, I have a kick going and then record vocals and synths. Afterwards, I work on drums and then arrangement, and lastly, details.
DJ Life Mag: When you have a rough week or hit a wall creatively, how do you get yourself back on track?
Nala: A rough week is usually great for my writing process as I consider myself a confessional writer. Hardship is great material! If I hit a creative wall, I usually reach out to friends for help. I think there's a lot of unnecessary pressure to be a one-man band. I rebuke this ideology. If I could be in a band, I'd much prefer it. It's more fun and more exciting.
DJ Life Mag: Tell us a little about your new "The World Is Always Ending" EP with Nikki Nair and how it came together.
Nala: I discovered Nikki in 2020 around the same time I started working with Barclay (Claude VonStroke). I was showing Barclay some music and played a Nikki Nair song. He was pretty blown away and immediately contacted him to get some tracks for the label.
A year later, Barclay suggested we work on a track together. The first was Escape. I wrote the lyrics for that prior to the pandemic about our desire for escapism to cope with life. Nikki did all the production for that track. Then came "The World Is Always Ending" which I wrote in September/October. I recorded the vocals over a kick drum – as I usually do – and used some of the vocals to create the cool 90s synths you hear. I sent the audio files to Nikki and he did the rest!
DJ Life Mag: What's next for Nala?
Nala: Well, I'm working on tones of solo music right now. Exploring and expanding on my vocals and range. I also have a lot of collaborations getting released this year with insanely talented artists I admire. I'm also starting my own label called Mi Domina Recs. It's italian and translates to "Dominates Me". It's also a play on FemDom culture as I am a woman in charge. In any case, I've found that in order to get as much music out as possible, it's helpful to have an outlet that isn't being determined by the timing of bigger labels!
To check out more interviews, click here.