Working well with a variety of users – from DJs and bands to public speakers and event MCs – the JBL PRX One stands out as an all-in-one PA solution that can bring the bass, while effectively filling the room with treble. 
With it being so incredibly easy to assemble – there are only three pieces and the system doesn't weigh as much as its market competitors – this unit impresses, for sure. The PRX One stands up with its features, abilities, and build quality, while delivering brand-new effects and cool ways to explore them on the unit. So, let's dig down a little deeper and find out what really makes this system tick and sound the way it does. 
First Impressions: Pulling the unit out of the box, I was taken by how lightweight and sleek the system feels and looks. It's smooth to the touch, while still feeling like it would take a strong hit and not show much damage – so that is a big positive for me. For someone who carries a lot of gear to events, it's nice to pick up an all-in-one system and not feel like the subwoofer part weighs more than it really should, which happens often to me. 
The carrying case for the 12-speaker vertical array is a much better design than comparable models by other companies because, in my opinion, it seems to fit and hold the two columns in a way that better supports and protects them.  
The mixer on the back end looks familiar – it's similar to mixers from other products and functions in a similar way. The knob is quite intuitive and flows around easily, but it does move really fast, and I found that it can land on other options that you didn't intend for – so, be careful. It's very straightforward and seems to function just the way it is described, which is always a plus, while also having professional quality that you would expect from a JBL product.  
The Bluetooth connects effortlessly, but it took me a moment to realize that you needed to use Channel 7 for the Bluetooth audio and to push the volume up for it to function. For me, that was a moment of adventure, but once you know, you know. Now, let's move on to the specs and see what this is really packing inside. 
Features: Coming out screaming with its 2,000-watt amplifier and 130 dB SPL (Sound Pressure Level), JBL's PRX One really takes a stand and immerses you into a room of sound. Priced at $1,599, the system brings depth without being overly large and in-your-face. It's a really well-balanced speaker system and something that serious mobile DJs should consider. While standing next to the 12-speaker vertical array, you don't feel like it's a lot; but when you step away, the sound just fills the room and you are just impressed by its performance.  
Now, the bass seems to get more and more depth the louder you turn up the volume, probably because it goes down to 35hz. And while that is not inherently a bad thing, it does seem to overpower the treble eventually and can be a bit too much (to my ears). Hear for yourself, of course. 
With effects at your fingertips – like reverb, delay, compression, and much more – you can add these to any channel and have full control over how you add them and how much you use. They are great features if you are going to have a vocalist sing while a band plays and everyone is connected to one or more of these units – lots of options and creativity, at the end of the day.  
On the back of the unit, you'll find four XLR inputs for four different channels, two ¼-inch inputs for two different channels, one auxiliary input for a channel, and an XLR pass-thru as well. That is a nice lineup of inputs for the system, and I feel that they could be used well by a wide array of people for many different types of events. 
Directly comparing this unit to similar one that I own from another manufacturer, the JBL system clearly outshines that unit. The PRX One wins in overall audio quality, build quality and bass quality. And I must say that it's been my experience that JBL products always extend a gleam of professionalism and quality before you even plug them in. But once you do, you see that they live up to the solid reputation that comes with the brand.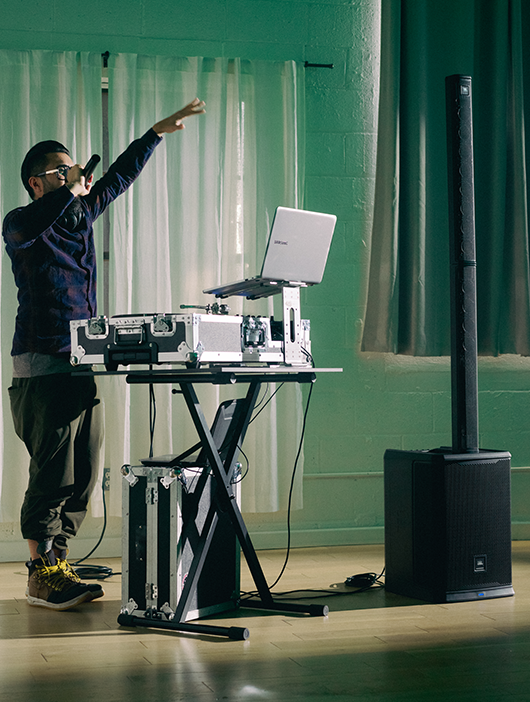 Another cool feature is the JBL Pro Connect App, which lets you control all the options within your mixer on the PRX One from whatever device you choose. It can be Android or Apple, which is nice to have options in that department, and phone or tablet. With the app, you can decide how you want everything to connect, which effects that you want to use on whatever channel, and all essentially without even looking at the unit. It would be great for controlling the sound for an event and changing levels from the other side of the room.  
The one-touch ducking is a great feature for DJs who use the microphone often and play music in the background. This way, you can always know that whenever you speak during your event that you won't have any disruptions or clashing of audio signals once it is set up.  
Another awesome feature is that two of the channels offer phantom power – and that is not seen outside of studio audio very often, so don't take that one for granted. One thing that JBL seems to push is that you can use these units for installation in venues, and I will say that I think that this system would be a great fit for such an application. The system's bass response and its balanced sound (if you don't push the audio too far) really stand out – definitely two impressive aspects and things you want in a venue sound system. 
Another impressive point is the system's build quality. You want something that can withstand people and whatever an event can throw at it night after night, and I believe these would be a candidate for something like that. The next reason I feel the PRX One would fit well in any smaller venue is the system is quite striking and tall when you first see it – the speakers stand out and make you keep your eyes on them. On a stage, or with the available mounting bracket for sale by JBL, you can put these bad boys anywhere and make a statement. 
This speaker system is full of features, packed with quality, and something that shouldn't go unnoticed when considering an all-in-one for whatever purposes you may have. 
Conclusion: All in all, the JBL PRX One is one of the most solid all-in-ones that I have used and I would personally consider using it for events in the future (running as a pair) because of its fantastic ability to fill a room with its sound. I don't have uses for all its features, but I appreciate having these features when the right occasion presents itself.  
Also, perusing the system's app, I'm quite impressed with all the things you can tweak and the ability to really tailor the sound to your liking. It's easy to use and effective. 
In closing, the JBL PRX One would make a great addition to any sound arsenal that a DJ may have. It can be your go-to system for a variety of applications. So, if you're in the market for something like this, I offer a serious endorsement.
To check out more gear reviews, click here.