When the Desert Hearts Festival touches down in Lake Perris, Calif., April 28 through May 2, there will be plenty to celebrate – namely, a decade of existence that has seen the organizing collective grow organically from humble beginnings to the artistic force it is today.
In 2012, Mikey Lion partnered up with Marbs, Lee Reynolds, and his younger brother, Porky, to put together the first Desert Hearts party, which drew 200 people. Ten years later, Desert Hearts is not only a festival and event brand, but it's also a label, a collective, and a community that has grown to 5,000.
Desert Hearts Records was launched two years after the initial event, which was a collaboration of friends, musical icons, and world-renowned artists. And now, the label has become quite prolific. In fact, it came out with its 100th release in mid-2021 with Mikey Lion's debut album, For The Love.
Additionally, Desert Hearts Records has featured artists such as Justin Martin, Andreas Henneberg, Gene Farris, Popof, Amine Edge & Dance, Doc Martin, and numerous others. Here are five releases that helped define the label:
The B side of the debut release on Desert Hearts Records had Mikey Lion and Jonjo Williams purveying a funky narrative through the eyes of the legendary James Brown, as he was going thru his much-covered legal travails. This iconic track was a tribute to The Godfather of Soul, and it reminds us that, no matter what problems we may have in life, a positive perspective and sense of humor will pull us through.
This comp features tunes from artists that became cornerstones of the Desert Hearts collective. Latmun kicked off the compilation with the monster tech-house track "Dream Supreme," ahead of making his North American debut at the 2016 Desert Hearts Festival. Notable artists like Andreas Henneberg, Fritz Carlton, Treavor Moontribe, and Lubelski are also featured on this superb comp.
Five years into the existence of Desert Hearts, Mikey Lion put together his favorite tracks from the label, compiling over 40 originals, collaborations, and remixes. (Check Lion's tech-houser "Drum Formulas" for starters.) Here, you get tracks with Lee, Mikey, Porky, and Marbs together, as well as cuts from Joeski, Eskuche, Rodriguez Jr., Matt Tolfrey, and many more.
This was Knapp's second release on Desert Hearts Records after "Bleep Blop," his debut EP. "Worldwide" epitomizes the Desert Hearts sound, as it delivers plenty of pent-up energy and funk. Knapp first played the festival in 2018 and has been a part of the crew ever since.
Upon finishing this nine-track album this past year, Lion said it was a "culmination of everything I've learned, felt and believe in over the years." And after listening to this collab-filled effort, which includes work with Lubelski, Sacha Robotti, and Justin Martin, you'll fully understand the fun and funky ethos of the Desert Hearts collective –  house, techno and love.
Desert Hearts Festival will take place April 28 to May 2, 2022, in Lake Perris, Calif.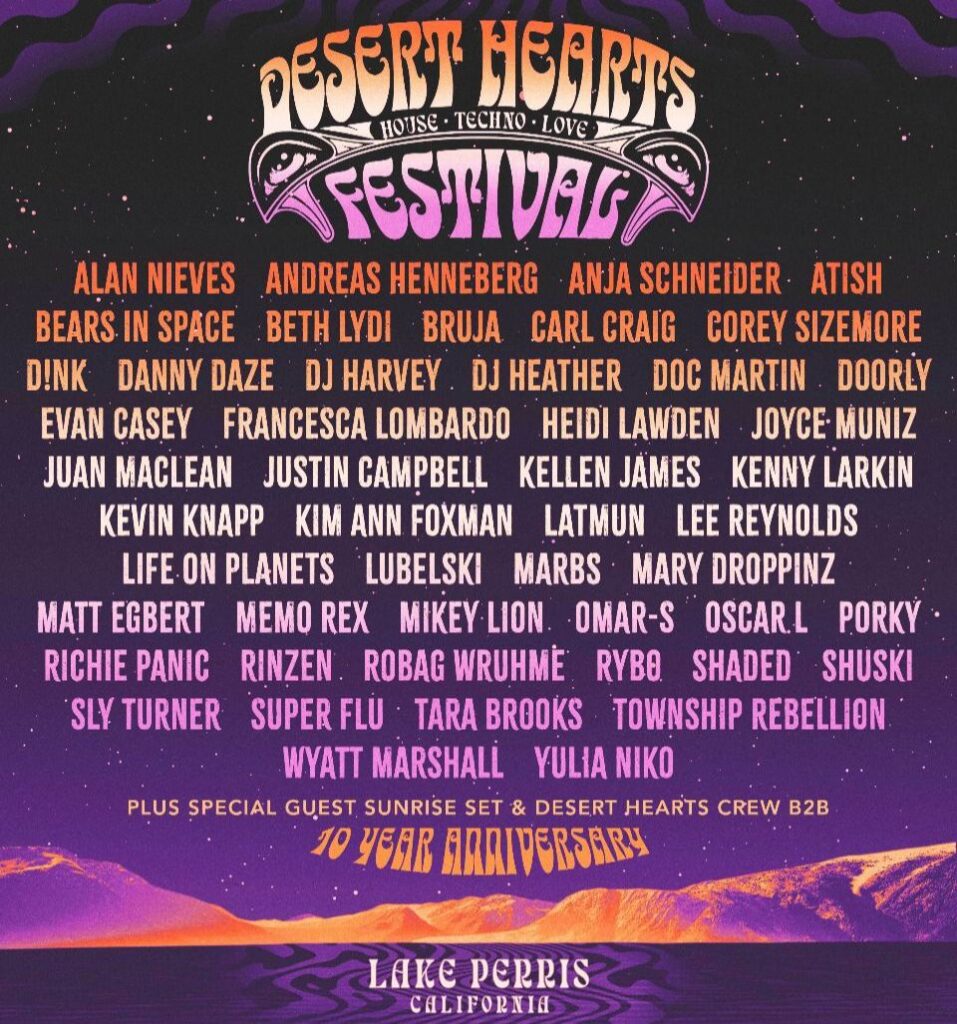 The lineup includes:
Alan Nieves / Andreas Henneberg / Anja Schneider / Atish / Bears In Space / Beth Lydi / Bruja / Carl Craig / Corey Sizemore / D!nk / Danny Daze / DJ Harvey  / DJ Heather / Doc Martin / Doorly / Evan Casey / Francesca Lombardo / Heidi Lawden / Joyce Muniz / Juan Maclean / Justin Campbell / Kellen James / Kenny Larkin / Kevin Knapp / Kim Ann Foxman / Latmun / Lee Reynolds / Life On Planets / Lubelski / Marbs / Mary Droppinz / Matt Egbert / Memo Rex / Mikey Lion / Omar S / Oscar L / Porky / Richie Panic / Rinzen / Robag Wruhme / Rybo / Shaded / Shuski / Sly Turner / Super Flu / Tara Brooks / Township Rebellion / Wyatt Marshall / Yulia Niko
For tickets and more info visit festival.deserthearts.us
To check out more events, click here.