Long-known as a remixer for acts like RL Grime, the Essex, U.K.-based Shadient began to release his own music in 2017. Since then, he's become embraced by the world of experimental bass music with a trio of strong EPs that often buzzed and banged with force.  
But his recent debut full-length, Have You No Burden [Gud Vibrations], is a significant departure from those days, as he's been inspired by the strange sense of unity that he experienced during the worldwide lockdown.
In body of work that he describes as is more of a diary entry, his 13-track offering is an album that provokes true emotion. Not merely an exercise in dynamics and energy, Have You No Burden delivers an impressive range of sounds and feelings.  
Whether exemplified by nervy soundscapes like "Sympathy Coil," infectious groovers like "Dancing Alone Again" – both featuring fknsyd on vocals – or ethereal dream-pop like "Solitary," Shadient's full-length marks new, exciting artistic territory for the 23-year-old DJ/producer.    
We recently took the time to chat with Shadient to discuss his emotionally charged debut album and how it all came together.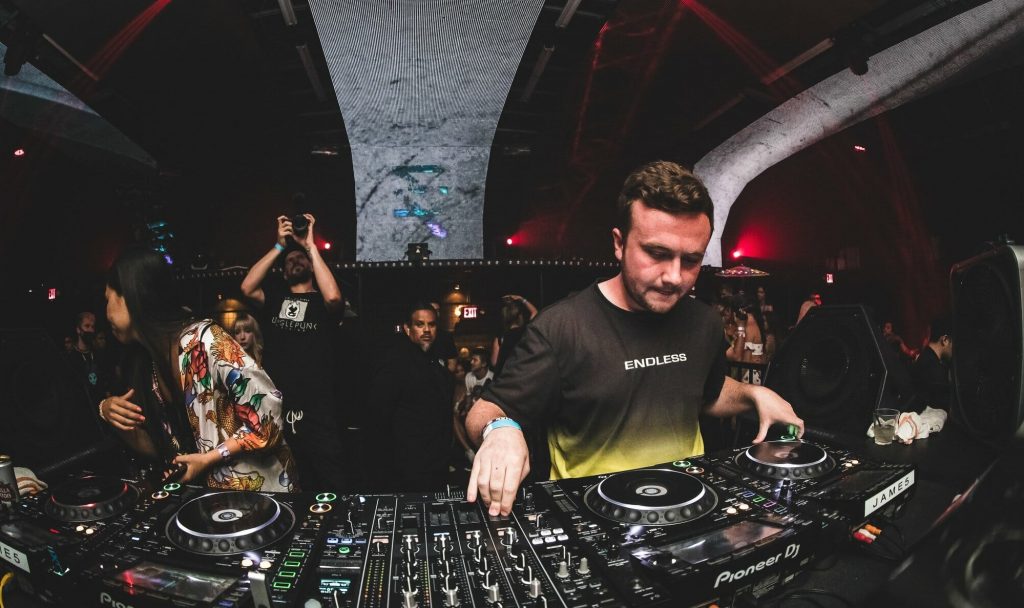 DJ LIFE MAG: You've released plenty of tracks over the years, but Have You No Burden was your debut album. What was your approach in putting a 13-track album together?

Shadient: It was definitely the most honest experience I've had in my years writing music. I finally felt like I wasn't just putting sounds together and hoping for the best. It felt like I was contributing to this existing world made up of a specific feeling, almost like I wasn't needed, but my effort was merely setting the lens into that world into a clearer degree of focus. 
DJ LIFE: Where do you find your studio inspiration? 

Shadient: There's strong figures who have inspired my production tastes in terms of certain drum sounds, synth sounds. To name a few… SebastiAn – his drums are second to none, the best I've ever heard – Burial, Lorn, Boys Noize, SOPHIE. 
DJ LIFE: What studio gear and programs do you use? 
Shadient: I only used software for the longest time, but for this album I really wanted to have lots of imperfections – dust, noise, buzzing lain deep in the background of the channels… pitch drifting of imperfect old synth circuits. I did everything I could to make the sounds to feel as real and organic as possible – even if they came from a digital source.

DJ LIFE MAG: What's your creation process in the studio? You've mentioned that your album is more of a diary entry.

Shadient: It really is like writing in a diary these days. I've been making music so, so much, like every day, since around the time I started the album. It's amazing. I feel like I'm so capable of channeling moods, feelings, inspiration from specific things or music straight into the tunes. I always start with the main body of the song. It's crucial for me, because it's so difficult, to sustain the initial excitement from start to finish. With this album, I had that for every song with almost no conscious effort at keeping it.

DJ LIFE MAG: If you had to pick one, what would you say is your favorite track of the album?

Shadient: It's very hard to say, but I think "Solitary." It's so clearly the definitive sound of what this album is saying and where I was mentally at the time I wrote it. I think it's my most authentic and raw song. Writing it was also a complete breeze!

DJ LIFE MAG: How would you say your sound has evolved since your earlier releases? 
Shadient: In my earlier releases, I would focus solely on the energy of a track and how it would translate to a crowd in an EDM context. Now, I'm much more orientating my music towards people listening on their headphones on lonely walks home. It's about ideas now, rather than energy.
DJ LIFE MAG: You were quite outspoken prior to the release of Have You No Burden. You said it wasn't about stats or streams and some might feel that it isn't as heavy as your earlier work, but you were now embracing your creative freedom and free of any boundaries. You've always been versatile, but is this the beginning of a new chapter for Shadient? 
Shadient: It so is. I can't quite put my finger on this feeling, but making this album is like a flagpole in the timeline of my life as a musician. I finally understand now how my favorite artists got to their purest artistic levels… because they weren't trying to do that, they were just being themselves.
DJ LIFE MAG: What advice do you have for up-and-coming DJ/producers who might get caught up in the numbers, especially with it being Spotify Wrapped season?

Shadient: Being in the industry is a fake illusion. Labels aren't necessary. You can self-release a tune and pull millions of numbers all you want. Fuck-all matters except the music. Do what makes you happy, I'd say.

DJ LIFE MAG: Now that your debut album has been released, have you been taking some time off or did you dive right back into the studio?

Shadient: I tried to take a break, but it just goes against my nature, honestly! I'm making tunes constantly. I'm always inspired at the moment, so I'm gripping to this feeling out of fear of it going away. 
DJ LIFE MAG: What can fans expect from Shadient in 2022 and beyond?
Shadient: It's a secret! 
To check out more interviews, click here.