When DJ/producers are seeking studio headphones, they have many options in the market today, many different features and tunings that innovate on the traditional studio headphone.  
And now, KRK Systems, perhaps best known for its range of studio-monitor speakers, has delivered a pair of new headphone products for your studio applications – the KNS 8402 and the KNS 6402.  
The KNS 8402 (reviewed here) is an around-the-ear and closed-back headphone that begs to replace your current studio headphones with KRK's clean and direct take on the product. So, let's take a dive into this and see what it can do.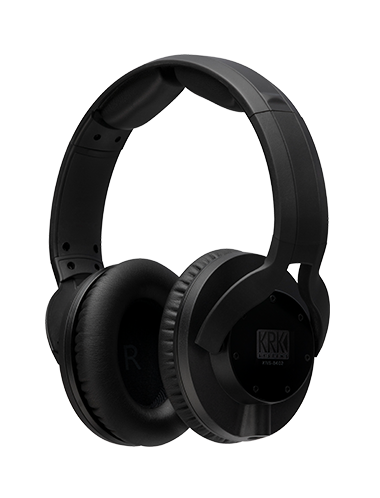 First Impressions: Upon receiving the box, I would say that the packaging lines up across the board with other products from KRK, a Gibson Pro Audio brand. KRK's iconic yellow color scheme is evident, to go with its distinctive logo – those stand out to make you know from afar that this is a familiar brand dedicated to great studio sound. Brand recognition, always a good thing for any company to have.  
The headphone set itself is all-black, and initially didn't feel to be so sturdy – they're very plastic and somewhat clunky to move/adjust. The headband separates on the top when adjusting to fit your head and leaves an opening, so be careful not to get your hair pulled a bit. When I look at similarly built headphones, they extend from the inside out to avoid that issue, so I think that would have been a better way to go about this for KRK here.  
The ear cups swivel and, though they have screws holding the cups in at the base of the headphones here, I was careful not to push their stability. 
One thing I really enjoy are the breakaway cables that are included with the product. Why? Because they are easily replaceable if something happens, like a short or some other kind of issue. The ¼-inch inch jack is a fitted one, and those are my favorite kind because they are a lot easier to maintain when you must unscrew them for removal – so kudos to KRK for including that useful feature.  
The acoustic memory foam on the ear cups are extremely comfortable and I could see someone tracking/mixing with these for hours without issue because of that comfort coming from the ear cups here. Thumbs up here, again. 
Lastly, I have to say that, for many reasons, I am not a fan of the volume-control slider and the process of connecting it to the headphones. The volume slider on the headphones is great for someone to control how loud their monitoring is in the studio and not need to ask the engineer to up the volume. They work, but the way it is built here reminds me of old-fashioned Skullcandy headphones, a consumer product.  
The process of connecting the cable to the headphones is a doozy, but I got through it. It includes a bright yellow tag on the cable to tell you how to connect it because it is a difficult job to do. For a bit when I received the product, I thought I may have had something malfunctioning, but after playing with the cable, I was able to get it working correctly. So, after some nitpicks and kudos, let's dig into the features and the core of what these headphones can do. 
Features: Swinging in at 124 dB SPL maximum, these headphones do give you the sound you would need to put down some vocals or do some sparse mixing when needed. Starting with the acoustic memory foam ear cups, KRK did a fantastic job, as I said earlier. The ear cups really create a seal when on your ears and keep as much sound in, without bleeding out and causing issues when recording. I pushed the two cups together and that also created a seal that left no sound to be heard. I will say that is quite impressive, and I wish more studio or regular headphones had that kind of attention to detail.  
When considering sound quality, there is a lot to look at. Most KRK products are known to have a big bass response, but I will say that these cans are a lot more balanced than the KRK studio monitors that I am used to hearing. I can't say the highs are very crisp – they kind of sit in there a bit and could use a little boost. But, as a whole, everything is a good mix all around. I think these headphones are made to be good for tracking and for vocalists to hear everything they need.  
It's a pleasant listening experience as well, so they could be useful for casual listening, but with the 8.2-foot-long cable, these are meant to be used in a studio and probably not so much for the at-home experience. I spoke earlier about the volume-control slider and I will say that it is a great idea and has been implemented by many companies who make headphones for years, but I've never found the way it's been done to be useful for everyday listening. In this scenario, I do see its worth and how that could be useful in the studio.   
One feature that is different would be that, not only the cables, but the ear cups and the head cushions are replaceable. If you cause wear and tear to the leather there, you can order replacements from KRK. That is great and I wish my older headphones I use would do that.  
These headphones are full of features, new and old, and bring some great things to the studio headphone market, while being consistent in overall quality with KRK's array of great products. 
Conclusion: Overall, the KRK KNS 8402 Studio Headphones ($179 MSRP) deliver what they say they do, and that is to bring quality sound with great isolation and accurate replication. These would be a great addition to any studio that needs a pair of cans for an artist to use for recording and other tasks during studio sessions.  
In the home studio, these would be great for artists that do not have the opportunity to use monitors and need something to mix their music. They may not be 100-percent balanced, but they are a good start for something in that practice. These KRK headphones are well-made and, if you're in the market for something like this, then you should really give these a shot.  
To check out more gear reviews, click here.