If you find yourself in the market for a new battle mixer, Pioneer DJ's DJM-S7 has everything you need, while adding new features, fun effects, and all at a competitive price.  
This 2-channel mixer (for use with Serato DJ and/or rekordbox software) is laid out beautifully in the style that the rest of the DJM family of mixers has followed for many years, but with some changes that make it stand out and offer a more ergonomic experience for the user. It's a mixer that's built for DJs who want to play whatever they like, whenever they want, because… you can change things up on the fly so quickly just by tapping a pad or turning a knob. This mixer is built for comfort, but also for performance.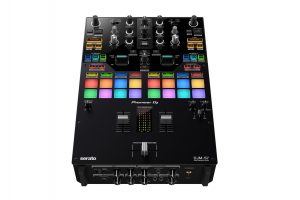 First Impressions:
 Out of the box, the first things I noticed were the striking similarities to its older sibling, the DJM-S11, along with the solid weight that the unit had – nearly 10 pounds. 
So, digging further, you can see that most of the functionality of the S11 is built into this beast, just without the large screen that was in the center of the other unit. That screen gave you many options and features, but I personally wasn't a huge fan of it.  
On the S7, you have a tiny screen in the middle in place of that, and it tells you important information and shows what effect you are currently using on board. It's very simple, and for that reason I really like it. Pioneer DJ kept the same large pad size, the same functions of the pads, and the great feel to them that I really enjoyed on the S11. 
With that being said, your FX pads are limited down to three on each side, but they are given shift functions to add in more cool features. (From Pioneer DJ: "The DJM-S9 lets you only use hardware or software FX, meaning that you have the same level of functionality as the S9 in terms of being able to use up to six FX at once as that model.") Another thing you see are the same deck controls on the left and right side for auto loops and for loading, which I find quite helpful because I've always despised using a mouse while DJing.  
One difference I did notice was how close all the knobs on the top of the unit were for my hands – in my view, that part was a bit clunky in comparison to the S11. The S7 has the same spacing as the S9, which is laid out with its very close knobs and buttons on the top half of the mixer – personally, I never enjoyed using that tight layout. Now, this is only on the surface, so let's look deeper into the features that shape this mixer and its uses. 
Features: While this mixer might have less features than its older sibling, the S7 brings all the useability and quality that you would expect from a mixer in the DJM family. Straight out the gate, we are blessed with a Magvel Fader Pro magnetic crossfader, a standard on DJM mixers, but a solid feature that cuts like butter. For all the scratch DJs out there, I'm sure you already know what you're getting when you use a Magvel Fader Pro – but, if you don't, then you need to experience it.  
It's a very smooth finish that glides left and right effortlessly like it's floating above the mixer. Also, Pioneer DJ gives you all the crossfader options to dial it in any way that you would like. One of my favorite features built-in are the 22 beat effects that come originally from the S11. They are all very different and are easily adjustable on the fly with the parameter buttons and level/depth knob that are on the sides of the screen and underneath, respectively. With those, it is so easy to create interesting transitions and patterns that you wouldn't have ever thought of because of how unique the chain of effects can be. Going from there, you can add in Serato DJ's effects that are loaded on the computer and combine them at the same time. Get crazy with it – the amount of creativity is seemingly endless. 
One thing that was added on specifically for the S7 is the addition of Bluetooth connectivity directly on the front of the unit. You can instantly click the button, connect your device, and it plays right through your connected speakers, while giving you an option for volume next to the pairing button. One thing I will say about this is that I think the Bluetooth audio level at max can be pretty low compared to the audio levels of one channel, so going from one to another in a live setting may be a bit noticeable. (From Pioneer DJ: "Bluetooth input level is somewhat dependent on the device you connect and the maximum output level that the device sets its gain at.") 
Pioneer's DJ example of a use-case for this is to play loops through Bluetooth on a device and you can scratch over the top of them, which I think is a fantastic usage of this option and great for practicing or just playing around. I would go further and say that a mobile DJ could use this mixer as well, for events and use that Bluetooth option for a slew of different things that would benefit them. 
Some features from previous models that found themselves on the S7 include the large levers in the middle of the mixer that send MIDI data to the effects that you've pulled up, and you can control how fast or slow they go with the parameter buttons above. This has always been a feature that worked well and it's great for creativity when mixing – I'm a big fan of these.  
On the back, Pioneer DJ has included a USB hub, which was new to the S11, and it is such a smart addition. I'm not crazy about those plastic USB hubs you plug into your computer; if you wiggle them too hard, they disconnect. So having a proper way to plug in whatever it is I need is essential for me.  
The last feature brought over from previous models is the Scratch Bank Mode. This lets you connect to Serato DJ and instantly load in anything you have loaded into your Scratch Bank. This can be full songs, one hits, individual instruments, whatever you like. This helps so much with creativity because it's truly endless what you could do with it. This feature has always inspired me, and I find it a lot of fun to just play with.  
The final feature is Loop MIDI. It's brand new to the S7 and it's something that expands where Scratch Bank Mode left off. You can use the levers in the middle of the mixer, set them to a certain beat pattern (¼, etc.), and it will constantly send that MIDI signal to Serato DJ (differently than just using them in FX Mode). For instance, you could have a loop in the Bank Mode going and then send that MIDI signal to it and control it when it hits in time with whatever song or other sound is playing. You could make your own build-ups this way. You could make an entire song live this way. I think it is genius and would have all kinds of applications for different types of DJs. Considering this mixer is built for scratch DJs, I think this could be used to create a beat live that you could scratch on top of – or you could pursue so many other variants of that idea. It could be a truly useful tool for practice, but also for performance.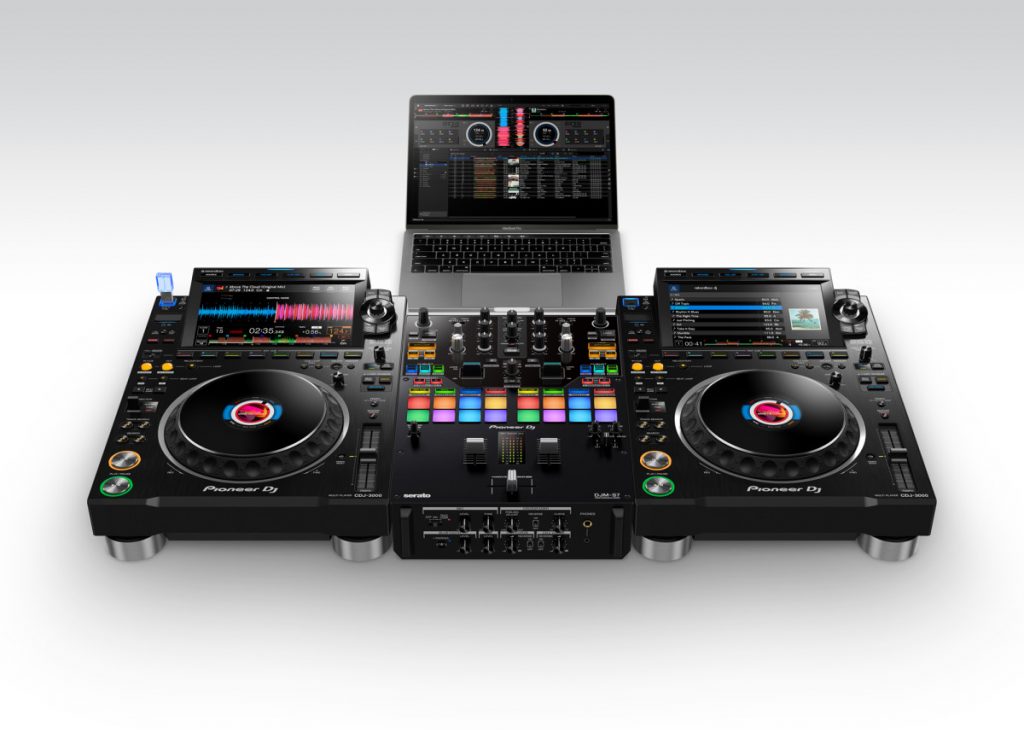 Conclusions:
 Overall, the DJM-S7 is not very different from the last few models that Pioneer DJ has released – to me, it's like a "lite version" of the DJM-S11. I don't mean that in any negative way, just that it has fewer features and doesn't give you the option for the two extra channels that the S11 does with the big screen in the middle. 
I do feel like the S7 has things that are new that should be included on every mixer moving forward, like the Bluetooth connectivity, Loop MIDI Mode, and the USB Hub (which was included on the S11). It has an extremely solid build, and it offers all the things a scratch DJ (or any DJ) could need to rock a party or live-stream. As the unit is street-priced at $1,399, I think the DJM-S7 is a steal for anyone who needs these types of tools. It gives you so much and lays it out so clearly, so you can pivot in any direction and know exactly what you need to do to keep moving by just looking at the buttons. With Serato DJ and rekordbox full unlocks at this same price, it's just a great deal and an even greater product.  
Pioneer DJ has done well to deliver solid products over the years, but it also continues to deliver and innovate. I certainly recommend the DJM-S7 – it's an impressive little unit.  
To check out more gear reviews, click here.