The Audio Engineering Society (AES) celebrated its 75th anniversary and held its 155th convention on Oct. 25-27 at Jacob Javits Center in NYC. 
New York City – Celebrating its 75th anniversary, the Audio Engineering Society (AES) held its 155th convention this past Oct. 25-27 at Manhattan's Jacob Javits Convention Center. Running alongside the National Association of Broadcasters (NAB) Show, which announced that it drew over 12,000 professionals, AES offered studio-centric attendees the latest products for the recording and content-creation worlds. DJ LIFE was there, and here's some of the notable, mostly studio-related products for DJ/producers displayed at the show.
Avid showed Pro Tools Sketch, a new non-linear, clip-based creation tool in Pro Tools software that's also available as a free iPad app. Pro Tools Sketch enables users to quickly capture new ideas and freely experiment with concepts, and find inspiration with a massive library of free loops, virtual instruments, and effects.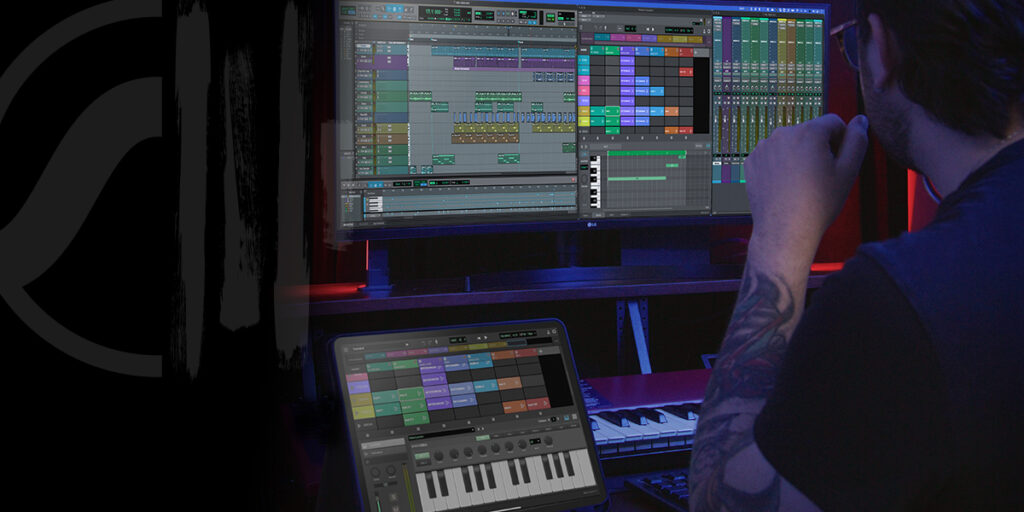 Also, at the show was Belgium's Image-Line, whose FL Studio recently announced the launch of FL Studio 21.2 and FL Cloud. Features on the new DAW include Stem Separation, where AI turns mixed tracks into individual instrumental and vocal lines, and Kepler Instrument, a meticulous recreation of the iconic analog synthesizer from the '80s with colored waveform.
FL Cloud is a new service with a growing collection of royalty-free loops, one-shots, and other cool sounds and features like: Direct to DSPs with DistroKid, where FL Cloud subscribers get any easy path to commercial release for their music; unlimited access to sounds from FL Studio's vast sample library; and Sample Packs and curated Artist packs from FL Studio Power Users.
Audio-Technica showed the AT2040USB hypercardioid dynamic USB microphone and the AT2020USB-XP cardioid condenser USB microphone, both recent additions to A-T's lineup of content-creation products.
The AT2040USB combines the broadcast-quality performance of the AT2040 dynamic mic with plug-and-play USB Type-C functionality, making it easy for podcasters, streamers, and other content creators to achieve professional results. The microphone connects directly to the user's computer for immediate use – no audio interface or additional cabling is required.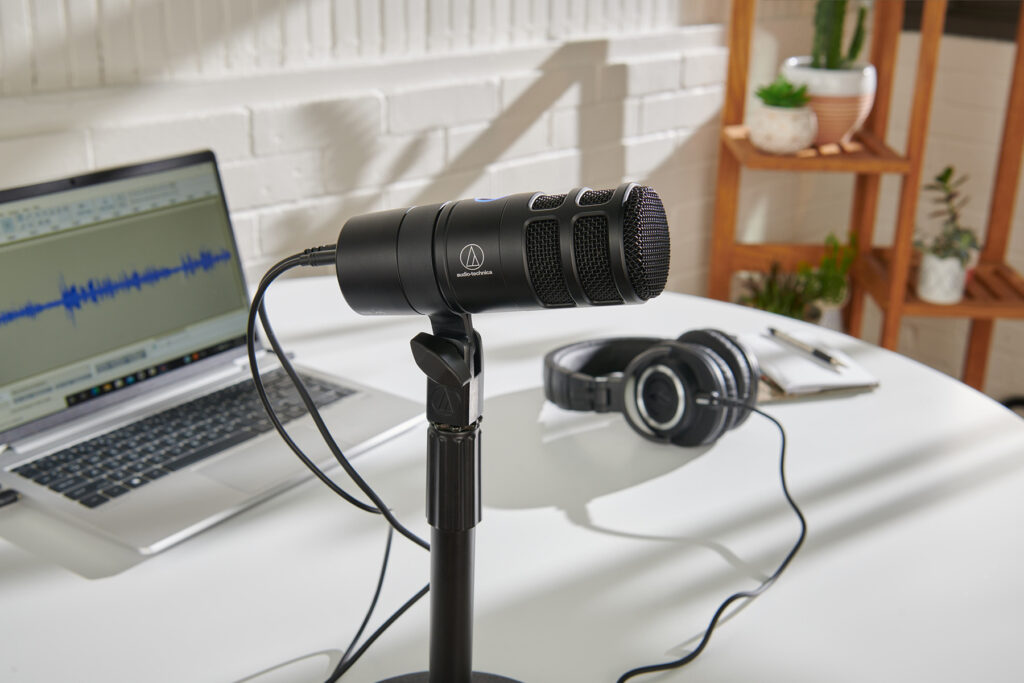 Building on A-T's most recent USB condenser model, the AT2020USB-X, the AT2020USB-XP includes the same silent touch-sensitive mute switch, built-in headphone jack with volume control and personal mix control to allow for monitoring of the microphone, as well as plug-and-play USB Type-C operation. Additions and improvements for the AT2020USB-XP include a 24-bit 192 kHz sampling rate, three levels of noise reduction (via selector switch with LED indicator), automatic gain control (with LED indicator), and the inclusion of a clip-on pop filter.
U.K. brand Solid State Logic (SSL), aligned stateside with Group One Ltd., launched two new 2U, rack-based studio tools: the PURE DRIVE QUAD and PURE DRIVE OCTO microphone preamplifiers. Available in 4-channel (QUAD) or 8-channel (OCTO) Mic Pre configurations, the new units feature three DRIVE modes, advanced connectivity, and an integrated USB-C sound card.
U.K. brand Focusrite, distributed Stateside by American Music & Sound, exhibited several new products. They included the Scarlett 4th Gen range of audio interfaces, the Vocaster range of podcasting gear, Clarett+ Premium-Quality audio interfaces, and the Red Range of audio interfaces. The Scarlett 4th Gen range includes the Scarlett Solo, 2i2, and the 4i4 4th Gen units, which has new features like Auto Gain, Clip Safe and updated mic pres with 69dB of gain.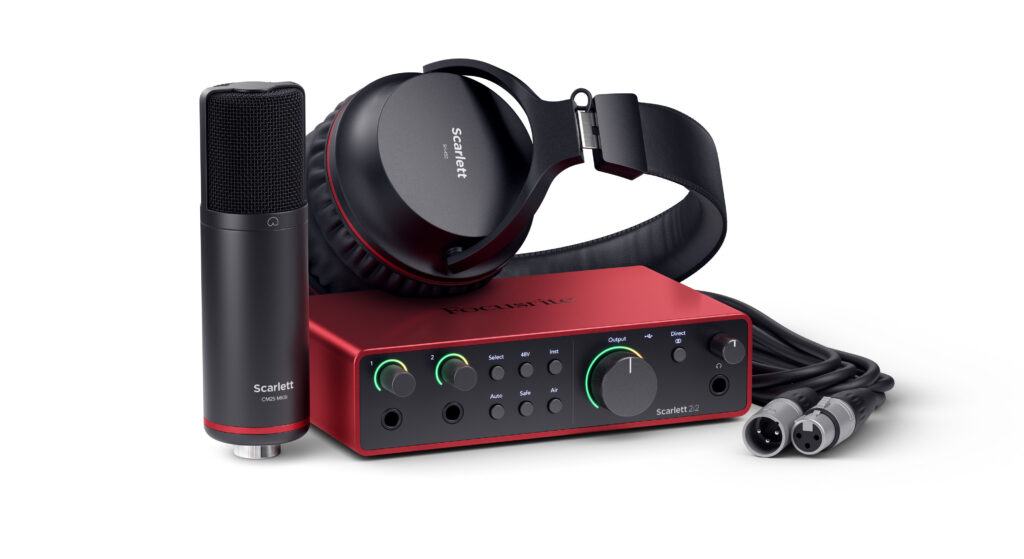 Eventide commemorated the 50th anniversary of the legendary Omnipressor compressor with the introduction of Omnipressor Model 2830* Au, a faithful recreation of the iconic unit that introduced the concept of dynamics processing for special effects. Genelec showcased the 8381A Smart Active Monitoring system, a flagship floor-standing Adaptive Point Source design, and the UNIO audio monitoring platform.
Austrian Audio showed its new MiCreator Studio family of products for recording on the go. It includes a condenser mic, audio interface and more for podcasters, interviewers, and other content creators. MAGIX showed its high-end Sequoia platforms, including Sequoia Pro for production, broadcast and mastering apps, and Sequoia One for audio mastering and creation. RCF showed its HDL series of powered line-array loudspeaker systems.
In its immersive booth, Sennheiser Group showed Neumann.Berlin's KH line of monitors, including the KH120 II, the NDH 30 open-back headphones, and the MT 48 interface. Also there, Dear Reality showed its suite of spatial audio production plug-ins.