We recently caught up with Mell Starr – aka Leugene Jamel Simpson, 48 – to look back at his career and look forward to the DJX party. 
With a musically attuned family, DJ Mell Starr was fortunate to have plenty of inspiration at a young age. Lucky for him (and us), all that musical direction paid off and he's made a career as a big-time party jock and more. 
Starting on the turntables as a third-grader, Starr moved his way up the ladder. It's a journey that's included plenty of high points, including playing private events for major celebrities and even an inauguration party for Pres. Barack Obama. He traveled with Jay-Z and played afterparties on 2009's "The Blueprint 3 Tour." Earlier that year, he did a USO tour that saw him play for the troops in Iraq and Kuwait.  
In 2010, he created The Cut Café, an internet platform for DJs. The next year, he became known to TV audiences with his participation in BET's DJ-competition/reality show "Master of the Mix." Despite being eliminated from the competition, his memorable turn earned him an opportunity to work as a spokesman for Smirnoff, the show's sponsor.   
Since then, he's continued to be an in-demand DJ, touring and playing private events, and a jock that teaches the next generation about the DJ game. At DJX '23 in Atlantic City, N.J., this Aug. 7-10, he'll participate on the "50 Years of Hip Hop" keynote Q&A. He'll also serve as the host of "Mell Starr & Friends – 50 Years of Hip Hop" party at Club DAER featuring Grandmaster Flash, Grand Wizzard Theodore, Jazzy Jay, Melle Mel & Scorpio, DJ Skribble, Scram Jones, and The Sugarhill Gang.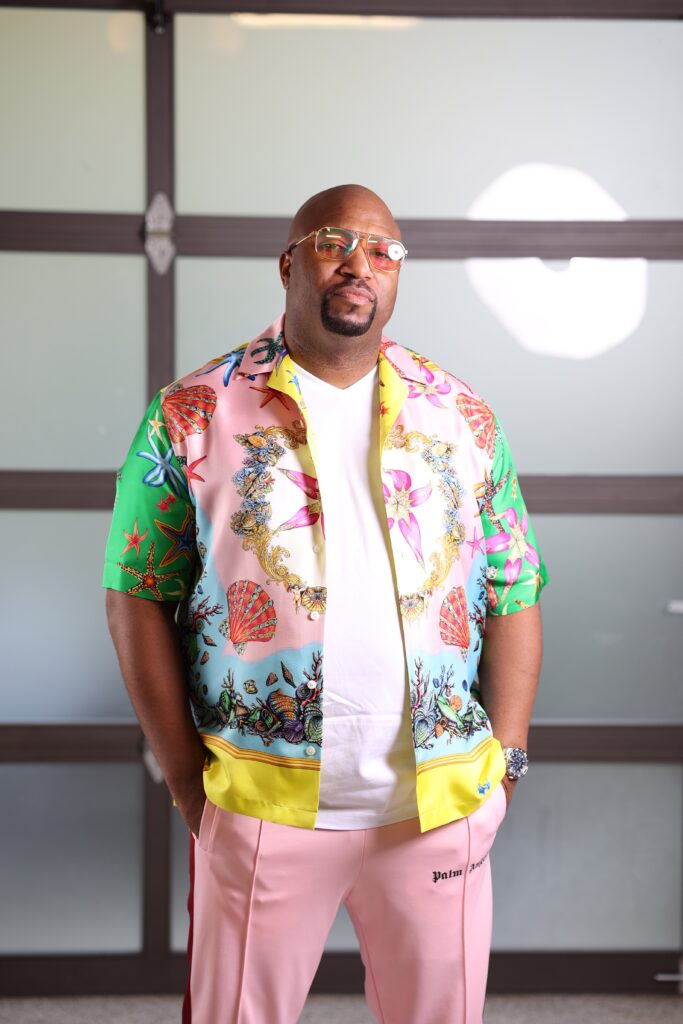 DJ LIFE: What made you want to pursue music?  
Starr: My father was a ghostwriter and he wrote for a lot of artists – major and B-list artists – so, being in a studio was normal for me as a kid. Music was in my home, faithfully. He wanted me to sing, but I was too shy and afraid of the stage, so I learned in other ways – how to use the board, how to mix, and come up with ideas – so that I don't have to sing [laughs]. 
DJ LIFE: Did you play musical instruments in your youth? 
Mell Starr: Yes, congas, timbales, shakers, maracas, cowbells, crash cymbals, bongos…  as a kid, I was taught how to play these instruments since the age of six.  
DJ LIFE: Were there songs or artists that stopped you in your tracks? What were the ones you can remember? 
Starr: There are so many, really. Peech Boys' "Don't Make Wait," D Train's "Keep On," The Chi-Lites' "My First Mistake," Biz Markie's "Nobody Beats the Biz," Eric B & Rakim's "Eric B Is President," MC Shan's "The Bridge," De La Soul's "Me, Myself & I," the Jungle Brothers' "I'll House You," Marshall Jefferson's "The House Music Anthem," Adeva's "Respect," Roger Sanchez's "Luv Dancin'."  
DJ LIFE: Which DJ first caught your attention and why? 
Starr: Tony Humphries. It was the way he mixed two records and they sounded like one. He was, by far, a hero for me. There are many others, but Tony just stuck out to me. 
DJ LIFE: So, you always had an appreciation for hip hop and house music, right?  
Starr: Yes. My uncle, Butch Williams, would always say you must know how to mix club music – meaning disco and what is also known as house music – before you can start playing out in clubs. 
DJ LIFE: When did you start to DJ? How did you learn? 
Starr: At the age of 8! I was learning and watching my uncle on a pair of [Technics] 1200s, a Bozak mixer, ass- kicker bullets for highs, Furman Sound 3-way crossover, 25-channel EQ, Crown DC-300 and Crown D-75 power amps. I'd never seen a crossfader at this time. 
DJ LIFE: Where did you get your first gigs? How did you pursue your career?  
Starr: My first gig was a house party in Brooklyn. My uncle left me at the party by myself, scared to death, only because I remembered the songs he played. Father MC walked in with a purple and gold leather suit. He danced for a bit and definitely gave me the extra spark to continue my journey as a DJ. 
DJ LIFE: I know this is a big question, but being a DJ with broad tastes, which jocks do you admire the most? 
Starr: It's so many… Tony Humphries, DJ WizKid, RIP, Mastodon, RIP, DJ Miz, Diamond J from Long Island, DJ Battle Cat, Kool DJ Red Alert, Shep Pettibone, Larry Levan, DJ Clark Kent, Timmy Regisford, Pete Rock, Kid Capri, and Jazzy Jeff. Also, Kenny Dope and Little Louie Vega – thank you for allowing me to intern.  
DJ LIFE: How did the "Master of the Mix" TV show impact your career? 
Starr: Awww man… "Take On Me" a cappella to "Teach Me How To Dougie" mix changed my whole life. Shouts out to Eddie B. Swift and Pep for talking me into doing the audition. Shout out to Kid Capri for giving me the opportunity to blossom. 
DJ LIFE: What was it like doing tours with artists like Jay-Z? What did you learn from it all?   
Starr: I was touring and DJing the afterparties for Jay-Z's "Blueprint 3 Tour," and I was able to meet so many incredible artists and see the come up on most of today's music, and also understand and learn the business of it all. I built relationships with great people. What did I learn? I always say, if it's authentic, you will be in the business forever.  
DJ LIFE: On the studio side, which producer/remixers do you most admire and why?  
Starr: DJ Premiere, DJ Clark Kent, Tony Humphries, Larry Levan, Quincy Jones, Teddy Riley, Kenny Dope, Lord Finesse, Jazzy Jeff, At Jazz, Kerri Chandler, Steve Silk Hurley, and Just Blaze. I've learned and listened to so many great producers to come up with a signature of my own. These artists have paved the way for me and many others.  
DJ LIFE: You've made some USO tours along the way – what was it like for you to perform for the troops in Iraq and Kuwait?  
Starr: It's absolutely amazing giving the troops some music and taking their minds off of war for a few days and just giving a huge reset for the troops. I saw 200,000 smiles a moment to put the weapons away and have peace and unity between everyone. It was a beautiful thing to watch. 
DJ LIFE: How did you get involved with radio? Which stations/platforms have you DJed on?  
Starr: Hot 97 Boston, thank you DJ Chubby Chubb. LL Cool J Rock The Bells Radio, thank you, LL. Power 88 Las Vegas, Mr. Craig Knight. Radio 103.9 NYC, 108 Soul NYC, thank you, Jamie Roberts. 107.5 WBLS NYC, thank you, Doug E Fresh. V101.9 Atlanta, Charlotte, Virginia, thank you, DJ Butta. A bunch of great people who gave me a shot on the airwaves and I absolutely appreciate you all. 
DJ LIFE:  In your mind, what makes a great hip-hop DJ on radio?  
Starr: The key is being creative and being spontaneous, pushing the bar, great transitions, and learning how to pick areas to shine, while working. 
DJ LIFE: What are you spinning these days? 
Starr: Everything included '70s, '80s, '90s, 2000s. Now I believe a dancefloor deserves everything, no matter what age group it is. Great energy will keep everyone dancing  
DJ LIFE:  In the DJ booth, what gear do you use and why?  
Starr: On the set, from Pioneer DJ, I use PLX-1000 turntables, a DJM-S11 mixer, CDJ-3000 players, and rekordbox software. A big thank you to everyone at Pioneer DJ. I use Serato DJ software and, for needles, it's either Ortofons or Shure M44s. 
DJ LIFE: How would you describe your style of DJing? 
Starr: I am a party DJ with battle-jock tendencies. 
DJ LIFE: To you, what makes a great club DJ? 
Starr: I feel you should have all the elements of being a great DJ. You should know how to play all genres. You should be able to mix, understand a crowd, find moments to shine, and be very creative. Don't play the same sets over and over. There are signature things that we all do as DJs, but it should never come with the same set. 
DJ LIFE: What are three tracks that are always in your DJ box and why? 
Starr: Fatman Scoop's "Be Faithful" and Busta Rhymes' "Put Your Hands Where My Eyes Can See" for all the party-goers. Also, the a cappella of Frank Sinatra's "Fly Me to the Moon" to get everyone's attention. 
DJ LIFE: You've always been big on paying it forward and educating young DJs – why is that important to you?  
Starr: I believe at the time when I was coming up, the DJs that I was listening to were all questing and really working, so hip-hop, house music, and club music was on the rise. The way of the world today is different via internet and social-media platforms allowing people to see how these things have come about. I choose to teach it to the young. They are fierce and want to know and push the bar – I say let them shine! My goal is for the youth to practice and learn it all. Be at your best all the time. All music counts, all of it.  
DJ LIFE: What can DJX fans/attendees expect at the "Mell Starr & Friends/50 Years of Hip Hop" party in Atlantic City?  
Starr: Absolute hip hop. This is absolutely for the originators, the ones who have paved the way for people like myself. They deserve all the flowers.