New club king John Summit keeps his hit streak alive with "Where You Are," a set alongside Kaskade at HARD Summer, and big remixes.
If you're a fan of electronic music, then there's only a slim chance you're unfamiliar with the work of John Summit. And if somehow you really aren't familiar, there's a better chance you might've been living under a rock. Why? Because, in a very short amount of time, Summit and his ubiquitous modern-house sounds have taken over the dance-music world. 
Initially, it probably seemed like a very unlikely story. Starting his professional life as an accountant, Summit (aka John Schuster, 29) broke from the 9-to-5 life – though it wasn't exactly his choice – and rotated back into the DJing and club-music world he first experienced in college. He worked fanatically on creating and soliciting music, especially through the pandemic, and eventually found some takers, namely Defected Records, which signed "Deep End" – and it blew up. 
Following the success of that 2020 hit, Summit in late 2021 released another big track, "Human" feat. Echoes, through Parlophone Records. The song went on to garner the support of DJs across a multitude of genres due in part to its nearly unclassifiable, but genuinely accessible sound. Summit followed up with another Defected record in early '22 with "La Danza," a banging, Latin-leaning track. He was off and running. During this period, he became an in-demand remixer. His output includes his work on tracks for deadmau5 & Kaskade ("I Remember"), Kx5 ("Escape" feat. Hayla), and Kygo ("Freeze").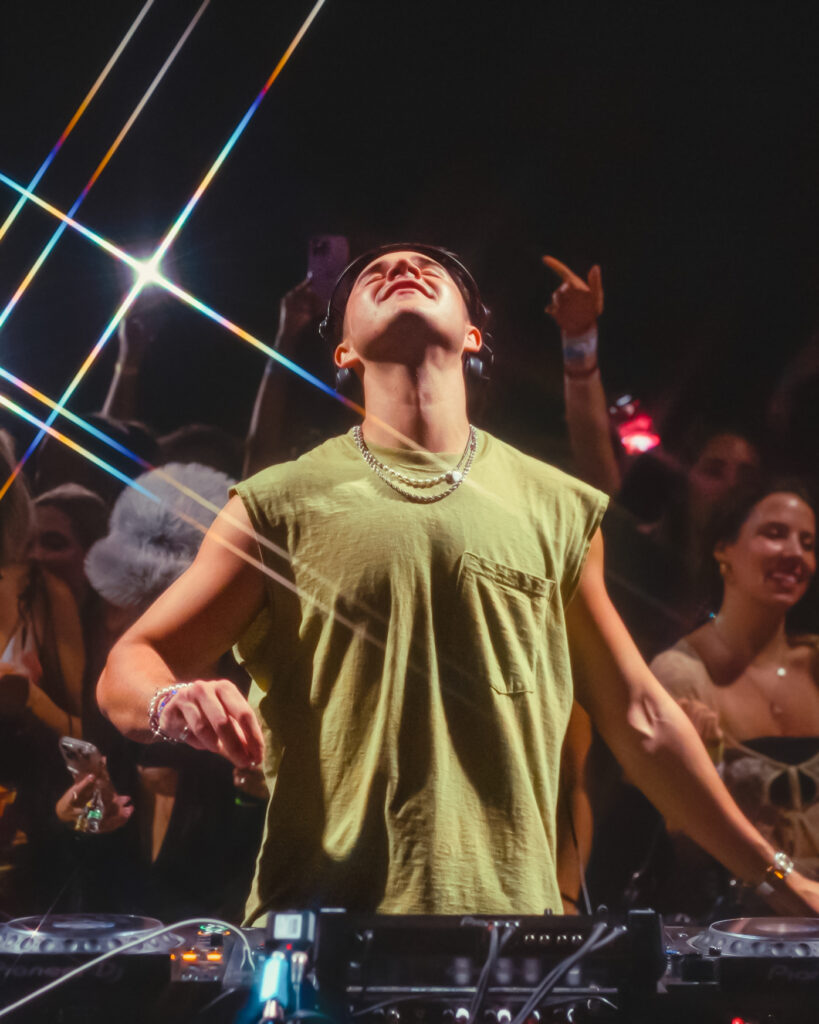 This past March, Summit released one of the year's biggest tunes, "Where You Are" with Hayla. To date, the song has accumulated over 70 million streams and it still remains on the U.S. Dance Radio chart, having reached No. 1, as well as earning the No. 9 position on the Billboard Dance/Electronic chart. Played in countless DJ sets and music-festival performances, the tune has seen a slew of DJs creating their own edits, in addition to the official remixes released by Zedd, Gorgon City, and GRiZ. 
To indicate his new level of popularity, check out what he did in New York City's biggest DJ venue this past June. For his string of three sold-out nights at Avant Gardner's Brooklyn Mirage outdoor arena, he sold more than 20,000 tickets. But this wasn't your typical Mirage showcase. Avant Gardner opened its adjoining Great Hall and Kings Hall for a full takeover and added space to accommodate the overflow crowd.  
The summer and fall promise more live-show madness. Returning to NYC's Randall's Island this Labor Day weekend for his third Electric Zoo Festival, Summit will collab with Dom Dolla to present EVERYBODY ALWAYS, their official stage takeover. Additionally, over the course of the next few months, Summit will play U.S. gigs from Los Angeles (HARD Summer Festival) to Baltimore (Moonrise Festival) and European shows from England (Creamfields) to Spain (Hï Ibiza). He'll even spin at sea for Groove Cruise Miami and in Asia at EDC China. Busy fellow, he is. 
With all that in mind, we bring to you our chat with John Summit: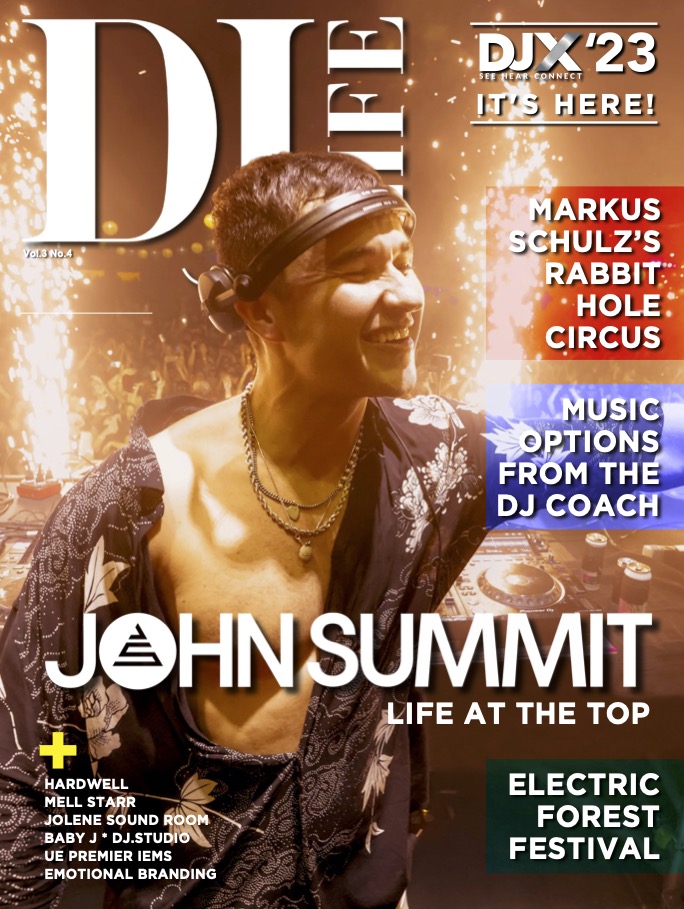 DJ LIFE: What got you interested in electronic-dance music? 
John Summit: So, the first song was deadmau5 and Kaskade's "I Remember" – that was 15 years ago. My official remix for that song actually just dropped in July, so that's like a full circle moment for me since that's what got me into this. One of the first shows I saw was deadmau5 at Lollapalooza in 2011, my senior year of high school, in the pouring rain – and ever since then, I just became obsessed with it.  
DJ LIFE: Where did it go from there? 
Summit: I went to college [at University of Illinois] and did the normal Big Ten/state-school stuff, and I'd go to music festivals on the weekends. It's the same story that you hear from a lot of DJs who start out doing it as a hobby. You go to the festivals, you go to the afterparties. It really was just a hobby that I never ever really planned on doing full-time – I started making music for fun. Once I did that, I started getting traction on SoundCloud, and before you know it, I'm now a big touring DJ. I have to pinch myself all the time to make sure that this life is real; I feel like I'm living in a simulation [laughs].  
DJ LIFE: How exactly did you get into DJing?  
Summit: It was sophomore year of college, so about 10 years ago now. I was a bartender at this bar, and I got fired, but I still wanted to work there. They said, "We need a DJ." So, I said, "Well, good, because I can DJ." I was not good [laughs]. But then I started doing a lot of the bars around campus playing open-format. I was playing five or six hours per night. Because I was really into house music, they would let me play things like that. Back then, 10 years ago, anything that was techno or tech-house, they would call "deep house." I'm talking everything from Oliver Heldens to Dirtybird to Jamie Jones – because I liked it all. From there, I started producing because I moved to Chicago right after college and got into the underground scene there.  
DJ LIFE: What equipment did you learn to DJ on? 
Summit: Serato and a Pioneer DJ DDJ-SB2 controller. You just plug it right in, and it wasn't too expensive, like $200, which was all I had to my name. I think I made $100 a night, but I wasn't even really making any money because of the amount of songs I had to buy, and subscriptions to DJ pools I was paying for every month. I don't use them anymore, but I know they used to have all these different edits of radio hits that I needed when I was playing at the college bars. I'm a big believer in the fact that you don't really need to buy CDJs to learn. When I was first learning how to DJ, I used to go to Guitar Center and play with their gear for as long as I could before they'd kick me out [laughs].   
DJ LIFE: What's your current DJ set-up?  
Summit: Same set-up at home that I use in shows – Pioneer DJ CDJ-3000s and DJM-V10 mixer. I am completely sold on the V10. When I do the long blends of house and techno, having the 4-channel EQ is huge for me. I like being able to do the low mids and low lows, and be able to EQ out the vocals. I like to think my mixes are very precise [laughs].  
DJ LIFE: Anything else? 
Summit: Besides that, I don't really use the [Pioneer DJ] RMX-1000 much, even though it is on my rider. It's kind of a pet peeve of mine when there's too many effects added to songs because I think you should let the songs just talk. That's for more of when you're playing with the DJ tools or going minimal and underground. When I'm playing in Ibiza or something, I like to use the RMX to add snare rolls, echoes, and a lot more effects. When I play "Where You Are," it doesn't really need an extra three snare rolls to it, you know? [laughs]  
DJ LIFE: How about your music-production set-up?  
Summit: I am all in the box; I'm all laptop and headphones. Because I'm on the road 90-percent of the year, if I was just able to use a studio, I would never make music [laughs]. So, I have all my software [on my laptop]. I use Ableton Live for production and I have all the soft synths in there – [u-he] Diva is where I make all of my synth sounds.  
DJ LIFE: You were an accountant before your DJ career really took off. When did you know you might get big and never have to look back on accounting again? 
Summit: I knew it was time [to quit the day job] when I got fired [laughs]. It was one of those things where you become an accountant, you get an accounting job – unless for some reason you love it – because it's safe… health insurance, all that. But I still get to pursue my hobby on the side. Six months prior to getting let go, I signed records with Dirtybird and then Repopulate Mars, which were two of my target labels at the time. Because of that, it allowed me to start touring, even once a month during the weekends. When I say touring, then it was doing opening slots for bigger acts in different cities outside of Chicago.  
DJ LIFE: Your musical options began to open…

Summit: Yeah, and by then, I started becoming a really bad employee because I was really focusing on that, marketing my music. I would stay up super-late nights and then show up to work really late. In a way, I was almost kind of asking to get fired because I didn't have the balls to just do it myself. Once that happened, I knew. I had saved up enough money. I'm a big believer that – and I tell people who want to quit their day jobs – you have to have at least $5k that you're sitting on, at least.  
DJ LIFE: Sage advice… 
Summit: If you're not making money full-time while DJing, then how can you quit your job? So many people will tell me now, "John, you've inspired me so much – I quit my job to become a DJ." I'll ask them, "Do you know how to DJ?" and I'll get a response back like, "Well, I'm just learning how to DJ now." In cases like that, I think you might have quit your job a little too soon! That's unless you have a job that has no work/life balance… My first accounting job was with [Ernst & Young], and that was like 80-something hour weeks, so that was just not doable, you know? And then the pandemic hit – and thank God for unemployment [laughs].  
DJ LIFE: With no real shows, how did you spend your pandemic time?  
Summit: I was working my ass off! I probably made over a hundred songs minimum in 2020 alone. The pandemic was when I really sharpened and honed my production skills. If you listen to my songs before then, they're very much just tech-house – there isn't much music theory involved. In 2020, I spent half my days learning music theory every single day, and also doing production. Now when you listen to my songs like "Where You Are" and how complicated the synths are compared to my earlier work, I think my productions have really grown. I'm curious where they'll be even in a couple of years from now.  
DJ LIFE: How did you transition into bigger shows?  
Summit: I've only been playing festivals [and big events] for about two years now. I used to go to Electric Forest and Dirtybird Campout, stuff like that… because even when I wasn't getting booked to play at festivals, I would still show up and [be able to] play sets there. So that's kind of how I got my start in building my following. I was playing shitty gigs in the early days and learning how to build my chops. Learning how to DJ in a place like Chicago also helped me really hone my proper house and techno DJ sets.  
DJ LIFE: So, the post-pandemic shows have been a lot better, right?  
Summit: The shows this year and last year have just been so insane. I still get incredibly nervous before every show. People think that I'm always pre-gaming and having fun before my shows, but I'm actually just a nervous wreck in the green room. I'm almost like "don't-talk-to-me-right-now" kind of vibes. But then that changes as soon as I get onto the stage. That's why, when you see me, I rip a few shots as soon as I get onto the stage because of my nerves, and then I'm in the pocket after that [laughs].  
DJ LIFE: How did you create "Where You Are" with Hayla? It's really become one of the year's top songs. 
Summit: We actually did everything through Zoom. Believe it or not, that's still my preferred way of working on music. I don't prefer to do studio sessions because I just think of the ways in which I got my start. Especially during the pandemic, I was able to make so much new music. I was doing all of the Zoom tutorials, took Ableton classes three days a week for a year and a half. That's the way my workflow goes – work on songs and be able to shoot things back and forth really quickly on Ableton. Hayla lives in London, so there was a ton of back and forth with her.  
DJ LIFE: How did you approach the track with her?  
Summit: We wanted to do a track that was very feelsy and melodic and then also very high energy. One of my favorite loves of the past is early trance, back when Tiësto went by DJ Tiësto. One of my references for "Where You Were," if you can kind of notice, is Delerium & Sarah McLachlan "Silence." When he has that huge synth break; that's kind of what I was going for on "Where You Are." I'm a big believer in that music is just innovation on prior stuff… not to the extent as to where I think you should ever copy older tracks or trends, which is also why I think tech-house got kinda stale, because everyone sort of started copying each other. But if you take a song along past influences, then innovate it and make it more modern, that's how you make progress.  
DJ LIFE: Were you surprised at its level of support from other DJs? 
Summit: I saw Martin Garrix play it. And I mean, "Animals" was one of the first EDM tunes I ever really heard in that big-room style and when I first started going to festivals, it was one of the songs I just heard everywhere. So, when I saw Garrix just played the Brooklyn Mirage, he played the full-on original, and it went crazy. It just felt like such a blast from the past, seeing him ripping my record. That had to be the biggest surprise for me.  
DJ LIFE: Have you thought about how you're going to follow that up? 
Summit: I'm a big believer that you can't recreate magic.  
After this, as a follow-up to "Where You Are," I don't want to re-create that. I think that whenever artists have a big record and they try to re-create it, it just never hits the same. It's like when you see a movie sequel, it's just never as good as the original. Right now, I'm in this phase of testing a bunch of stuff. I'm testing out some new records and I've got some stuff that I really like. 
DJ LIFE: Let's touch on "Deep End" a bit, which is really what put you on the map. How did that come about?  
Summit: "Deep End" was the catalyst of everything. People always say to me, "You have all of these amazing vocalists that you work with now… but I'm a small producer – how do I do that?" I'll be honest, [when you're at that level], unless you know somebody in your local scene or you know somebody who sings, there are other ways you can go about it. You can even post on Facebook about it because there are so many talented vocalists out there who are just as hungry as producers are and they would love to work with other people. But the flipside is that "Deep End" was a Splice sample. That vocal was completely royalty free. I did actually ask the singer who did the Splice sample if she wanted to be featured on the record because it ended up becoming a huge record. Because she's not in the house music or dance lane, she didn't want to and actually ended up using the sample and cutting an R&B-style song with it. It just shows you that there are no rules when it comes to music production.  
DJ LIFE: That one certainly worked out. 
Summit: I never thought that I was going to become this big. The story behind the song was that I was sending Defected Records demos every single day. I would make a new record every single day, all throughout the pandemic. It was the middle of May, so maybe about the 50th demo that I had sent them – and keep in mind they only responded to every 10 or so of them. I finished "Deep End" in about 24 hours, sent it over to them at 3 a.m., and I woke up to a message from the Defected A&R, basically like, "Zoom call now." I took the Zoom, and there were like 10 people on the call, and they wanted to sign it. They said, "This song is going to be a hit – we can already tell." From there, the rest is pretty much history. It's been a straight up bender ever since [laughs].  
DJ LIFE: Do you have any tips for aspiring DJs?  
Summit: Don't care too much about what others think… care about what others think, but also don't give a fuck. I think that's why I've grown such a big fanbase, too – it's because I've never tried to be too cool on social media, and I've always just been 100-percent myself. I always feel that if you're going to do something, you've gotta completely put yourself out there without fear of judgement.  
DJ LIFE: Seems like it works for you. 
Summit: It's the same thing when it comes to making music. If you found a cool sample, use it – who cares? There aren't any real "rules" when it comes to making music – if it sounds good it sounds good. Another huge thing: The only reason I've come as far as I have is because I've collaborated with so many people when I first started. Because no one knows shit – I know a ton now about music production, but there's still so much for me to learn. Whenever I work with somebody new I always learn something new. So, don't do everything yourself. When you look at some of the great projects, there's always a team of people behind those things. So that's definitely a big tip: Collaborating with others is huge.  
DJ LIFE: How does your approach to remixes differ from your original productions? 
Summit: I usually just take the vocal for a remix, and then I pretty much just try to make my own track. That's really how I made all of my first records. I would just dig on YouTube or in sample packs to try to find an awesome vocal. I don't always like writing from scratch. For instance, when a painter has something or a subject to base something off of – that's sort of how I look at it. And then from there, I'll see if there were maybe any cool chords within the track that I'll use or chop them up or remake myself. But as far as remixing goes, I think that's always the move.  
DJ LIFE: Any dream collaborators or artists you'd love to work with?  
Summit: Dua Lipa would be fucking amazing because all of her records are so good, and she's just so iconic. I also think she does so well on dance records, even compared to other pop singers. I actually saw her in Ibiza. We were backstage at the same club – and, of course, I was too nervous to say hi. Next time I won't be, though [laughs]. Another would be working with a huge Latin artist, like Rauw Alejandro or Bad Bunny. I just love Latin music and I love that scene so much. When I played in South America, it was honestly the most fun I've had.  
DJ LIFE: You recently moved to Miami – why there? 
Summit: I was spending a lot of time here. I was also doing a lot of those underground parties here in 2020 and 2021. At the time, I was starting to really grow a big following. So, I'd go to Club Space, which was one of the only clubs that was actually open here, and I'd go every single weekend. I just became friends with so many different people here and got really connected in the scene. I feel like you're not even in America when you're here; Miami feels like Ibiza. Half the people in Miami speak Spanish; I really feel like I'm not in America half the time, which I love because I love to food, culture, and the music scene a ton. And… after that last Chicago winter I knew I needed to get the fuck out of there [laughs].  
DJ LIFE: You've accomplished so much in a short period of time. What are some of your goals now? 
Summit: I wanna start throwing my own festivals and taking my events abroad. I'd love to do an event in The Alps, at the pyramids in Egypt. I never thought I'd ever get this far, never in my wildest dreams could I imagined for all of this to happen. So now I'm kind of getting to the point where I'm not getting cocky, but I'm like, damn, we can truly do anything! I think the next step in my career is going to be an album. I'm glad I didn't force anything too soon – singles are great because you're not committing to a sound. With singles, you kind of get to test the waters – I'll do a techno record or I'll do a piano record. But now that I'm fully confident, and there have been so many great singers that I've worked with, I think [an album] is the next big step for me, for sure.