Atlantic City, N.J. – Focusing on the evolving DJ market and its devoted community, but also stretching out into new territories, DJX '23 lit up Atlantic City and welcomed the DJ world to the future.
Held this past Aug. 7-10 at the Hard Rock Hotel & Casino on AC's famed Boardwalk, DJX – a trade show/exhibition now in its 34th year – once again delivered its successful combo of technology exhibits, educational seminars, and sponsored After Dark parties.
Produced by DJ LIFE MAG and its publisher Hazan Media Group, DJX outfitted the Hard Rock's Etess Arena with its unique "X-shaped" floor plan spanning wall-to-wall. The show featured an impressive rollout of brands, packed the hotel's seminar rooms and hallways, and livened up the area's nightlife venues with legendary talent.
The Numbers: DJX '23 saw a 14-percent increase in attendance from the previous show – also, it included attendees from 43 states and 15 countries. On the exhibitor side, brand presentations saw a 23-percent increase in square footage from the previous year's event. Also, of the DJX '23 exhibitors, 26-percent were new to the show.
The Show: DJX delivered an engaging schedule of exhibits, seminars, and parties. The show saw participation from exhibitor/sponsors like Pioneer DJ, DAS Audio, Chauvet DJ, RCF USA, QSC, Bose, Technics, Electro-Voice, SMPL, Mixware, Odyssey, BASSBOSS, American Music & Sound, Jetpack, Audio-Technica, Glowtronics, JMAZ Lighting, DMC USA, Carnival Cruise Lines, Yorkville Sound, Adam Hall, V-MODA, Ultimate Ears, ROCAVACA Vodka, and Thud Rumble (with the amazing DJ QBert spinning in its booth), among many others.
Education: Included in a schedule of 37 topical seminars benefiting mobile, club, streaming, studio, and beginner jocks, DJX presented special keynotes from industry notables. On Aug. 7, Tag Team's Cecil Glenn (aka DC the Brain Supreme) discussed his ascension through the DJ ranks and, of course, the group's monster hit "Whoomp! There It Is." The following day, Grammy Award-winning DJ/producer/remix maestro Dave Audé revisited his legendary career and offered tips and tricks from his studio. And to a packed house, DJX celebrated "50 Years of Hip Hop" with a star-studded panel of genre OGs and pioneers, who regaled the room with precious bits of history. The panel included: Kool DJ Red Alert, Jazzy Jay, Skribble, Public Enemy's Keith Shocklee, Grand Wizzard Theodore, Whodini's Grandmaster Dee and Mell Starr.
After Dark: On Aug. 7, DJX's After Dark series began at HQ2 at Ocean Casino Resort with a full house enjoying an evening with Dave Audé spinning his chart-topping remixes. The next night saw DAS Audio reprise its "Twisted Tuesday" beach party, which featured top turntablist Skratch Bastid, among other skilled decknicians. Wednesday night at the Hard Rock's DAER nightclub brought a double dose of DJ-led madness – with audio provided by RCF and DJ gear from Pioneer DJ. First up, the "Mobile Mash-Up Party"delivered a diverse range of entertainers, including HB Monte, who recently appeared on "America's Got Talent." Afterward, DJX '23 extended its "50 Years of Hip Hop" theme with a "Mell Starr & Friends" party that included Grand Wizzard Theodore, Skribble, Jazzy Jay, and Grandmaster Dee on the decks. And on the mics, the Sugarhill Gangand Scorpio and Melle Mel (sponsored by ROCAVAKA, the music-lifestyle centric vodka brand) tore it up with classics like "Rapper's Delight" and "The Message."
What's New: The nXt DJ Summer Camp, an ongoing commitment to emerging talent led by Coach HAPA, gave area youngsters a bright, new start in the DJ world. On Aug. 10, DMC and Technics presented the DMC US Scratch Finals competition. Also, DJX '23 offered lifestyle elements that included a Vinyl Concept Shop, a Portable Pop-Upspace, a nXt Games Lounge, which streamed correspondence from the show, and introduced the world's first DJ-themed, AI-generated comic book series, "DJX: Sonic Odysseys."
The Prizes: On Aug. 10, Donovan Yaukey of Phantom Shadow in Mont Alto, Pa., won the Ultimate DJ Giveaway. The winning system included products from the following exhibitor/sponsors: RCF (AYRA Pro 6 studio monitors); JetPack (Slim backpack); Mixware (ColorKey AirPar HEX 4 light and Headliner Indio DJ booth); Pioneer DJ (a pair of PLX-CRSS12 hybrid turntables, a DJM-S7 mixer, XPRS122 speakers, and HDJ-X7 headphones); JMAZ (Aero Spot 60 light); Vibo (Touring DJ Camo backpack); a Glowtronics certificate for custom design work; and SMPL System (free six-month subscription). Additionally, daily prizes were bestowed by sponsors RCF, Jetpack, VIBO and DJX.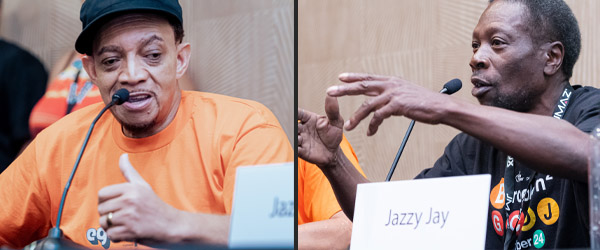 The Reaction: "With DJX '23, we were encouraged to see the DJ industry and its community continue to evolve – its brands remain innovators, its jocks early adopters," said Jim Tremayne, Editor of DJ LIFE magazine and a show organizer. "Whether you're an old-school turntablist or a new-age content creator, DJX had something for you. As always, the staff of DJX and DJ LIFE magazine thank the exhibitors, sponsors, performers, panelists and attendees for their participation and support. It's their ongoing dedication to the industry that makes DJX possible and allows it to grow."
"DJX'23 was more than an event, it was a celebration of the DJ community's passion, innovation, and unity," said Shawn Hazan, President/CEO of Hazan Media Group. "The electric atmosphere, brand presentations, education, and inspiring performances showcased the dynamic evolution of the industry for attendees of all ages and backgrounds from sunrise to sunset. Also, the show's overall numbers powerfully validate the industry's alignment with our future-forward approach and unwavering commitment to shaping the DJ industry."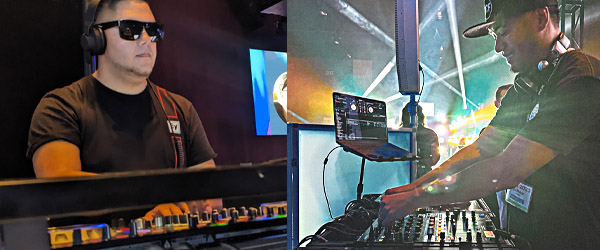 Response from exhibitors and attendees was effusive:
"We look forward to DJX every year because everyone who walks through the door is a DJ and represents 100-percent of our target audience, and we're always excited to reconnect with the community and share our latest innovations."
– John Powell, AlphaTheta Music Americas (Pioneer DJ USA), Torrance, Calif.
"An absolutely incredible experience. What I loved most was its unique concept of bringing together turntablists, mixshow/radio DJs, club DJs, mobile DJs, music producers, and other entertainers all in one show. This diverse mix of talent created an atmosphere of creativity, collaboration, and inspiration like no other."
– HB Monte, Steam Music Group, Albany, N.Y.
"DJX '23 gave us an excellent in-person opportunity to showcase our brand and our dedication to our DJ customers. Beyond the business angle, the Expo fosters a strong sense of community that truly supports DJs at every stage of their careers. The event was filled with incredible performances and great energy!"
– Michael Doucot, Electro-Voice, Burnsville, Minn.
"DJX is our favorite event of the year! We were particularly impressed by the diverse mix of industry professionals – from budding DJs to industry veterans – all eager to share insights and feedback. We're already looking forward to next year's show and strongly recommend it to any business looking to amplify its presence in the DJ world!"
– Lian Amber, BASSBOSS, Los Angeles
"The energy of DJX '23 was simply different. The exhibit hall, demo rooms, seminars and parties all had a positivity we haven't felt in years. No matter what kind of DJ you are, no matter the age, there was something for everyone."
– Justin Schwarz, The DJs Guru, Nesconset, N.Y.
"The MIXO team had the most amazing time at DJX '23, having come all the way from Britain. We met so many interesting DJs and we're looking forward to seeing you all again next year!"
– Marcus Green, MIXO, U.K.
"DJX offered a great mix of content for both the club and mobile DJ – and the showroom floor was one of the best I've seen in years for any DJ show! The after-parties and nighttime events were stellar and featured some industry legends, as well as notables among the mobile-DJ world. Overall, it was another fantastic week of inspiration, excitement, and connection."
– Chris Washburn, Washburn Entertainment, Ithaca N.Y.
"DJX '23 was incredible! So great to see familiar faces in the industry and to meet new ones, as well. The response to our booth on the exhibit floor was almost as incredible as the Twisted Tuesday party we threw. Looking forward to seeing what next year brings!"
– Darrin "B-Side" Young, DAS Audio, Miami, Fla.
"I look forward to DJX each year to see the great DJ-friends I have from across the country, to catch up, and pick their brains on what they are doing in their areas… All the seminars were very helpful and I got some great ideas and nuggets that I am taking home with me to implement into my business this year."
– Ross Akselrad, Pulse Entertainment, Philadelphia
"With DJX, their whole team went above and beyond for our product and our brand. Very glad our debut was with DJX, Atlantic City. See you next year!"
– Dan Rawson, BoomBox Industries, Canberra, Australia
"DJX is a great experience to network with DJs from around the country. Being immersed in industry-specific content with your peers, including high-profile industry vets, really allows you to stay current, as well as improve on all aspects of operations and performance."
– Ryan von Ahn, By Request, Akron, Ohio
"DJX is definitely the place to go for anybody in the music industry to connect with experts in the field. We had a blast meeting attendees at the show!"
– Moise Beda, Mo & Joe Electronics, Brooklyn, N.Y.
"I went to DJX in 2018 at the invitation of a friend, and now I couldn't imagine my world without these people in it. The relationships, opportunities, growth, and experiences are priceless, unforgettable. My world is better because of DJX."
– Stephanie Rivkin, Royal Beats, Berlin, Conn.
"The show is a great resource to network with other entertainers and business folks around the country."
– Ken Cosco, A Touch of Class, Marlborough, Mass.
"Great vibes and atmosphere – a must-attend show!"
– Jesse Dean Graves, Jesse Dean Designs, Lancaster, Calif.
"DJX is where our company goes to learn and unwind
every year since 2011."
– Dan Drake, Blue Line Productions, NYC
"DJX '23 was back in full force – more DJs, more gear and more fun! Hands down, one of the better conventions I've been to in awhile."
– Joe Bermudez, DJ/Producer, Boston
"This year's DJX show was more inclusive than ever before. Whether you are a bedroom DJ or an elite turntablist, there was so much information to gain through the seminars! DJX'23 was a total win!"
– DJ Tim Nice, Nice Guys Entertainment, Baltimore
"Once again, DJX has outdone itself. Networking with other DJs across the country is fun and helpful, but what really makes DJX stand out is the incredible amount of educational opportunities to learn from the industry's best, awesome gear on the show floor, and amazing evening entertainment. I'm already pumped for DJX'24!"
– Jake Jacobsen, A2R Entertainment, Cumming, Ga.