Returning to Boom, Belgium for weekend two, watch the Tomorrowland 2023 livestream from July 28-30, broadcasting the Adscendo Mainstage & Freedom stage.
Those who were in attendance for the first weekend of Tomorrowland 2023 – or those who tuned into the 3-day livestream broadcast – are already fully aware of the magnitude of this year's event. If you weren't in Boom, Belgium for Tomorrowland 2023 weekend 1 or didn't tune into their top-of-the-line livestream, have no fear – Tomorrowland weekend 2 is here. From Friday, July 28 through Sunday, July 30, Tomorrowland 2023 returns to its home in Antwerp for a repeat performance – well, almost.
The Tomorrowland 2023 livestream lineup was just announced today (July 27), and while there are some repeat performers, dance music fans are also eager to see some diversity in the livestream's schedule and the DJs being featured. Once again, the Tomorrowland livestream will broadcast across all three festival days, and it will air sets from the stunning (and colossal) Adscendo Mainstage in addition to the Freedom stage.
Over 700 acts will grace the 16 various stages across the sprawling Tomorowland festival grounds. Some key facts provided by Tomorrowland about the 2023 Mainstage, Adscendo, include that it is: 100% locally crafted, 43 meters high, and 160 meters wide. Just to be clear, that's longer than a football field – and then some. The Tomorrowland 2023 Adscendo Mainstage also includes over 1,500 video tiles, 1,050 lamps, 230 speakers & subs, 30 lasers, 48 water fountains, 15 waterfall pumps, and 60 performers. It took nearly two months to build (50 days) and will take almost two weeks to deconstruct.
Check out the full Tomorrowland 2023 livestream schedule: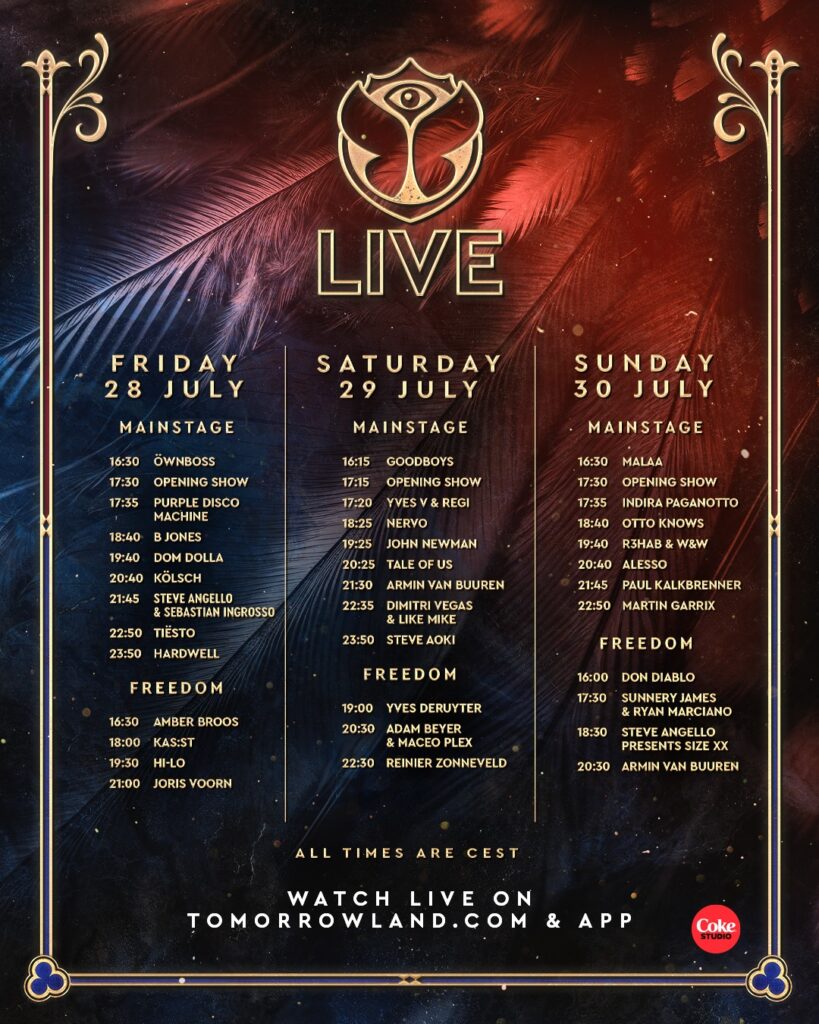 Photos courtesy of Tomorrowland