DJ LIFE caught up with NURKO ahead of the release of his 'Discovery' EP via Astralwerks and coinciding tour of the same name.
NURKO is taking the dance music community on a journey to reach Discovery – and we get the chance to deep-dive into the latest endeavor from the breakout producer & DJ. Discovery, the 5-track EP sees its official release today (Friday, June 2, 2023), through Astralwerks, and will coincide with a tour of the same name. From June through August, NURKO will be hitting some of the most noteworthy venues across North America (see full list of upcoming tour dates below). Included on the Discovery EP are featured vocalists James Gillespie, Kyle Hume, Dayce Williams, NERIAH, and Cruel Youth (see full track listing below).
DJ LIFE had a chance to catch up with NURKO as he prepared for the release of Discovery, so we could further explore the project, what inspires him most, his DJ and production setup, and what his long-term future plans are as an artist.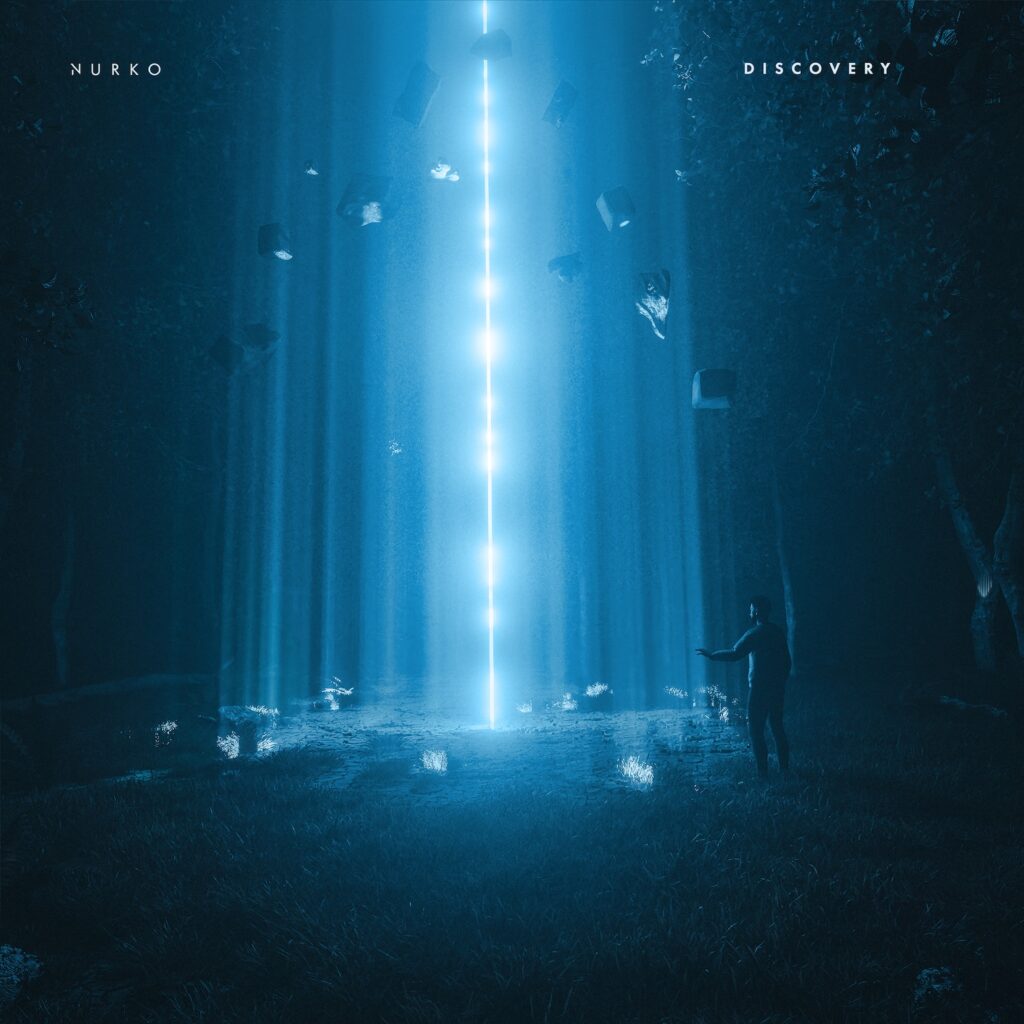 DJ LIFE Mag: How and when did you first begin exploring electronic music? Where did the name NURKO come from?
NURKO: I went to a Shpongle concert in NY around 2012 or so. When I left that show, I said "this is what I want to do, make electronic music and then play it live." The first few years was just kind of learning and messing around but I'd say that was when my interest started.
The name NURKO is a street in my hometown. The town I was born in is home to a lot of artists and creatives. My parents are both artists as well as my grandmother, all in the town. So, I thought the name has a lot of meaning for me as an artist.
DJ LIFE Mag: Looking back now, what was the moment when you first realized that you wanted to spend the rest of your life as an artist?
NURKO: it's tough to pin an exact moment but once I started to really begin making songs in the DAW, I said I couldn't imagine doing anything else, ever.
DJ LIFE Mag: Who were some of your earliest inspirations (electronic and non-electronic)? Have they changed over the years? Of these artists, are any of them a dream collaborator for you and if so, why?
NURKO: growing up playing piano, my earliest inspirations would be composers like Schubert, Mozart, Liszt, and Beethoven. They still hold to this day. I am also very inspired by Skrillex. He's my dream collaborator for sure. I just love how much of an innovator he is. It's super inspiring!
DJ LIFE Mag: Let us know some more about your forthcoming EP, 'Discovery,' which is releasing on Astralwerks on June 2. What was the process like in choosing which tracks would make the cut?
NURKO: This EP continues the story of NURKO from our previous EP Arrival. I wanted to choose songs that had emotional toplines and invoked a feeling with the listener. I also wanted to include vocals that had a bit of a different vibe than I've been doing in the past.
DJ LIFE Mag: Included on the 5-track 'Discovery' EP are features from James Gillespie, Cruel Youth, Dayce Williams, Kyle Hume, and NERIAH. How do you choose which vocalists and songwriters you'd like to work with? Were any of these sessions in person, or have they all been virtually?
NURKO: The A&R's at Astralwerks will send me many folders of toplines, I go through them and the ones I resonate with the most, I end up working with. Some tracks, I start an instrumental and the singer will make something over it. That is what happened with "Save Me (From Myself) w/ Kyle Hume.
DJ LIFE Mag: Do you prefer working on collaborations in person or as part of a session, or do you find it easier or more convenient to work virtually?
NURKO: I actually prefer working virtually. I feel really comfortable in my studio and that's where my best work is done. I'm still not quite used to working in a studio with other artists, but I would love to do it more! I did a few sessions at Capitol Records, and it was a lot of fun!
DJ LIFE Mag: To coincide with the release of the new EP, you're setting out on the NURKO Discovery Tour, where you'll be hitting some of the most prominent venues in North America (see full list of tour dates below). Which cities are you looking forward to playing most that you haven't yet? Are there any cities you're anticipating a return to?
NURKO: I'm really excited to tour Canada! This is my first tour where I'll be leaving the states! I've played overseas and all that good stuff but it wasn't for my own tour so this will be a lot of fun!
DJ LIFE Mag: When it comes to touring, do you have any routines or rituals (pre-show or post-show)? Can you share one of your craziest tour or show stories with us?
NURKO: One thing I like to do before shows is kind of zone out, listen to music in my headphones and be away from everyone. I relax for a little and then head to the show!
DJ LIFE Mag: What's your DJ setup consist of for your live shows? Is your current setup the same as what you initially learned how to DJ with?
NURKO: I initially leaned how to DJ on a Traktor S4. Then I switched to the pioneer CDJ's. For this tour, I own on having a more live aspect that will be revealed shortly.
DJ LIFE Mag: Watching your journey over the last five years has been exciting. Where do you see yourself five years from now?
NURKO: In 5 years my hopes are to be paying with a full band at some really cool venues Ike Madison Square Garden. I hope to eventually win a GRAMMY. That would be cool!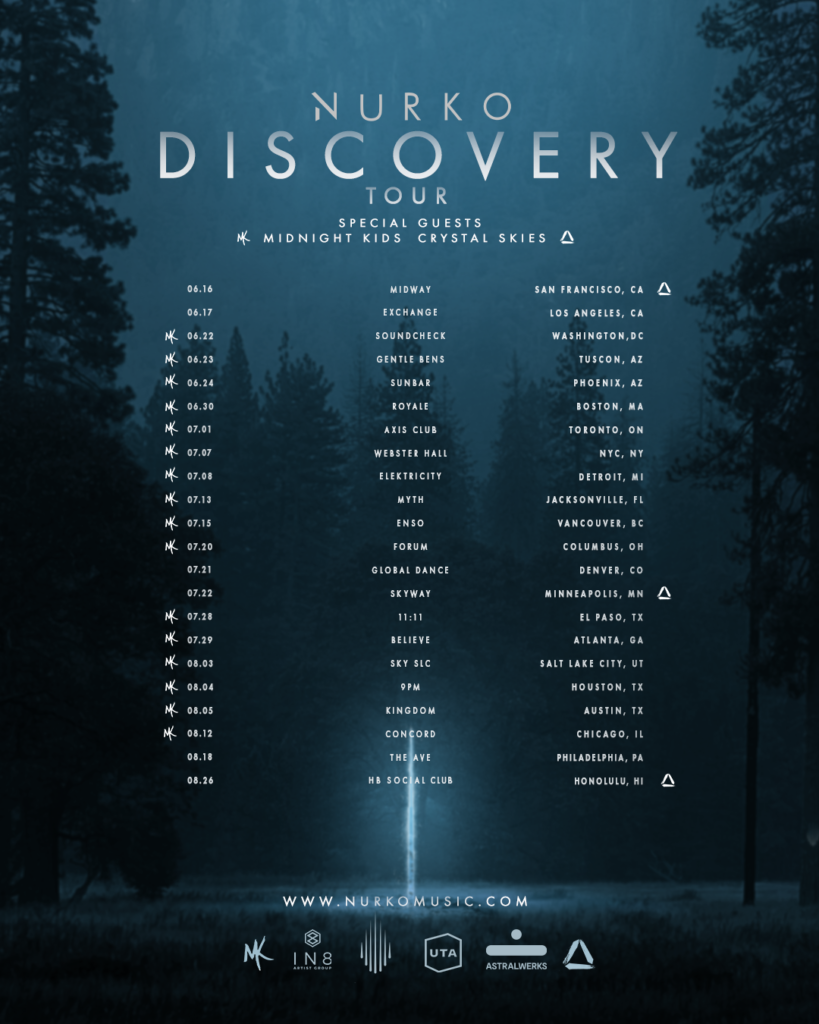 NURKO Discovery Tour Dates
June 16 — San Francisco, CA — Midway
June 17 — Los Angeles, CA — Exchange LA
June 24 – Phoenix, AZ – Sunbar
June 30 — Boston, MA — Royale
July 1 — Toronto, ON — Axis
July 7 — New York City, NY — Webster Hall
July 22 — Minneapolis, MN — Skyway
July 29 — Atlanta, GA — Believe Music Hall
August 3 — Salt Lake City, UT — Therapy Thursday
August 4 — Houston, TX — 9PM
August 5 — Austin, TX — Kingdom
August 12 — Chicago, IL — Concord
August 26 — Honolulu, HI — HB Social Club
Featured photo credit: Bobby Bengal