L.A. Life: For Noizu, it's house music & hot sauce as we caught up with the tastemaker ahead of our last DJ LIFE issue. 
Honolulu – Hawaiian Brian's is an unlikely spot to hear the latest tech-house grooves. The multi-purpose entertainment venue sits next to a car park just off a main Ala Moana thoroughfare and it mostly features pool tables, dart boards, and arcade games. It's more Dave & Buster's than Ministry of Sound. 
But tucked inside, slightly away from the booze-fueled gaming areas, sits HB Social Club, a black-box "concert hall" that has become a venue of choice for Oahu EDM promoters. Tonight, Noizu's in town and the area house-heads are out in strength. 
For the past two-plus years, Noizu (aka Jacob Plant, 32) has enjoyed a good ride. Since moving to Los Angeles from his native England, the seasoned DJ/producer underwent an artist re-branding (from his given name to Noizu) and enjoyed several well-regarded releases – "Rave Alarm," "DANCE," and "Elevate" – before hitting paydirt with "Summer 91," an old-school, anthemic, happy-house track.  
At HB Social Club, as soon as Noizu dropped the tune's piano intro, the room collectively pulsed, hands shot into the air, and, yes, everything became sunshine and rainbows. But that wasn't all. Newer bangers like "Push to Start" (a collab with Westend) and upcoming single "Lost" created plenty of dancefloor froth as well. And by the end of this February night in one of the more curious American club settings, everyone seemed to be sweating, smiling, and satisfied. House music remains alive and well, even in the middle of the South Pacific. 
We caught up with Noizu a few weeks afterward to discuss his studio kit, his Techne label, and his recent culinary endeavors.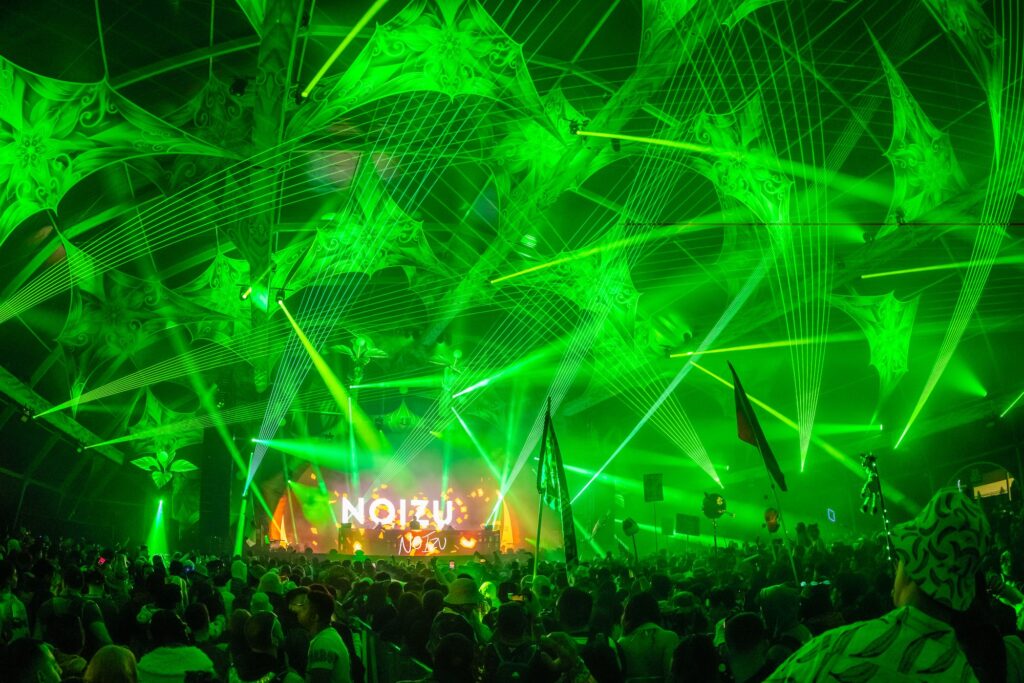 DJ LIFE: I caught your recent set in Honolulu at HB Social Club. The crowd was really up for it, and it sure seemed like you were having a good time.  
Noizu: Ha-ha, yeah, it's always fun playing there – the crowd really go for it. I've played there three years in a row now – I love it. I always make a trip out of it because it's too nice just to go for one night. 
DJ LIFE: "Push to Start" is a real banger. Creatively, how did you approach it? How did you make this collab work? 
Noizu: Me and Westend have been working on music together for a few years now, but we never loved anything we did enough to put it out. We finally decided to focus on a club record that would bang in our sets and sound good at festivals this year. Once we had a direction, it took a few days to nail, mix and master. The process of that song was actually quick and easy. I wish every song was like that. 
DJ LIFE: These days, what's your main studio gear?  
Noizu: I use Ableton Live now and mostly plug-ins. I have a Moog Grandmother, a Juno 106, and a Novation synth, but that's the only three hardware synths I have. I honestly don't use the hardware as much as I would like because I am always on the road. I actually just got a new laptop and I have been really strict about what plug-ins I use. I'm trying to have less choices instead of more, so I can really focus in. Mainly, it's UAD, Native Instruments, Arturia, iZotope, Korg, and a few others, but nothing mad. 
DJ LIFE: Aside from the computer, what's your most important piece of studio kit? 
Noizu: Honestly, the DAW. Ableton gives you so many standard plug-ins you can make anything with it. There's nothing else you need, everything else is just a bonus. I use iZotope for all my mixing and mastering, so I would say that's pretty important to my workflow. In terms of the music side, Native Instruments has everything you need – if you can't make a song with Komplete then you might as well give up. They are my go-to for sounds. 
DJ LIFE: What made you want to pursue music? 
Noizu: My first-ever influences when I was younger were more guitar music. I played the guitar and listened to a lot of metal, grunge, and rock. It wasn't until I heard rave music that I shifted from rock to electronic music. I've always been obsessed with music since I was young and started producing at around 13-years old, so it's been my life for as long as I can remember. 
DJ LIFE: The U.K.'s DJ and dance-music culture has always been huge – what part impacted you the most as a youth? 
Noizu: I think the fact that dance music is big in the U.K. has helped my understanding of it because it was always around me. Going to Ibiza every summer is massive thing that people from the U.K. do and that really exposed me to different types of electronic music and DJs. London also had such a strong scene when I was growing up. Everyone all of a sudden wanted to me a DJ, so that really pushed the scene forward.  
DJ LIFE: Which DJs were you initially drawn to?  
Noizu: Fatboy Slim, The Prodigy and Chemical Brothers were a massive part of my musical journey over the years. I saw them play in the U.K. and it blew my mind. I've been a fan of so many different forms of electronic music it's hard to pin down because there are so many. 
DJ LIFE: You moved from England to Los Angeles a few years ago. Obviously, much of the music industry is there, but, as it relates to dance music, what has been the biggest transition for you?  
Noizu: It definitely took time to adapt in L.A. It's so different to London, it was a bit of a shock at first. I love it here, though. There are so many people in the music industry here and it feels like a place with like-minded people, which helps drive you. The music scenes are very different, too. The sounds you hear in L.A. are very different to London, so I feel like a fit more in the L.A. scene now. 
DJ LIFE: You've mentioned that the pandemic was tough on you. Those "drive-in raves" really helped you out. How do you reflect on that time and how did you get through it? 
Noizu: Yeah, that time sucked, and we all tried to do things to get through it. I remember everyone saying these things "are here to stay" and remember thinking, "Fuck that!" Thank God, most things from the pandemic in music are fading away. Those drive-in raves helped me so much through that time and many other artists and companies. I'm glad it's passed and the industry is getting back on its feet again. 
DJ LIFE: You also mentioned that, during the pandemic, you put together a slew of tracks that you believed ended up sounding like the kind of tracks that Fred… Again has turned into a big success. Any chance those tracks ever see the light of day? 
Noizu: Maybe – if I ever find the time! 
DJ LIFE: Not long after, you really hit a home-run with "Summer 91." Seems like a great, old-school piano-house tune always connects, plus there's a bit of a nostalgia factor with the lyrics on that one. Talk about putting that tune together and what impact it has had on your career? 
Noizu: Yeah, that was a life-changing moment. It helped my career so much because it put me in a stronger position for getting booked and being on festival line-ups, etc. That song was just purely inspired from being in lockdown and dreaming of being back at raves. I think it came out at the right time and summed up how people were feeling.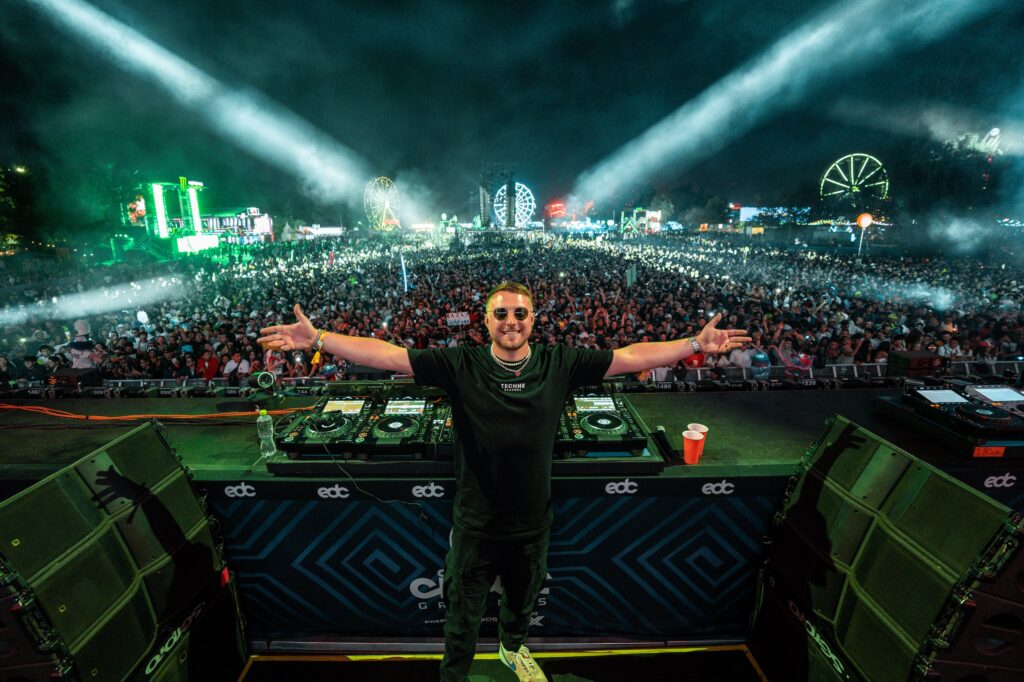 DJ LIFE: What's your vision for your imprint, Techne Records?  
Noizu: Me and the team are trying to grow Techne every year. The dream for me is one day it would be a stand-alone label that doesn't rely on Noizu songs and the Noizu brand to push it. I love the idea of having Techne parties and releases that are completely removed from Noizu and sit in their own right. For now, we focus on house and tech-house, but when I slow down on the touring I would like to try and expand that label and focus on a handful of artists to help develop.  
DJ LIFE: Which producer/remixer do you most admire? 
Noizu: Chris Lake. He has been a consistent supporter and mentor to me since I started this project, and he always gives me good advice. 
DJ LIFE: What are some tracks that are always in your "DJ box" and why? 
Noizu: "Summer 91." I have to play that if people are paying money to see me. Boyz Noise's "Yeah." This is old, but it's one of my favorite tracks. I love playing it here and there when the vibe is right. Chris Lake's remix of Josh Wink's "How's Your Evening So Far." He never released this properly, and it's amazing. It always works on my sets. 
DJ LIFE: Which DJs – as opposed to producers – impress you? 
Noizu: Firstly, let's be honest – there are a lot of "producer/DJs" who don't produce and have their music made for them. Is what it is, but they are normally the ones who can put on an amazing show – and who really cares if you're having fun? I'm very much a producer, so I don't really spend much time watching DJs who don't produce. I'm more in it from a production value and normally gravitate to producer/DJs. That being said, I've done shows all around the world and some of the local warm-up DJs, who don't produce, absolutely kill it. 
DJ LIFE: What advice would you give up-and-coming talent?  
Noizu: Personally, it would be to learn how to produce and make your own music and sound. I think for the long-term of a career that is a foundation that you need. Once you master production and have a few tracks out, the DJing shows will come naturally and you will be booked for who you are, rather than as a Top-40 DJ, etc. 
DJ LIFE: You had a bit of a musical history before you launched the Noizu project. What set you on the Noizu path? How did you see this project and this persona as different from what you'd already done? 
Noizu: I moved to L.A. and was at the end of my old career. Things had dried up and it was getting harder. I saw what Chris Lake was doing early on with the tech-house stuff and knew I could produce music like that. He actually asked if I had anything for the HOWSLA album he was working on at the time. I sent a track called "Lasers" and he loved it, but asked if I could do it under a new name… That was the birth of Noizu! 
DJ LIFE: Was sidestepping your professional past and playing down your identity important to you?  
Noizu: I think it's nice sometimes to start anew. Take away everything you have done before and start fresh. There's an excitement in that, the same excitement you have for music when you are 16-years old and wanting to get into it all. Also, by hiding my identity to start with, it got rid of any prior music I had done in the past and gave an audience a fresh perspective. 
DJ LIFE: I understand you've really taken to cooking and you've even launched a hot-sauce brand. Tell us about that…  
Noizu: It's called Heaters Only Hot Sauce, and it's absolute fire! I've never been so excited about something since starting Noizu. Cooking is a real passion of mine. I love to cook when I'm not touring – something about it really excites me. Starting the hot-sauce company has helped me explore passions outside of music, and I can't wait for the future of it. 
DJ LIFE: What's next for you? 
Noizu: My next single is coming out on Techne and it's called "Lost." I've been playing it a lot in my sets and it's been getting a great reaction. Apart from that, I'm touring, making new music, and will have new hot sauce flavors all to come this year!