The annual trade show, NAMM '23, has begun and will run through Saturday, April 15 at the Anaheim Convention Center.
Anaheim, Calif. – Show attendees, get your comfy walking shoes ready because the 2023 NAMM Show opens today.
Running through Saturday, April 15, at the Anaheim Convention Center, the annual trade show will gather much of the music-retail industry to see the latest and greatest product debuts in a variety of categories, including DJ, musical instrument, studio, pro audio, lighting and accessories.
Of course, DJ LIFE will be there to take it all in and report on the latest DJ-related developments. At presstime, the following product debuts were revealed by NAMM exhibitors:
DJ Sector: Pioneer DJ will show three new items – the DJM-A9 4-channel mixer, the OPUS-QUAD all-in-one DJ system, and the DDJ-FLX10 4-channel DJ controller for rekordbox and Serato DJ Pro.
France's Hercules, exhibiting from the booth of its distributor American Music & Sound, will debut the DJControl Inpulse T7, a feature-packed motorized DJ controller and the most-advanced unit the company has made to date.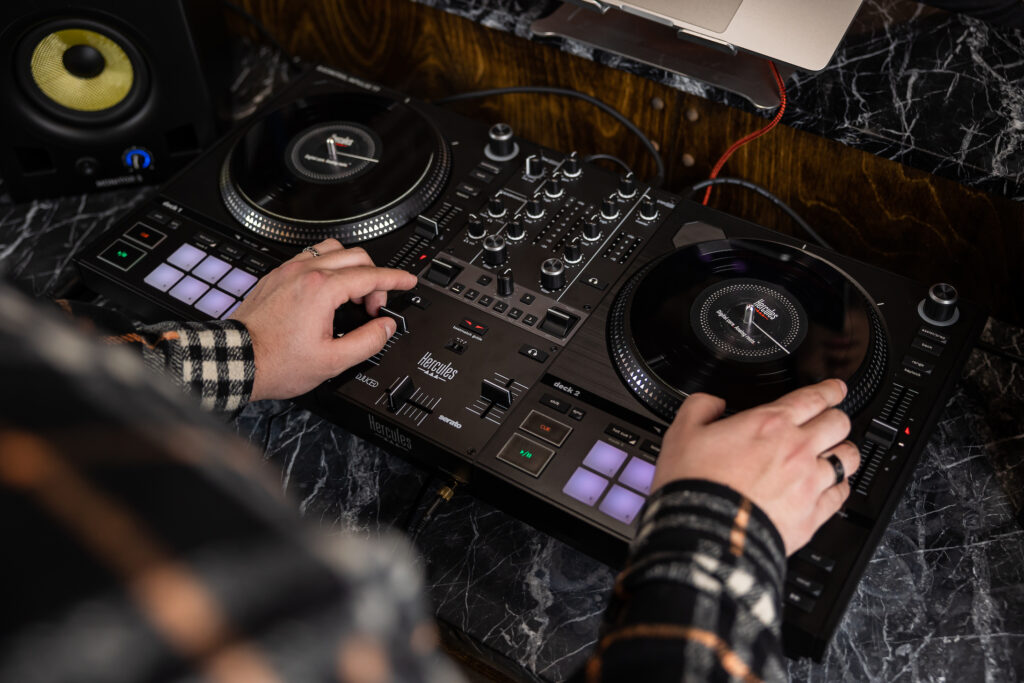 Also, at the AM&S booth, Germany's Reloop will show Flux, a 3-channel (6×6 in/out) USB-C DVS interface for Serato DJ Pro, the Turn X direct-drive turntable, and the Turn 7 belt-drive USB turntable. Related company Glorious will show the Glorious Sound Desk Compact studio workstation.
At the Mixware booth, Decksavers will show its latest protective covers for a variety of products, including the latest from Pioneer DJ, Rane, Denon DJ, Arturia and Novation. Also, Mixware brand Headliner will debut the Headliner R2, a 2-channel analog, rotary, professional DJ mixer. Perfect for DJs looking for precise control and warm sound, the R2's features include analog filter, 3-band isolator EQs on each channel, and genuine ALPS potentiometers.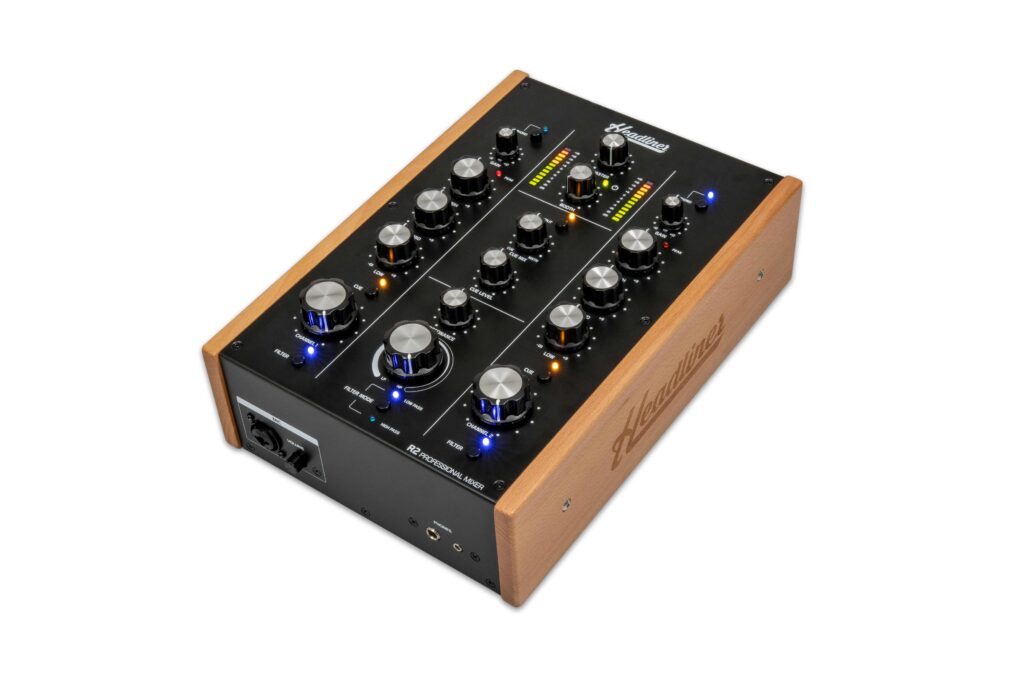 Pro Audio: QSC will show the new L Class, its next generation of advanced, intelligent, active loudspeakers for applications ranging from portable, plug-and-play setups for DJs to networked, high-tech AV productions and fixed installations for clubs. Units include the LA108 (two-way, 8-inch) and LA112 (two-way, 12-inch) active line-array loudspeakers, plus the LS118 (single 18-inch) active subwoofer.
From the Adam Hall booth, Germany's LD Systems will debut the MAUI G3 Series of compact, column PA systems. For apps including mobile-DJ use, the series includes the MAUI 11 G3 and MAUI 28 G3 models. BASSBOSS will showcase its dual-18 ZV28 mkII and its Quad 21-inch Kraken powered subwoofers.
EAW will showcase its KF210 2-way line array, the NTX210L active line array, and the AC6 2-way full-range ADAPTive column loudspeaker. Celestion will debut the 18-inch PowerProX18 subwoofer suited for apps including fixed install and touring sound. Ultimate Ears Pro will debut UE Premier IEMs, a new flagship set of in-ear monitors that features 21 drivers per side.
Lighting: Chauvet DJ will introduce a slew of new additions to its Freedom line of wireless battery-operated lights. They include: Freedom Par T6 tri-color mixing unit; Freedom Par Q9 quad-color uplight and the Freedom Par Q9X4 that includes a charger and a protective carrying case; Freedom Par H9 IP hex-colored compact par light; Freedom Flex H9 IP X6 complete lighting package; Freedom Par 9 Sleeve X 4 4-pack of sleeves; Freedom Flex 9 Sleeve X 6 6-pack of sleeves; and the Freedom Charge 8P rolling transport case. The company will also introduce RFC and RFC-XL, two omnidirectional remote controls, and the Intimidator Spot 360X moving-head unit.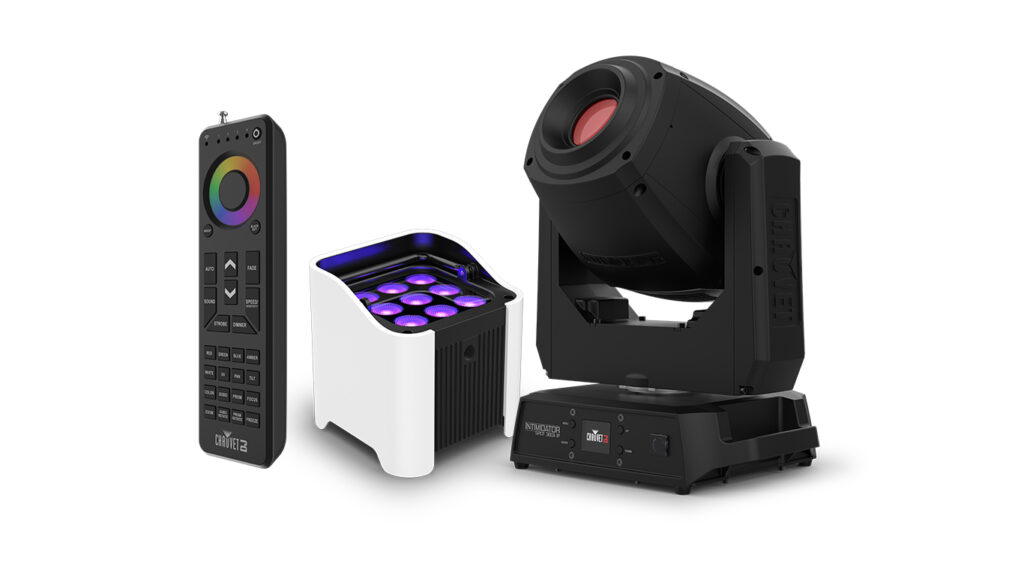 Longtime supplier ADJ will debut several products. They include the Element H IP LED uplight and the Element H6 Pak set of six uplights; the Element H IP Chrome uplight and the Element H6 Pak CHR set of six chrome uplights; the Encore Profile Mini Color and Encore Profile Mini WW LED ellipsoidal luminaires; the Stryker Beam moving head; the Stryker Wash LED zoom wash moving head; the Vortex effect light; and the Cosmic Burst moonflower effect light.
Related company AVANTE Audio will showcase its new Imperio Pro mini line array loudspeaker system, which includes the IMP205 line-array element and the IMP118 subwoofer. The company will also debut the AS8 ACDC active column speaker system.
Studio: Berlin's Bitwig will show Bitwig Studio 5, a new version of its DAW that will introduce five different MSEGs, new capabilities for the Clip Launcher, an overhaul to its browsers and upgrades to the entire modulation system.
IK Multimedia will show its new Total Studio 4 Max, a massive collection of plug-ins, along with all-inclusive MAX bundles – AmpliTube 5 MAX v2, T-RackS 5 MAX v2, SampleTank 4 MAX v2, and more. Portuguese audio-software maker Sound Particles will release SkyDust 3D, the market's first 3D synth.
Avid announced updates to its Pro Tools software, which provides music creators with Sonic Drop, a monthly content program that delivers a mix of new samples, loops, and instrument presets, PlayCell sample player instruments and dozens of new presets for GrooveCell and SynthCell instruments. Avid also announced the integration of oeksound's Soothe Live mixing plug-in available exclusively on Avid's VENUE S6L platform.
New U.K.-based pro-audio brand iFi Studio will launch several products for studio and live sound at the show. They include: Pro iDSD Studio flagship interface and controller with class-leading D/A conversion; Pro iCAN Studio reference-class headphone amplifier compatible with any headphone sensitivity; ZEN One Studio compact D/A converter with high-resolution file handling; ZEN CAN Studio matching headphone amplifier and controller; and the Gryphon Pro Pack personal belt-pack amp for IEMs with built-in high-resolution D/A converter.
Microphone maker beyerdynamic will unveil a redesign of its stories M Series mics, which will include units for live and studio applications. Finland's Amphion will debut the One25A, its first 3-way, active studio monitor. Augspurger Monitors will show its new MX65-Sub12 nearfield, desktop-sized speaker.
For the latest on the NAMM show, please visit www.namm.org.