The BPM Festival surprise-announces 3-day Easter edition in Costa Rica from April 6-8 with Diplo, Jesse Calosso & many more.
Six weeks ago, The BPM Festival made its way back to its beloved home base, Tamarindo, Costa Rica. Returning after a multi-year hiatus, the sacred grounds of Tamarindo were met with the rapturous applause of its guests that spanned across 40 nationalities. Following a teaser that was unveiled on the festival's social media platforms, The BPM Festival has confirmed it will return to Tamarindo's exquisite beaches for a surprise Easter Edition brimming with music, dance, and pure celebration.
After the resounding success of its return in January, BPM plans to keep the momentum going with a weekend that promises to be even more extraordinary. Taking place across the Easter holiday weekend, on April 6, 7, and 8, 2023, the Dreamcatcher stage within the jungle will transform into an intimate haven for music lovers. With each day bringing a unique vibe and energy, the BPM Festival Easter edition promises to be an incredible celebration of music and culture. With a carefully curated lineup featuring performances from AJ Christou, Diplo, Jesse Calusso, Late Delivery, N.I.M, Miguelle, Rafa Barrios, Samu, Vanjee, and more, attendees can expect to immerse themselves in the rhythms and beats of the world's most aesthetic festival.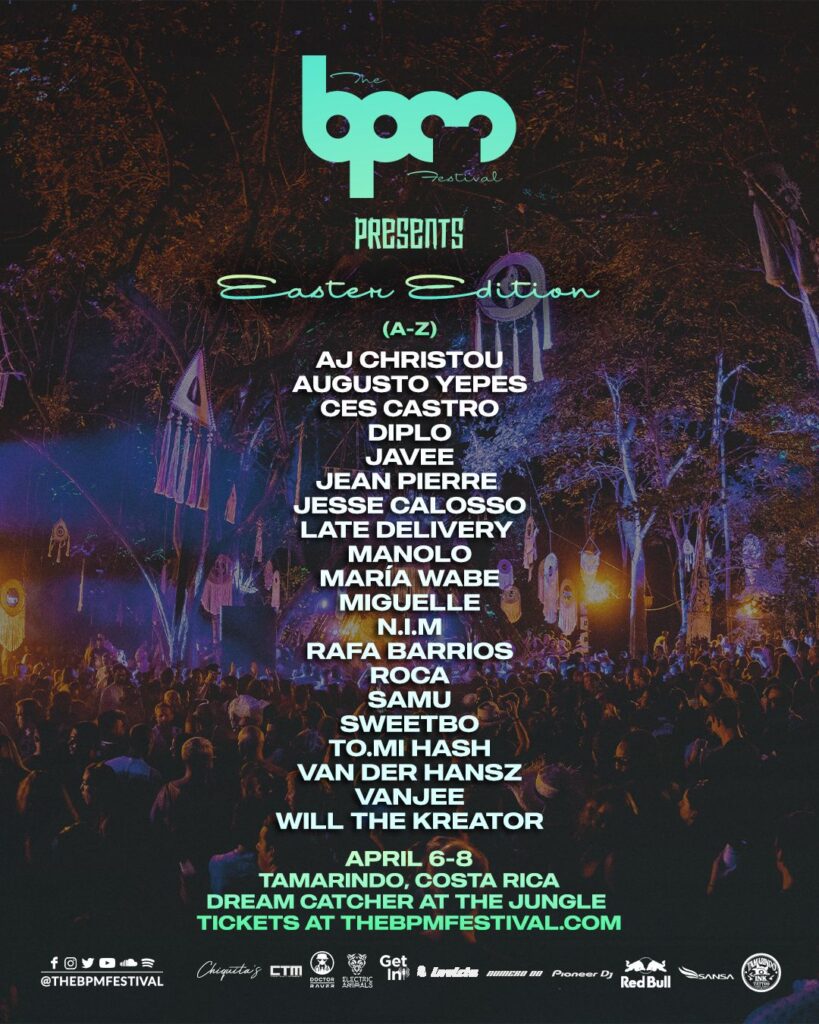 The sophomore edition of The BPM Festival: Costa Rica in January was a resounding triumph, boasting an exceptional and diverse lineup that delivered unforgettable performances. Among notable highlights were the BPM debuts of Vintage Culture and Bora Uzer, a b2b2b sunrise takeover from Boogeyman, and a series of Chiquita venue takeovers from the likes of MVSON and From the South. Meanwhile, the renowned Canopy venue hosted classic BPM showcases, including This Is The End featuring Joseph Capriati, while fan favorites Bamboleo, Rawthentic, and Tamango served as the grand finale at BPM's Treehouse stage delivering a legendary 5-way b2b performance that lasted well beyond sunrise.
2023 promises to be even bigger and better than before with a slew of BPM events slated for the year. The capacity for this special upcoming Easter edition is strictly limited and tickets are available on a first-come, first-served basis.
Tickets for The BPM Festival Easter Edition 2023 are available HERE.
Photo Credit: Chris Lavado