According to its charter, Give a Beat's mission "is to use the power of music as a pathway to healing and opportunity for those impacted by the criminal justice system." Indeed, since its founding in 2014, the L.A.-based, nonprofit organization has offered DJ, music-production, and educational programs inside and outside youth and adult correctional facilities.
In 2019, it launched the Prison Electronic Music Program at two California State Prisons. In 2021, it began its "On a New Track" Re-Entry Mentoring Program, which paired formerly incarcerated persons with mentors in the music industry. This past year, in order to support people post-incarceration, Give a Beat Records was launched to give them a platform and share their voices. Its first release was geriFree's "Pure Joy," an uplifting house-music nugget; its second is Pelligroso's "Street Poetry," a gritty hip-hop track.
One notable supporter of Give a Beat, Eli Goldstein of Soul Clap, met Russell Wardlow through one of Give a Beat's related initiatives, the Prose of a Con radio series where DJs recited Russell's powerful poetry online. Now the duo has seen its distinct talents converge on a unique, new project, Insides Outed. Released on Soul Clap Records by WayOfLife (Wardlow's artist persona), the album's vocals were recorded entirely from the prison's solitary confinement unit and ultimately mixed with productions from Goldstein and Taylor Bense at Brooklyn's Hyperballad Studios.
The result is a nine-cut full-length brimming with touching and honest songs filled with regret and hope, patience and frustration, love and pain. It's a statement of redemption, and one that further explores a question that Wardlow has asked: "If a man can become a monster, can that monster become a man again?"
In separate interviews, DJ Life Mag connected with both Eli Goldstein and Russell Wardlow to discuss Give a Beat, recording the Insides Outed album, and much more.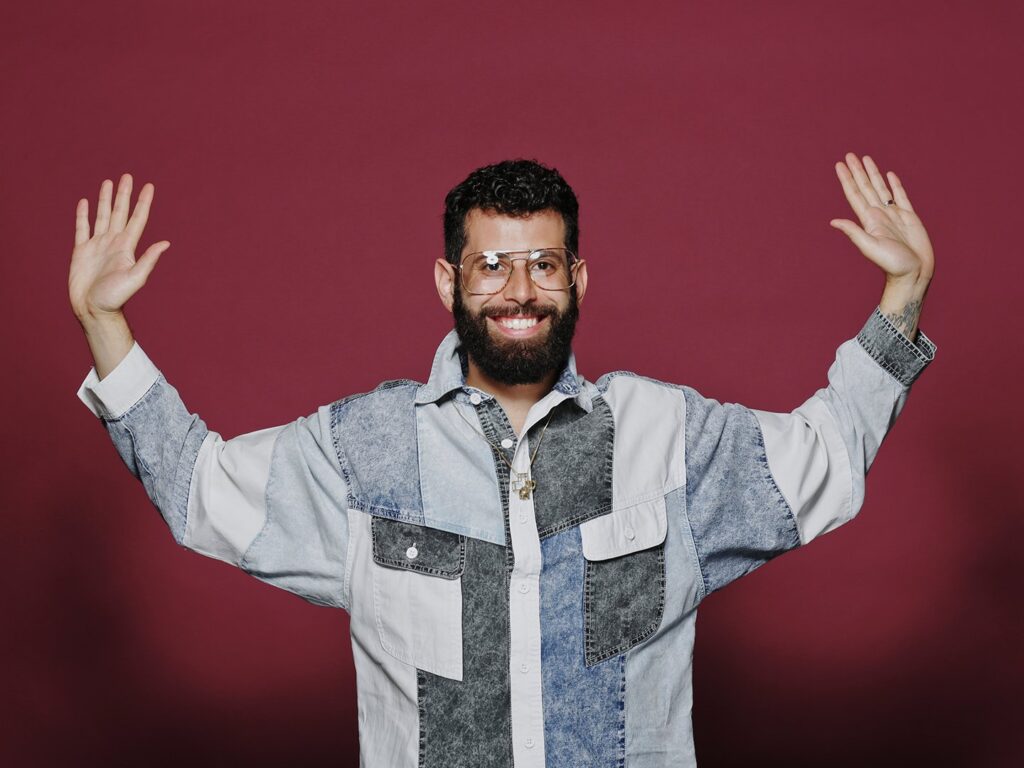 Soul Clap's Eli Goldstein
DJ LIFE MAG:
First, why did you get involved with Give a Beat?
Goldstein: I had read a few books that opened my eyes to the prison systems in America, such as "No More Prisons" by William Upski Wimsatt and "The New Jim Crow" by Michelle Alexander. I learned that our criminal-justice system is designed to oppress black people and people of color in the U.S. So, I was aware of the problem and I happened to connect with Lauren Segal [of Give a Beat] at some point at a party about our shared interest in using the power of electronic music and culture for activism. She told me about Give a Beat and I pretty much immediately signed on to support the organization.
DJ LIFE MAG: Obviously, recording the album with vocals from behind bars was a challenge. What was the actual process?
Goldstein: The process started with Russell recording these vocals over the phone from solitary confinement when everybody in his facility was put in solitary for a COVID outbreak. So, he recorded these nine a cappellas with Christie [Ninerell of Give a Beat] over the phone, and then they got sent out to a few of us who had been in contact with Russell.
At first, I listened to them how I listen to promos as a DJ, quickly flipping through music, and initially I thought they were cool, but really, poor quality audio. Some time passed, and then I was thinking about Russell and decided to honor him by listening deeper. I lined them up with the beats that he had written the rhymes to, just free YouTube beats. Then, I could listen to the a cappella over the beats that he was originally listening to in his headphones while he was recording. And it started to really connect in my head and I was like, "Wow, this is really incredible."
The quality being over the phone obviously is not ideal for recording. And that was the main reason why, originally, I was a little skeptical. But the emotion and the power and the depth of his lyrics came through, regardless of the media for recording. So, at that point, I was kind of like, "Wow, this is a body of music that is cohesive and we should put out as an album."
DJ LIFE MAG: What's in your studio and how did you use the gear for this project?
Goldstein: The new beats were all produced and recorded by Taylor Bense at Hyperballad Studios in Brooklyn. He's a producer that I've worked with a bunch over the years. He's more on the electronic-music tip, but super-talented musically and in the studio – and I knew we had a shared love of hip hop. Everything was recorded on Ableton Live with a slot of samples and plug-ins, but also a few synths and samplers and drum machines.
DJ LIFE MAG: Obviously, there's an intensity to Russell's current condition and his ongoing struggle. From your point of view, how did he convey that into compelling artistic expression?
Goldstein: Russell has been writing prose and poetry for a long time – I think close to a decade – but the rapping is more recent. And so, he's already a wordsmith. He knows how to use his deep vocabulary, metaphors, alliteration, all the important tools for a skilled MC. But what really, really grabbed me on this project was the raw emotion of his vocals. Each song kind of touches on a different subject, and goes into depth on his experience related to that in a super-eloquent way. But what really pulls you in deeper is the emotion. He is able to use his experiences to capture universal feelings and understandings and paint a picture with words. It just really, really brings you in.
DJ LIFE MAG: Obviously, you've had more experience than Russell in making records. Was there any artistic back-and-forth between you two?
Goldstein: It's really hard to have artistic back-and-forth when you're not in the same place, and even harder when one of you doesn't have the normal freedoms of a musician to create. Russell and I get to talk at most a couple of times a week for short periods of time. There was a system that we could use to email each other, but earlier this year they switched the systems in the prison and the email got way, way worse. So, it's much harder for us to communicate via text and email at this point, and just a reminder that all these systems are set up by private corporations – all for profit, right? So, any communication you're having with somebody in prison in the United States, somebody's making money off that, a corporation is making money off that communication. That's just insane.
But we were able to talk a bunch and share ideas. And we generally talked a lot about his artistic ideas and process, and I give him feedback and direction. It's really hard, though, with not being able to share music to inspire each other. That's something I can't really do. So that's something that's going to really be an amazing step when he does get out, to be able to share our inspirations and musical directions. A lot of this specific collaboration came from the beats he chose originally, and the quality of his vocals, and being able to kind of tap into that and try to recreate the feelings of those beats in new ways that connected with his voice and with his lyrics and his emotions, the vibe of the tracks.
Then obviously sharing the music with him, when it was recorded, was incredible. There was this moment… he'd never actually heard his voice on the song before. So, the first time I played something back, the first beat with his voice on it, you know, was just like this super-emotional moment for both of us – and that was really special.
DJ LIFE MAG: On the hip-hop side of things, which producers do you admire and why? Did you and Russell have a conversation about how this record would sound?
Goldstein: Russell's of the kind of newer generation, mostly influenced by trap – whereas I grew up in the '90s. So, I was really influenced by that Golden Era hip hop like A Tribe Called Quest, Gang Starr. DJ Premier is one of my favorite hip-hop producers, if not the top. But all that jazzy stuff from the mid to late '90s when I started DJing is really important to me, too, like Hi-Tek and Shawn J. Period. And the more instrumental beats by DJ Shadow and Dan the Automator were big influences for me growing up, too.
More recently I'd say Terrance Martin, who produced the Kendrick Lamar To Pimp A Butterfly album, is a major influence because he's super funk and jazz. And then all the G-Funk and adding funk to hip-hop beats is really important to me, too.
For me, that's part of why this has been a really interesting experience, learning more about how trap beats are produced. It's not like we just made a trap album for Russell, right? A lot of it was bringing in our influences. There's trumpet and guitar and Taylor was able to bring his musicianship to this as well. We had our longtime collaborator Greg Paulus on trumpet on one of the songs. Bringing in our [Soul Clap] sound, but we're trying to make it modern in a way that's connected with Russell's.
DJ LIFE MAG: As Soul Clap with your musical partner Charlie [Levine], you make great electronic-dance music and you play amazing parties and festivals – so, you see the very hedonistic side of dance music. But this record is a very different kind of endeavor. Do you think we could see more socially conscious efforts from DJs and dance-music world?
Goldstein: Yes, we need to see more socially conscious efforts from the dance-music world! House music and techno were born as subversive music for marginalized people. It is the heart of the music culture, and an essential element that producers and DJs should be exploring and understanding, if they want to know the history. They should try to understand how they can also make a positive impact on the culture and the world as well.
I'm also very involved in climate work through electronic music with an organization called DJs For Climate Action. There is actually a lot of work happening across the industry for climate and the environment, as well. We also helped organize a get out the vote initiative called Rave That Vote with a number of artists, our management company 2plus2, and Infamous PR. This is something that goes hand-in-hand: music, politics and activism. They are connected, they are inseparable. Thinking about American music and the 20th Century – from jazz to folk music to hip hop and disco – it all has a social-activist streak at its heart.
For me, it's an easy transition over into something that's more thoughtful, political, and thought-provoking. And that's something that me and Russell talk about a lot is the power of music and, especially the power of his music, because he's so talented with words and can reach people in their in their hearts and their minds.
DJ LIFE MAG: And before I forget, what can we expect from Soul Clap in the near future?
Goldstein: So, this goes back to my climate activism and I'm about to have my second child next year… so, I'm going to take 2023 to be grounded and focus on family, creativity, and the local New York music community. I will continue to work on some Soul Clap music, but Charlie will be carrying the Soul Clap live torch. So that's a big transition and shift. One big positive on the climate side is just one person touring on airplanes for Soul Clap means we cut our carbon emissions in half. So, it's a huge step for the climate.
We have a number of singles we are getting ready to drop on Soul Clap Records in 2023 that we've been working on for a while that we're finishing up for release. And we also have our 11 Years of Soul Clap Records compilation that comes on at the beginning of 2023, which is a compilation of 11 tracks from the catalog remixed by artists that we've collaborated with in the past with the label or that we love, and we'll be working with in the future. And that also includes a mix by me, of my favorite tracks from the catalog.
Also, when Russell gets out, we're going to be working towards helping him launch his own label that he will own – ownership is so important in the music game. It's a way for him to be involved in the process and learn the ins and outs of running a label and the music industry. So much of being able to survive as a musician is being able to know the business and understand the business. You can make sure you're covering all your bases and continue to grow and own your music. So, that's something that's important that we're working on.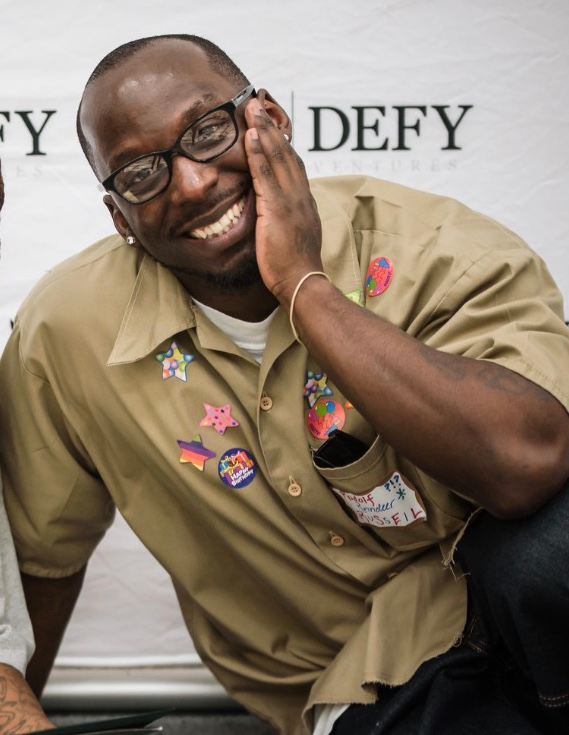 Russell Wardlow (aka WayOfLife), Nebraska State Penitentiary
DJ LIFE MAG:
What are your earliest musical memories – the ones that stuck with you and influenced the music you're making now?
Wardlow: I'm relatively new to music, so I didn't do anything besides playing around, free-styling at high school. My friends were the actual rappers; we used to do this concept and chorus that went like, "What would you do for a Klondike bar?" Then some beatbox and we rap that subject… I was sorriest!
DJ LIFE MAG: Did you have favorite MCs and producers?
Wardlow: Lil Wayne, his song "I Feel Like Dying" was an ethereal moment for me… then, of course, his mix-tape craze. Cassidy's smooth battle-rap-like punchlines, Jadakiss' raspy delivery and metaphors, Lauren Hill's everything, and fast-forward onto Chance The Rapper's first SNL experience. I finally made sense of it. He put all of those people into one and added himself – to me, that made WayOfLife
DJ LIFE MAG: At what point did you devote yourself to poetry, lyrics, and music? What motivated you?
Wardlow: In 2017, I asked my friend Katie [Cox]: If a man can become a monster, can that monster become a man again? I reflected on the fact that I could die in prison or get life in prison. I wanted something, so my sons could know who I am. Everyone told me I could write and rap, but I thought nothing of it. One day Katie asked me, "Russell, when's the best time to plant a tree? Twenty years ago. When's the second-best time? Today. What are you waiting for?" I became a poet, Kobe died, and I became a rapper. I rapped, "Even heroes can die while you're alive, so I gotta make it all count…" so, Mamba Mentality! I put the work in and found many styles, keeping my sons at the forefront of all of it. Every line is me clawing my way to them, defying these walls.
DJ LIFE MAG: Tell me about the process of putting this record together with Eli.
Wardlow: The process was more like a see-saw adventure – my turn, then his turn. Prison comes with many obvious complications, so Christie [Ninerell of Give a Beat] recorded all the vocals, and Eli and Taylor listened and composed/produced all the sounds to make the music. I've heard some early ideas and a couple finished products, but it's mostly been a mystery, expected in my position, but a reality I have to accept in order to move forward and create.
DJ LIFE MAG: What kind of artistic statement were you looking to make?
Wardlow: I wanted to show the entirety of different feelings of a prisoner and to transcend the limitations. We live in a world within a world, so we feel and hear everything, but see nothing – yet no one hears, sees or feels us.
DJ LIFE MAG: In the songs I've heard, I hear lyrics that have deep regret, but there's also hope. There's love for your children. There's self-determination. There's a sense of patience, but there's also frustration. It's your life. Can you tell me about how these lyrics came to mind?
Wardlow: A convict is the embodiment of regret, hope, self-determination, frustration, and impatience at all times. We can't separate ourselves from those concepts. We don't speak them; we become them, and yet we manage in order to exist, survive and fight for something more or succumb to just that. Internal and external turmoil is our soil and oil; it fuels us and we grow in and from it. I didn't think the lyrics – they just came out, like air is exhaled.
DJ LIFE MAG: How does your situation help or hinder your artistic process? Is there a time when you are most artistically focused?
Wardlow: Prison became college and a hyperbolic time chamber. It presented me the opportunity to become something more in my isolation, but it fights that evolution every chance it gets, forging it with a continual fire of obstructions. The phone can only do so much for delivery and nuance, and the limited time to reach out creates obscurity, but imagination thrives in darkness.
DJ LIFE MAG: These days on the outside, there's a lot of political hay being made about crime and what to do about it. Less effort seems to be made about actually preventing it or helping those caught up in the system. What do you say to people on the outside about people on the inside? What should they understand?
Wardlow: Crime can only flourish in a country so "great" and developed as America, if it allows for it, if its culture creates and feeds off of it. When education and resources come with disparities, crime is the variable. You can only do with what you know and what you have. Look in the mirror. We are exactly what you refuse to see and what you do see. One moment creates a conditioning of moments when true understanding and help isn't given. Empathy shouldn't be an incentive; it should be a condition of a person's heart. We are hurting, and trying to heal. Isolation in the form of alienation and ostracism can never be an answer to develop a human's heart and soul. It corrodes the mind and spirit and callouses the heart and emotions.
The Constitution's 13th Amendment must change and crime cannot fatten pockets for change to be real.
DJ LIFE MAG: Thanks, and good luck – anything else you'd like to add?
Wardlow: This is only step one. I am many – that's why my name is WayOfLife. This is the beginning of a Black Sheep Movement. We can't keep being spoken for and believe we're being heard; we have a collective responsibility to provide shoulders to stand on so more can be seen and therefore fathomed and dreamed. Emotional, relational and spiritual healing is our need. My sons Josiah "Juice" and Treyvan "WayOfLife, Jr." spirit my motor, and even at the lowest and darkest, you can resurrect, rise, and become more.
To check out more interviews, click here.