For the past half-dozen years, bass music has been the runaway festival favorite in the United States. While there seems to be an endless supply of talent out there to fill the stages, it's still the genre's true innovators who continue to push the sound forward and rise to the top of those festival billings. Hayden Capuozzo, better known by his stage name Kayzo, is a prime example. 
Growing up in Houston, Texas, Kayzo was a serious hockey player, but he moved to Los Angeles in 2012 to concentrate on music full-time. He enrolled in L.A.'s famous electronic-music production school, Icon Collective, to hone his craft and, in the very same year, he would win Insomniac's Discovery Project. This allowed him to perform at Escape from Wonderland, which was also his first gig as a DJ. Quite a start. 
He quickly making ripples through the dance-music blogosphere, but it would be his rework of Papa Roach's "Last Resort," where he managed to fuse the worlds of bass music and big rock, that took him to a new level. By seamlessly blending dubstep, trap, hardstyle, and even psy-trance with the menacing sounds of metal, he would quickly become known for this signature production style. 
The recent release of his third studio album, NEW BREED, on his powerhouse imprint Welcome Records, showcases that broad range of styles, with a mix of tunes that go from positively scathing ("Burn It Down") to nearly punk-pop ("Love Me Hate Me") in approach. As he prepped for tour dates that will take him through the fall, the 30-year-old DJ/producer connected with DJ LIFE to discuss his approach to music and more. 
DJ LIFE MAG: When it comes to production, where do you find your inspiration?  
Kayzo: I usually find inspo from music I listen to outside of dance music, really – tons of rock, metal, alt, etc. I also tend to get super-inspired when I'm on the road for a longer period of time. If I go to Europe for a month or Asia, etc., I always find myself coming home with tons of inspiration from the crowds I play for, the cities I explore, and the people I get to meet.  
DJ LIFE MAG: Speaking of producing, what hardware and software do you use?  
Kayzo: Ableton Live, full maxed-out new Macbook Pro, Focal SM9 monitors, UAD Apollo Twin interface. I'm about to break ground on my first studio, fully treated with a walk-in iso booth and command center, so I'm really, really excited for that.  
DJ LIFE MAG: When you DJ, what do you require in the booth?  
Kayzo: I'm pretty simple when it comes to in the booth needs. A couple bottles of water and a sometimes one drink that I end up never touching [laughs].  
DJ LIFE MAG: You seem to collaborate a lot with other artists. Why do you choose to go that route as a producer?  
Kayzo: I wouldn't say I collaborate more than writing on my own. I think I find myself collaborating more with either bands or vocalists from bands or solo projects than just other producers. That's really where I get most excited. Being able to get in a room and track live drums guitars, bass and vocals and integrating that into my production and sound has always gotten me most excited for the end result.  
DJ LIFE MAG: There are many innovators in electronic music, but your ability to fuse the worlds of metal and bass music is simply in a league of its own, as signature sounds go. Why do you think that hybrid style works so well together? How do you get that sound?   
Kayzo: I found myself uninspired back in 2016 with what I was writing. At that point in time, I was writing strictly electronic music without really pulling much inspo from outside genres of music. I remember driving home one day and decided to put on all my old albums and songs I enjoyed – bands like Bring Me The Horizon, Underoath, A Day To Remember. I sat there listening and started to find myself honing in on the melodies, the riffs and thought, "Wow, this really isn't too far off from a lot of the production and writing that goes on in dance music." Biggest difference is that we call things builds and drops and bands end up using the more traditional terms like pre-chorus, chorus, etc. We are all really saying the same thing, though, and that's what got me excited to start experimenting.  
DJ LIFE MAG: How would you say your sound has evolved since first popping onto the scene in 2013?  
Kayzo: My sound itself is really trial-and-error, still to this day. I'd be lying if I say I have "figured it out." I never really like to think of myself as an artist with a "sound" because I feel like, if I myself acknowledged I had a sound, then I would end up re-using and rinsing it out too often – and that would lead to all my stuff sounding the same. For me, personally, I go into every song with a completely fresh template. I have guitar and drum racks for things, but the sound for my songs really comes from experimentation for that record in that moment.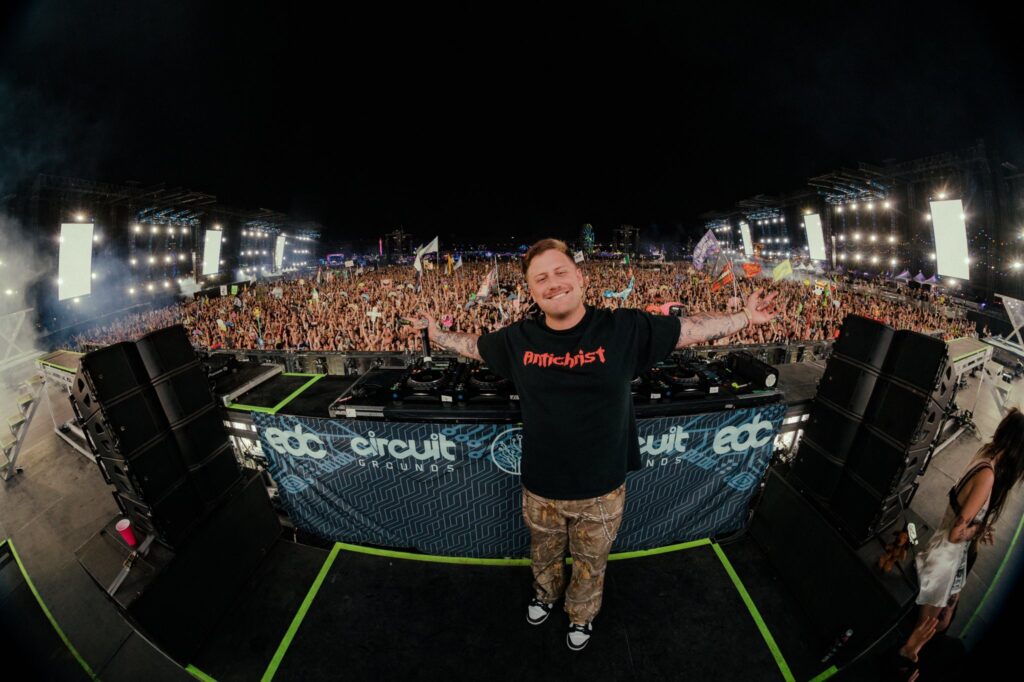 DJ LIFE MAG: You've been a part of this music-making scene for almost a decade now – what are some changes you've noticed over the years? 
Kayzo: I think the most obvious changes are the ones that surround the social and marketing aspects of the music industry. There are so many different tools to market yourself, and yet I think it's harder than ever. So much is happening at once and being digested by fans and followers – I think it can be super-daunting for up-and-comers. Aside from that, there are some pretty awesome changes, I think, too. I feel like, now more than ever, we are in a place where experimenting and trying new things musically is praised, which has led to some pretty awesome music sometimes from unexpected places.  
DJ LIFE MAG: How has the bass music scene, specifically, changed since you first emerged onto the scene?  
Kayzo: Piggy-backing from above, but I think bass music now is at a really interesting crossroads. I think masses may think of bass music as just dubstep, but now I think bass music has found itself as this really interesting tree with more branches than it had 10 years ago. Some older branches could resemble some staple sub-genres of bass music, but those branches now have grown tiny branches off the older ones, which have led to some incredibly cool and unique takes on genres of bass music, some even creating new, stapled sub-genres.  
DJ LIFE MAG: What has been the key to success and longevity?  
Kayzo: For me, it has always been the long game. I really have never been one to be wide-eyed by a moment or falling into what's "hot." For me, I've always looked at my career as a house, but the house needs really, really solid foundation, so it's been a brick-by-brick approach. I would never want to be an artist that blows up too quickly and ends up sort of like a house on glass stilts. Without that foundation of time to build a true brand and identity with your listeners, I think things could become unstable. Me as a creative is more of the approach of, like, an app. I have always looked at myself as an app in beta mode. Always being updated like a V1.1.1, V1.1.2 type of mentality. I'll never full be complete because, with art, the possibilities to grow and learn are always there.  
DJ LIFE MAG: You've released plenty of tracks and two albums over the years, but NEW BREED is quite a project. What was the process like putting this 20-track album together?  
Kayzo: New Breed reminded me a lot of my first album, Overload, in regards to the approach of how it was made. I had no intentions of creating a third album when I first started writing the first songs that ended up being on the record. COVID gave me that time off from touring to sit back and really take my time with music and experiment without the lingering stress of always having to have music ready for the next show or festival. I think that's more apparent in this album than any of my last. I was able to write music with different intentions than just being banger-ready for a crowd, and that really was a breath of fresh air for me.  
DJ LIFE MAG: If you had to pick one, what would you say is your favorite track of the album?  
Kayzo: Super-tough, but I'll go with "Love Me Hate Me" [featuring CRAY & De'Wayne]. That demo was all but dead for the better part of a year and came together literally in the ninth hour of this album. Obviously, Cheney [aka CRAY] and I have always wanted to write a song together and, to be honest, we already had. We had a really good one, too, but I think we both knew it could be better and our first song together out there as a couple needed time to come together organically. I also have always wanted to sort of have, like, a duet-type song with a male and female vocal kind of call-and-responding off one another. I had a session lined up with De'Wayne in Malibu and Cheney always loved the demo instrumental we had for the record, so I thought what better song to experiment with. It ended up being one of my favorite writing/recording sessions I have ever done vocally.  
DJ LIFE MAG: When it comes to label releases, what do you look for in a production for it to get a final Welcome Records stamp of approval and get signed?  
Kayzo: First and most importantly, I welcome all types of music to the label. This isn't just a bass label or dance label. Welcome, just like the name hints at, is for everything and anything. We've released full rock-band records on the label, as well as dance stuff across the entire spectrum of sound. I really just look for artists of any size that are willing to push the envelope creatively.  
To check out more interviews, click here.